Challenge: My Gift to HIVE [ENG/ESP] Reto: Mi Regalo para HIVE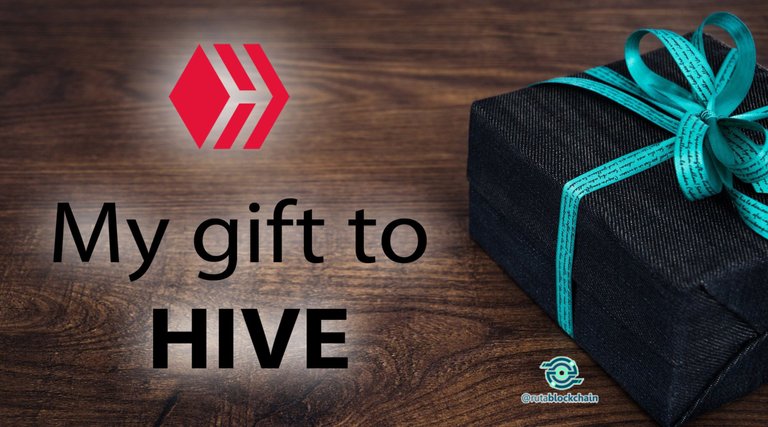 Sourse
My gift to HIVE
Hello hivers. Our beautiful blockchain will have its birthday next March 20 and from the Loving HIVE community ❤️, we created this initiative to express our love for HIVE.
It has been a very exciting year. Even before the blockchain was born, something big was already brewing. We were born as a consequence of a hostile takeover of the previous blockchain. This community, faithful to its decentralized values and freedom, decided to move away from power and create something beautiful like what we have today.
What HIVE is today, we owe it to all those who worked tirelessly in those days of one of the most shocking stories of the crypto world; but we also owe it to each and every one of those present, even if they have come later. Hive is built and transformed day by day and every user is part of that change.
This platform has given us countless joys and it is the perfect time to give back. That is why we created this initiative, so that everyone can give HIVE part of their talent and creativity, from the deepest part of their heart.
We have expressed the joy that HIVE has given us many times in various initiatives where we tell how HIVE has transformed our lives. What would your life be like without HIVE? What would you be doing? These questions can lead you to feel more gratitude towards this blockchain. It's time to show that gratitude.
My Gift to HIVE
Create a post on Loving HIVE ❤️ showing your gift to HIVE.
Share that post on social media and everywhere else you can think of to let everyone know that HIVE has a birthday.
Share in the comments of this post, pictures of your experience promoting HIVE's birthday.
Use the hashtag: #mygifttohive
Rewards
In the end we decided not to mention rewards, since the giveaway is for HIVE. That
doesn't mean there won't be 😉.
Let's make a lot of noise, because it's a glorious day. Let's get creative and give away our best. Make it your publication of the year.
This initiative expires on March 31.
Translated with www.DeepL.com/Translator (free version)

Español
Mi regalo para HIVE
Hola hivers. Nuestra bella blockchain cumplirá años el próximo 20 de marzo y desde la comunidad de Loving HIVE ❤️, creamos esta iniciativa para expresar nuestro amor por HIVE.
Ha sido un año muy emocionante. Desde antes que naciera la blockchain ya se gestaba algo grande. Nacimos como consecuencia de una toma hostil a la cadena anterior. Esta comunidad, fiel a sus valores descentralizados y de libertad; decidió apartarse del poder y crear algo hermoso como lo que tenemos hoy.
Lo que HIVE es hoy, se lo debemos a todos los que trabajaron incansablemente en esos días, de una de las más impactantes historias del mundo cripto; pero también se lo debemos a cada uno de los presentes así hayan llegado después. Hive se construye y transforma día a día y cada usuario forma parte de ese cambio.
Esta plataforma nos ha regalado infinidad de alegrías y es el momento perfecto para retribuirle. Por eso creamos esta iniciativa, para que cada uno le regale a HIVE parte de su talento y creatividad, desde lo más profundo de su corazón.
Esas alegría que HIVE nos ha regalado, las hemos expresado muchas veces en varias iniciativas donde contamos cómo HIVE ha transformado nuestra vida. ¿Cómo sería tu vida sin HIVE? ¿Qué estarías haciendo?, estas preguntas pueden llevarte a sentir mayor agradeciemiento hacia esta blockchain. Es hora de mostrar ese agradecimiento.
Mi Regalo para HIVE
Crea una publicación en Loving HIVE ❤️ mostrando tu regalo para HIVE.
Comparte esa publicación en las redes sociales y en todos los lugares que se te ocurran, para que todo el mundo se entere que HIVE está de cumpleaños.
Comparte en los comentarios de este post, imágenes de tu experiencia promocionando el cumpleaños de HIVE.
Usa la etiqueta: #mygifttohive
Recompensas
Al final decidimos no mencionar las recompensas, ya que el regalo es para HIVE. Eso no quiere decir que no habrá 😉
Hagamos mucho ruido, porque es un día glorioso. Vamos a llanarnos de mucha creatividad y regalar lo mejor de nosotros. Haz que sea tu publicacón del año.
Esta iniciativa caduca el 31 de marzo.

¡SÍGUENOS EN NUESTRAS REDES!
Botones creados a partir de esta plantilla



Post creado por @danielvehe para @rutablockchain

---
---