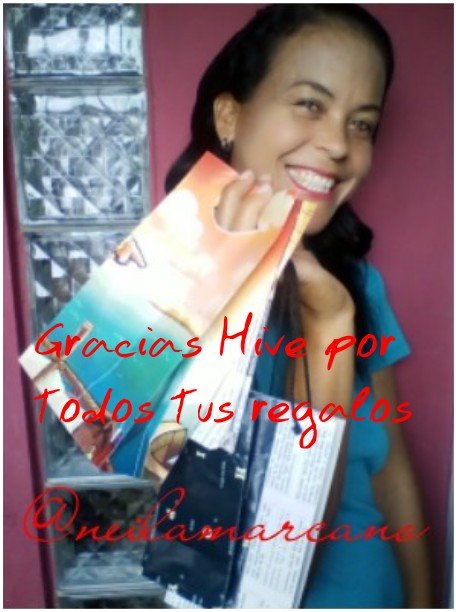 ❤️🌺😍🌸❤️🌺😍🌸❤️🌺😍🌸❤️🌺😍🌸❤️🌺😍🌸❤️🌺😍🌸❤️
Hola a tod@s mis Hivers/ Hello to all my Hivers
Versión Español
En mi 4to día de agradecimiento, en el reto 7 días, 7 razones para agradecer a hive; me inclino por agradecer a #Hive, por todo lo que puedo ganar y lograr con ella. que mas motivo necesito, gracias a esta plataforma, estoy viviendo más dignamente y famila está también agradecida de todas sus bondades.
No es que rindamos pleitesía a Hive, pero de algo si debo estar segura y me enseñaron desde pequeña a ser agradecida, por eso hoy quiero ser agradecida con Hive, por dedicarme una parte de sus bondades hacia mí, todos los días después que comence a ver resultado en Hive y me fuí empapando un poco en la cosa.
Aunque confieso que me falta mucho conocer esta plataforma, por los inconvenientes técnicos, no me han permitido avanzar como quiero. A veces son agonizantes, las fallas constantes que tenemos con el internet, pero lo que sí aseguro que tenemos tiempo para todo, menos para rendirnos ante las adversidades, es cuando más debemos apoderarnos de todas las fuerza y seguir avanzando. Así el internet no avance, jajajajajajaja...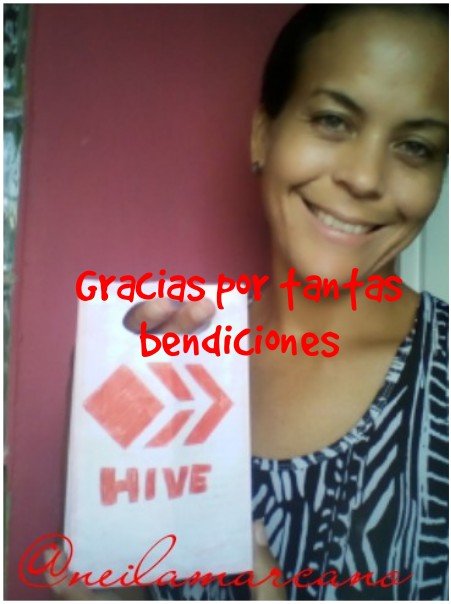 Gracias a Hive pude mejorar mi calidad de vida, tenía tiempo desde diciembre del 2019 que no realizaba compra de prendas de vestir, darme gustos en la cocina. MIl veces gracias a hive, pude comprarle zapatos, cholas, buena comida, a mi familia. Ah pero también invertí en materiales para seguir creciendo, debo seguir mostrando mis pequeñas habilidades. Eso es otro punto que debemos centrarnos, hay que invertir en las cosas que vamos hacer en hive, produciendo contenidos de calidad.
Gracias a Hive, me siento emprendedora, libre, aquí puedo mostrarme tal y cual soy. Aunque aquí me estoy destapando un poquito, se me está quitando mucho mi timidez, ustedes pueden observar las fotos que muestros en mis contenidos creados, de verdad que aveces me veo y no me creo. Tanto que mí esposo se pone celoso de ella, jajajajajaja.
Tengo tantas cosas para darle a Hive, así le muestro mi confianza y agradecimiento que le tengo incondicionalmente, siento que le estoy dando muy poco. También es producto de las responsabilidades que adquirí. Pero si le digo algo muy seriamente a Hive, para que le quede claro, que más que agradecer, le digo que todo mi amor está puesto en cada una de los contenidos que trato de transmitir.
Sino te hubiera conocido, estuviera en la monotonía a la que estaba acostumbrada, gracias a ti, cuando estoy fuera de casa, quiero volver rápido para ver que invento, que hago, que puedo hacer para que me quede mejor. Tengo la confianza y certeza que todos mis agradecimientos van hacia ti colmena amorosa, por ser mi miel, que endulzo mis penas, amarguras, mis necesidades. Gracias por haberme rescatado del mundo salobre donde me encontraba, gracias a ti volví a sentir, gracias a ti me redescubrí, gracias a ti hoy soy más feliz que ayer, gracias a ti soy yo otra vez...
Gracias Hive por tanto amor que nos da.
---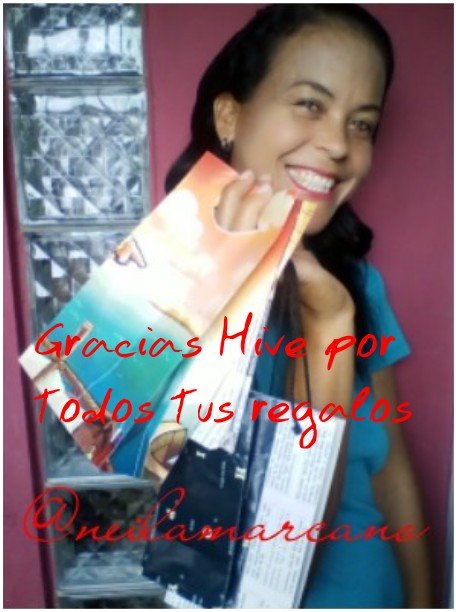 English Version
In my 4th day of gratitude, in the challenge 7 days, 7 reasons to thank hive; I am inclined to thank #Hive, for everything I can win and achieve with it. what more reason do I need, thanks to this platform, I am living more dignified and family is also grateful for all their kindness.
It's not that we pay lip service to Hive, but of something if I should be sure and they taught me from small to be grateful, for that reason today I want to be grateful with Hive, to dedicate a part of their kindness towards me, all the days after I began to see result in Hive and I was soaking a little in the thing.
Although I confess that I still have a long way to go to get to know this platform, due to technical problems, I have not been able to advance as I would like to. Sometimes they are agonizing, the constant failures that we have with the Internet, but what I do assure you that we have time for everything, except to surrender to the adversities, is when but we must take hold of all the forces and to continue advancing. So the Internet does not advance, hahahahahaha...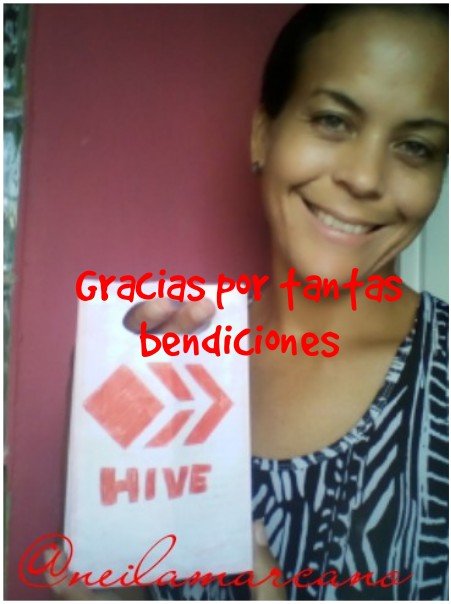 Thanks to Hive I was able to improve my quality of life, I had time since December 2019 that I did not buy clothes, give me taste in the kitchen. Sometimes, thanks to Hive, I was able to buy shoes, cholas, good food, for my family. Ah but I also invested in materials to keep growing, I must keep showing my little skills. This is another point that we must focus on, we must invest in the things that we are going to do in hive, producing quality content.
Thanks to Hive, I feel enterprising, free, here I can show myself as I am. Although here I'm unveiling myself a little bit, I'm getting rid of my shyness, you can observe the photos I show in my created contents, I really see myself sometimes and I don't believe myself. So much that my husband gets jealous of it, hahahahaha.
I have so many things to give to Hive, so I show her my confidence and gratitude that I have her unconditionally, I feel that I am giving her very little. It is also a product of the responsibilities I have acquired. But if I say something very seriously to Hive, to make it clear to her, that more than than thanking, I tell her that all my love is put in each one of the contents I try to transmit.
If I hadn't met you, I would have been in the monotony I was used to, thanks to you, when I'm away from home, I want to come back quickly to see what I invent, what I do, what I can do to make it better. I have the confidence and certainty that all my thanks go to you, my loving hive, for being my honey, that I sweeten my sorrows, my bitterness, my needs. Thank you for rescuing me from the salty world where I was, thanks to you I felt again, thanks to you I rediscovered myself, thanks to you today I am happier than yesterday, thanks to you I am me again...
Thank you Hive for so much love you give us.
---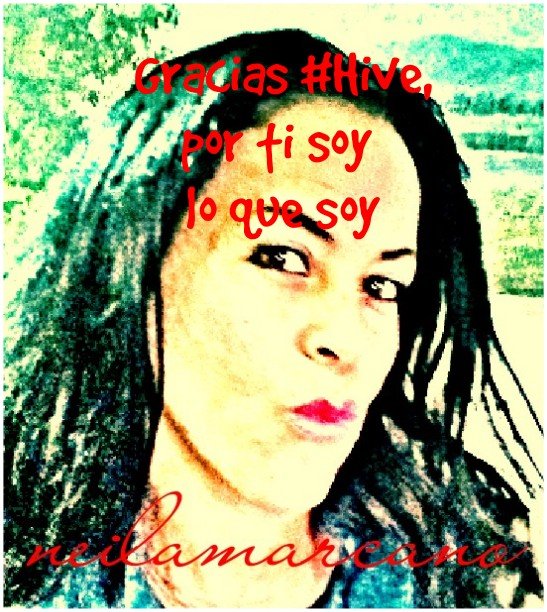 ❤️🌺😍🌸❤️🌺😍🌸❤️🌺😍🌸❤️🌺😍🌸❤️🌺😍🌸❤️🌺😍🌸❤️
Hasta otro encuentro. Gracias por haber pasado por mi colmena. Espero seguir deleitándolos con mi miel exquisita.
Until another meeting. Thank you for coming by my hive. I hope to continue to delight you with my exquisite honey.

Foto tomada por mí hijo César, editada con el editor de foto Lyrebird con la ayuda de mi hijo Abrahán/Photo taken by my son Cesar, edited with the photo editor Lyrebird with the help of my son Abraham
Translated with www.DeepL.com/Translator (free version)