Like every day 1 of each month I am about to do my ignition with which I increase my voting power and help with the platform.
Why am I doing it today and not another day?
Actually any day is a good day to invest in your Hive Power, but this special day is a power-up party. @traciyork throws their party by handing out Hive and Hive Power to those who meet their ignition requirements.
https://hive.blog/hive-167922/@traciyork/welcome-to-hivepud-hive-power-up-day-april-1st-2021
@victoriabsb also throws their party for the community in Spanish. This is very good as they motivate the users of the hive to make the investment.
https://peakd.com/hive-167922/@victoriabsb/hive-power-up-day-ha-comenzado-1ero-de-abril-2021
What is the Power Up and what is its importance for you and for the hive?
The Power Up is a transaction that we make in our wallet, passing our Hive to our Hive Power. The Hive Power is the one that allows you to vote every time you want to make a comment and it is one of the tools that allows you to grow on the platform.
Let's realize that we have a very prosperous company and we want to make an investment in it so that it becomes stronger. With each investment your company gains more value, so that investment cannot be taken as that you are going to lose your money, but that it will multiply.
How is a Power Up done?
Too easy. Enter your wallet and where it says HIVE unfold the arrow and select ¨POWER UP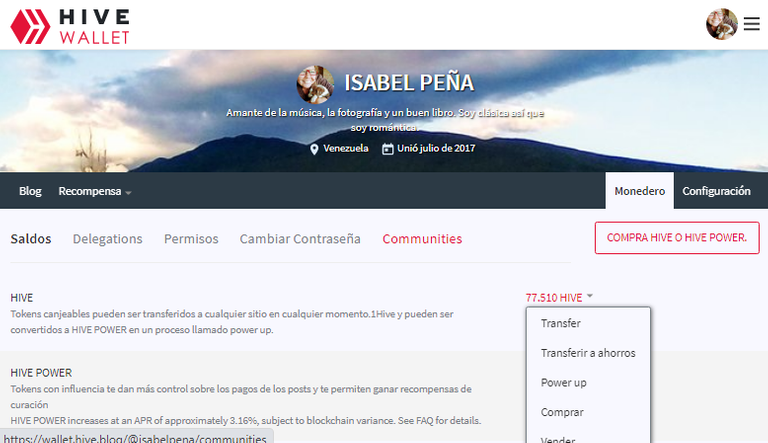 Then fill in the details of the amount of Hive to transfer and click OK to approve the operation. Ready.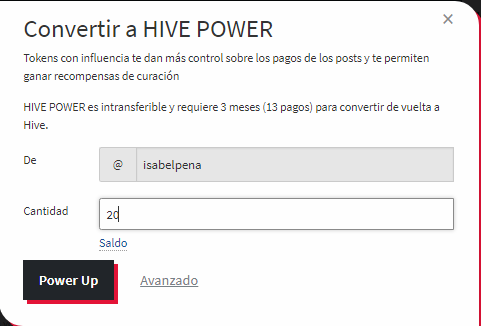 My contribution to my company and to the platform is done. I invested to improve my company, since this is the main source of income that I have and my duty is to take care of it and make it grow. In this way, I also collaborated with the growth of the chain, which is strengthened with each investment we make.
Now it remains to share my publication in the publication of my friends @traciyork and @victoriabsb

Traducción al Español:
Como todos los día 1 de cada mes me dispongo a hacer mi encendido con el que aumento mi poder de voto y ayudo con la plataforma.
Por qué lo hago hoy y no otro día ?
En realidad cualquier día es bueno para invertir en tu Hive Power, pero este día en especial se hace una fiesta de encendido. @traciyork hace su fiesta repartiendo Hive y Hive Power a los que cumplan con sus requisitos para el encendido.
@victoriabsb también hace su fiesta para la comunidad en español. Esto es muy bueno ya que motivan a los usuarios de la colmena a hacer la inversión.
Qué es el Power Up y cuál es su importancia para tí y para la colmena?
El Power Up es una transacción que hacemos en nuestra billetera, pasando nuestro Hive a nuestro Hive Power. El Hive Power es el que te permite votar cada vez que deseas hacerlo a un comentario y es una de las herramientas que te permite crecer en la plataforma.
Hagamos cuenta que tenemos una empresa muy próspera y queremos hacerle una inversión para que ella se fortalezca. Con cada inversión tu empresa gana más valor, así que esa inversión no puede ser tomada como que vas a perder tu dinero, sino que se va a multiplicar.
Cómo se hace un Power Up ?
Es muy fácil. Entra a tu billetera y donde dice HIVE despliega la flecha y selecciona ¨POWER UP¨
Luego llena los datos de la cantidad de Hive a transferir y dale OK como aprobación de la operación. Listo.
Mi aporte a mi empresa y a la plataforma está hecha. Invertí para mejorar mi empresa, ya que esta es la principal fuente de ingresos que yo tengo y mi deber es cuidarla y hacerla crecer. Así también colaboré con el crecimiento de la cadena, la cual se fortalece con cada inversión que hagamos.
¨Ahora queda compartir mi publicación en la publicación de mis amigas @traciyork y @victoriabsb.