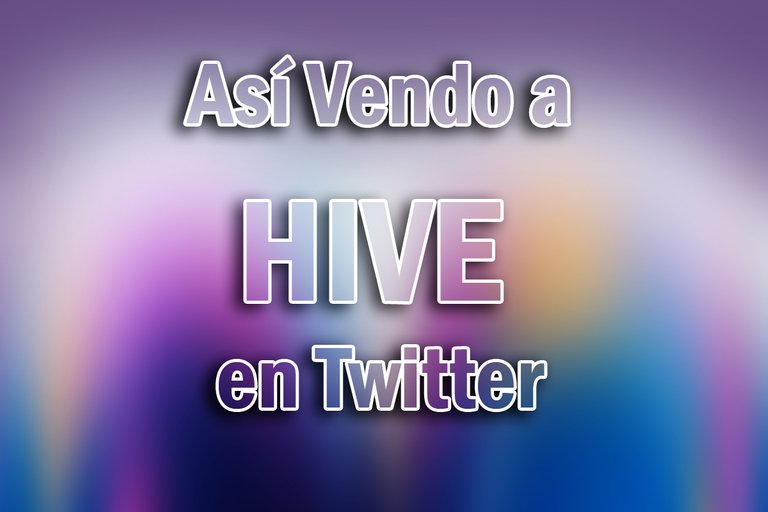 Hace un tiempo se me ocurrió definir a HIVE en twitter; pero es muy amplio para un solo twitt y crear un hilo cuando tengo tan pocos seguidores era un desperdicio. En eso pensé en ir creando varios twitts en respuesta a los anteriores y siempre el último tenerlo anclado en mi perfil.
Esto es lo que llevo. Lo básico para llamar la atención de las personas que desconocen sobre HIVE e informarles el poder que tiene.
Dime si crees que le faltan otros mensajes...
Some time ago it occurred to me to define HIVE on twitter; but it is too broad for a single twitter and to create a thread when I have so few followers was a waste. I thought about creating several tweets in response to the previous ones and always having the last one anchored in my profile.
This is what I have. The basics to draw the attention of people who don't know about HIVE and inform them of the power it has.
Let me know if you think there are other messages missing...
---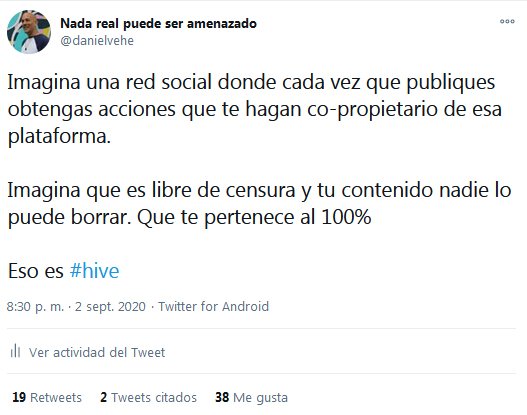 Imagine a social network where every time you publish you get actions that make you co-own that platform.
Imagine that it is free of censorship and your content cannot be deleted. That it belongs to you 100%.
That's #hive
Algo que las personas no captan al principio de su vida en HIVE es el gran valor del HP. Recibir acciones de este increíble mundo, solo por publicar es grandioso.
La mayoría viene a ganar algo de dinero para el día a día, pero con el tiempo y suficiente visión, se dan cuenta de que están construyendo un patrimonio. Lamentablemente son pocas las personas que les gusta construir. A la mayoría les encanta sacar rentabilidad de lo que otros construyeron. Por eso en el mundo hay más empleados que empresarios.
Something that people do not realize early in their lives in HIVE is the great value of HP. Receiving shares of this incredible world, just for publishing is great.
Most come to earn some money for the day-to-day, but with time and enough vision, they realize they are building a wealth. Unfortunately there are few people who like to build. Most love to make a profit from what others have built. That's why there are more employees than entrepreneurs in the world.
Estadísticas del Twitt - Twitt Statistics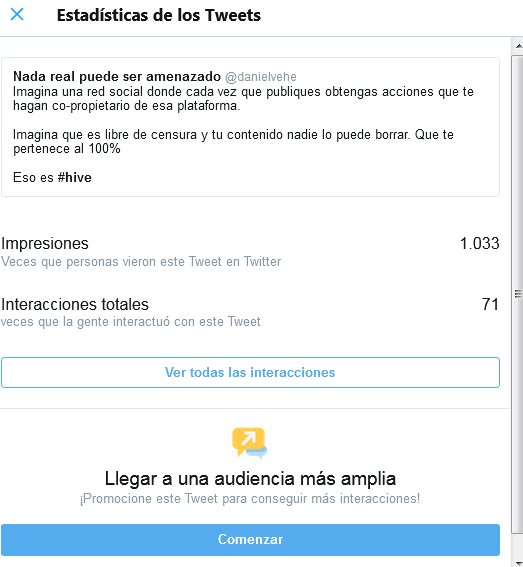 ---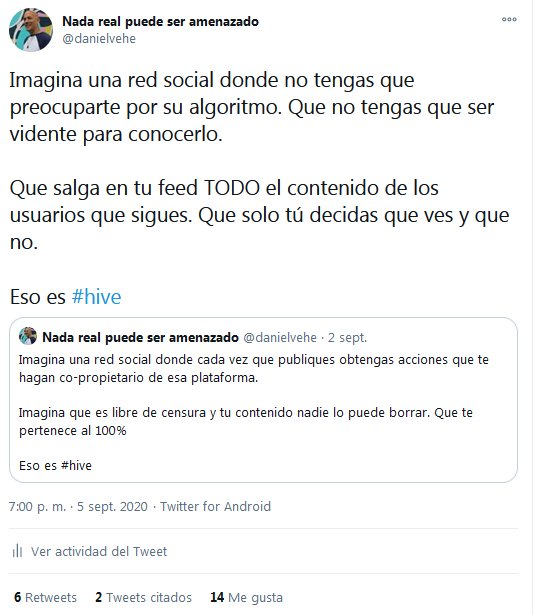 Imagine a social network where you don't have to worry about its algorithm. You don't have to be psychic to know it.
All the content of the users you follow will appear in your feed. That only you decide what you see and what you don't.
That's #hive
Una de las cosas donde las redes sociales ejercen una especie de censura es con el algoritmo. Las personas se han acostumbrado y lo ven normal; pero esto solo demuestra que la cuenta no es tuya, ya que la empresa oculta contenido de personas que sigues y que lo haces precísamente porque quieres ver su contenido.
En HIVE esto no ocurre y siempre verás el contenido cronológicamente según es publicado. De hecho, nadie te puede bloquear para que no veas su contenido. Aquí todo es abierto y transparente, todo está a la vista. Todas las acciones de todos los usuarios se pueden ver. Así es el social media 3.0 basado en blockchain.
One of the things where social networks exercise a kind of censorship is with the algorithm. People have gotten used to it and see it as normal; but this only shows that the account is not yours, since the company hides content from people you follow and you do it precisely because you want to see their content.
In HIVE this does not happen and you will always see the content chronologically as it is published. In fact, no one can block you from seeing their content. Here everything is open and transparent, everything is in view. All the actions of all users can be seen. That's how social media 3.0 is based on blockchain.
Estadísticas del Twitt - Twitt Statistics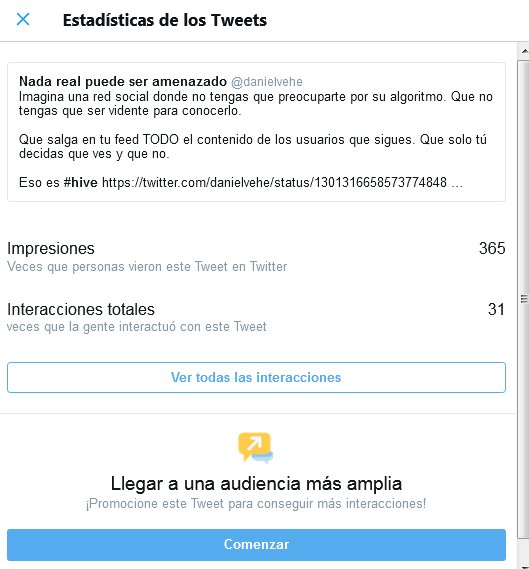 ---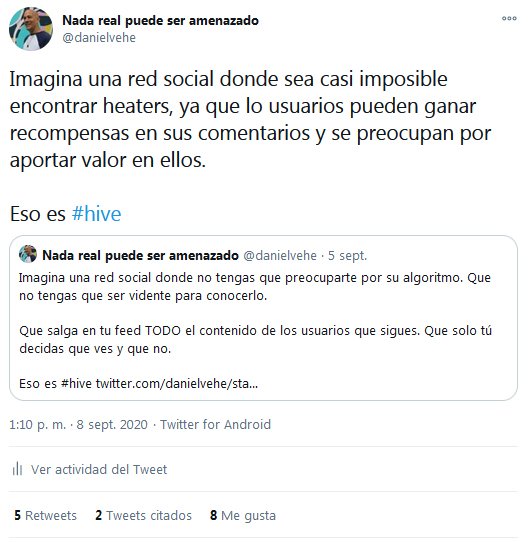 Imagine a social network where it is almost impossible to find heaters, since users can earn rewards in their comments and care about adding value to them.
That's #hive
Ciertamente en HIVE hay personas de todo tipo, sin embargo el sistema hace que los ataques sean menos que en otras redes, gracias al downvote; contrario a las otras donde ni siquiera tienes un "no me gusta".
A nadie le gusta recibir downvotes. Es por esto que los usuarios mismos se moderan. Además existe la posibilidad de ganar recompensas por los comentarios de calidad y eso crea un incentivo. Aunque hay personas que sus ganas de drama puede más que cualquier cosa XD
Certainly in HIVE there are people of all kinds, however the system makes the attacks less than in other networks, thanks to the downvote; contrary to the others where you don't even have a "I don't like it".
No one likes to receive downvotes. This is why users moderate themselves. There is also the possibility of earning rewards for quality comments and this creates an incentive. Although there are people whose desire for drama can be more than anything else XD
Estadísticas del Twitt - Twitt Statistics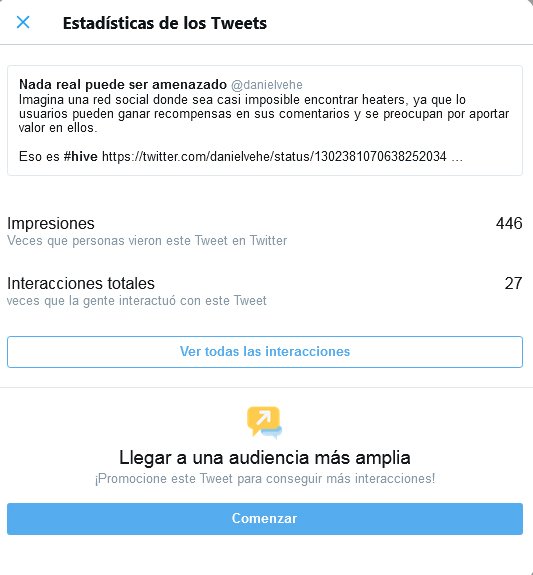 ---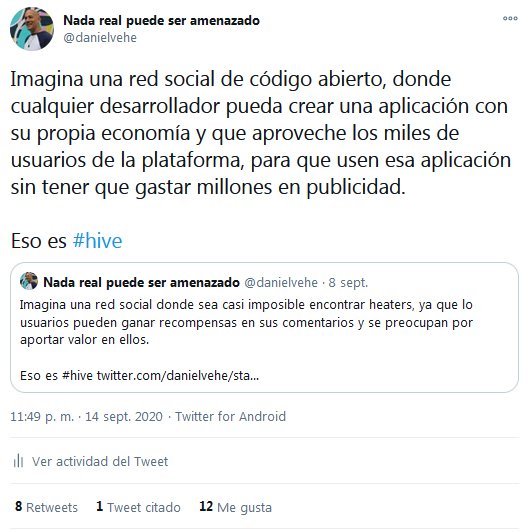 Imagine an open source social network, where any developer can create an application with its own economy and that takes advantage of the thousands of users of the platform, so that they use that application without having to spend millions in advertising.
That's #hive
Una de las características más poderosas de HIVE es lo abierta a que otros construyan dapps que puedan convertirse en prósperos negocios.
Por supuesto que esta característica no sería viable sin la descentralización, que hace que lo que desarrolle alguien sea de su propiedad y no pueda ser confiscado.
One of the most powerful features of HIVE is its openness to others to build dapps that can become successful businesses.
Of course, this feature would not be viable without decentralization, which makes what someone develops their own property and cannot be confiscated.
Estadísticas del Twitt - Twitt Statistics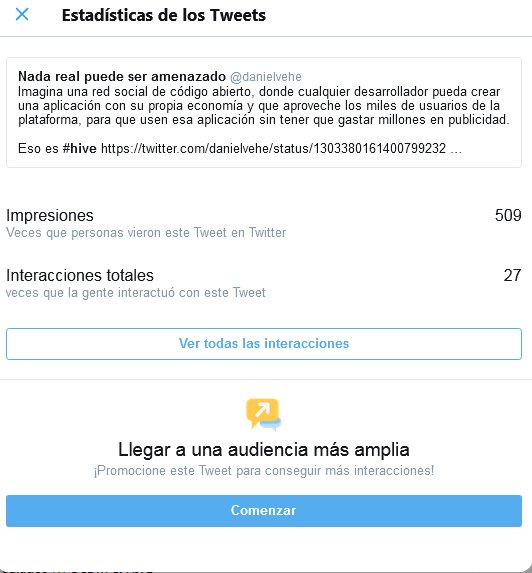 ---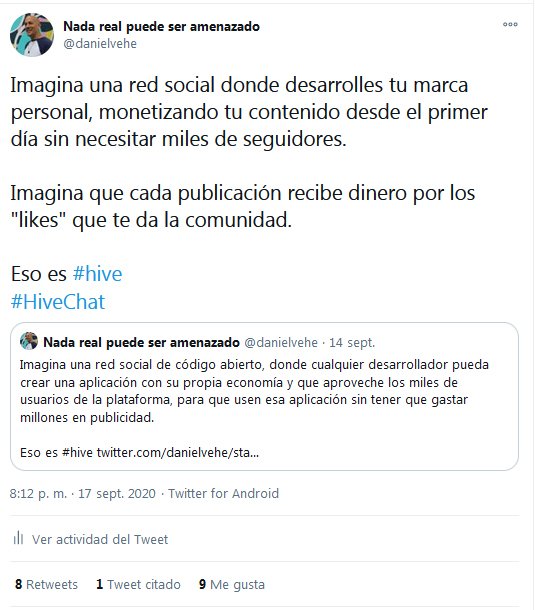 Imagine a social network where you develop your personal brand, monetizing your content from day one without needing thousands of followers.
Imagine that each publication receives money for the "likes" that the community gives you.
That's #hive
#HiveChat
Este es un tema primordial y es por eso que en mis talleres de marca personal promociono tanto a HIVE. Es una plataforma perfecta para comenzar, no solo a monetizar sino aprender a ser creador de contenido sin una exposición tan abrumadora.
Poca gente valora esto, incluso la mayoría de los usuarios no se enfocan en su marca personal y publican cualquier cosa, solo buscando votos. Cosntruir tu marca personal es crear una audiencia que ame tu contenido porque les aporta valor y que te sigan a donde quiera que vayas.
This is a major issue and that is why I promote HIVE so much in my personal branding workshops. It's a perfect platform to start, not only monetizing but learning how to be a content creator without such overwhelming exposure.
Few people value this, even most users don't focus on their personal brand and post anything, just looking for votes. Building your personal brand is creating an audience that loves your content because it brings them value and they follow you wherever you go.
Estadísticas del Twitt - Twitt Statistics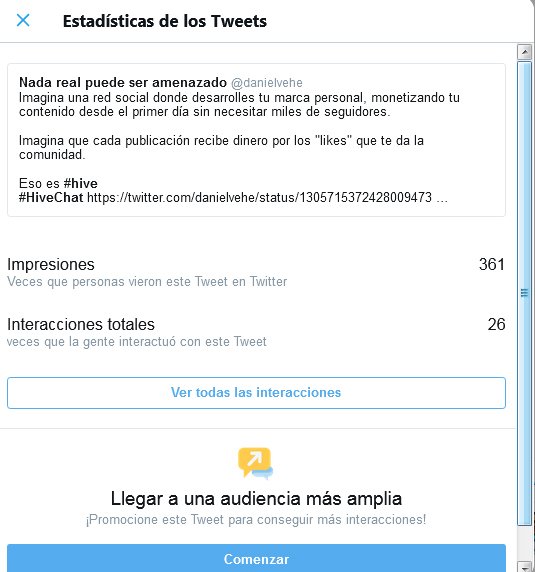 ---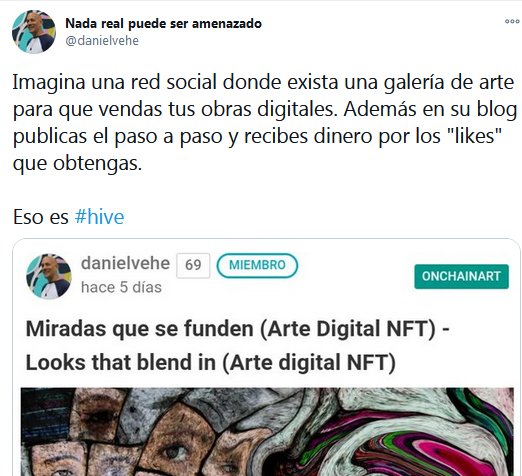 Imagine a social network where there is an art gallery for you to sell your digital works. In addition, in their blog you publish the step by step and receive money for the "likes" you get.
That's #hive
La creación de NFT Showroom ha sido maravilloso y demuestra todo lo que se puede crear en HIVE. Muchos artistas están vendiendo sus obras y me incluyo. La monetización para muchos incluso mejoró a pesar de la temporada bajista del $HIVE.
Esto a su vez ha enseñado a estos artistas sobre lo que significa NFT y también otras plataformas en Ethereum, demostrando una vez más que HIVE es el lugar perfecto para comenzar en el mundo cripto y conocer todo lo que hay.
The creation of the NFT Showroom has been wonderful and shows all that can be created in HIVE. Many artists are selling their work and I include myself. The monetization for many even improved despite the $HIVE bass season.
This in turn has taught these artists about what NFT stands for and also other platforms at the Ethereum, proving once again that HIVE is the perfect place to start in the crypto world and learn all about it.
Estadísticas del Twitt - Twitt Statistics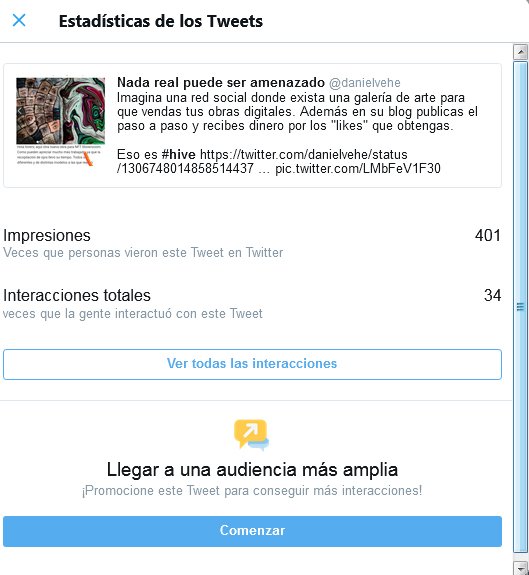 ---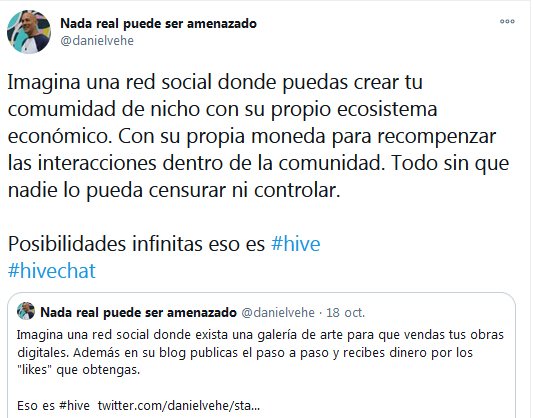 Imagine a social network where you can create your own niche community with its own economic ecosystem. With your own currency to reward interactions within the community. All without anyone being able to censor or control it.
Infinite possibilities that is #hive
#hivechat
HIVE tiene un gran poder que apenas se está descubriendo con Leofinance. Es el de comunidades de nicho tokenizadas. Los grandes influencers tienen una oportunidad impresionante aquí y cuando el primero se de cuenta y lo haga, los demás vendrán detrás con sus comunidades y creando su propia micro economía.
HIVE has a great power that is just being discovered with Leofinance. It is that of niche Tokenized communities. The big influencers have an impressive opportunity here and when the first one realizes it and does it, the others will come after them with their communities and creating their own micro economy.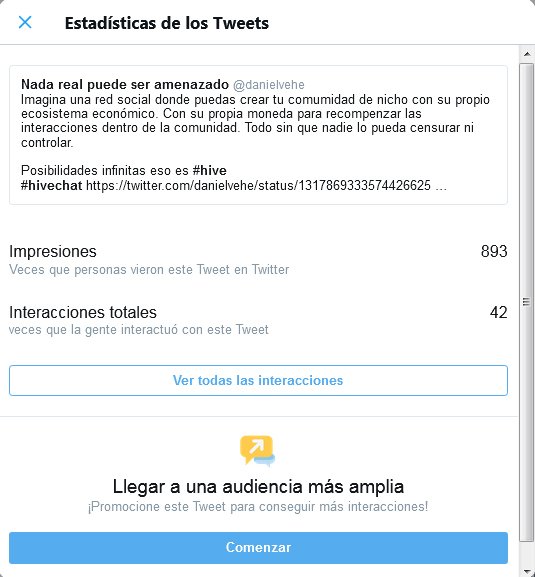 ---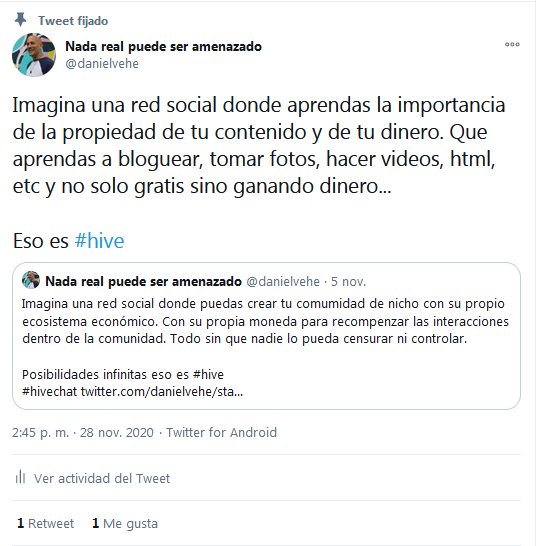 Imagine a social network where you learn the importance of ownership of your content and your money. That you learn to blog, take photos, make videos, html, etc and not only for free but earning money...
That's #hive
Mucha gente cree que es normal ceder la propiedad; incluso no tienen claro su concepto. Bitcoin restablece la propiedad del dinero y HIVE lo hace con el contenido.
El poder tener la propiedad absoluta de tu cuenta es increíble y es nuestro deber educar a las persoans sobre este punto. La censura está dañando las bases de las redes sociales que cuando nacieron eran una herramienta libre para todas las personas. Ahora deciden la tendencia y las formas cómo se habla. Están incluso dirigiendo a la sociedad a su antojo.
Many people believe that it is normal to give up property; they are not even clear about their concept. Bitcoin restores ownership of the money and HIVE restores ownership of the content.
Being able to have absolute ownership of your account is amazing and it's our duty to educate people on this point. Censorship is damaging the foundations of social networks that when they were born were a free tool for all people. Now they decide the trend and the ways in which it is spoken. They are even directing society as they please.
---
Algo que podemos observar, es que disminuyeron las estadísticas mientras pasaba el tiempo. Pienso que se debe a que hay menos usuarios activos en Twitter, incluso en el mismo HIVE desde la fuerte bajada de la moneda.
Esto me confirma uno de los puntos donde aseguro que la mayoría de las personas no les gusta construir y a las primeras dificultades abandonan.
Lo bueno con estos abandonos es que los que quedamos nos concentramos más en crear bases sólidas para lo que viene. HIVE sigue avanzando en desarrollo y el momento de la masiva adopción llegará pronto...
One thing we can observe is that the statistics decreased as time went by. I think this is due to the fact that there are fewer active users on Twitter, even on HIVE itself since the sharp drop in the currency.
This confirms to me one of the points where I assure that most people do not like to build and at the first difficulties they abandon.
The good thing about these abandonments is that those of us who remain are more focused on creating solid foundations for what is to come. HIVE continues to move forward in development and the time for massive adoption will come soon...
Translated with www.DeepL.com/Translator (free version)