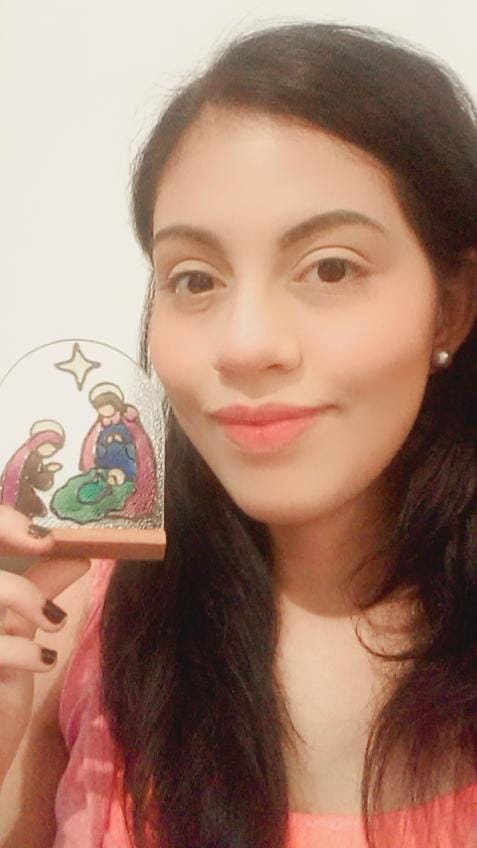 Hive has given me a lot of things, and I think it's a nice gift to give him a little bit of me this Christmas, so today I join the initiative of @mariajruizb thanks to the invitation of @josesalazar200.
Hive it's a beautiful place to share your talents, sing, dance, draw, write, play, what more can we ask you?
This Christmas, I want to give you a little bit more of me, in this opportunity:
A mí Hive me ha regalado un montón de cosas, y me parece un bonito detalle regalarle un poquito de mí en esta navidad, así que el día de hoy me uno a la iniciativa de @mariajruizb gracias a la invitación de @josesalazar200.
Hive ese espacio para compartir tus talentos, cantar, bailar, dibujar, escribir, jugar, ¿qué más te podemos pedir?
Esta navidad, yo te quiero regalar un poquito más de mí, en esta oportunidad: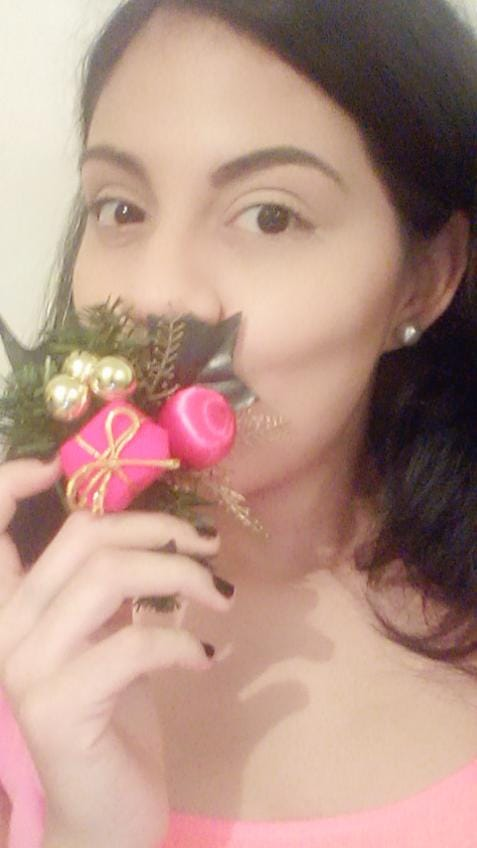 My time: every second, every minute I spend here.
My eyes: to admire every creation that comes my way.
My smile: the one that happens every time I find one that fascinates me.
My respect: for each of those things I do not know, for those with whom I do not share an opinion, for the unknown.
My creativity: the one I put into practice every time I make a drawing, a make-up or a story.
My authenticity: because it is not only about being original and avoiding plagiarism, sometimes it is about being oneself, letting flow and showing our true face, our essence.
My knowledge: because everything I have learned is not just for me to keep, it is important to transcend and to leave a record of our passage, and what better way than to transmit what we have learned in life.
Mi tiempo: cada segundo, cada minuto que pase aquí.
Mis ojos: para admirar cada creación que se encuentre en mi camino.
Mi sonrisa: la que ocurre cada vez que encuentro alguno que me fascina.
Mi respeto: ante cada una de aquellas cosas que no conozco, ante aquellos con los que no comparto opinión, ante lo desconocido.
Mi creatividad: la que pongo en práctica cada vez que realizo un dibujo, un maquillaje o un relato.
Mi autenticidad: porque no se trata solo de ser original y evitar el plagio, a veces se trata de ser uno mismo, dejar fluir y mostrar nuestro verdadero rostro, nuestra esencia.
Mis conocimientos: porque todo lo que he aprendido no es para quedármelo solo yo, es importante trascender y dejar constancia de nuestro paso, y que mejor forma que transmitir lo aprendido en la vida.
---
Thank you for coming into my life and transforming it in such a beautiful way!
¡Gracias por haber llegado a mi vida y transformarla de una forma tan bonita!
---
I also want to take this space to thank for the life of some Hivers who have made this year very special for me:
To @danielvehe and @enmy for bring us @rutablockchain and being the ones who taught me with patience and love about cryptoworld.
To @josehany and @lucianav for be my friends despite the distance and bringing the world of make-up and beauty to Hive. Also to each of the girls who make up the makeup community: @sofiaquino98, @justeli, @yulsy, @marytp20, thank you for believing in our projects!
To @berlissanoja for her friendship, for her knowledge, for motivating me every day through her advices and for be here.
To @reymoya95, @leydil, @leonelysmb, @izzieperez, @iamliz05, @aricaroo, @andreart99 for taking the time to listen to my presentation about Hive and for daring to share your talents around here. Also for taking the courage to invite others to this great beehive.
To @filoriologo and to @zullyscott for every conversation so funny and rich of experiences and much knowledge, sometimes sweet, sometimes very philosophical, also for the opportunity to create @beehibee.
To @maxwellmarcusart for motivating me to take up drawing again and to show in Hive that to do things you just have to have the necessary motivation, as well as to @jossduarte for not only admiring them, but also for those words of encouragement that motivate me. Also, for the affection and company even though you are super far away.
To @rodrikun17 and @millyzev for sweetening my days, for their closeness, for those days on the Discord program, for those days of selling chocolate.
To @madefrance for every meeting, for every advice and for every shared love story.
To @kattyart, @alejandria12, @lisfabian, @maleidamarcano, @vaneaventuras and each one of those who make up the elite family of routers, for the trust, the affection and because although we are all different we have known how to grow and support each other, both on good days and on not so good ones.
To @josesalazar200 for his songs, for his words and the motivation to me to sing here, when I have the possibility I will surely do it!
To @justclickindiva and @brittandjosie for teaching me a lot of things about Hive during my time at The Terminal Rally which also allowed me to meet incredible people like @arlettemsalase, @maryed, @eliezerfloyd, @misschance, @isabelpena.
To @bluemist for the openness, humility and closeness he has with each of us and to @appreciator for his support in so many posts.
También quiero aprovechar este espacio para agradecer por la vida de algunos Hivers que han hecho de este año algo muy especial para mí:
A @danielvehe y @enmy por estar al frente de @rutablockchain y ser quiénes me enseñaron con paciencia y amor sobre criptomundo.
A @josehany y a @lucianav por convertirse en mis amigas a pesar de la distancia y traer a Hive el mundo del maquillaje y la belleza. También a cada una de las chicas que conforman la comunidad de maquillaje como lo son @sofiaquino98, @justeli, @yulsy, @marytp20, ¡gracias por creer en nuestros proyectos!
A @berlissanoja por su amistad, por sus conocimientos, por motivarme cada día a través de sus consejos y por estar allí.
A @reymoya95, @leydil, @leonelysmb, @izzieperez, @iamliz05, @aricaroo, @andreart99 por haberse tomado el tiempo para escuchar mi exposición sobre Hive y atreverse a compartir sus talentos por aquí. También por tomarse el atrevimiento de invitar a otros a esta gran colmena.
A @filoriologo y a @zullyscott por cada conversación tan divertida y rica de experiencias y mucho conocimiento, a veces dulce, a veces muy filosófico, también por la oportunidad de crear @beehibee.
A @maxwellmarcusart por motivarme a retomar el dibujo y demostrar en Hive que para hacer las cosas solo tienes que tener la motivación necesaria, de igual forma a @jossduarte por no solo admirarlos, sino también por esas palabras de aliento que me motivan. También, por el cariño y la compañía aunque estás súper lejos.
A @rodrikun17 y @millyzev por endulzarme los días, por su cercanía, por aquellos días de programa en el Discord, por aquellos días de venta de chocolate.
A @madefrance por cada encuentro, por cada consejo y por cada historia de amor compartida.
A @kattyart, @alejandria12, @lisfabian, @maleidamarcano, @vaneaventuras y cada uno de los que conforman la familia de los ruteros élite, por la confianza, el cariño y porque aunque todos somos diferentes hemos sabido crecer y apoyarnos los unos a los otros, tanto en los buenos días como en los no tan buenos.
A @josesalazar200 por sus canciones, por sus palabras y por su motivación para que cante por aquí, ¡cuando tenga los medios seguro que lo haré!
A @justclickindiva y @brittandjosie por enseñarme un montón de cosas sobre Hive durante mi paso por el rally de The Terminal que también me permitió conocer a personas increíbles como @arlettemsalase, @maryed, @eliezerfloyd, @misschance, @isabelpena.
A @bluemist por la apertura, la humildad y la cercanía que tiene con cada uno de nosotros y a @appreciator por su apoyo en tantos posts.
---
My wish for you this Christmas is that your hearts are renewed, you receive abundant blessings and that you can enjoy in family in spite of the COVID, in spite of the difficulties, because there are still many reasons to smile.
We are alive, we are here sharing a little bit of us, of our day, of our talents, that is very good and I am very happy to have coincided with you in my path.
I would like to have all of you close to give you a big hug, Merry Christmas and Happy New Year 2021, don't worry, better get busy, work for your dreams and be happy!
I love you all a lot.
Mi deseo para ustedes en esta navidad es que sus corazones se renueven, reciban abundantes bendiciones y que puedan disfrutar en familia a pesar del COVID, a pesar de las dificultades, porque aún quedan muchísimos motivos para sonreír.
Estamos vivos, estamos aquí compartiendo un poco de nosotros, de nuestro día, de nuestros talentos, eso es muy bueno y yo estoy muy feliz de haber coincidido con ustedes en mi camino.
Me gustaría tenerlos a todos cerca para darles un gran abrazo, feliz navidad y próspero año nuevo 2021, ¡no se preocupen, mejor ocúpense, trabajen por sus sueños y sean felices!
Los quiero un montón.
---
¡Nos vemos en un próximo post❤️!
See you in a next post❤️!

Translated with www.DeepL.com/Translator (free version)