FUERA [ESP/ENG]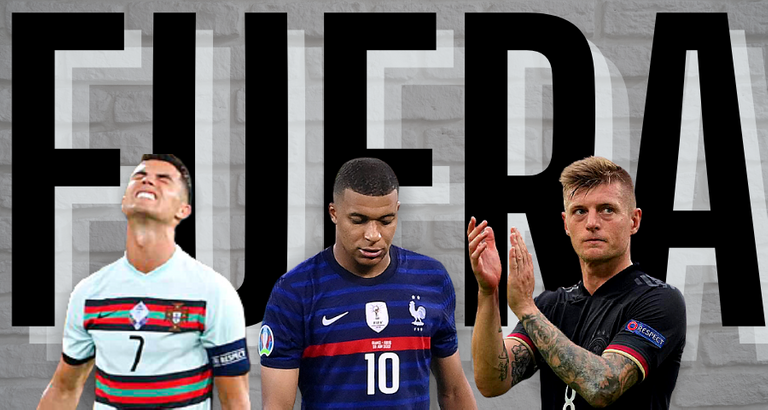 La Campeona del Mundo, la actual Campeona de Europa, el Siempre Favorito; primero todos dentro de un grupo, ahora todos FUERA de competencia


En esta Eurocopa, tenía cosas que para mí eran algo especial, primero era que por fin los aficionados volverían a los estadios, esto es un gran plus para este hermoso deporte, no es lo mismo ver la alegría de un gol o la controversia por alguna jugada y que todo esté en completo silencio, es por eso que escuchar la alegría, la queja, los canticos de los aficionados hace que este torneo sea especial porque le da un toque de normalidad a todo lo que hemos vivido en estos dos últimos años, lo otro que quería ver era justamente al "Grupo F", el cual estaba conformado por las selecciones Francia, Alemania, Portugal y Hungría, lo especial era ver competir a las tres primeras antes citadas, una campeón del mundo, la actual campeona de Eurocopa y la siempre favorita, solo quedaba el equipo el cual todos pensaban que su función seria el recibir goles sin tener ningún chance de clasificar, mis expectativas eran altas y no quería perderme nada sobre este grupo, por momentos mis expectativas fueron respondidas y creo que hasta fue mejor de lo que esperaba, los encuentros entre estas tres selecciones fueron emocionantes, hasta lleno de muchos goles, pero la emoción la puso la selección de Hungría quien decidió competir, pero al final tal como escribí en una anterior post, "La Lógica" prevaleció y las tres poderosas clasificaron, manteniendo la lista de gran favoritas lideradas por la actual campeona del mundo.


The World Champion, the reigning European Champion, the perennial favorite; first all in one group, now all OUT of competition.
In this Eurocup, I had things that for me were something special, first was that finally the fans would return to the stadiums, this is a big plus for this beautiful sport, it is not the same to see the joy of a goal or the controversy for some play and that everything is in complete silence, that's why listening to the joy, the complaint, the chants of the fans makes this tournament special because it gives a touch of normality to everything we have lived in the last two years, the other thing I wanted to see was just the "Group F", which was formed by the selections France, Germany, Portugal and Hungary, the special thing was to see the first three aforementioned compete, a world champion, the current Eurocup champion and the always favorite, there was only the team which everyone thought that its function would be to receive goals without having any chance to qualify, my expectations were high and I did not want to miss anything about this group, at times my expectations were answered and I think it was even better than I expected, the matches between these three teams were exciting, even full of many goals, but the excitement was put by the Hungarian team who decided to compete, but in the end as I wrote in a previous post, "Logic" prevailed and the three powerful teams qualified, keeping the list of great favorites led by the current world champion.

Ya en la fase de eliminación directa, estas tres selecciones seguirían teniendo la chapa de favoritas, aunque para ser honestos, Alemania era la menos favoritas de todas y más cuando le tocaba enfrentar a la selección de Inglaterra en esta nueva fase, pero igual volvemos al asunto de que "Los partidos hay que jugarlos" y más aún cuando hablamos de estos equipos, en especial de la alemana que nunca hay que darla por muerta, pero de igual forma pensé que si una de estas tres selecciones que una pudiera caer en esta fase, esa era la alemana por su actualidad como equipo; de las otras dos pensaba que pudieran llegar más lejos y hasta porque no, disputar nuevamente la final de este torneo, estas dos selecciones estaban llenas de buenos jugadores, tanto los que son titulares como los que están en la banca y es que desde antes del comienzo de este torneo al revisar la lista de convocados era impresionante los nombres que conformaban ambos equipos, llenos de experiencia y juventud, pero teniendo en común que todos son estrellas actuales y lo mejor es que por ejemplo a pesar de pequeños cambios, estas dos selecciones ya han experimentado lo que es enfrentar esta fase en grandes competiciones, es por eso que por actualidad y de sobrevivir en su grupo Francia, Portugal eran favoritas a seguir, Alemania también, pero le costaría mucho más si querían pertenecer a esa lista de ocho equipos en otra fase más.


Already in the direct elimination phase, these three teams would continue to have the badge of favorites, although to be honest, Germany was the least favorite of all and more when they had to face the selection of England in this new phase, but still we return to the issue that "The games must be played" and even more when we talk about these teams, especially the German team that should never be given for dead, but I thought that if one of these three teams that one could fall in this phase, that was the German team for its current team; of the other two I thought that they could go further and even, why not, dispute again the final of this tournament, these two teams were full of good players, both those who are starters and those who are on the bench and from before the start of this tournament when reviewing the list of called-up players it was impressive the names that made up both teams, full of experience and youth, But having in common that they are all current stars and the best thing is that despite small changes, these two teams have already experienced what it is like to face this phase in major competitions, which is why France, Portugal and Germany were favorites to follow, but it would cost them much more if they wanted to belong to that list of eight teams in another phase.

Bélgica 1 Portugal 0

Los octavos de final llegaron y vimos competir de primero al actual campeón de la Eurocopa; hace cinco años tras, Portugal clasifico de tercero en su grupo el cual para sorpresa de este equipo su transitar fue de lo más tranquilo hasta llegar a la final para enfrentar a la favorita y ganarle con un gol de tal vez uno de los peores delanteros portugueses de la historia, pero así es el futbol, un día te favorece con todo lo que tiene, otro día te quita absolutamente todo y en esta oportunidad, Portugal no tuvo esa suerte del torneo anterior, perdería con una selección fuerte, pero a la vez no tanto, quiero explicar que Bélgica sufre el mismo síndrome de Portugal, Francia, Inglaterra y otras más, muchos nombres, pero a la vez pareciera costarle dar un paso para ser una selección elite y tal vez esta sea la oportunidad, pero para eso debe enfrentar a la selección liderada por Cristiano Ronaldo, en esta oportunidad en un juego muy parejo, tanto que parece que solo quisieron jugar los últimos 45 minutos en donde toda la emoción se hizo presente, atajadas de Courtois, todo el ataque de Portugal en el campo, al final todo fue estéril dejando al equipo portugués fuera de la competición.




The round of 16 arrived and we saw the reigning Eurocup champion compete first; Five years ago, Portugal qualified third in their group, which to the surprise of this team, their journey was very calm until they reached the final to face the favorite team and beat them with a goal from perhaps one of the worst Portuguese strikers in history, but that's soccer, one day it favors you with everything it has, another day it takes away absolutely everything and this time, Portugal did not have the luck of the previous tournament, they would lose to a strong team, but at the same time not so much, I want to explain that Belgium suffers the same syndrome as Portugal, France, England and others, many names, but at the same time it seems hard to take a step to be an elite team and maybe this is the opportunity, but for that they must face the team led by Cristiano Ronaldo, this time in a very even game, so much so that it seems that they only wanted to play the last 45 minutes where all the excitement was present, saves by Courtois, all the attack of Portugal on the field, in the end everything was sterile leaving the Portuguese team out of the competition.

FRANCIA vs SUIZA

La selección de Francia, la gran favorita, la campeona sin jugar, el equipo con una delantera de ensueño, cumplió con todo eso por más de 70 minutos en su juego contra el seleccionado de Suiza, después de costarle agarrar el ritmo al juego e ir perdiendo en el marcador por un gol a cero, en tan solo un minuto, Benzema no solo anotó el empate sino el gol para dar el liderato en el marcador al equipo francés y no solo eso, Pogba anoto el tercer gol gracias al famoso tiro "PogBUM", para ese momento en la mente de los aficionados y del equipo francés, el juego estaba definido, pero no, Suiza fue más y en el último minuto empataría el juego, aunque casi Francia pasa por tener la última palabra o chute que al final pego en el travesaño, esto haría que se disputara 30 minutos más sin gol para llegar a la tanda de penales en donde nadie quería fallar hasta que llegó el momento del llamado futuro mejor jugador del mundo, Mbappé, quien fallo el quinto y último penal el cual le daría la victoria a Suiza y la eliminación al gran favorito; De Alemania pudiera hablar extenso de su eliminación, pero en mi opinión no deberían estar ni siquiera en octavos, fue un equipo débil, sin actitud que pudo competir hasta donde pudo y eso lo vio la selección inglesa que espero hasta el momento adecuado para atacar y anotar los goles que sirvieron de eliminación de un equipo que ya debe renovarse.


The French national team, the great favorite, the champion without playing, the team with a dream striker, fulfilled all that for more than 70 minutes in their game against the Swiss national team, after struggling to get into the rhythm of the game and trailing by one goal to zero, in just one minute, Benzema not only scored the equalizer but the goal to give the French team the lead on the scoreboard and not only that, Pogba scored the third goal thanks to the famous "PogBUM" shot, for that moment in the minds of the fans and the French team, the game was defined, but no, Switzerland was more and in the last minute would tie the game, although France almost had the last word or shot that in the end hit the crossbar, this would make 30 minutes more without goal to reach the penalty shootout where no one wanted to fail until it was time for the so-called future best player in the world, Mbappé, who missed the fifth and final penalty which would give the victory to Switzerland and the elimination of the big favorite; Of Germany I could talk at length about their elimination, but in my opinion they should not even be in the round of 16, it was a weak team, without attitude that could compete as far as they could and that was seen by the English team that waited until the right time to attack and score the goals that served to eliminate a team that should be renewed.

Inglaterra vs Alemania

Me parece una gran anécdota que los clasificados de un mimo grupo queden fuera y más cuando hablamos de tres poderosas selecciones, es como si el futbol buscara que existiera un balance y mostrara un control, pero en realidad existen factores evidentes de la eliminación de estos tres equipos, comenzare con la más débil de todas, Alemania, por todo lo sucedido antes de este torneo en donde la federación alemana eligió quien suplantaría a Joachim Löw para las eliminatorias al mundial, era justo decir que este equipo vive un fin de ciclo y que de ahora en adelante debe venir una justa renovación tal vez de jugadores y de juego, esta participación de Alemania fue algo como "Vayan y lleguen hasta donde puedan" sin presión, sin ganas de nada, así vi a este equipo que siempre he pensado que es todo lo contrario, una imagen triste y aburrida porque les digo que ver a estos jugadores celebrar un empate contra Hungría fue lo peor que he visto en este año; de Portugal puedo decir que la completa culpa la tiene su entrenador, quien espero que tenga un fin como el ex entrenador de Alemania, cada vez me preguntaba ¿Cómo era posible que con todos los jugadores de ataque que tiene, no pueda manejar y crear un mejor equipo? No solo eso, a partir de las fallas de crear un buen equipo de ataque, la defensa solo quedo en nombres, todos fallaron, Portugal termino este torneo con 7 goles en contra, pueden decir que también termino con siete goles a favor, pero en el juego donde tenían que anotar no lo hicieron, fallaron todo, todos, esto hizo que la actual campeona quedara fuera, ahora ¿Este es lo peor? No si lo comparamos con Francia, para mí el peor de los tres, toda la concentración y el hambre de pasar a la historia y de hacer lo que hizo el seleccionado francés del 98' y 2002, quedo en nada, Francia tenia los nombres, grandes todos, pero ¿Cuál es su actualidad futbolística? Por ejemplo, la defensa, para mí ¡La defensa es la peor de todas! Ninguno de los convocados está al nivel de enfrentar esta competición, ninguno, estos jugadores no lideraron sus ligas, no fueron referentes en sus clubes, todos fallaron y eso que no hablo del portero el cual para mí ya debería estar fuera de la selección, un punto fuerte como es su defensiva no sirvió en esta competencia y para más claro ejemplo esta su eliminación, dominan el resultado, pero la defensa permitió dos goles en los últimos minutos, después podemos hablar del fallo de su máxima estrella que está lejos de ser el líder que todos esperan, ya que eso también afecto al equipo, siempre esperando a Mbappé y al final nunca apareció, fue completamente opacado por Benzema que menos mal fue convocado y se transformó en su mejor jugador y ni así pudo evitar la debacle, el fiasco que fue la campeona del mundo, en fin como ven estos equipos tal vez pensaron que con nombres, con la historia pudieran hacer frente a quien sea, pero eso no fue así, disfrute del Grupo F, disfrute de estos juegos, pero eso no deja que siente decepción por estos equipos y admiración por los que sí están en cuartos de final; es una lástima que ya no estén y solo queda seguir disfrutando del futbol y no pensar en los que están ¡FUERA!.


It seems to me a great anecdote that the qualifiers of the same group are left out and more when we talk about three powerful teams, it is as if soccer was looking for a balance and to show a control, but in reality there are obvious factors for the elimination of these three teams, I will start with the weakest of all, Germany, because of everything that happened before this tournament where the German federation chose who would replace Joachim Löw for the World Cup qualifiers, it was fair to say that this team is living an end of cycle and that from now on there must come a fair renewal maybe of players and game, this participation of Germany was something like "Go and go as far as you can" without pressure, without desire for anything, so I saw this team that I have always thought is the opposite, a sad and boring image because I tell you that seeing these players celebrate a draw against Hungary was the worst thing I have seen this year; of Portugal I can say that the complete fault lies with their coach, who I hope has an end like the former coach of Germany, every time I wondered how was it possible that with all the attacking players he has, he can't manage and create a better team? Not only that, from the failures to create a good attacking team, the defense was only in names, they all failed, Portugal finished this tournament with 7 goals against, they can say they also finished with seven goals for, but in the game where they had to score they didn't, they failed everything, all of them, this made the current champion to be out, now is this the worst? Not if we compare it with France, for me the worst of the three, all the concentration and hunger to go down in history and do what the French national team of 98' and 2002 did, came to nothing, France had the names, great all of them, but what is their current soccer? For example, the defense, for me the defense is the worst of all! None of the players called up is at the level to face this competition, none of them, these players did not lead their leagues, they were not referents in their clubs, they all failed and I am not talking about the goalkeeper who for me should already be out of the national team, a strong point as their defense was not useful in this competition and for more clear example is their elimination, they dominated the result, but the defense allowed two goals in the last minutes, then we can talk about the failure of their top star who is far from being the leader that everyone expects, He was always waiting for Mbappé and in the end he never appeared, he was completely overshadowed by Benzema who luckily was called up and became their best player and even then he could not avoid the debacle, the fiasco that was the world champion, well as you see these teams maybe thought that with names, with history they could face anyone, but that was not so, enjoy Group F, enjoy these games, but that does not stop you feel disappointment for these teams and admiration for those who are in the quarterfinals; it is a pity that they are no longer there and the only thing left to do is to continue enjoying soccer and not to think about those who are OUT!.

Cover image edited in canva; the image was taken from the following source Cristiano, Mbappé, Kroos.
The translation was done in https://deepl.com/translator


---
---