El título podría sonar a algo relacionado con los combustibles fósiles empleados en el automovilismo y su impacto en el medio ambiente, pero en realidad estamos hablando de un lugar mítico del automovilismo, especialmente para la Fórmula 1. El circuito de Nürburgring-Nordschleife fue apodado como el "infierno verde" por el piloto tres veces campeón del mundo de Fórmula 1, Jackie Stewart, quien además de ganar tres veces en este circuito, quedó con dicha impresión del mismo. Este apodo se mantiene hasta el día de hoy.
The title might sound like something related to the fossil fuels used in motor racing and their impact on the environment, but in reality we are talking about a mythical place of motor racing, especially for Formula 1. The Nürburgring-Nordschleife circuit was nicknamed the "green hell" by three-time Formula 1 world champion Jackie Stewart, who not only won three times on this circuit, he also had that impression of it. This nickname remains to this day.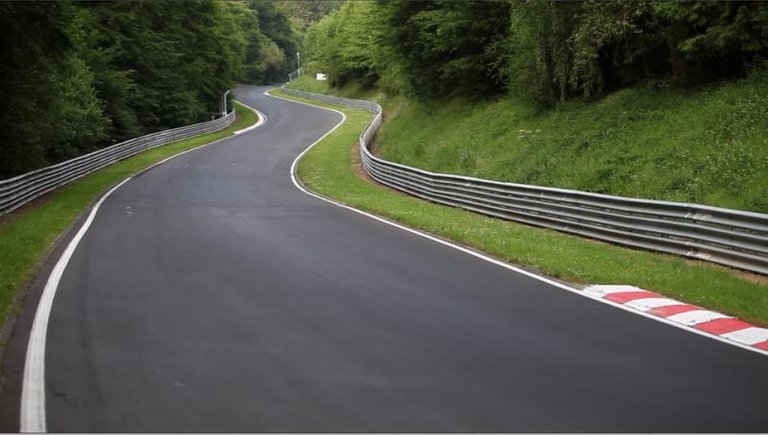 BUICK REGAL, CC BY 2.0, via Wikimedia Commons
Son impresionantes los circuitos que eran creados en los inicios del automovilismo, cuando no se tenían los mismos estándares de seguridad y diseño que hoy día. Nürburgring fue construido como un circuito de pruebas para marcas alemanas de automóviles, y también empezó a albergar carreras en los años 20. Debemos recordar que en esos años los automóviles de carreras no eran tan rápidos como los de hoy en día. ¿Qué sucedió con el avance de la tecnología y el aumento de la velocidad? Cuando el circuito se mantiene igual pero los autos son cada vez más veloces, un problema se acrecenta: la seguridad de los pilotos.
The circuits that were created in the early days of motor racing, when the same safety and design standards were not in place, are impressive. Nürburgring was built as a test track for German car brands, and it also began hosting races in the 1920s. We must remember that in those years racing cars were not as fast as today's. What happened to the advance of technology and the increase in speed? When the circuit stays the same but the cars are faster and faster, a problem increases: the safety of the drivers.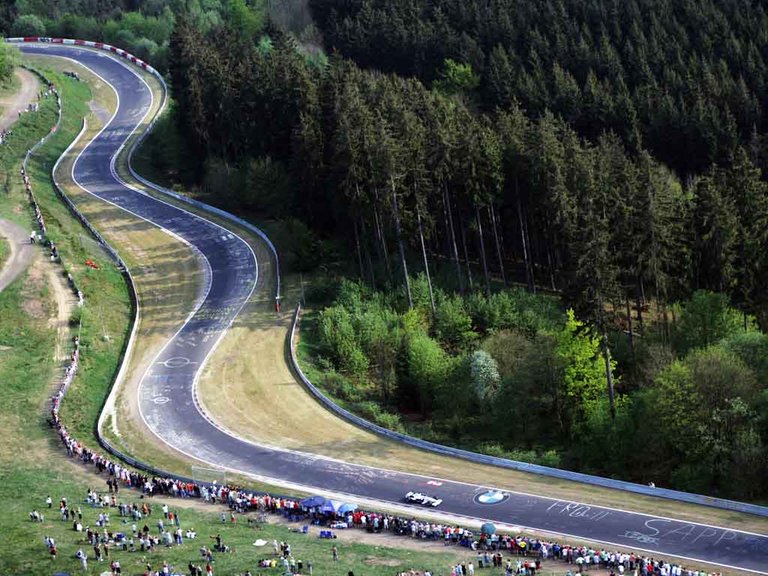 Mariamonete, CC BY-SA 3.0, via Wikimedia Commons
Aún recuerdo la película Rush, la cual revive la famosa rivalidad en los años setenta entre los grandes pilotos James Hunt y Niki Lauda y su pelea por el campeonato del mundo. La película muestra como Lauda estaba en contra de correrse el Gran Premio de Alemania de 1976 ya que la lluvia estaba presente en el circuito, y siendo este ya de por si peligroso, podría ocurrir una fatalidad. Esto ocurrió, por mala fortuna, al mismo Lauda, quien sufrió un accidente grave que incendió su coche, dejándolo con quemaduras graves y daños en los pulmones por inhalar humo tóxico. A pesar de que Lauda se recuperó y volvió a correr, e incluso, ganar dos campeonatos del mundo, este suceso fue suficiente para abandonar las carreras de Fórmula 1 en este circuito.
I still remember the movie Rush, which revives the famous rivalry in the seventies between the great drivers James Hunt and Niki Lauda and their fight for the world championship. The film shows how Lauda was against racing in the 1976 German Grand Prix because the rain was present on the circuit, and being this already dangerous, a fatality could occur. This happened, by bad luck, to Lauda himself, who suffered a serious accident that set his car on fire, leaving him with severe burns and lung damage from inhaling toxic smoke. Although Lauda recovered and ran again, and even won two world championships, this event was enough to abandon the Formula 1 races in this circuit.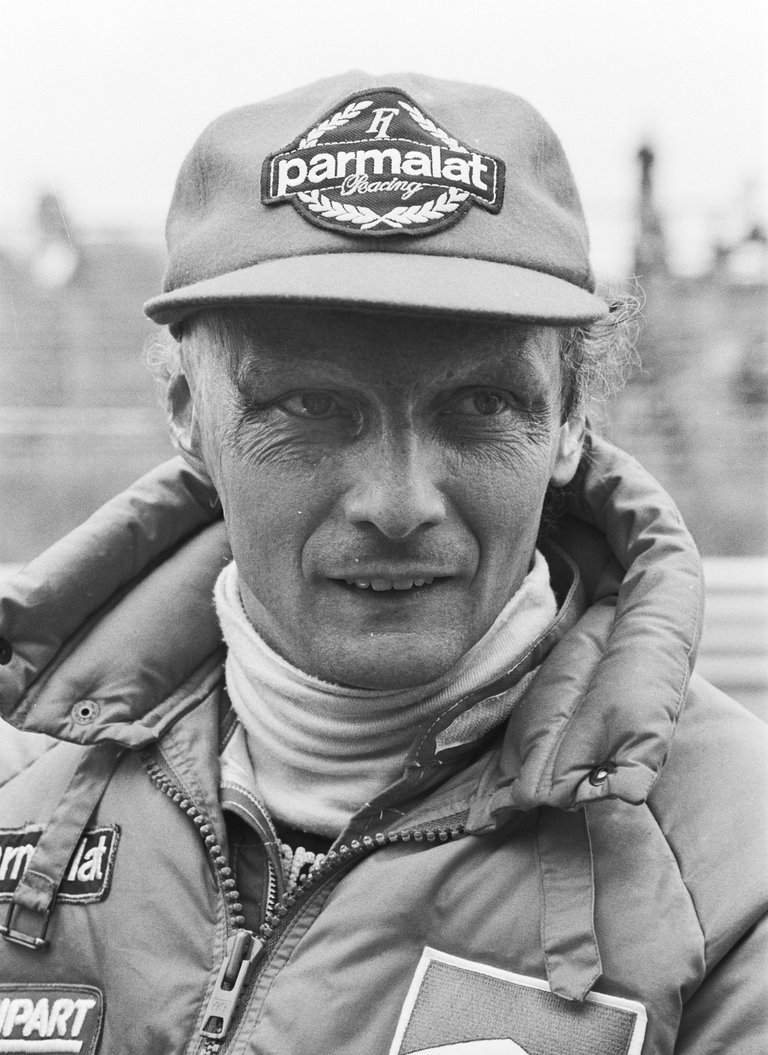 Niki Lauda en 1982. Wikimedia Commons, CC0
Ya en la anterior publicación, mencioné que este circuito posee el récord de ser el más largo del mundo con poco más de 20 kilómetros. Imagínense la pesadilla en la logística necesaria para colocar cámaras en todas y cada una de las curvas del circuito (que son 73) para llevar una carrera a la televisión. No estoy seguro si esto se realiza hoy en día para transmitir carreras de otras categorías que si utilizan este circuito ya que no las sigo a todas. El circuito es tan amplio, que su mantenimiento es difícil y algunas zonas han quedado expuestas al acceso de personas que dejan sus graffitis.
Already in the previous publication, I mentioned that this circuit holds the record of being the longest in the world with just over 20 kilometers. Imagine the logistical nightmare required to place cameras in each and every one of the circuit's curves (of which there are 73) to bring a race to television. I am not sure if this is done today to broadcast races of other categories that use this circuit since I do not follow them all. The circuit is so wide, that its maintenance is difficult and some areas have been exposed to the access of people who leave their graffitis.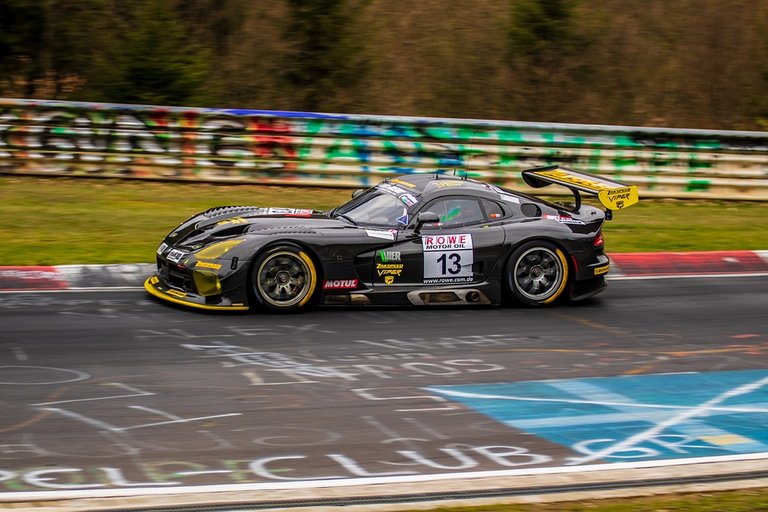 Créditos: Domenik2212. Fuente: Pixabay
Mi experiencia en el automovilismo se basa en 15 minutos manejando un pseudo-karting en un famoso parque de diversiones de la ciudad de Valencia, y eso fue hace más de 10 años cuando era niño. Por otro lado, pasé innumerables horas de mi niñez y adolescencia jugando Gran Turismo en la PlayStation. He manejado en el circuito de Nürburgring-Nordschleife, haciendo incluso la carrera de las 24 horas. No hace falta ni siquiera dar una vuelta completa en el circuito para darse cuenta por que se le llama "infierno verde". Gran parte del circuito está inmerso en un bosque verde oscuro, que se observa a ambos lados, y en el resto del recorrido se contempla un paisaje por lo general, verde.
My experience in motor racing is based on 15 minutes driving a pseudo-kart in a famous amusement park in the city of Valencia, and that was more than 10 years ago when I was a child. On the other hand, I spent countless hours of my childhood and adolescence playing Gran Turismo on the PlayStation. I drove on the Nürburgring-Nordschleife circuit, even doing the 24-hour race. You don't even have to do a full lap on the circuit to realize why it is called "green hell". A large part of the circuit is immersed in a dark green forest, which can be seen on both sides, and the rest of the route is generally green.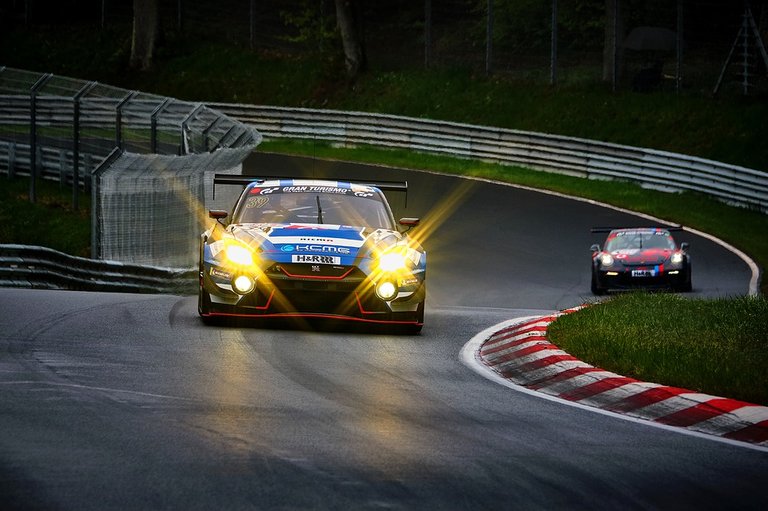 Créditos: mibro. Fuente: Pixabay
Y es que a medida que conduces un auto cada vez más rápido por este circuito, se hace todo un reto mantenerse dentro de la pista a altas velocidades. Como es usual en los circuitos clásicos de leyenda, tenemos una pista muy estrecha, con curvas de alta velocidad y cambios de nivel al mismo tiempo, lo cual dificulta mantener un ritmo de carrera sin despitarse, ya que no solo conduces un auto rápido, sino que memorizar cada curva del circuito para saber cuando frenar es otro reto más. Si esto es muy difícil en un videojuego, es fácil darse cuenta porque en la vida real el circuito de Nürburgring-Nordschleife es conocido como el "infierno verde".
As you drive a car faster and faster around this circuit, it becomes a challenge to stay on the track at high speeds. As is usual in classic legendary circuits, we have a very narrow track, with high speed corners and level changes at the same time, which makes it difficult to maintain a race pace without lost the car, since not only do you drive a fast car, but also memorizing every corner of the circuit to know when to brake is another challenge. If this is very difficult in a video game, it is easy to realize why in real life the Nürburgring-Nordschleife circuit is known as the "green hell".
---
No sé si algún día la Fórmula 1 vuelva a correr en circuitos tan largos. En las últimas décadas se ha establecido un "estándar" de entre 4 y 6 Km de longitud por circuito, salvo algunas excepciones. Abajo se observa un mapa del circuito antiguo en la zona superior, mientras que el circuito actual, sede del Gran Premio de Eifel el pasado fin de semana, se encuentra abajo. La diferencia de tamaño entre ambos trazados es abismal, reflejo de como han evolucionado los circuitos de carreras a lo largo de los años.
I don't know if Formula 1 will ever run on such long circuits again. In the last decades a "standard" of between 4 and 6 km length per circuit has been established, with some exceptions. Below is a map of the old circuit in the upper area, while the current circuit, home of the Eifel Grand Prix last weekend, is located below. The difference in size between both tracks is abysmal, reflecting how racing circuits have evolved over the years.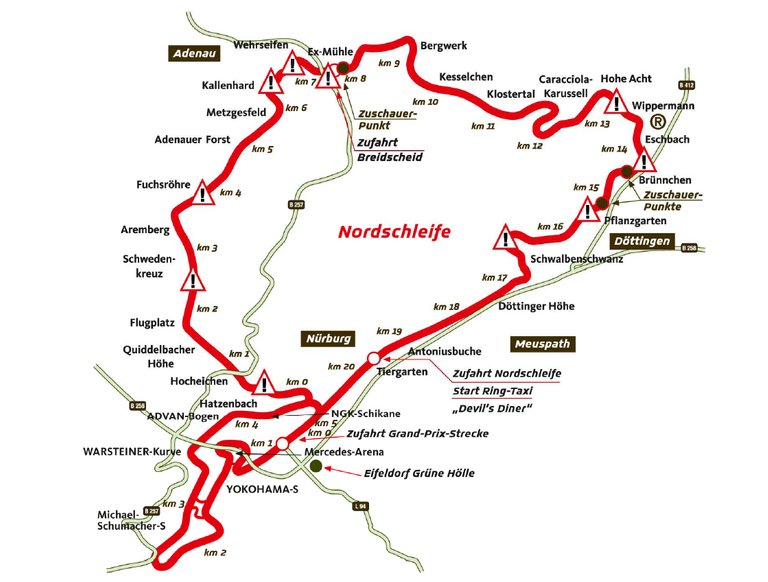 Mariamonete, CC BY-SA 3.0, via Wikimedia Commons
Deja tu comentario acerca el mítico circuito de Nürburgring-Nordschleife. 🚥🏆

Fuente