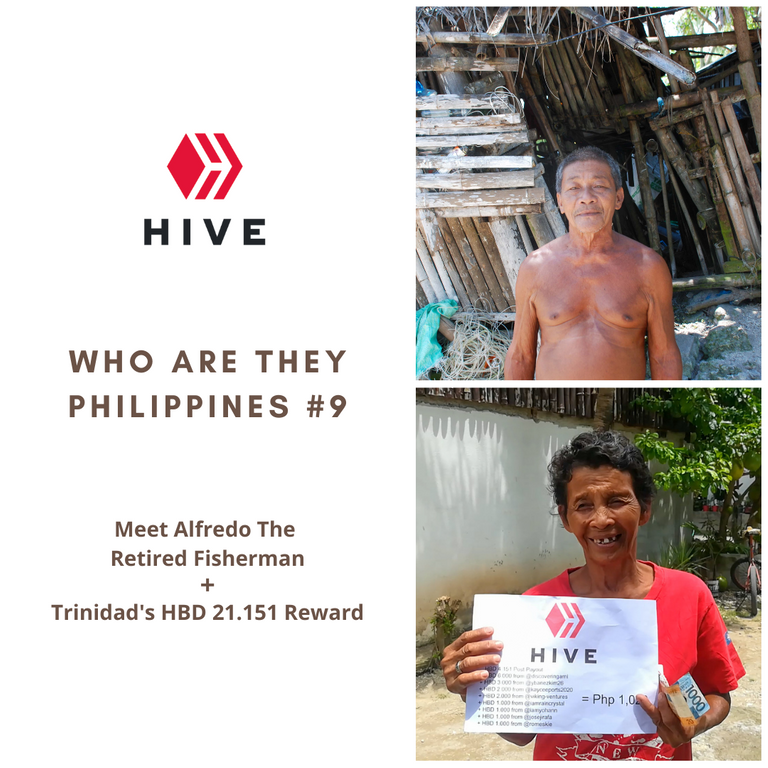 Hello #Hive,
A week has passed since the last edition of #WhoAreTheyPhilippines and it is now time for edition #9.
Today, we are meeting Alfredo, the retired fisherman.
---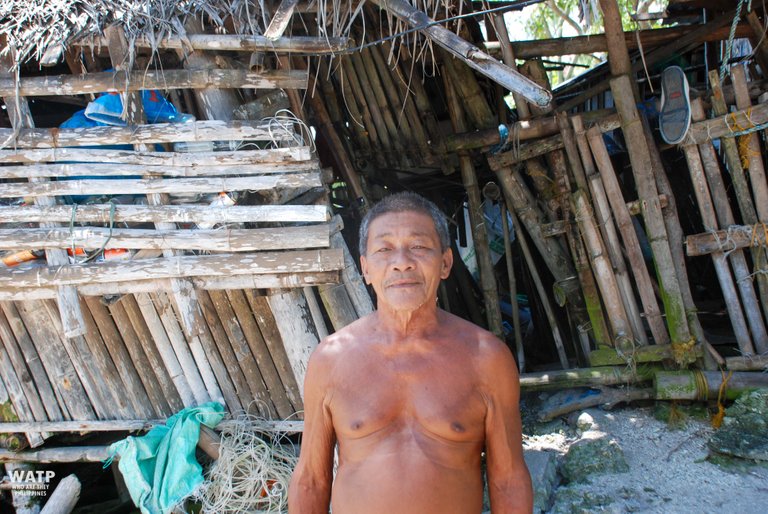 The #WATP initiative has taken us to a few municipalities already but there is one which we haven't covered yet, Dumanjug. So yesterday morning, I left with the intention to drive to Dumanjug and find our next feature somewhere on the back roads of that town.
Unfortunately, I didn't time it very well and I ended up driving around at lunchtime. You can imagine that this is not really the best time of the day to be looking for a person as everyone is just busy satisfying their hunger inside their homes.
It was a really sunny day and I could already feel the sun burning the skin on my arms and legs. After unsuccessfully going around for close to 2 hours I resigned myself thinking that it was probably better if I just headed back home and came back a bit later.
On my way back, I saw the road leading to the sea in Barangay Santa Cruz in Ronda. I was already familiar with this road as I had already driven on it in the past and I knew that it lead to a small fishermen community, but somehow, I felt like I should take it and see where it leads me.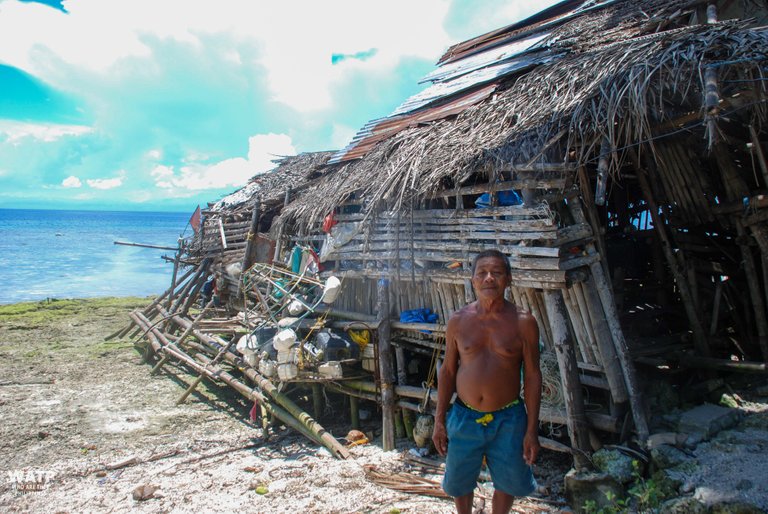 After a few minutes, I got close to the sea and saw this older man sitting on a bamboo table covered by a nipa roof. He was with a young child. I approached them both and tried to engage a conversation asking if either of them spoke English. Unfortunately for me, neither did but the kid quickly got up and went calling for someone.
After a minute or so, Enteng, a man in his thirties joined us. I explained my reason for being there and told him that I wanted to interview and write about the man sitting on the table. After explaining the #WATP concept to him, he kindly translated it all to the older man and I quickly received a smile and approval with a thumbs up.
This is how I met Alfredo and shortly after that, his 2 brothers joined us.
Who is Alfredo?
Alfredo is a 77 year old retired fisherman born and raised in Barangay Santa Cruz in Ronda. He was married, but sadly, his wife passed away 10 years ago. Together they had 4 daughters who are all married and living in Ronda too.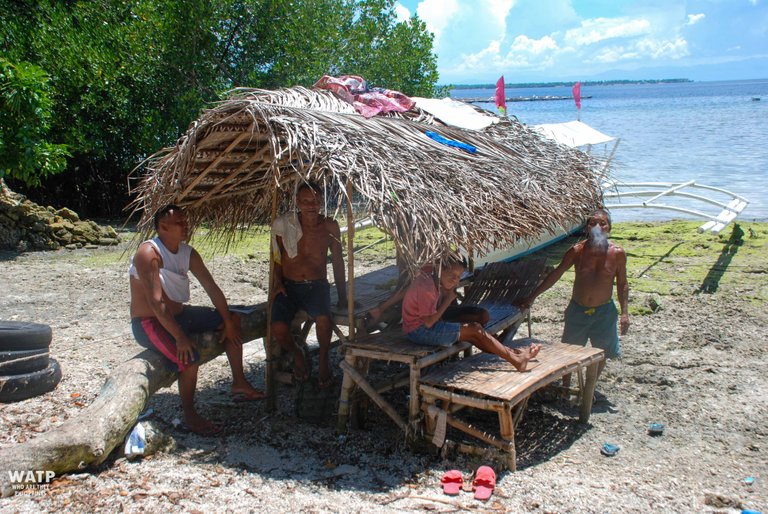 The bamboo table where I found Alfredo.
From left to right: Enteng, Alfredo's brother, Alfredo's grandson and Alfredo
At a very young age, he started helping his father, also a fisherman, going out to sea to catch fish. With the help of a tiny bangka, they would paddle out to sea, quite far from the shore and set lines with baits, hoping to catch something. On a bad day they could spend the whole day out there. On good days however, they would sell the extra fish and keep some for their own consumption.
Bangka are various native watercraft of the Philippines. It originally referred to small double-outrigger dugout canoes used in rivers and shallow coastal waters, but since the 18th century, it has expanded to include larger lashed-lug ships, with or without outriggers.
source
This is how he started fishing and it's all he's done his whole life until the beginning of this year, when he decided to retire. Now he mostly keeps himself busy growing corn to provide food for himself and his brothers living in the same area.
Since he is not working and doesn't have any income anymore, he mostly relies on his brothers, daughters and friends to help him with basic necessities.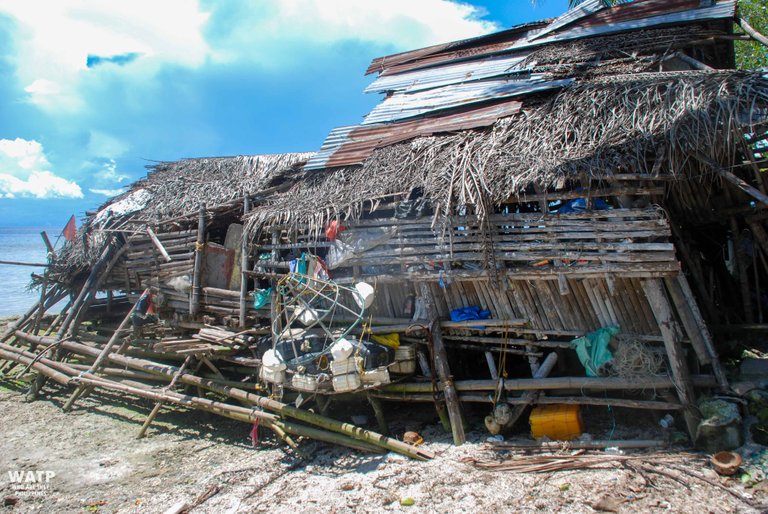 When I asked him what part of his life he would change if he could do it all over again, his answer was simply "nothing". He is very happy and contented with the life he's had so far, including the struggles and hard times. As you can see on the picture above, his home is very rudimentary but he's satisfied anyways. Though he does have a much better view from his place than most of us do. 🙂
Happiness for him is as simple as eating some corn and rice with kinilaw, mostly using malangsi (goldstripe sardinella).
Kinilaw is a raw seafood dish and preparation method native to the Philippines. It is also referred to as Philippine ceviche due to its similarity to the Latin American dish Ceviche.
source
He also does enjoy spending time with his brothers and friends on weekends, smoking the local lomboy cigarettes and having a few drinks of Kulafu. The lomboy cigarettes are made of dried tobacco inside a rolled up duhat leaf. As for the Kulafu, it is a 50 proof chinese wine made of 12 authentic Chinese botanical herbs with various health benefits.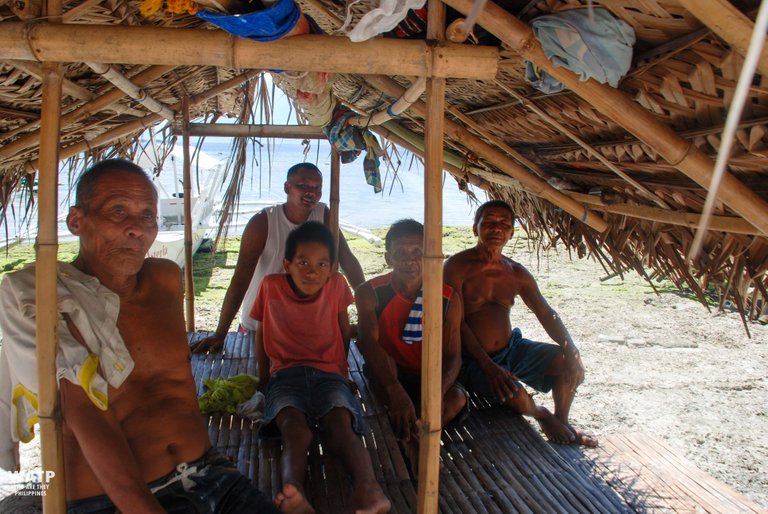 From left to right: Alfredo's brother, Enteng and Alfredo's grandson, another brother and Alfredo
One of his favorite memories dates back to when he was younger and playing volley-ball with his friends and neighbors. They would spend hours doing so.
This is it for Alfredo's features. To contribute to his reward, please upvote this post and share it with your followers by reblogging it.
Thank you all again for your support and see you next week for another feature as well as Alfredo's reward.
---
Time for Trinidad's HBD Reward
Trinidad was the feature of WATP #8 conducted by @discoveringarni. The author reward came in this morning.

So here is the breakdown for her reward:
   HBD 4.151 from post payout
+ HBD 6.000 from @discoveringarni
+ HBD 3.000 from @ybanezkim26
+ HBD 2.000 from @kayceeports2020
+ HBD 2.000 from @viking-ventures
+ HBD 1.000 from @josejirafa
+ HBD 1.000 from @iamraincrystal
+ HBD 1.000 from @iamyohann
+ HBD 1.000 from @romeskie
= HBD 21.151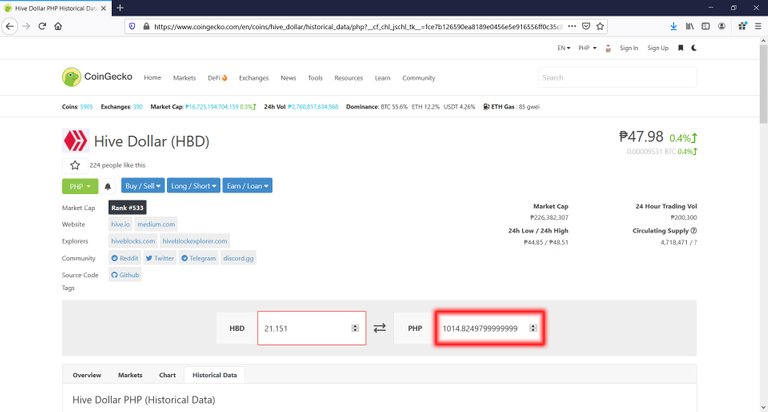 This amount converted into the local currency is PHP 1,014.82 so let's round it up to PHP 1,020 to make it easier.
We didn't get to spend much time with her as she was busy working part-time but she was happy and thankful receiving the money.
Here is the picture of Trinidad receiving her reward.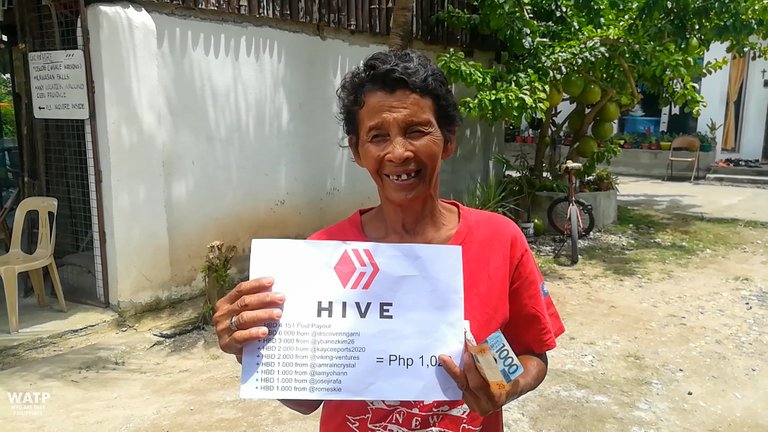 Thank you to everyone who participated to her reward and especially the above mentioned persons for their contributions.
---
#WhoAreTheyPhilippines is a weekly project where I randomly select a person in the area where I live or work. I interview that person, take a few pictures and then post about him/her on the Hive PH Community. After 7 days, when the author reward can be claimed, I convert the whole HBD amount to the local currency (PHP) and hand it over to him/her along with some contributions from some of you.
I am very thankful to all of you for your support, upvotes and contributions. I am glad this initiative is well received.
---
Check out the previous editions here:
WATP #1 - Ernesto The BladeSmith and Ernesto's HBD Reward
WATP #2 - Marito The Trisikad Driver
WATP #3 - Pampilo The Vulcanizer
WATP #4 - Virgilia The Sari-sari Store Owner
WATP #5 - Eliza The Plant Seller
WATP #6 - Kris The Street Food Seller
WATP #7 - Claudia & Rosalina The Homemakers
WATP #8 - Trinidad The laundrywoman
---
Status on the current contributions: