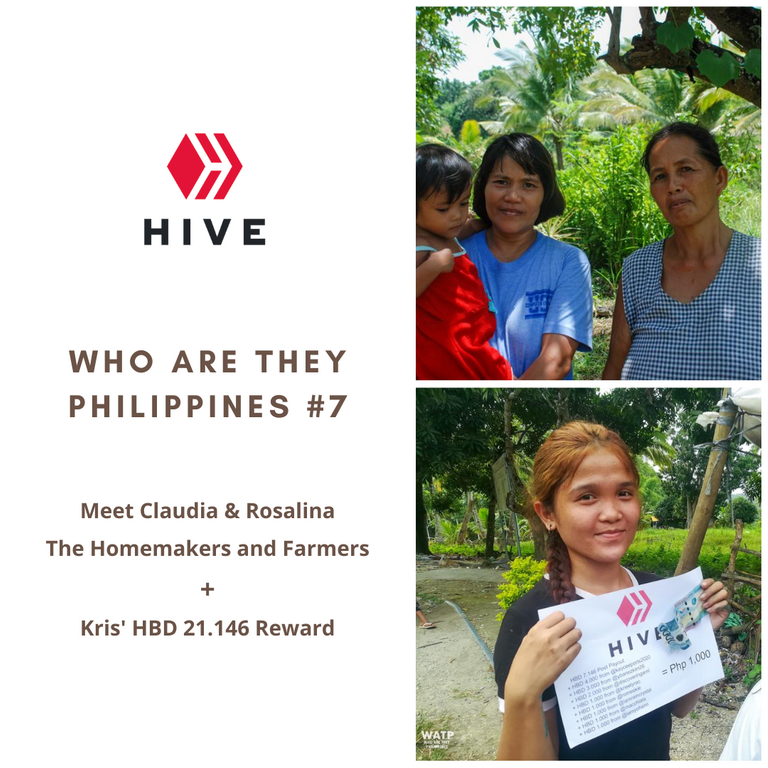 Hello #Hive,
I am back again for another #WhoAreTheyPhilippines feature 🙂
For the 7th edition of #WhoAreTheyPhilippines (WATP) We are meeting not one, but 2 ladies. We have Claudia and Rosalina, both homemakers as well as farmers.
---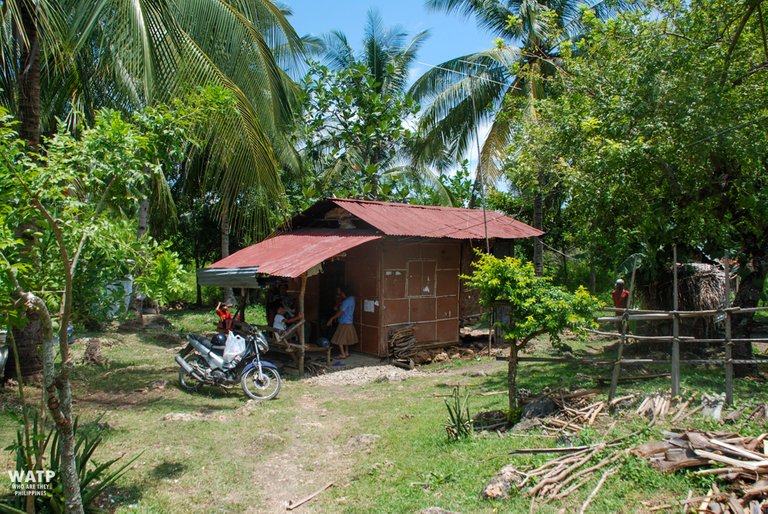 Why 2 presentations this week?
As I was riding my scooter at a very slow speed on the back roads of Alcantara, South Cebu Philippines, I noticed this small hut made of plywood and bamboo and covered by GI sheets. Several kids and a few ladies were sitting under the porch. I decided to stop and start a conversation with them, thinking one of them could be my next feature.
I was welcomed by Jubilee a very young mother of a 3 month old little girl. It appeared that she was the least shy of them all and the only one who could speak a bit of English.
I explained the reason I was there as well as I told her about #WhoAreTheyPhilipines. Then I asked her if one of them would agree to be interviewed. All of them felt shy and I didn't get an answer.
So I decided to pick the closest one to me, Rosalina. As I was interviewing her, I realized that this wasn't her house and that she was only visiting her 2nd degree cousin. She lives very close by though.
This was my mistake, I should have asked first whose house it was. Obviously, I couldn't ignore Rosalina and start again with someone else, but I felt that it was unfair to interview and feature someone at another person's place. This is why I decided to also interview the owner of the hut, Claudia.
I could have potentially done 2 features, 1 for each of them over the period of 2 weeks, but I prefer finding someone from a very different area every time. I was also afraid that one feature could have a better payout than the other and didn't want to have to hand over more to one than the other next week. So after thinking about it for a while, I decided that I would feature both of them in the same edition and I will split the reward between them.
Who is Claudia?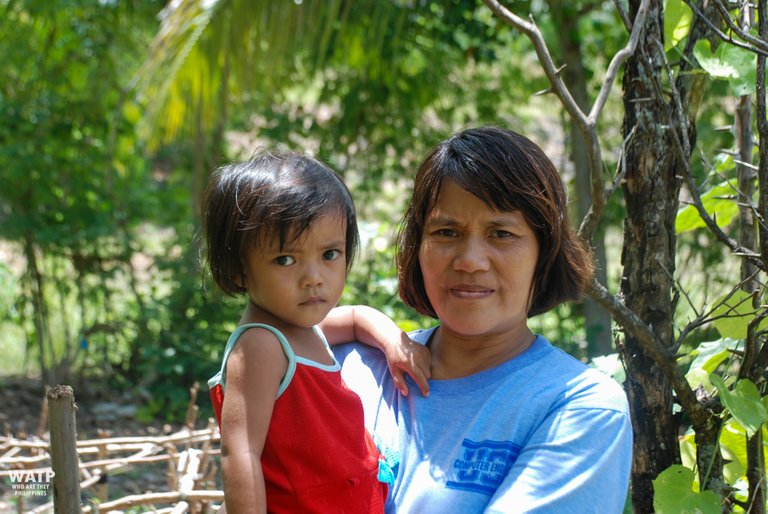 Let's start with the owner of the hut.
Claudia is a 47 year old stay at home mum of 10 children. 5 boys and 5 girls from the ages of 2 to 24. Her eldest child is the partner of Jubilee whom I mentioned earlier and so she is also the grandmother of a 3 month old baby girl. On the picture above she is with her youngest, Mary Ann. She was born and raised in Barangay Candabong in Alcantara.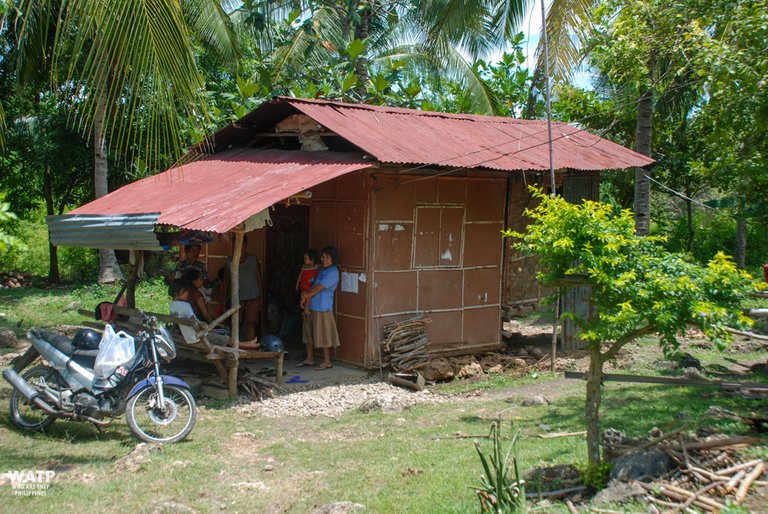 She recently became a widow after her husband passed away. He used to be the breadwinner for the family while working as a welder in Cebu City. Now, she's the one trying to provide for her children. Her 2 eldest also pitch in whenever they can find some work which is a rarity at the moment because of the Covid19's situation. As they say themselves, "no work, no pay"!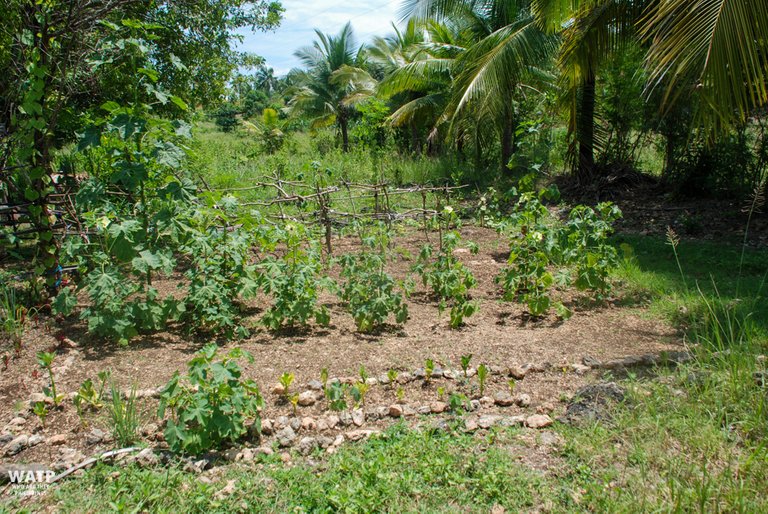 In order to be able to put food on the table, she's spending a lot of time farming, growing corn and vegetables. Her garden next to the hut currently has a few okras and other local veggies (for which I don't remember the name) growing. The entire harvest is for their own consumption.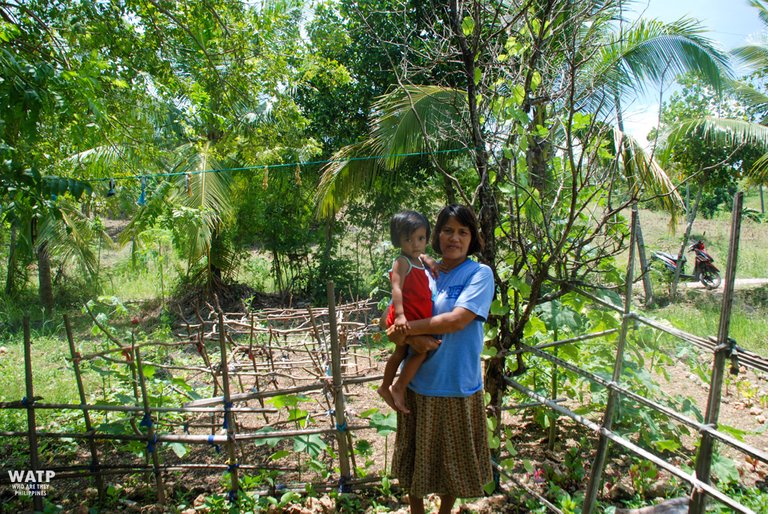 She's very much contented with life and doesn't have any dreams nor ambitions. She takes everyday as it comes and try to make the most of it, yet living a very simple and frugal life. Farming is what she enjoys doing and so this is where she gets her happiness from, especially at the harvest time, seeing the reward from all the efforts.
Who is Rosalina?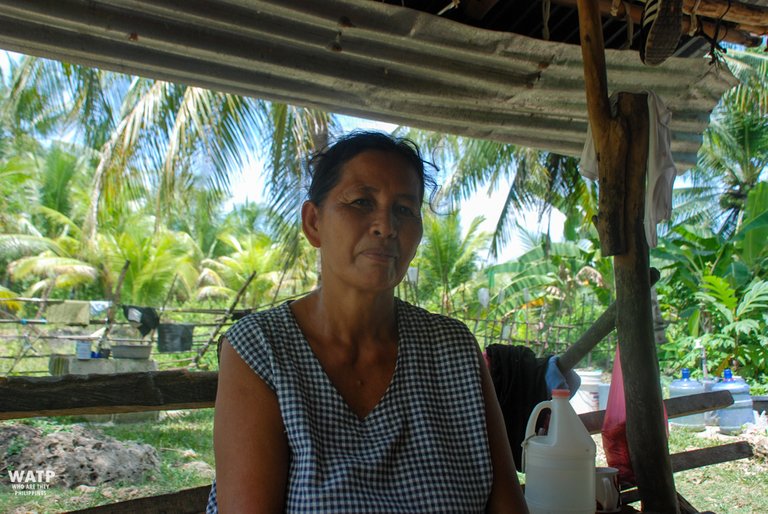 Now, for the visiting cousin.
Rosalina is a 52 year old housewife and farmer. She was born and raised in Barangay Candabong in Alcantara. She is married and has 6 children, 3 boys and 3 girls from the ages of 20 to 32. All of them are married and have left the house already.
Her husband is a van driver working for one of the tour agencies in Cebu City. His job is to drive the tourists around the most popular sites and attractions on Cebu island. Sadly, because of Covid19, there are no tourists around and so he has been jobless since the start of the pandemic. They do their best to survive with the help of one of their daughters and by farming.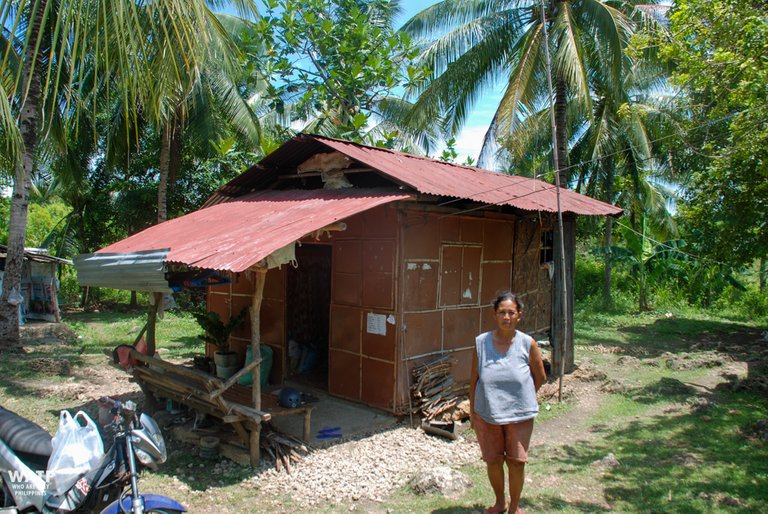 They mostly grow corn for their own consumption and take care of a few animals such as a cow, a few pigs, goats and chickens.
Just like her cousin, she doesn't have any dreams nor ambitions and lives day by day. Farming is her main pleasure but she gets her happiness and joy from little things such as singing karaoke with family and neighbors.
Claudia and Rosalina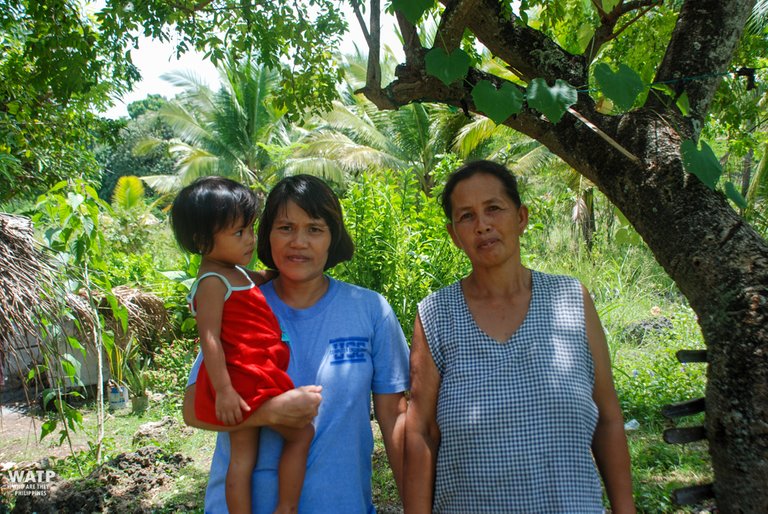 This is it for Claudia and Rosalina. As usual, I wish I could provide more details about them, but it is not always easy for me to convey my questions properly since I don't speak the local dialect. Unfortunately, the kind people helping with translation are not always able to find the right words. I'm going to do my best to get better and more thorough with my interviews.
To contribute to their reward, please upvote this post and share it with your followers by reblogging it.
Thank you all again for your support and see you next week for another feature as well as Claudia and Rosalina's reward.
---
Time for Kris' HBD Reward
Kris was the feature of WATP #6 and the author reward came in last night. It is so far the highest payout out of all the editions.

So here is the breakdown for her reward:
   HBD 7.146 from post payout
+ HBD 4.000 from @kayceeports2020
+ HBD 3.000 from @ybanezkim26
+ HBD 2.000 from @discoveringarni
+ HBD 1.000 from @kneelyrac
+ HBD 1.000 from @romeskie
+ HBD 1.000 from @iamraincrystal
+ HBD 1.000 from @macchiata
+ HBD 1.000 from @iamyohann
= HBD 21.146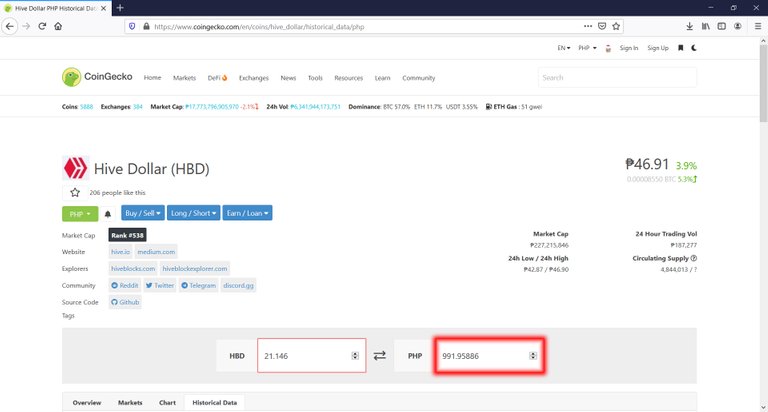 This amount converted into the local currency is PHP 991.96 so let's round it up to PHP 1,000 to make it easier.
Here is the picture of Kris receiving her reward. It was very obvious with her behavior that she was really happy, and excited when receiving the money. I did film the whole thing but unfortunately my camera screwed up and the sound is just some buzzing noise. I guess I'll just have to make a silent movie, sorry. The person next to her on the picture is her sister.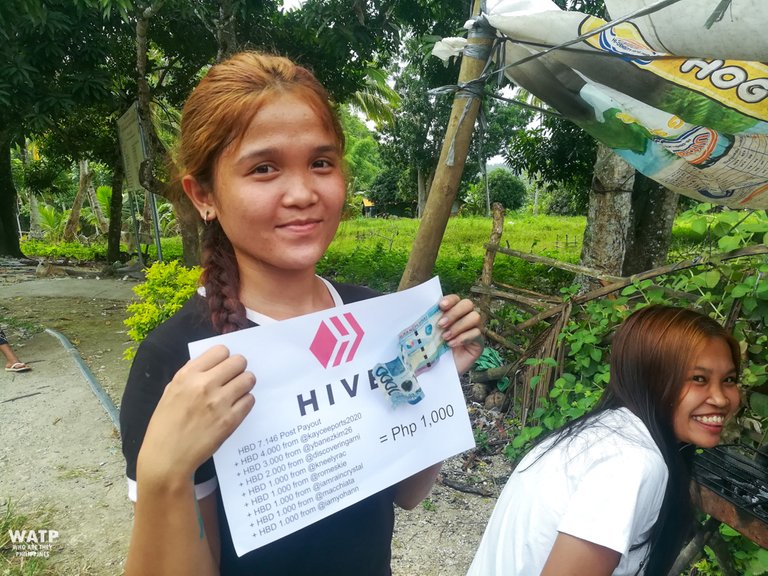 Thank you to everyone who participated to her reward and especially the above mentioned persons for their contributions.
---
#WhoAreTheyPhilippines is a weekly project where I randomly select a person in the area where I live or work. I interview that person, take a few pictures and then post about him/her on the Hive PH Community. After 7 days, when the author reward can be claimed, I convert the whole HBD amount to the local currency (PHP) and hand it over to him/her along with some contributions from some of you.
I am very thankful to all of you for your support, upvotes and contributions. I am glad this initiative is well received.
---
Check out the previous editions here:
WATP #1 - Ernesto The BladeSmith and Ernesto's HBD Reward
WATP #2 - Marito The Trisikad Driver
WATP #3 - Pampilo The Vulcanizer
WATP #4 - Virgilia The Sari-sari Store Owner
WATP #5 - Eliza the Plant Seller
WATP #6 - Kris the Street Food Seller
---
Status on the current contributions: