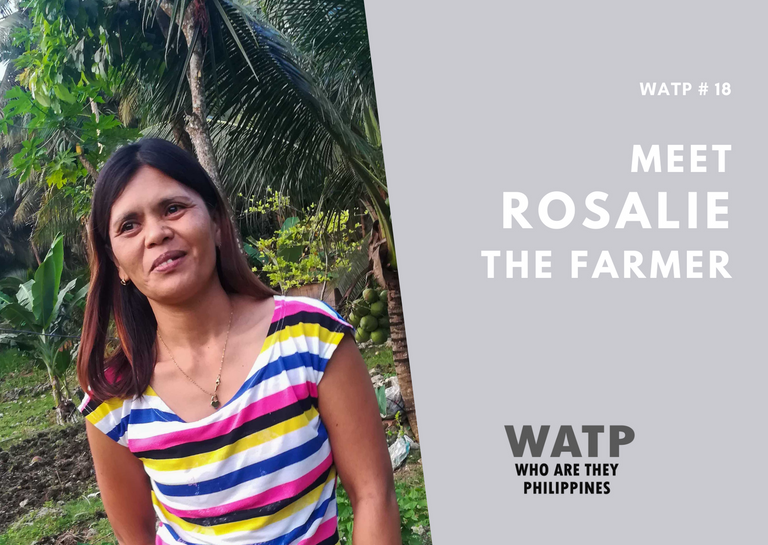 Hello #Hive!
It's been such a long time since the last #WhoAreTheyPhilippines features and I'm sorry for this long delay. However, I'm afraid I will not be able to do this on a weekly basis like I used to but I will try to do at least one presentation a month.
After bad weather, many business and personal issues, I finally decided to get back on my scooter today and roam the narrow, broken, bumpy and curvy roads of the south Cebu in search for someone I could interview and present to you.
My drive today took me from Moalboal to the mountain area of Alcantara. I thought I had already driven on all the small roads around here but it turns out that isn't the case and after 30+ minutes and many right and left turns I wasn't actually entirely sure where I was. It was just great though as I was enjoying the windy and slightly colder end of day weather as well as the beautiful landscape around me.
Around a bend, something on the side caught my attention. A typical scene from the Philippines' countryside. There was a woman watching a young man plowing a field with the help of a carabao (a domestic swamp-type water buffalo native to the Philippines).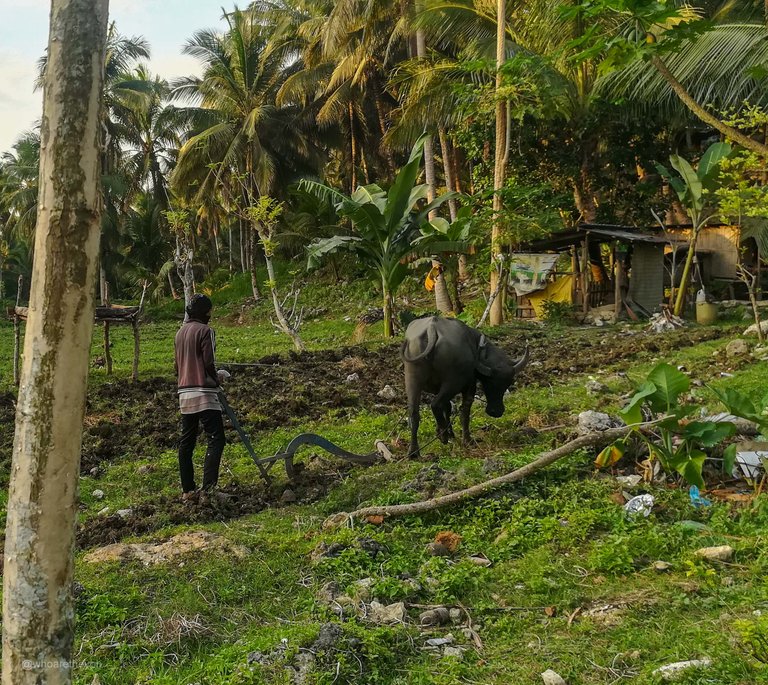 I first stopped on the side of the road to take some pictures and as I was doing so, I started conversing with the lady using the little Tagalog I know. It wasn't easy because she didn't speak English and being from the Visayas region, Tagalog is not her mother tongue. Anyways, we kinda understood each other and after getting to know her a little bit, I thought that she could be a good #WATP feature.
I explained the whole process starting with the interview until the reward a week later and asked her if she would agree to answer some questions. The first thing she said was "I'm a bit scared". I instantly knew that she thought it was a scam and she was afraid to get into some kind of trouble, so I showed her some pictures from some of the previous features. She felt reassured and agreed.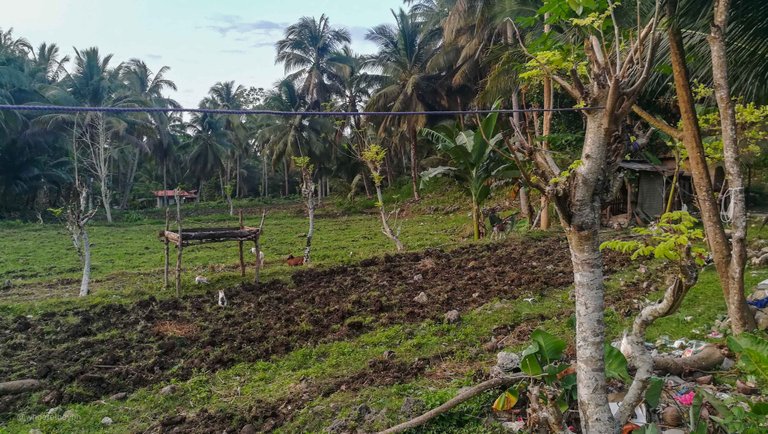 This is how I met Rosalie.
---
Who is Rosalie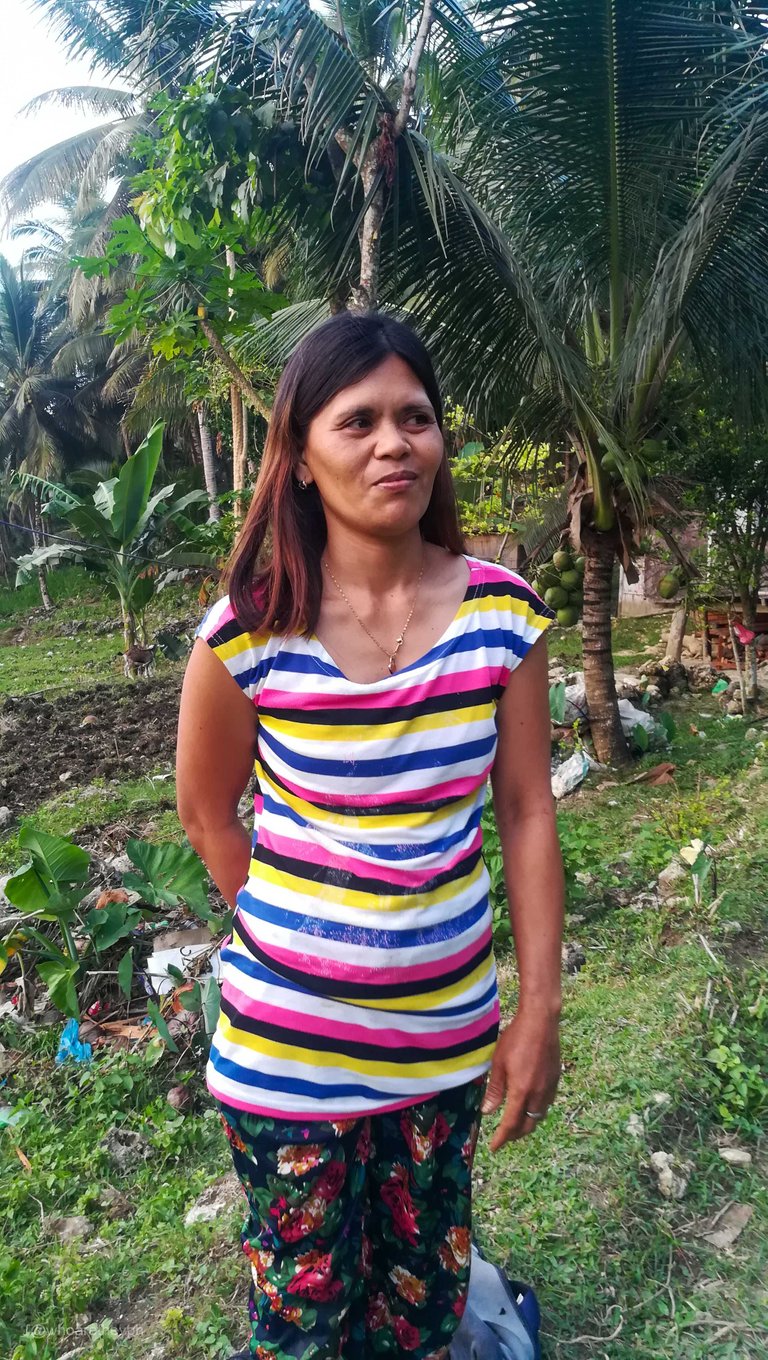 Rosalie is a 40 year old woman who was born and raised in Davao Del Sur, Mindanao. She's currently living in Barangay Manga, Alcantara, with her husband and their 4 children aged 17, 15, 11 and 8. Three boys and a girl.
Rosalie left Mindanao in 2005 when she got married and she then joined her husband in Alcantara where he was born and raised. She sadly hasn't been back to Mindanao nor has she seen her own family since then. I could feel that this affects her and gives her a heavy heart.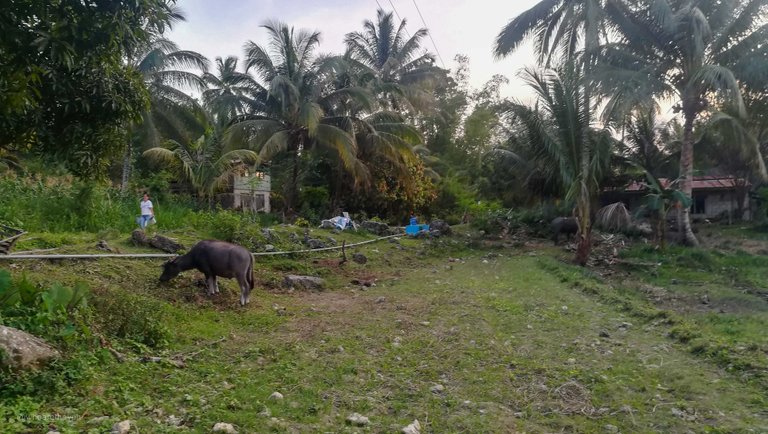 Her carabao
Together with her husband and kids, they make do by farming corn and few vegetables such as pumpkins as well as taking care of livestock. They own one sow which they regularly breed to sell the piglets as well as a carabao which they use to plow the field. It turns out that the young man I saw working earlier was her 15 years old son. They also try to raise a few chicken for their own consumption.
They don't have a regular income so she very often do odd jobs to help other people in the area, such as washing clothes, weeding lands, etc...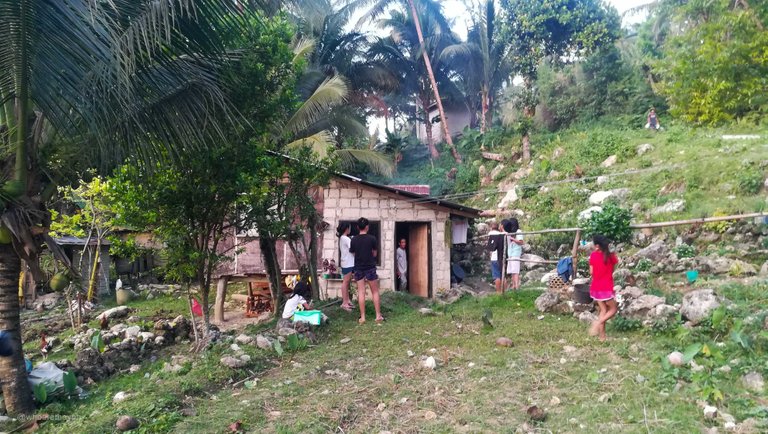 Her house with some neighbors and her husband at the entrance and
Her hobby consists of gardening and karaoke. It seems like the latter is really her preference because her neighbors were quick to answer "singing" before she even said it herself. Mostly, she's happy spending time with her family.
My next question to her and the way she reacted made me feel a bit uncomfortable. I asked her "What is your dream"? She first started smiling and nervously giggling asking herself the question as if I had hit a tough subject. Then she tried to answer me but after saying only "Gusto ko..." (I'd like...) she suddenly sat down and I could see deep emotions taking over her as her eyes started watering and tears rolled down her cheeks. She couldn't handle it anymore and then cried as she put her head down on knees and inside the piece of clothes she was holding.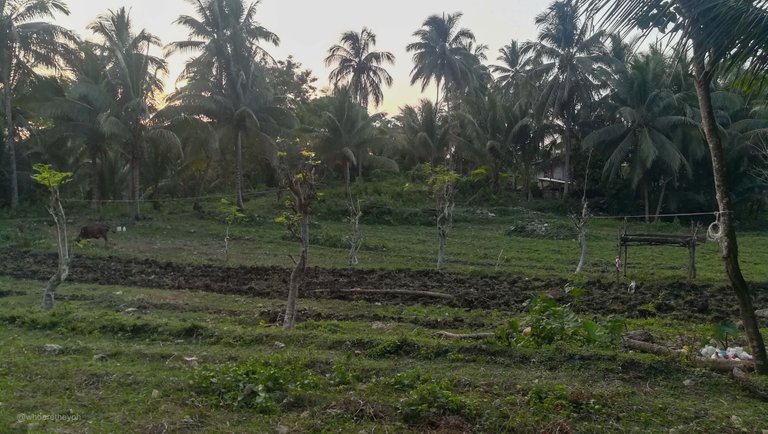 The field her son was plowing
Being a bit of an introvert I didn't know what to do or how I should react and so I apologized for upsetting her and asked her if she wanted me to stop the interview. She waved meaning that she was ok and that she wanted to continue, but it took a good minute before she calmed down and looked at me. Her answer then was "I want my family and children to be ok and for us to have a more comfortable life". As she said that, tears continued rolling down her cheeks.
Neighbors who were next to us at the time did say that she and her family were having financial troubles and that they were really struggling to survive. Just like many families in the Philippines, the covid pandemic is really affecting them. They were already a poor family before but the current situation is making it even worse.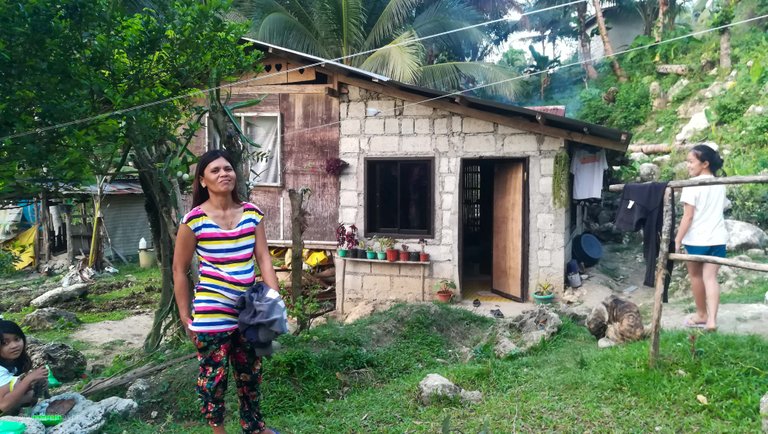 Rosalie in front of her house
This is it for Rosalie's feature. To contribute to her reward, please upvote this post and share it with your followers by reblogging it.
Thank you all again for your support and see you next week for another feature.
---
#WhoAreTheyPhilippines is a project which aims at sharing Hive cryptocurrency rewards with Filipinos. Every week a person within the Philippines is randomly selected. Our interviewer asks him/her some questions and takes a few pictures before writing a feature and posting it on the Hive PH Community. After 7 days, when the author reward can be claimed, the HBD payout amount along with some contributions from fellow Hivers are converted to the local currency (PHP). Our interviewer then makes his way back to this person and hands over the total amount to him/her.
We are very thankful to all of you for your support, upvotes and contributions. We are also glad this initiative is well received.
---
Check out the previous editions here:
WATP #1 - Ernesto The BladeSmith and Ernesto's HBD Reward
WATP #2 - Marito The Trisikad Driver
WATP #3 - Pampilo The Vulcanizer
WATP #4 - Virgilia The Sari-sari Store Owner
WATP #5 - Eliza The Plant Seller
WATP #6 - Kris The Street Food Seller
WATP #7 - Claudia & Rosalina The Homemakers
WATP #8 - Trinidad The laundrywoman
WATP #9 - Alfredo The Retired Fisherman
WATP #10 - Mark The Construction Worker
WATP #11 - Bitiliana the Malunggay and Lemongrass Seller
WATP #12 - Alexous the Fisherman
WATP #13 - Arjay the Buko Vendor
WATP #14 - Lynmae the Street Food Seller
WATP #15 - Jaynelyn the Stay at Home Mum
WATP #16 - Elvish & Knizalyn a Couple From Badian
WATP #17 - Special Edition: For the victims of Typhoons Goni and Vamco