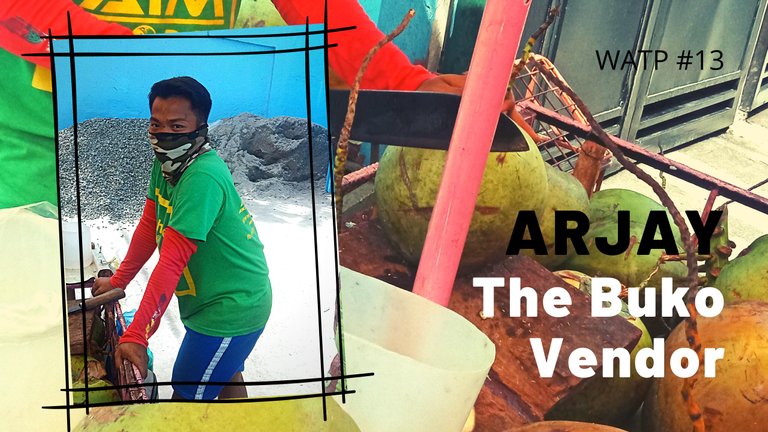 Hey there! This is @romeskie, here to present to you this week's @whoaretheyph feature. Let me bring you a little bit far away from Cebu for this feature. This time, let's go to Luzon. This experience has been both exciting and nerve-wracking, nonetheless, I am truly honored to be presenting this feature for #whoaretheyphilippines. The first few minutes were a bit awkward but as our interview went on, it became to feel like we were just having a normal conversation.
Meet Arjay, a buko vendor presently living in Bambang, Taguig City. His mobile buko shop is currently situated in one of the main streets of Taguig, a stone's throw away from where he lives. While the majority of the population lost their jobs when the quarantine started, Arjay on the other hand found a way to support his family.
I met him in the month of June when I was craving for buko juice. It was a good thing he was stationed just a few blocks away from our house. I would usually buy buko from him in the morning and with the few minutes I spend in his mobile buko shop, I saw his friendliness and his helpfulness. There was an instance when a motorist accidentally dropped his phone on the street, he was quick to help stop the traffic and pick up the phone to hand it over to the owner.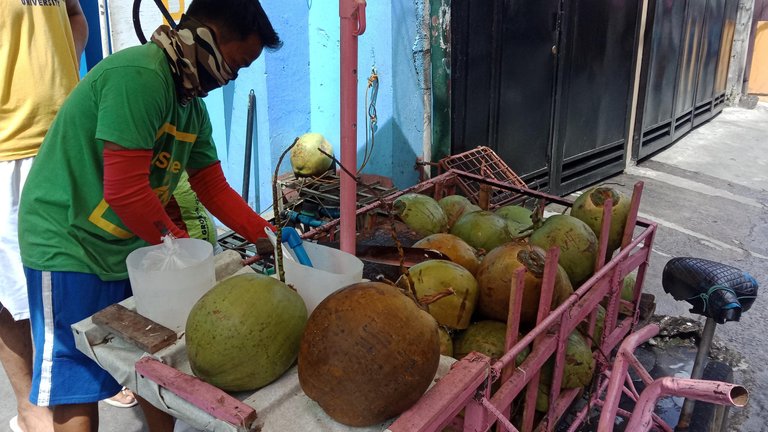 With just a little capital to start up his buko venture, he was able to purchase the pedicab, and the bolo he is using for his small business. On his first day as a new buko vendor, he knew he needed to know the best spot to sell his products, so he followed his neighbors' trail. Most of the men in his old neighborhood in Pateros were buko vendors. Along the way, he lost the trail and somehow ended up in his current spot. The building owners allowed him to use a small portion of the parking space in the morning. Their only condition is that he maintains the cleanliness of the space before he leaves at noon.
Arjay has a 6-year-old daughter who is currently homeschooling under the module-based learning system proposed by the local government. And a 3-year-old boy both taken care of by his wife, currently pregnant with their third baby. On average, he earns 800 pesos per day. Although with the new normal slowly settling in, his earnings dwindled down a little bit. He was earning more in the first few months of the quarantine. To him, a few hundred pesos less on his earnings means a lot to his family of four, now that there's a baby coming.
I am not sure if I have asked all the questions I needed to ask about Arjay but one thing is for sure, he will do his best to make sure his family is well provided. According to him, everything about the buko business how to's is fairly new to him. He has been cut and bruised on the job but he needs to move forward.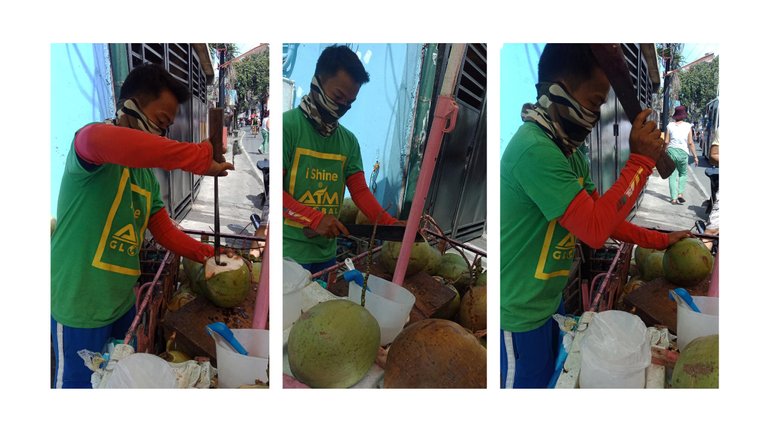 He was kind enough to teach me some of the things he learned about Buko. According to him, once picked from the tree, buko has a shelf life of 3 days. Or until it changes color. So if you see the buko being given to you has a slightly brownish color, check to see if it smells sour. I have always wondered how they determine whether the buko they're about to cut open has little or more coconut meat. I know they determine it through the sound. Now I know that if the buko sounds like an empty cardboard box when tapped with the bolo, that means there's less meat and this is best for Buko Juice. If it sounds a little bit more solid and full when tapped, it means that buko is best for buko salad.
I only spent a few minutes at Arjay's buko station because aside from him having to attend to his customers, the sun was already getting too high at that time and I can't stay inside his umbrella's shade because we had to practice social distancing. I had a nice time chatting with Arjay. I'll see him again next week to hand him his reward.
It has been a pleasure doing this interview. Thank you so much @iamyohann and @ybanezkim26 for this opportunity. I am hoping to see more involvement from the Hive PH community in this project. It is indeed great to have this initiative reach other provinces and islands in the Philippines.
---
#WhoAreTheyPhilippines is a weekly project where I randomly select a person in the area where I live or work. I interview that person, take a few pictures and then post about him/her on the Hive PH Community. After 7 days, when the author reward can be claimed, I convert the whole HBD amount to the local currency (PHP) and hand it over to him/her along with some contributions from some of you.
I am very thankful to all of you for your support, upvotes and contributions. I am glad this initiative is well received.
---
Check out the previous editions here:
WATP #1 - Ernesto The BladeSmith and Ernesto's HBD Reward
WATP #2 - Marito The Trisikad Driver
WATP #3 - Pampilo The Vulcanizer
WATP #4 - Virgilia The Sari-sari Store Owner
WATP #5 - Eliza The Plant Seller
WATP #6 - Kris The Street Food Seller
WATP #7 - Claudia & Rosalina The Homemakers
WATP #8 - Trinidad The laundrywoman
WATP #9 - Alfredo The Retired Fisherman
WATP #10 - Mark The Construction Worker
WATP #11 - Bitiliana the Malunggay and Lemongrass Seller
WATP #12 - Alexous the Fisherman