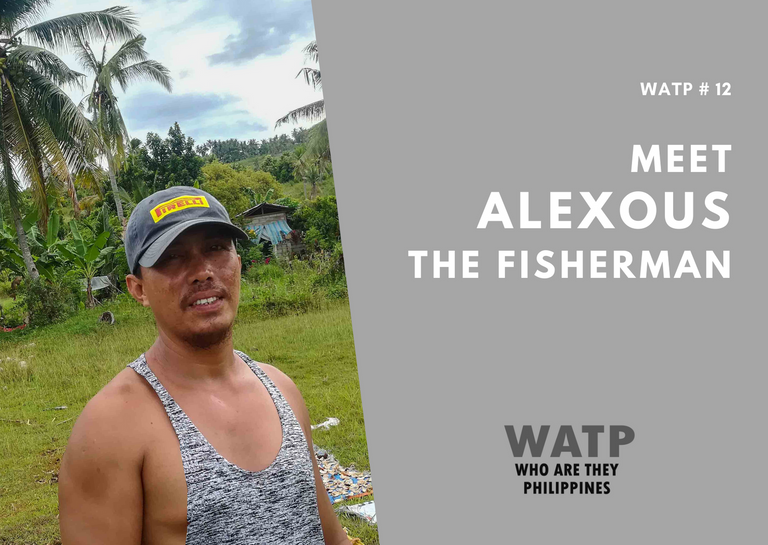 Hello #Hive!
After a successful feature by @ybanezkim in Mandaue City (reward post to come in a few days), we are back to south Cebu for WATP #12.
Just like the previous features, I had an idea where I was going to look for someone before I left the house. The main difference, though, is that this time, I was a bit more clever and I decided to go after lunch time. That way I had more chances of finding my next "victim". I was however a bit worried that being a Sunday afternoon, people would be spending time with their family and they may not want to be bothered and to answer my questions.
Off I went on my scooter. Direction: Badian!
It isn't very well known, but there is an 18 hole golf course in Badian (Cebu International Golf Course). My idea was to drive along the road going to the golf course and see if anyone would catch my attention.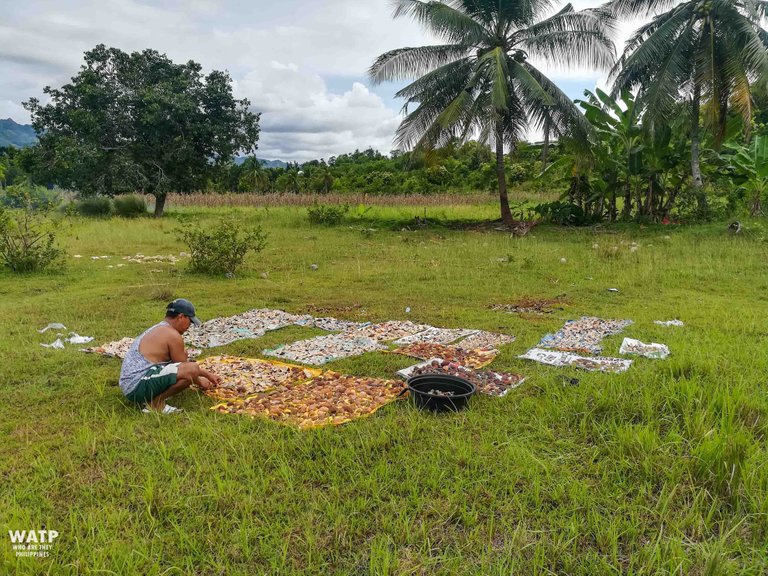 Not long after I turned from the main road, I noticed a young man picking up dried coconut husks in a field. I approached him and tried to engage a conversation. I explained who I was and why I approached him but he was not interested and told me to look for someone else. Back on the scooter it is then.
I reached the end of the road and thought that maybe I wasn't meant to find anyone in that area. As I was making my way back to the main road, thinking of where I would go next, I noticed this man in a field crouched turning his back to me and busy picking things up. I decided to drive on the dirt road to get closer to him. Once again, I introduced myself and told him about #WhoAreTheyPhilippines.
Luckily for me he spoke a decent English and once I was done explaining everything to him, he agreed to be interviewed and have his picture taken. This is How I met Alexous.
---
Who is Alexous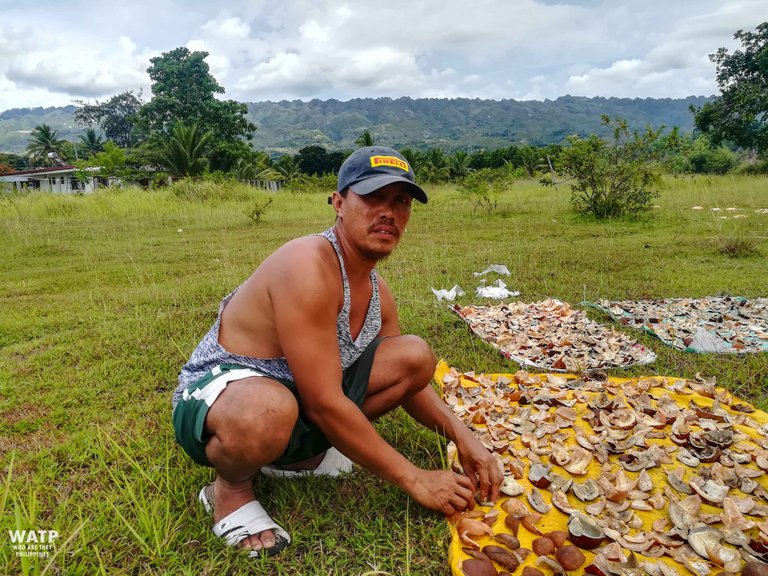 Alexous is a 36 year old fisherman. He was born and raised in Badian with his sister and 3 brothers. Unfortunately for him and his siblings, their childhood wasn't easy after their mum passed away when he was 6 years old. They were first looked after by their grand-mother and several years later by their dad in Cebu City. By that time, his dad had remarried and they then had 3 more sisters. Alexous started his education in Badian and he graduated High School in Cebu City.
A few years later, he came back to live in Badian and met is wife. They have a 12 year old daughter.
2006 is the year he started fishing. He goes out at sea with his one seater bangka every day of the week from 6am until 3pm except on Sunday which is his rest day. He sometimes goes as far as the coast of Negros Island to catch mostly bullet tuna (called Tulingan in Bisaya). These weigh between 1/4kg to 2kg a piece. Once he is back with his catch of the day, his wife takes over and goes to the market to sell them.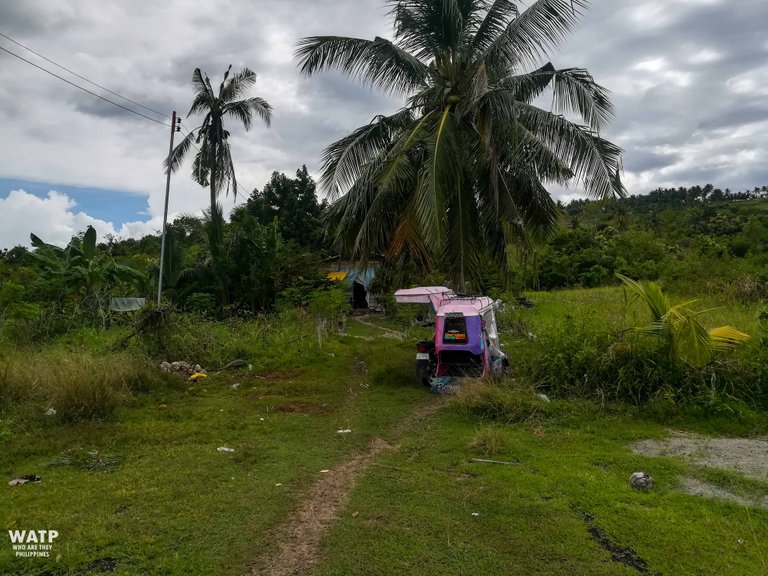 When I asked him if it is scary being on his own in the middle of the sea on his tiny boat, he told me about his scariest moment. He was fishing close to Negros Island when the weather suddenly turned bad with strong rain and wind and the waves were getting higher and higher. Being so far away from home, he was really worried and scared his boat would capsize but luckily for him he made it back safely. His words were: "This is the sacrifice that I have to make sometimes, it is my job".
Twice a year, he also harvests some coconuts, takes the meat out of them and dries it under the sun to make copra. Once fully dried he sells those dried pieces to people who will then extract the coconut oil from them. This is what he was taking care of when I met him. He was turning over every piece of coconut meat on some reused rice bags under the sun.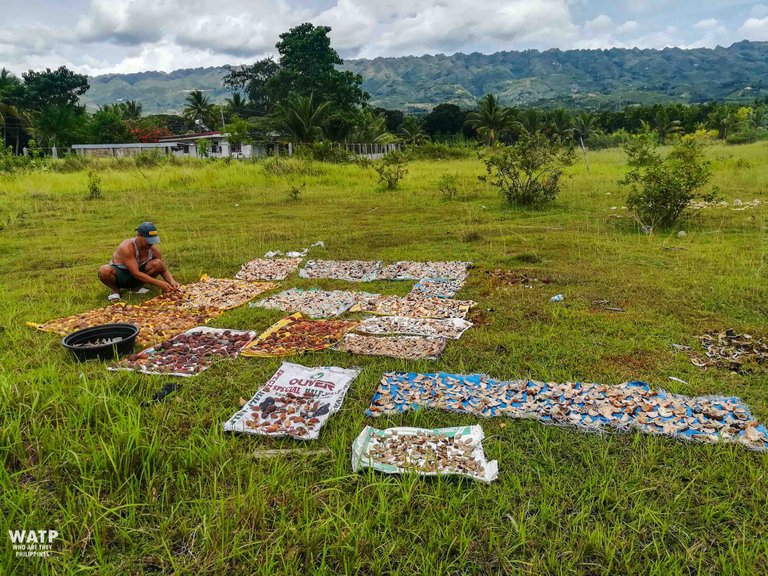 He and his wife also try to make an extra income by raising chickens and selling them at the market.
Before the covid19 pandemic and when the weather was not good for fishing, he would also drive a tricycle around town. This is one of the main mode of transportation for the people in the provinces of the Philippines. However, he has stopped doing so as it has become much more difficult to operate such vehicle due to the new health rules and regulations which the drivers have to abide by.
Alexous doesn't have any specific dream other than seeing his daughter graduate from school and find a good job when she's older.
His happiness comes from spending as much time as possible with his family and making sure all of them are healthy and doing well.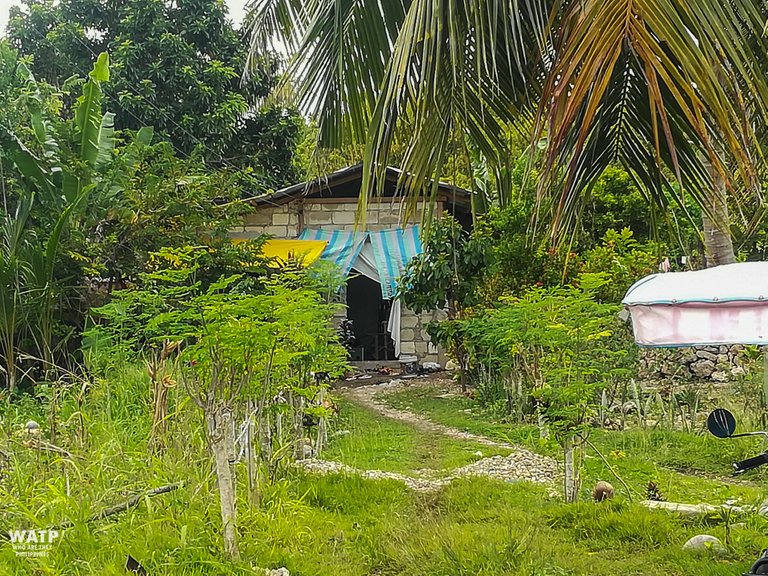 I asked him if the covid19 virus affected him and his family other than with the case of the tricycle as mentioned above. I wasn't surprised when he answered that it did and still affects him. There are much less buyers than before for his fish and the prices went down. Before the pandemic, on a good day his catch could bring him between php600 and php700 ($12.5 to $14.5). Now, he's happy if he can get half of it.
Just like a lot of people in the Philippines, he doesn't have the means to acquire his own land. The area where he was doing his copra as well as where his house is built does not belong to him nor his family. This is another worry for him, the owner of the land could evict him at any time.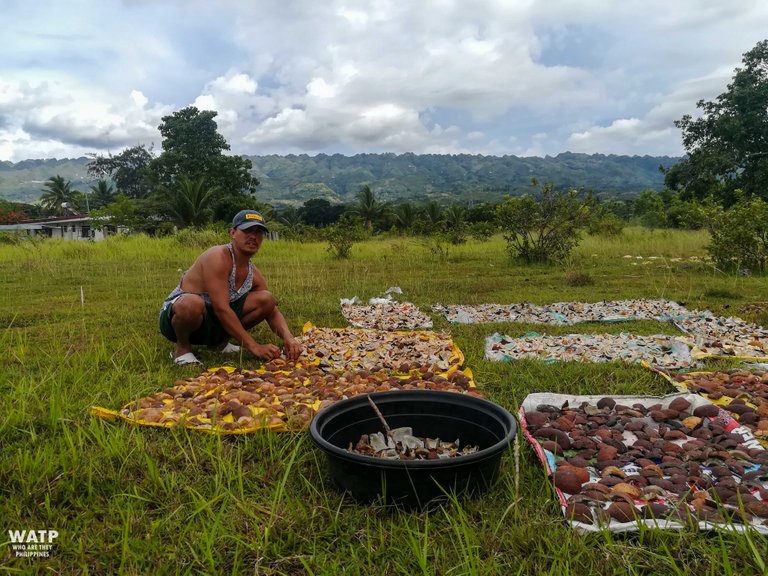 This is it for Alexous' feature. To contribute to his reward, please upvote this post and share it with your followers by reblogging it.
Thank you all again for your support and see you next week for another feature.
---
#WhoAreTheyPhilippines is a weekly project where I randomly select a person in the area where I live or work. I interview that person, take a few pictures and then post about him/her on the Hive PH Community. After 7 days, when the author reward can be claimed, I convert the whole HBD amount to the local currency (PHP) and hand it over to him/her along with some contributions from some of you.
I am very thankful to all of you for your support, upvotes and contributions. I am glad this initiative is well received.
---
Check out the previous editions here:
WATP #1 - Ernesto The BladeSmith and Ernesto's HBD Reward
WATP #2 - Marito The Trisikad Driver
WATP #3 - Pampilo The Vulcanizer
WATP #4 - Virgilia The Sari-sari Store Owner
WATP #5 - Eliza The Plant Seller
WATP #6 - Kris The Street Food Seller
WATP #7 - Claudia & Rosalina The Homemakers
WATP #8 - Trinidad The laundrywoman
WATP #9 - Alfredo The Retired Fisherman
WATP #10 - Mark The Construction Worker
WATP #11 - Bitiliana the Malunggay and Lemongrass Seller