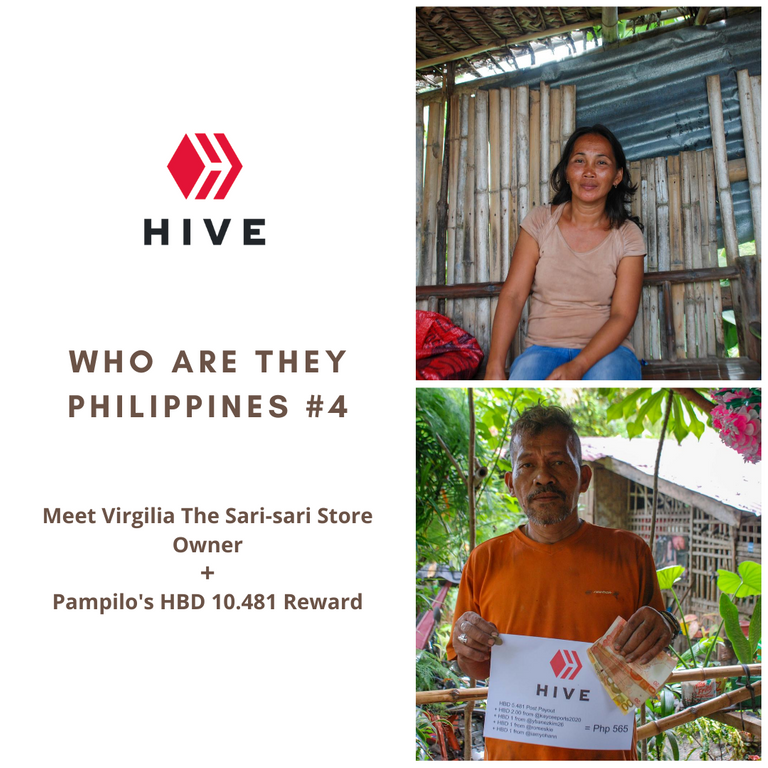 Hi #Hive,
This is the 4th edition of #WhoAreTheyPhilippines (WATP) and this time I am featuring Virgilia the sari-sari store owner.
#WhoAreTheyPhilippines is a weekly project where I randomly select a person in the area where I live or work. I interview that person, take a few pictures and then post about him/her on the Hive PH Community. After 7 days, when the author reward can be claimed, I convert the whole HBD amount to the local currency (PHP) and hand it over to him/her along with some contributions from some of you.
I would like to thank everyone for your support, upvotes and contributions. I am glad this initiative is well received.
---
Who is Virgilia?
Once again, I selected somebody at random during one of my scooter rides on the streets of Ronda, South Cebu.
As I exited the town driving towards the mountain, I saw this lady sitting on a bamboo bench at the covered porch of a hut. She was there with her son and 2 dogs. She waved at me and I could hear a "hello". This is how I met Virgilia.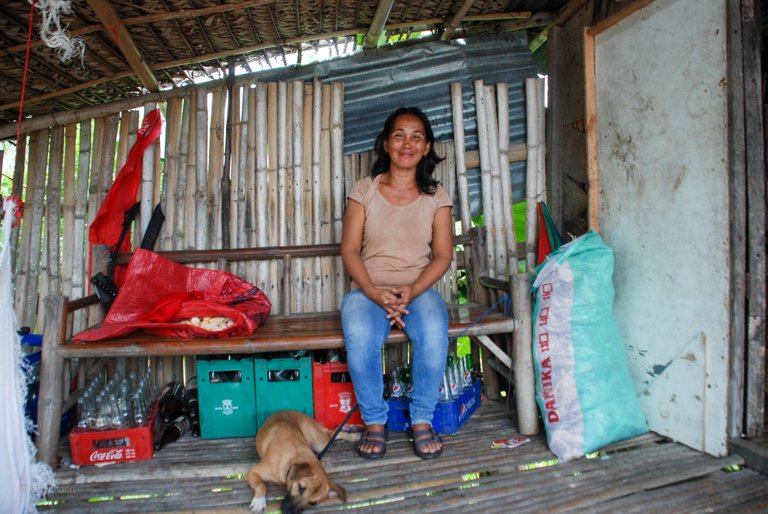 I was pleasantly surprised when I started talking to her because she is fluent in English which made it very easy for me.
As usual, I told her my reason for being there and I explained the #WhoAreTheyPhilippines concept to her. Right away, her question was: "Is this a scam?". It made me smile and I reassured her, telling her that it is real and I also showed her the reward pictures of my previous features. Since they were all from Ronda, she recognized some of them and she agreed to be my next subject.
Virgilia is a 46 year old woman who was born and raised in barangay Butong in Ronda. She was in a 10 year relationship with a Danish national until, sadly, her partner passed away due to medical reasons a couple of years ago. She is now a single mother looking after their 9 year old son, Jan.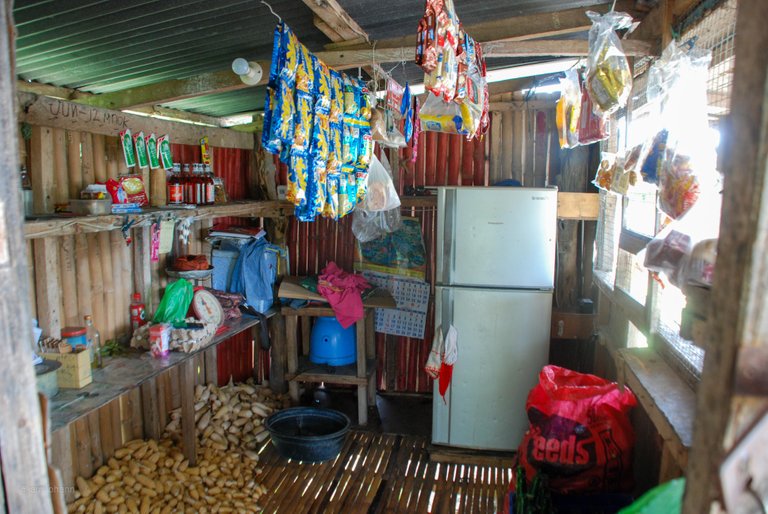 She started her sari-sari business 5 years ago as a way to earn a small living and since the passing of her partner, it has been the main revenue source for her, along with the corn she and her son grow together.
A sari-sari store, or neighborhood sundry store, is a convenience store found in the Philippines. The word sari-sari is Tagalog meaning "variety" or "sundry". Such stores occupy an important economic and social location in a Filipino community and are ubiquitous in neighborhoods and along streets. Sari-sari stores tend to be family-run and privately owned operating within the shopkeeper's residence. Commodities are displayed in a large screen-covered or metal-barred window in front of the shop. Candies in recycled jars, canned goods and cigarettes are displayed while cooking oil, salt and sugar are stored at the back of the shop. Prepaid mobile phone credits are provided. The sari-sari store operates with a small revolving fund, and it generally does not offer perishable goods requiring refrigeration. The few that do have refrigerators to store soft drinks, beers, and bottled water.
source
As you can see in the picture, her store is almost empty. She explained that the reason is because of Covid19. Having much less customers in the last few months and the margin of her sales being very low she has not been able to replenish her stock and make a living at the same time. On top of that, a recent storm damaged her place even more than it already was and it is now in dire need of repairs.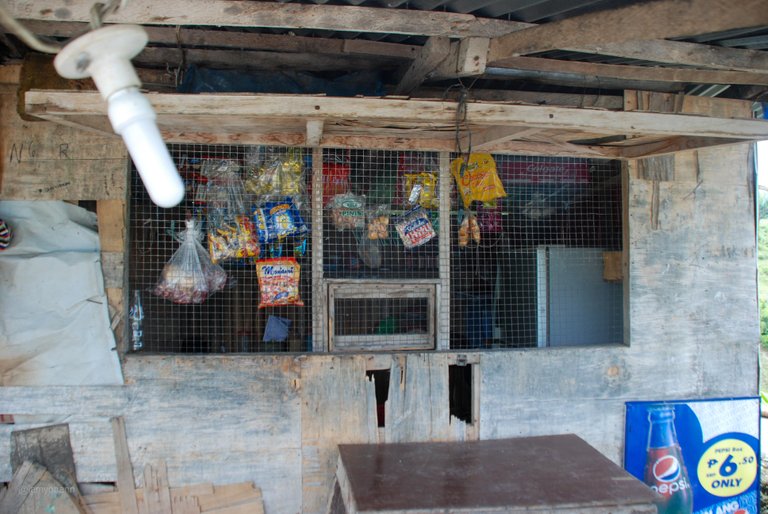 With the current situation, she has not been able to find a job in the area which could provide for her and her son.
Yet, as you can see, she's still smiling. This is a very distinct trait of the Filipinos which shocked me during my first trip in the Philippines in 2001. A lot of them struggle to survive on a daily basis, but they are always smiling and also ready to welcome you and offer you everything they have without expecting anything in return.
Her current situation doesn't stop her from dreaming to one day being able to travel outside the Philippines and specifically to Europe. Though she's concerned about spending several hours in a plane.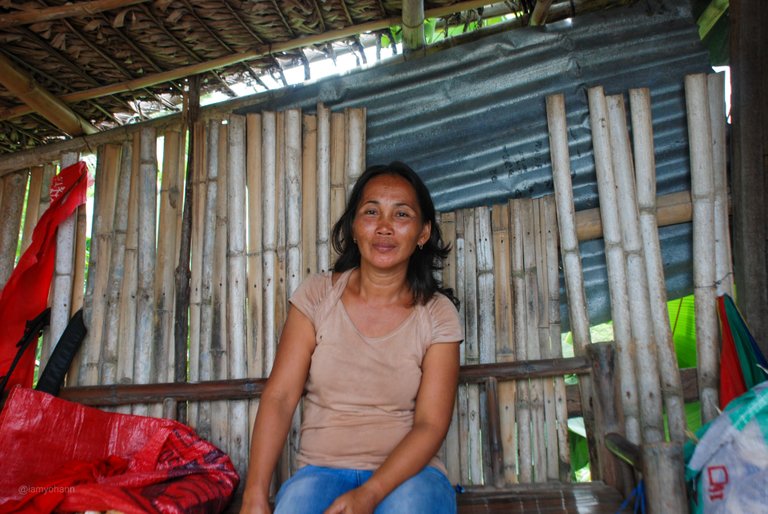 Until then, she keeps herself happy with food. She loves to eat her own cooked food or the neighbors', mostly vegetarian dishes. When I asked her what her favorite dish was, she mentioned dishes with malunggay. She made me smile however, when she said she and her son miss being able to enjoy the food from Jollibee. I am personally not a fan of this fastfood chain.
This is it for Virgilia's story. Thank you all again for your support and see you next week for another feature as well as Virgilia's reward.
---
Time for Pampilo's HBD Reward
Pampilo was the feature of WATP #3.
Yesterday marked the 7 days of the post and the author reward came in.

So here is the total for his reward:
HBD 5.481 from post payout + HBD 2.00 from @kayceeports2020 + HBD 1.00 from @ybanezkim26 + HBD 1.00 from @romeskie + HBD 1.00 from myself = HBD 10.481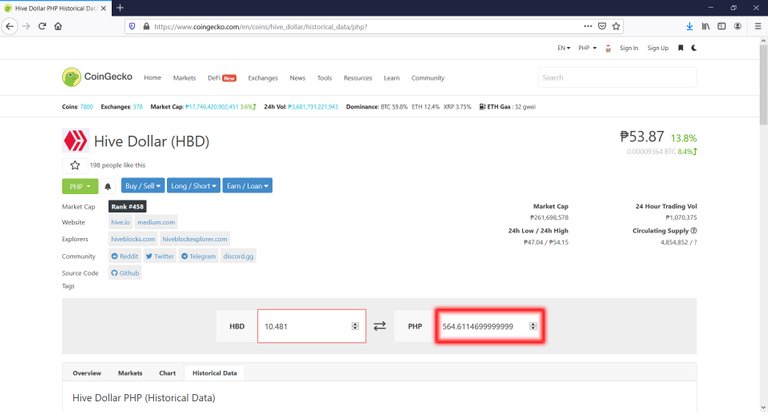 This amount converted into the local currency is PHP 564.61 so let's round it up to PHP 565 to make it easier.
Here is the picture of Pampilo receiving his reward. He and Margie, his wife, were very happy and thankful.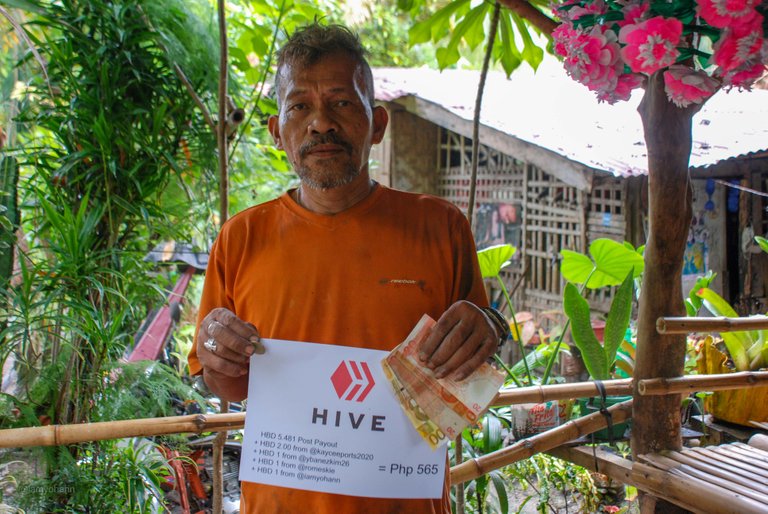 Thank you all for contributing to his reward, especially @kayceeports2020, @ybanezkim26, @romeskie for their donations and @darthknight for the generous upvote.
---
Check out the previous editions here:
WATP #1 - Ernesto The BladeSmith and Ernesto's HBD Reward
WATP #2 - Marito The Trisikad Driver
WATP #3 - Pampilo The Vulcanizer.
---
Status on the contributions: