Hi #Hive,
This is the 3rd edition of #WhoAreTheyPhilippines (WATP) and this time I am featuring Pampilo the vulcanizer.
#WhoAreTheyPhilippines is a weekly project where I randomly select a person in the area where I live or work. I interview that person, take a few pictures and then post about him/her on the Hive PH Community. After 7 days, when the author reward can be claimed, I convert the whole HBD amount to the local currency (PHP) and hand it over to him/her along with some contributions from some of you.
I would like to thank everyone for your upvotes and support. I am glad this initiative is well received.
I'd like to especially thank @ybanezkim26, @romeskie and @kayceeports2020 for their contributions, respectively HBD 20, HBD 5 and HBD 4.95.
Their contribution will be distributed as follow:
HBD 1 per feature from @ybanezkim26 (total of 20 persons)
HBD 1 per feature from @romeskie (total of 5 persons)
HBD 1 per feature from myself (ongoing)
@kayceeports2020 is donating HBD 4.95 to Marito the trisikad Driver (WATP #2)
So at the moment, each featured person can expect the HBD amount of the post + 3 HBD in contributions.
---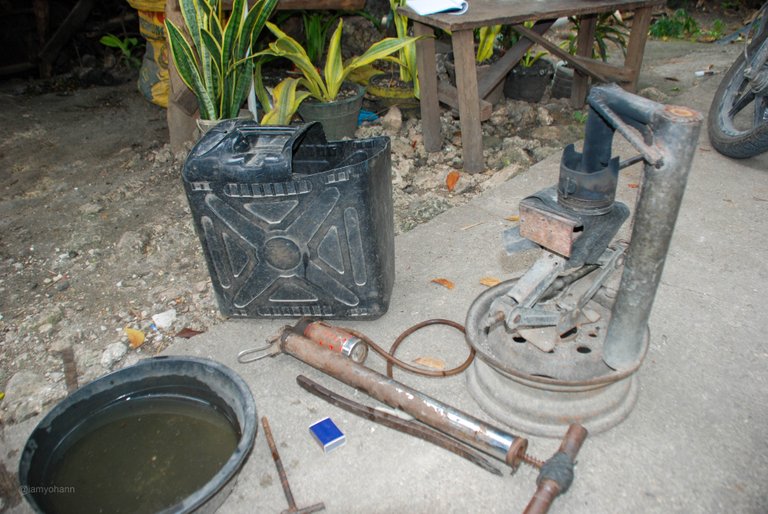 Who is Pampilo?
For this edition, I selected somebody at random, just like last week. Yet I also wanted to show a bit of the Filipino culture at the same time.
I was slowly driving my scooter on the streets of Ronda, South Cebu when my attention was caught by this person squatting on the side of the road and attending to a tire tube. I decided to stop and engage a conversation. This is how I met Pampilo.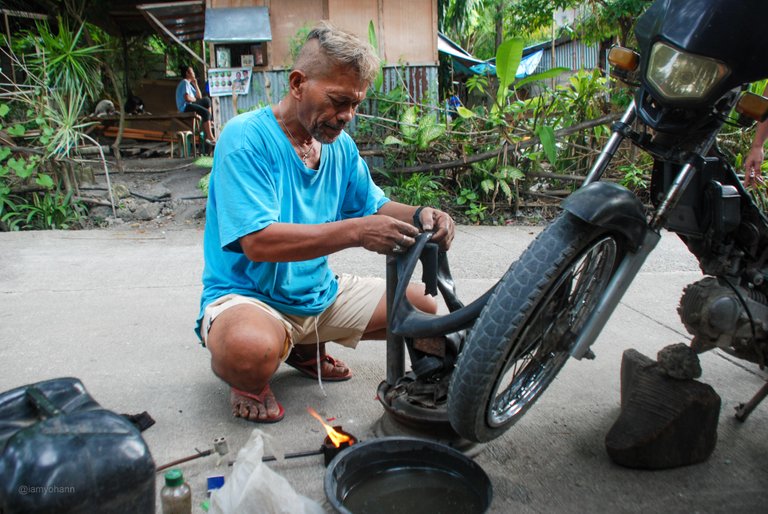 I'm always a bit anxious at first because of the language barrier. I don't speak Bisaya, the local language, and most of the time my subjects don't speak English or very very little.
I was lucky this time again that the person who was having his punctured tire fixed spoke a bit of English and could help me with translation. It didn't take long before another 2 people joined us and their English was perfect, making things much easier.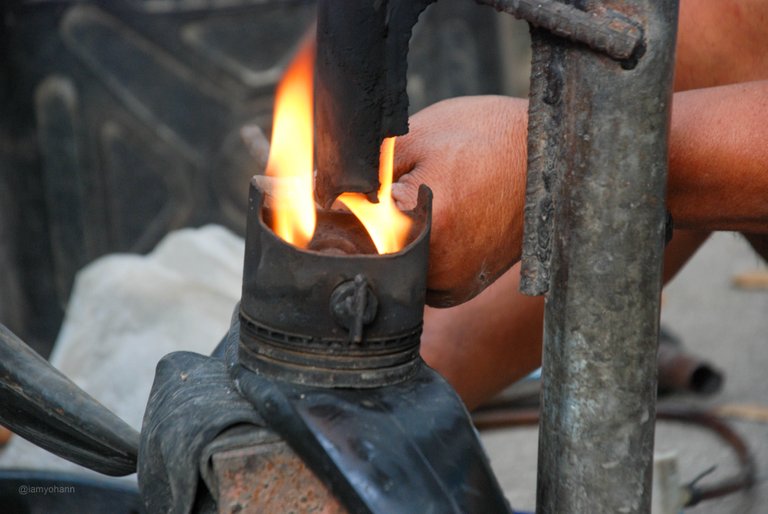 As usual, I explained why I was there and what my purpose was. At the same time, I asked Pampilo if I could take his picture and interview him, as well as whether he would grant me permission to post them online. He agreed and with the help of my translators I started firing the questions.
Pampilo is a 57 year old man who was born and raised in Ronda, he is married to Margie and together they have 5 children aged 21 to 37. All of them are now married.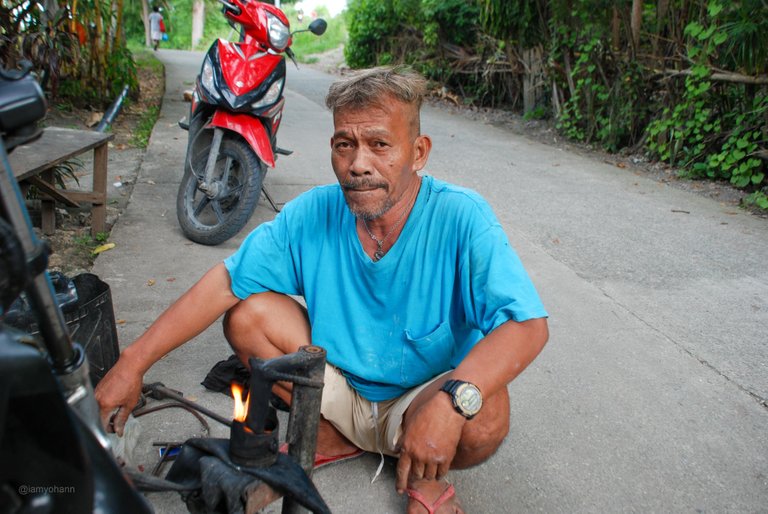 He has been working as a vulcanizer since he was a teenager. There was no other job available in the area at the time and he needed to start earning to help support his family. With no other option, he started fixing the tires of the people around.
The main transportation in the Philippines is the motorcycle. These 2 wheel vehicles are extensively used due to the fact that they are cheaper than most other mode of transportation and also because they can reach areas which are not necessarily accessible with a 4 wheel vehicle. It is not unusual to see a whole family of 4 or 5 going on with their business on 1 of those motorcycles. They are present everywhere and since the roads are not necessarily clean or smooth, it is very common to suffer a tire puncture.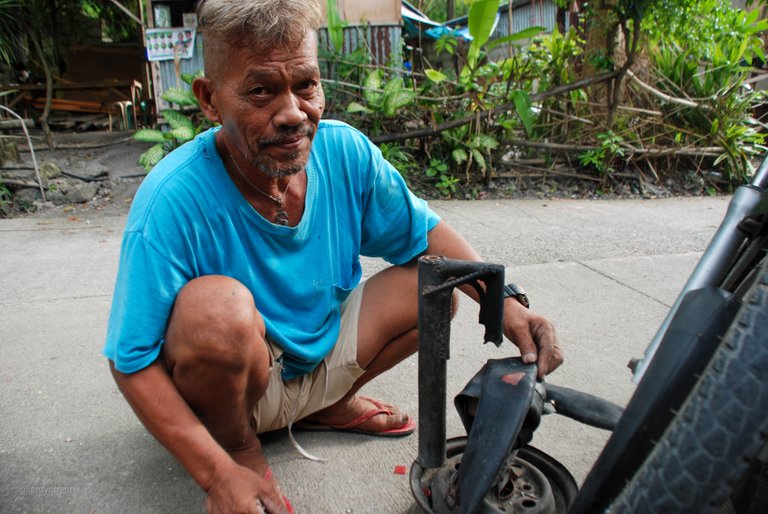 This is where Pampilo comes in and does his magic, dismantling the wheel to get the tube out. Once done, he looks for the puncture, cleans the area around it and put it on his stand. After putting a rubber patch on top of the hole, he applies some pressure and heat on it with an old upside down car piston head. This melts the patch, et voila, the puncture is fixed. Time to put the tube back in the tire, inflate it and his client is on his way out.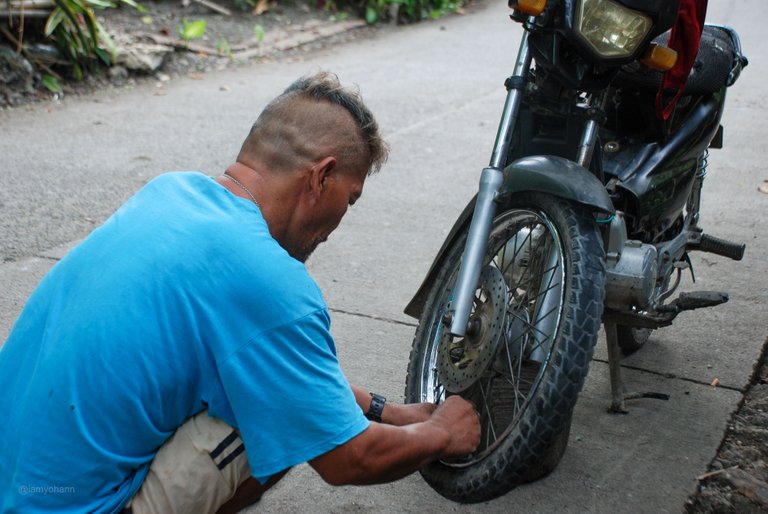 Just like a lot of Filipinos, Pampilo and his wife Margie, do their best to earn enough to survive. Before the covid19 pandemic, they used to sell balut which is an exotic Philippines delicacy. I'll leave it to you to look it up and find out what it is 🙂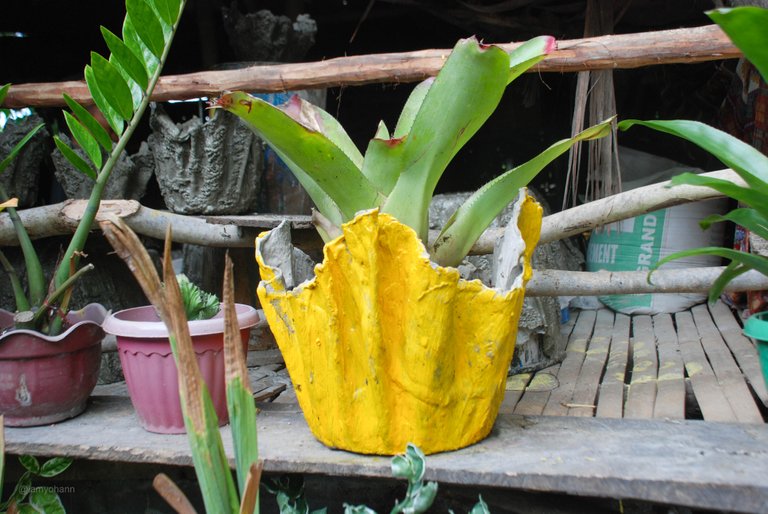 However for the last few month they have had issue in getting their supplies and so they have resorted to making concrete plant pots instead. Here's Margie in their pot making area.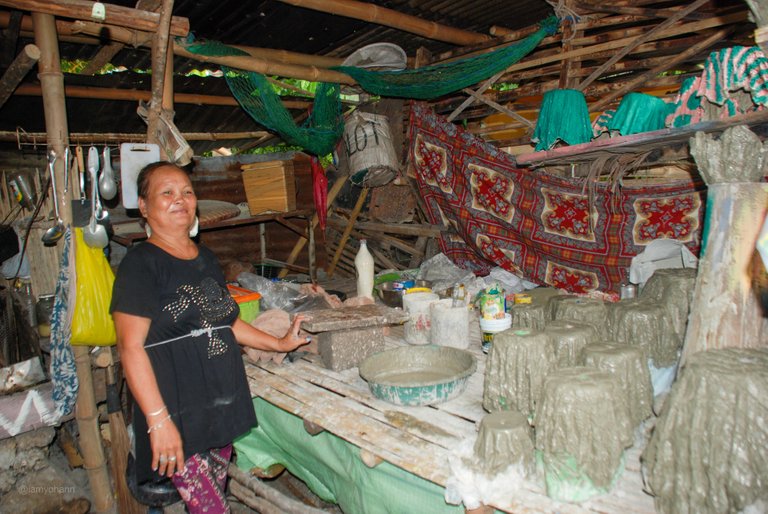 Both have the same dream which is to have a better house and easier life. They never stop working, even on their rest day. This is when Pampilo borrows their neighbor's boat and goes out at sea fishing with his son. Some of their catch is kept for their own consumption while the rest is sold for extra income.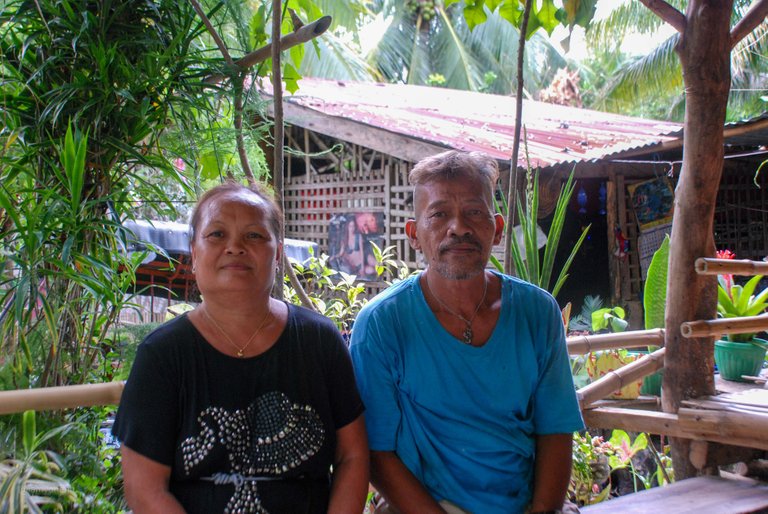 Pampilo and Margie, his wife, with their house in the background.
Thank you all again for your support and see you next week for another feature as well as Pampilo's reward.
---
Time for Marito's HBD Reward
Marito was the feature of WATP #2.
Yesterday marked the 7 days of the post and the author reward came in.

So here is the total for his reward:
HBD 3.442 for post payout + HBD 4.95 from @kayceeports2020 + HBD 1 from @ybanezkim26 + HBD 1 from @romeskie + HBD 1 from myself = HBD 11.392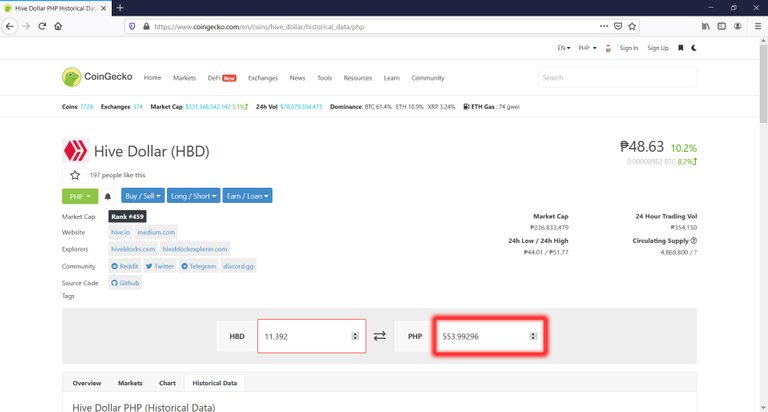 This amount converted into the local currency is PHP 553.99 so let's make it PHP 555 to make it easier.
Here is the picture of Marito receiving his reward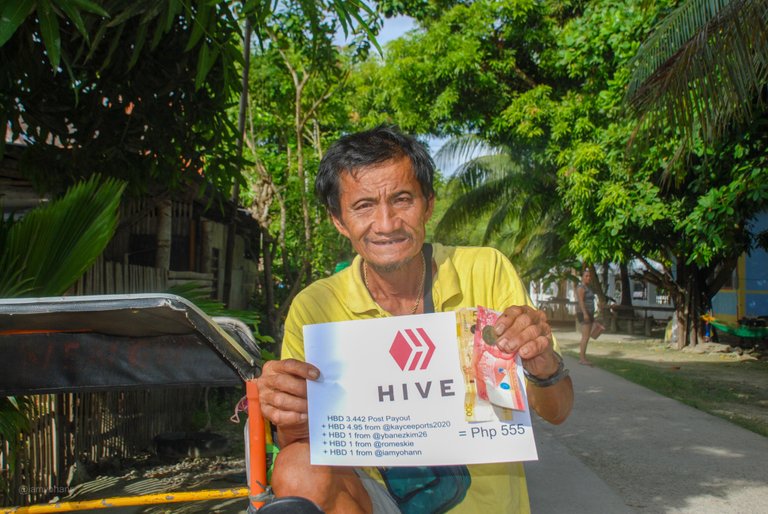 Thank you all for contributing to his reward.
---
Check out the previous editions here:
WATP #1 - Ernesto The BladeSmith and Ernesto's HBD Reward
WATP #2 - Marito The Trisikad Driver
---
Status on the contributions: