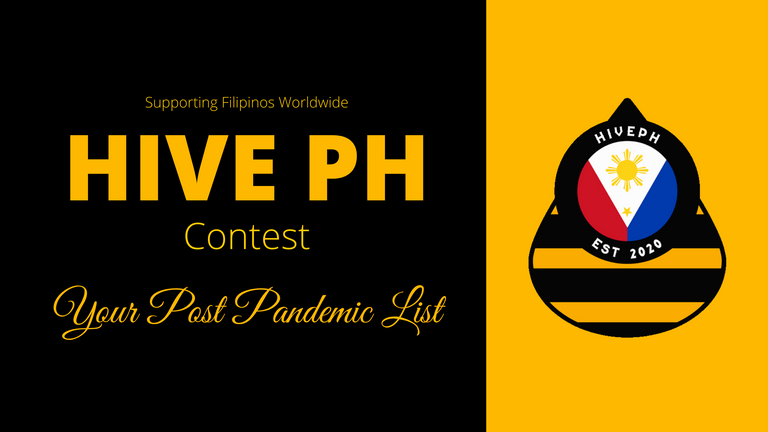 We are now in September and quite frankly, 2020 is dragging too long. This pandemic has affected all of us for far too long already. Financially, physically, emotionally it has been difficult, and coping with these has made surviving each day an arduous task. But enough with the obvious sad reality we are currently facing.
For this week's Hive PH Contest, let's talk about your post-pandemic plans. What will be the first thing you will do when this pandemic is over? While we are not yet sure when that will be, it is still better to have hope. Share us your Post Pandemic List.
Guidelines
Mention anywhere within your post about the contest.
You may post your article through the Hive PH Community or add #hiveph on your tags.
Your photos need to be your own, if not, make sure you credit the source.
Comment a link to your post below so we can easily find you.
Your post should not be older than this post.
This contest is open to all Hiveians and will run until Monday, Sept. 14, 2020, at 11:59 GMT+8. The winner announcement will be posted the following day.
Prizes
We are looking for three wonderfully written entries. We will be giving out a total of 10 Hive to three winning entries.
1st Place: 5 Hive
2nd Place: 3 Hive
3rd Place: 2 Hive
Please make sure to follow the guidelines stated above.
°º¤øº°°°º¤øº¤øº°°°º¤øº°
Last week, we tried to take a peek into your heart for Hive by asking what your Hive Goals and vision are. We received two amazing entries and we are very happy to see how they envision their Hive journey would be. Their goals set simply proves that they have the heart to stay in the community. Thank you very much for joining!
Each of these two ladies will get 2.5 Hive each! Congratulations!
°º¤øº°°°º¤øº¤øº°°°º¤øº°
If you haven't already, we inviting you to subscribe to Hive PH to help with the curation and post promotion.
Don't forget to follow Hive PH trail on hive.vote as well.
Chat and interact with our fellow Filipinos in our discord channel.
Follow us on Twitter and Facebook
°º¤øº°°°º¤øº¤øº°°°º¤øº°