Back with the fourth part of my Beer Bottle Collection. If you've read about my previous beet bottle collections, you may remember I used to have them on an internal window sill. I still do, but my collection has grown and they've spawned onto the floor now.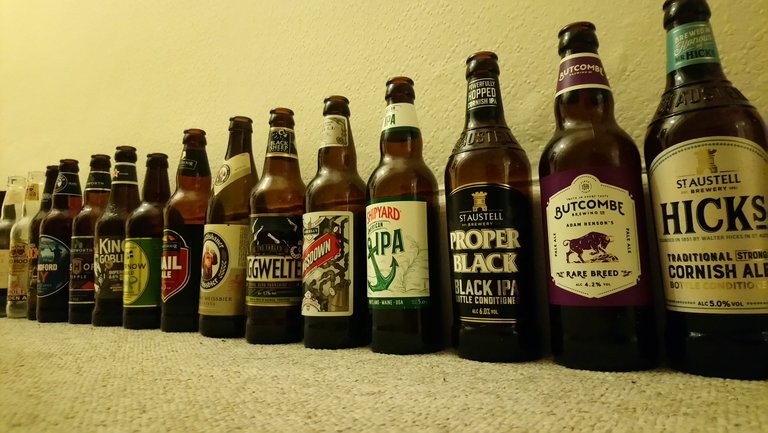 In this collection, I'm going to share these four bottles, and some nibbles that I had with it.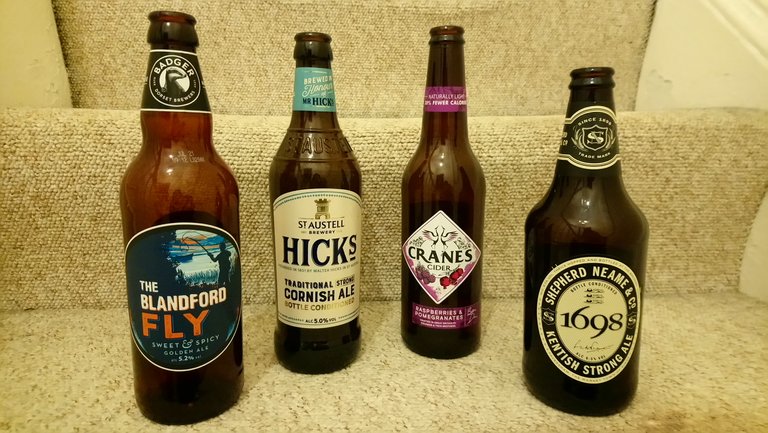 THE BLANDFORD FLY
Actually, you can see how far my beer bottles have spawned on the floor in this photo. This photo is taken at the other end, and I have about half of my collection here.
Back to my first bottle, The Blandford Fly. The blandford fly is a species of fly found in rivers at Blandford, Dorset south west England. It's said to give fishermen a nasty bite which should be soothed with a bit of ginger. There is some theory to this as ginger can help to relieve pain. You can see a fisherman and his rod in the logo.
As to why someone would want to name a beer after a nasty fly beats me!!!! Anyway, this is a sweet and spicy ale, gingery with hints of toffee. It was the perfect pairing for my finger lickin home made sticky sweet chicken wings and roast sweet potato chips.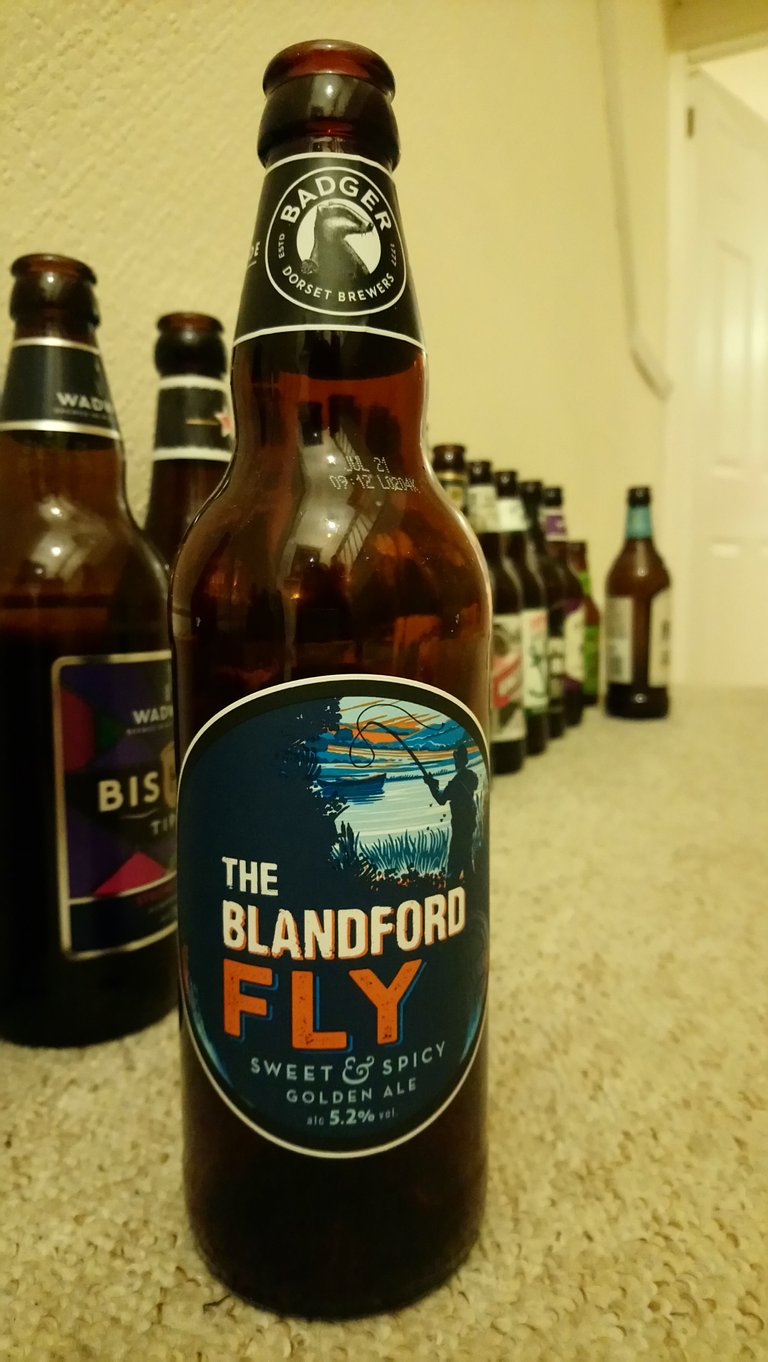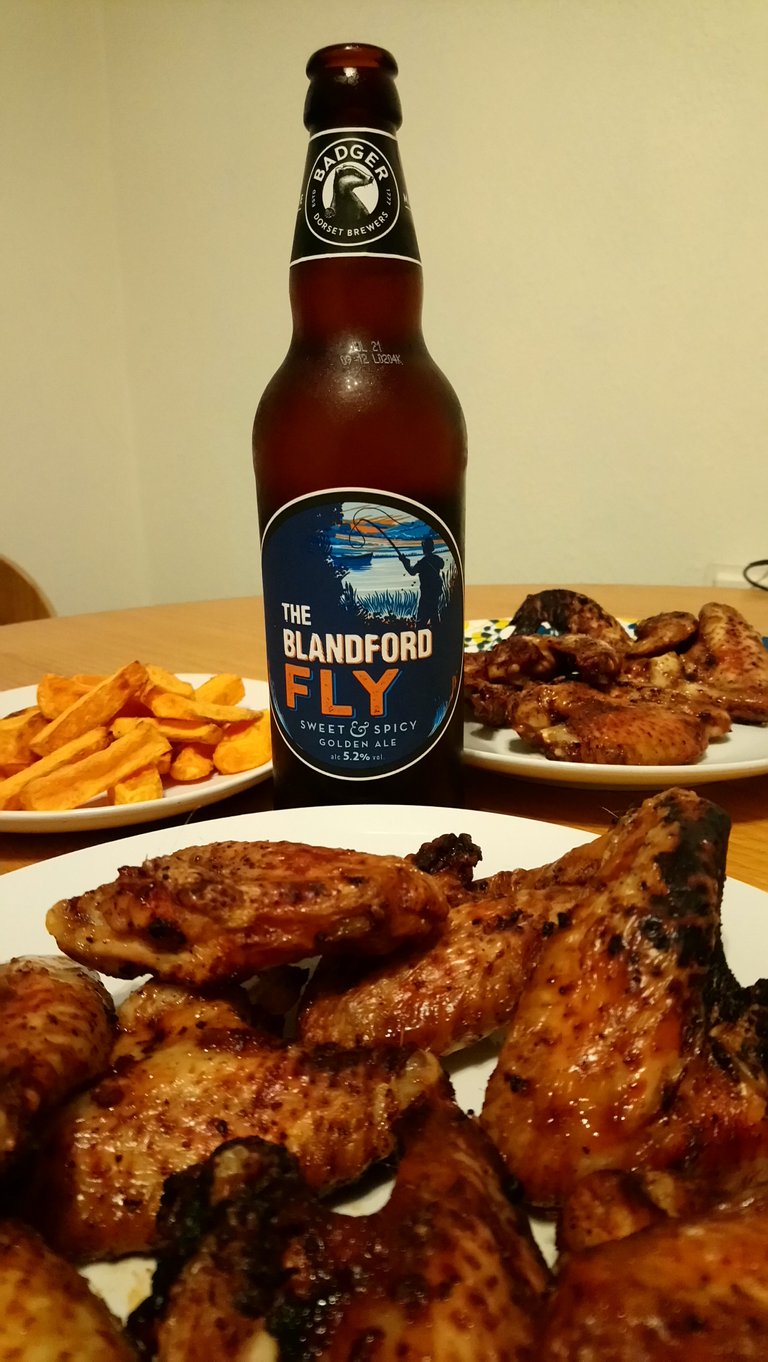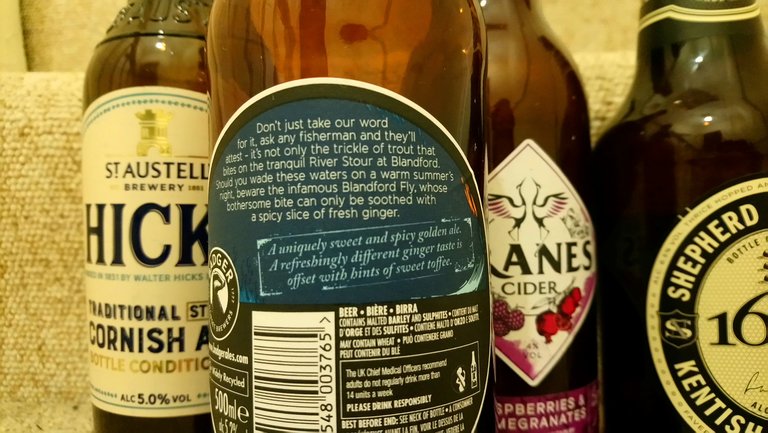 ---
HICKS
Next up is Hicks. I have quite a few bottles from St Austell as I like the imprint (?) they have on the neck of the bottle. This is named after their founder Walter Hicks, so I'm guessing it should be one of their best brew? I had this on my chicken curry night the other week, and I don't have a negative impression of it, which is a good thing. They have some pouring instructions on the back label which I found quite amusing. Maybe some people have difficulty pouring after they've had a few 🙄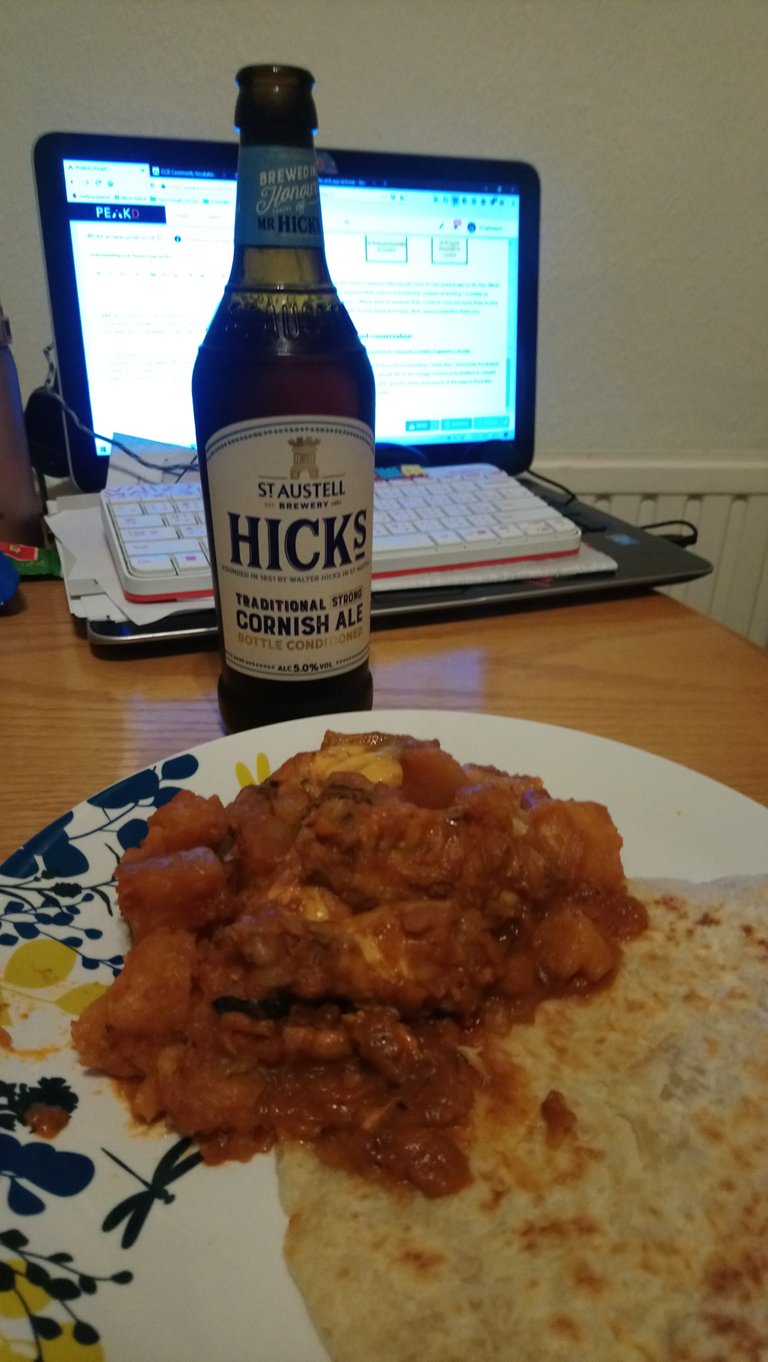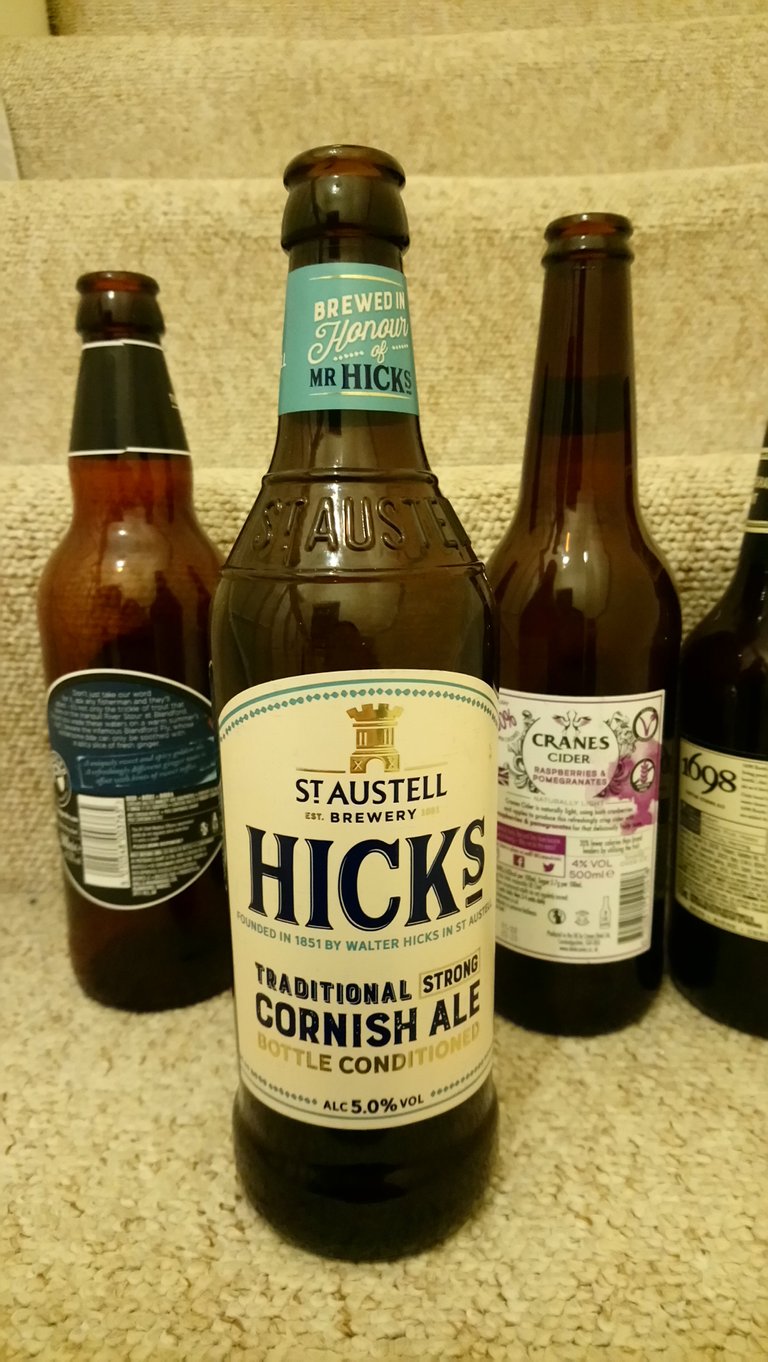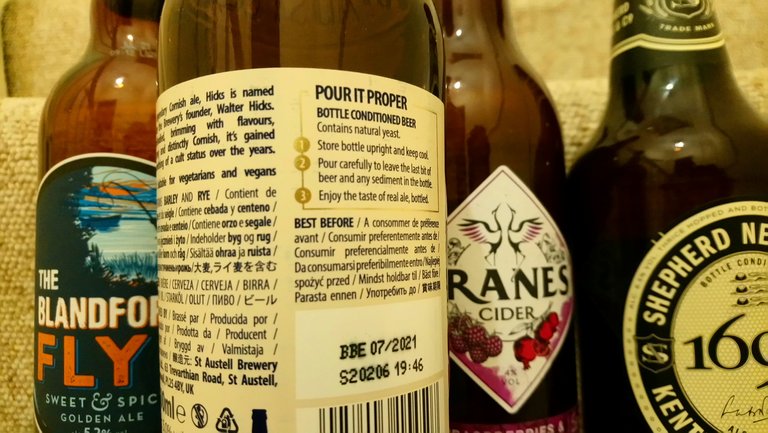 ---
1698
1698 is brewed by Shepherd Neame, Britains's oldest brewery, in Faversham, Kent, south east UK. 1698 is the brewery's official founding date and this particular beer was brewed to celebrate the brewery's 300th anniversary. Out of all these four bottles, I like this bottle the best, as it looks very beer, if you know what I mean. No? Doesn't matter then...
I had this quite recently, with my roast chicken leg dinner (yes, it's chicken again 😄), fusion with rice, stir fry chinese cabbage and ketchup, because I always have ketchup with chicken (don't you???!!!). It's quite a strong tasty beer, exactly what I think a beer should taste like, I remember thinking I like this!
The only thing I found a bit odd about this, is if you look at the label on the back, it says it's imported by a Swedish company. Then at the bottom it's imported by an Australia company. And then, it says it's bottled in UK. I hope this bottle hasn't travelled from UK to Sweden, or even worse to Australia, and back to UK again. That's an awful lot of carbon footprint!!!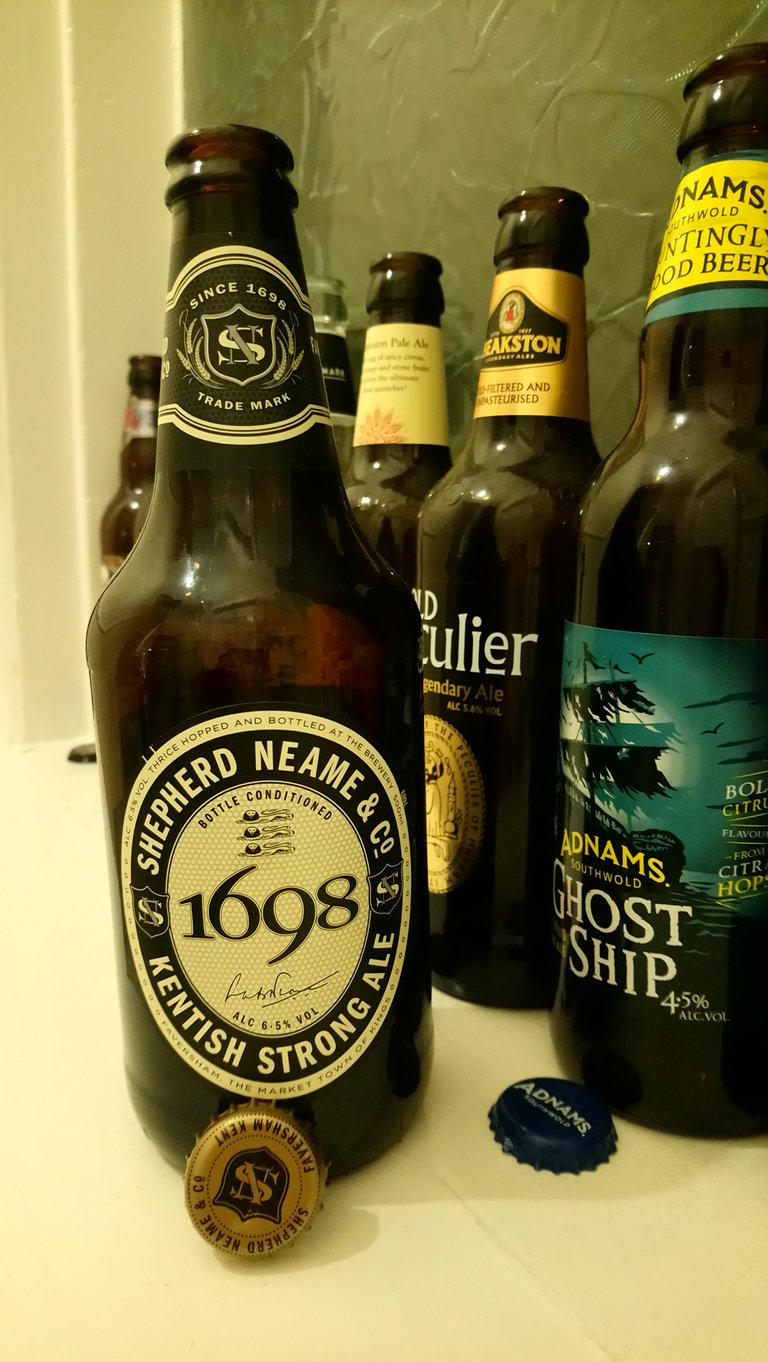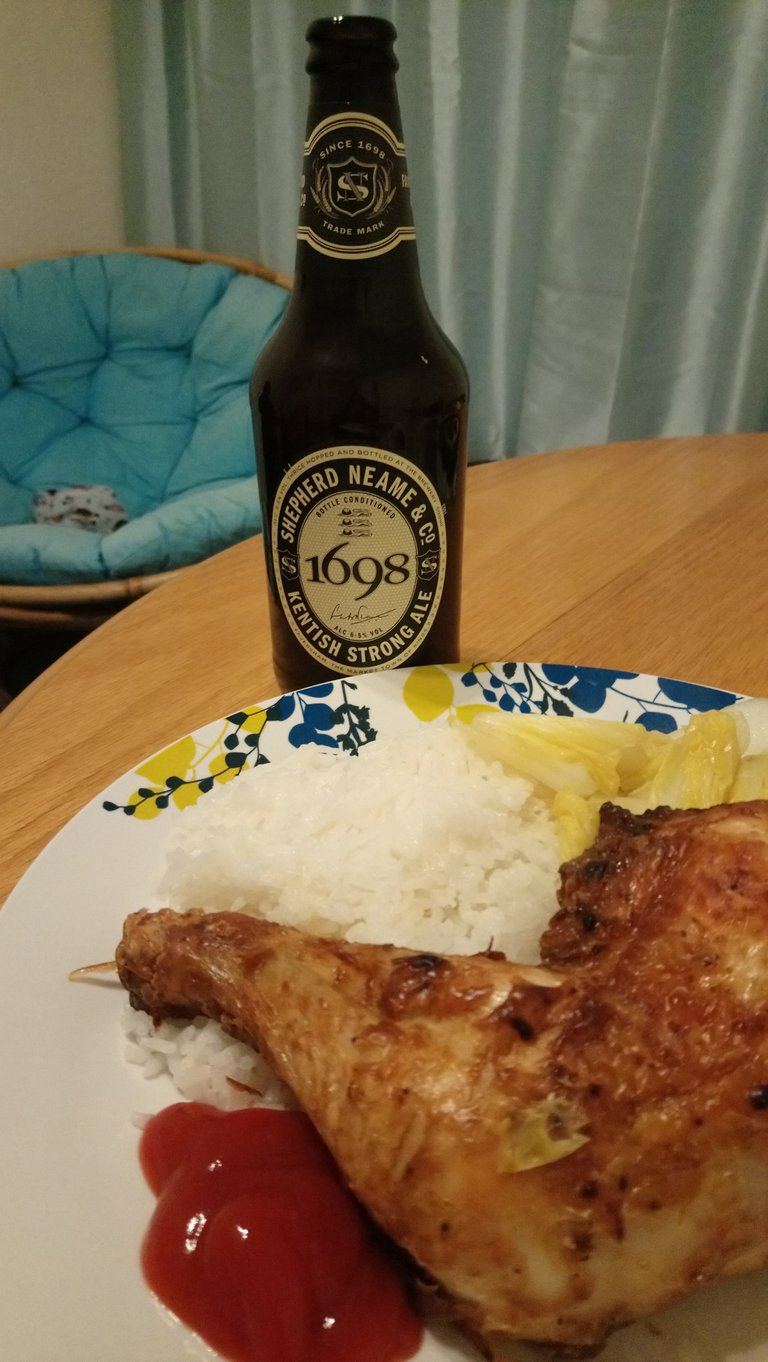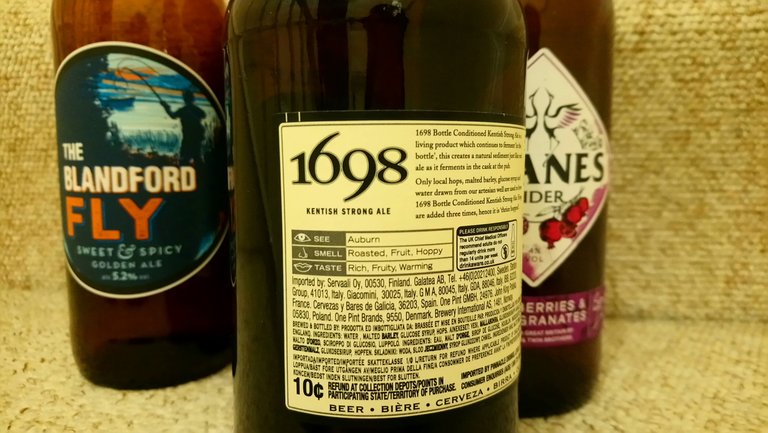 ---
CRANES CIDER
Here's the last bottle I want to share today, Cranes Cider, flavoured with raspberries and pomegranates. Normally I avoid these type of flavoured alcohols especially raspberry as they always taste like cough syrup. When I was buying our £6 for 4 bottles special offer from the supermarket the other time, I still needed to choose one more bottle. Then I saw a guy scoop up half a dozen of this. Interesting, I thought, so figured I'd give it a try.
Cranes does three types of flavoured cider, blueberry and apple with a blue label, cranberries and lime with a red label, and this one with a pinkish purple label. Brand concept wise, it's quite clever, especically with the double crane which I'm guessing represents the founders which are twin brothers. And cranes comes from their love of cranberries. However, I'm not keen on the logo design, I can't pin point the issue, just not a fan of it.
As to the cider itself. It turned exactly as I expected.... like cough syrup. I reckon that guy who scooped up half a dozen in the supermarket figured it would be cheaper to get drunk on this than a bottle of cough syrup. Next time, I'm going to choose my own beer.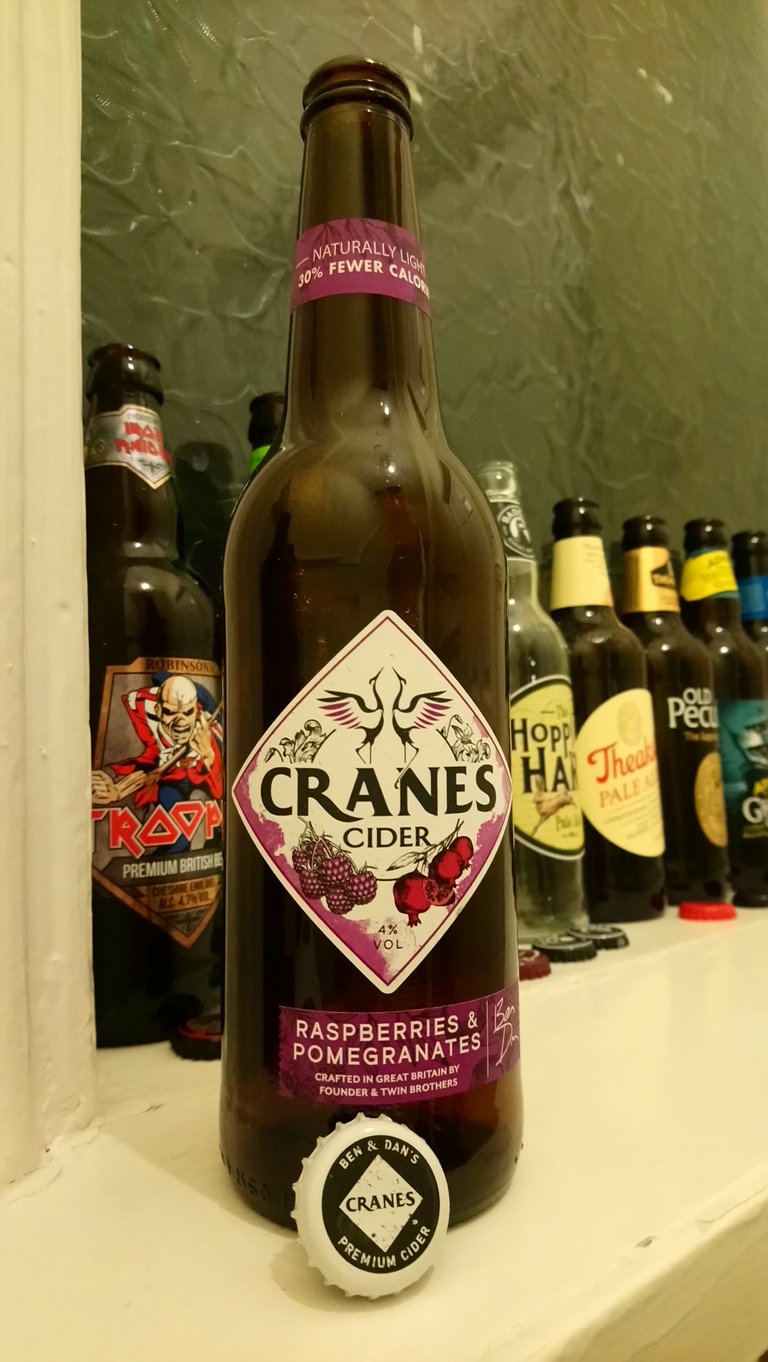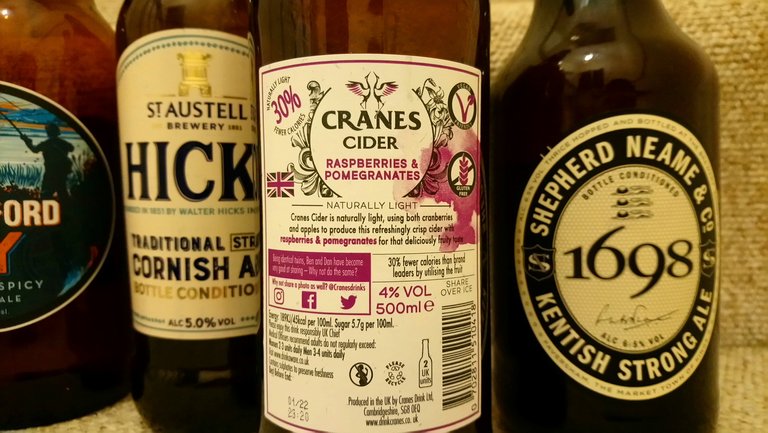 By the way, in case you're wondering what I ate with this..... I forgot to take a photo, but do I need to tell you or have you guessed already?
Yes, it was roast chicken again 🍗 🐔
---
If you're interested to see my previous beer bottle collections, you can check out these posts. Cheers!
Part 1 - https://peakd.com/hive-174578/@livinguktaiwan/craft-beer-collection-on-a-beer-saturday
Part 2 - https://peakd.com/hive-187719/@livinguktaiwan/my-craft-beer-bottle-collection-part-2
Part 3 - https://peakd.com/hive-187719/@livinguktaiwan/my-craft-beer-bottle-collection-part-3