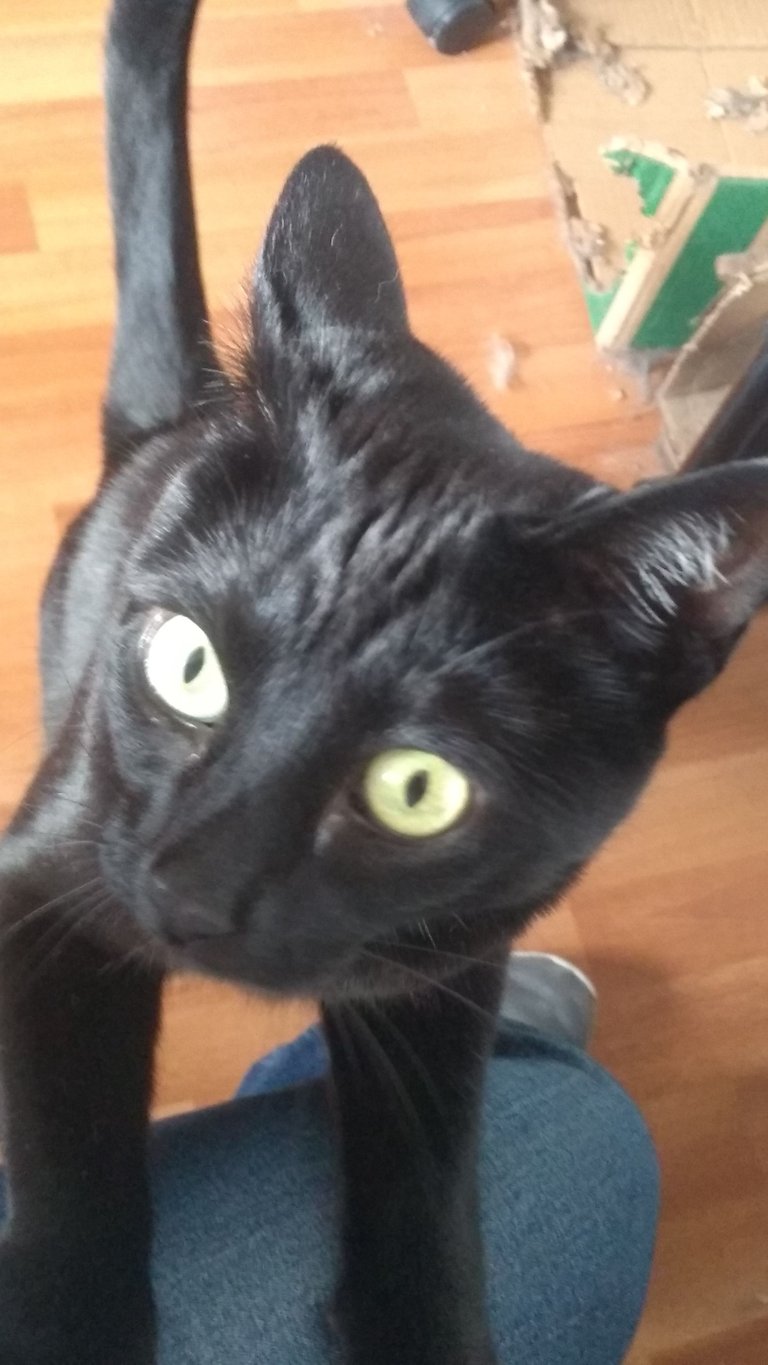 Buffy: Hey human, we're hungry.
Me: Buffy your bowl is full.
Buffy: No, is not... hey don't ignore me human!
Buffy: Oye humana, tenemos hambre.
Yo: Buffy, su tazón está lleno.
Buffy: No es cierto... oye ¡no me ignores humana!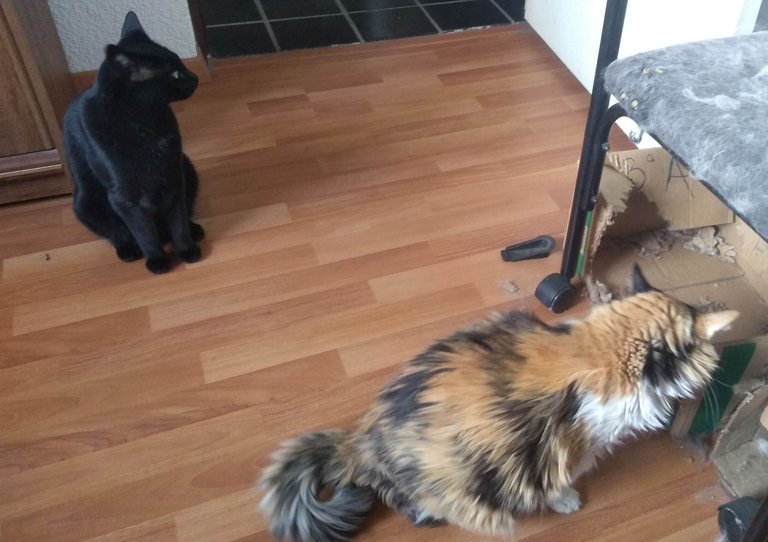 Whisky: No worries Buffy, I destroyed this box the human left here, she doesn't like when we destroy things, she'll feed us, you'll see...
Me: That box is yours...
Whisky: What? no it's not... ah right, it's the one we always play with.
Buffy: You destroyed it without me?!
Whisky: ... yeah, sorry Buffy.
Whisky: No te preocupes Buffy, destruí esta caja que la humana dejó, no le gusta cuando destruimos cosas, nos alimentará, ya verás...
Yo: Esa caja es de ustedes...
Whisky: ¿Qué? no lo es... ah cierto, es con la que siempre jugamos.
Buffy: ¡¿La destruiste sin mi?!
Whisky: ... si, perdona Buffy.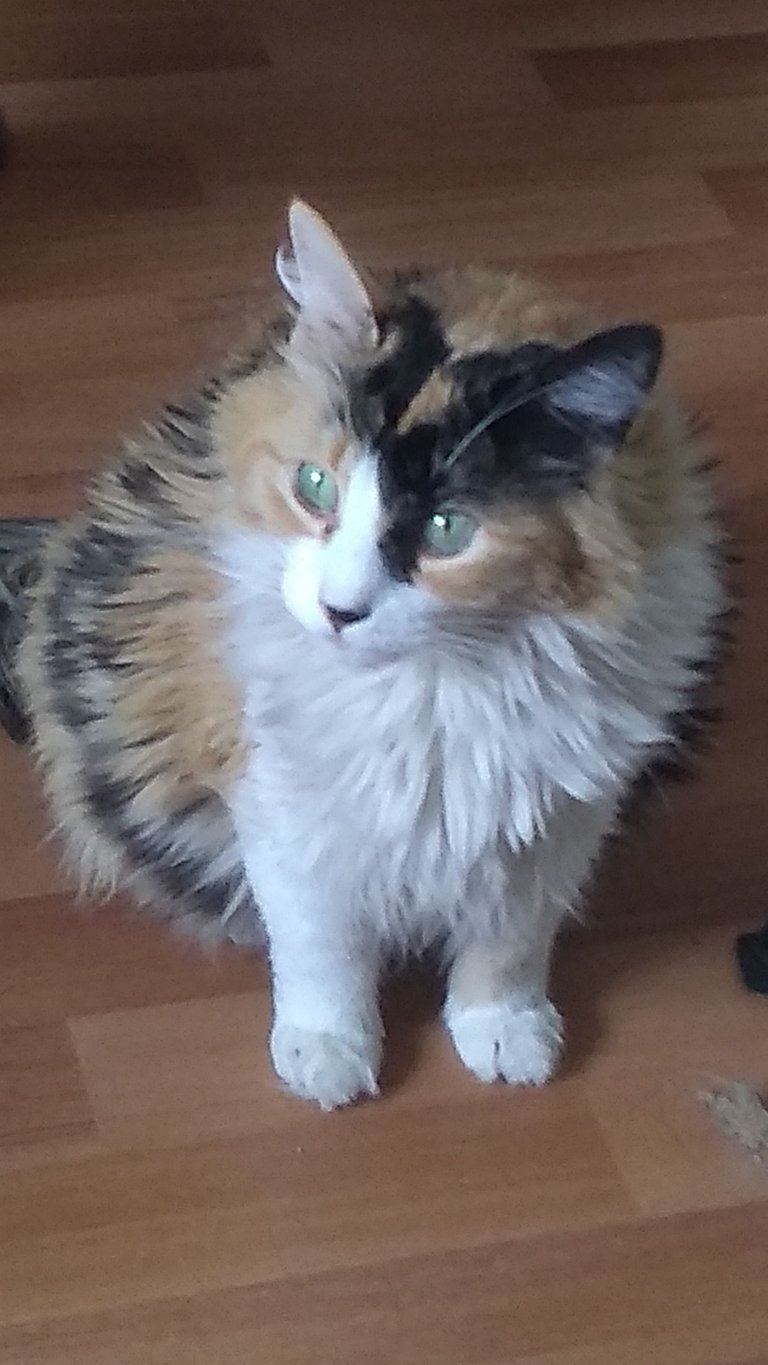 Whisky: Human, we want another box... and food.
Me: I already told Buffy, your bowl is full.
Whisky: Yes but we want wet food, not everyday croquettes.
Me: Oh you're right, I haven't fed you with that this days, okay come on.
Whisky: Humana, necesitamos otra caja... y comida.
Yo: Ya le dije a Buffy, su tazón está lleno.
Whisky: Si pero queremos comida húmeda, no las croquetas de diario.
Yo: Ah tienes razón, no les he dado eso estos días, bien vamos.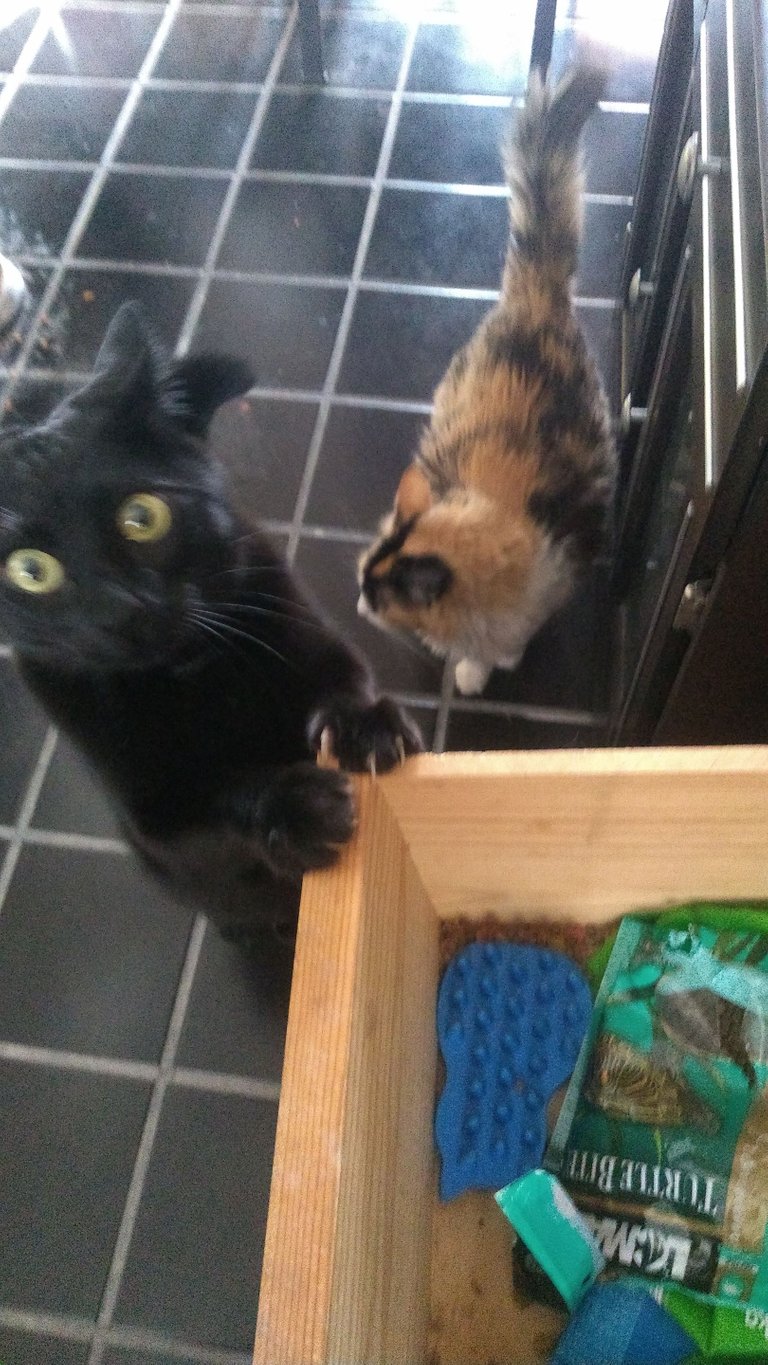 Buffy: Yaaas! open that drawer human!
Me: I'm coming, calm down.
Whisky: pff Buffy, why can't you just sit still like I do?
Buffy: ¡Seeeeh! ¡abre ese cajón humana!
Yo: Ya voy, cálmate.
Whisky: pff Buffy, ¿por qué no solo puedes sentarte tranquila como yo?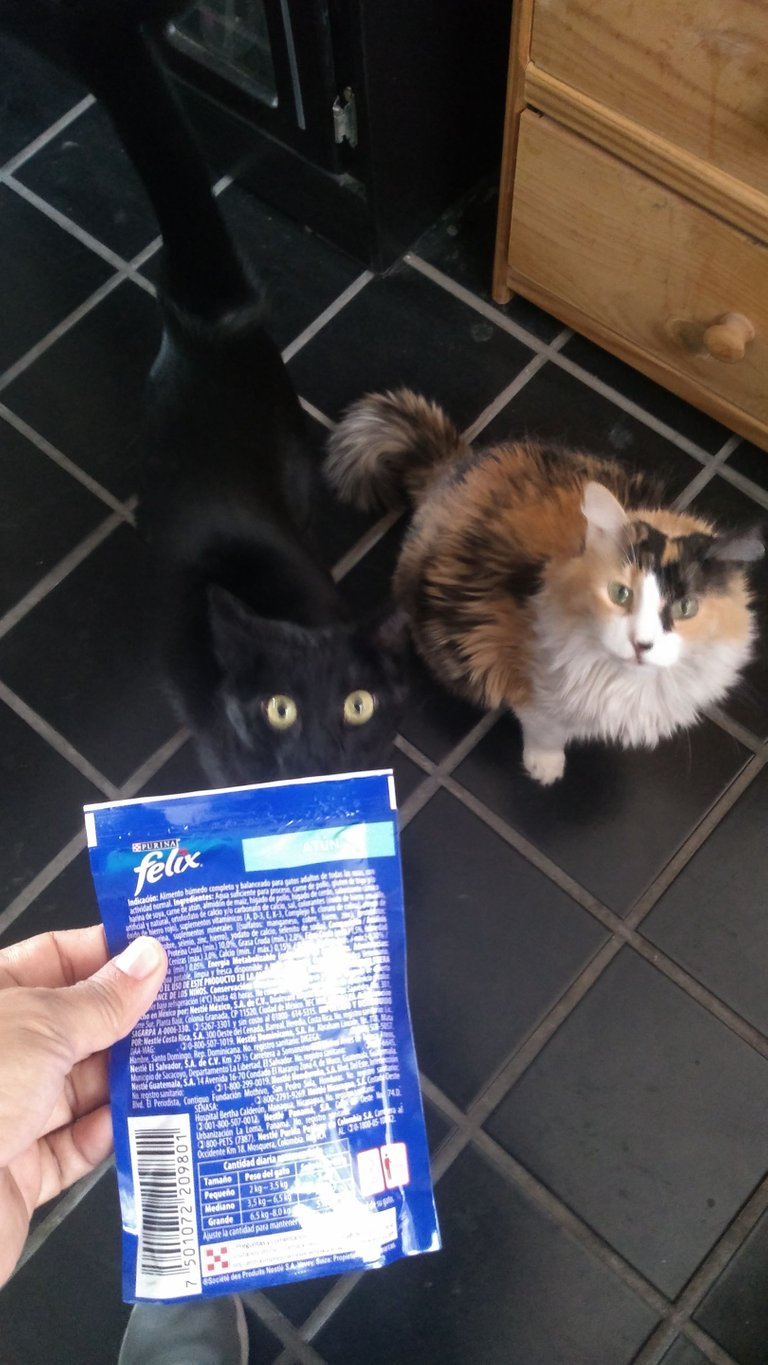 Buffy: That's it, gimme gimme gimme.
Whisky: What? only one? are we supposed to share?
Me: Yes, it's the only one left, I'll go buy more later
Whisky: Okay, just don't forget it... plz.
Buffy: Eso es, dame dame dame.
Whisky: ¿Qué? ¿Solo uno? ¿se supone que compartamos ese?
Yo: si, es el último que queda, compraré más después.
Whisky: Bueno, solo no lo olvides... porfa.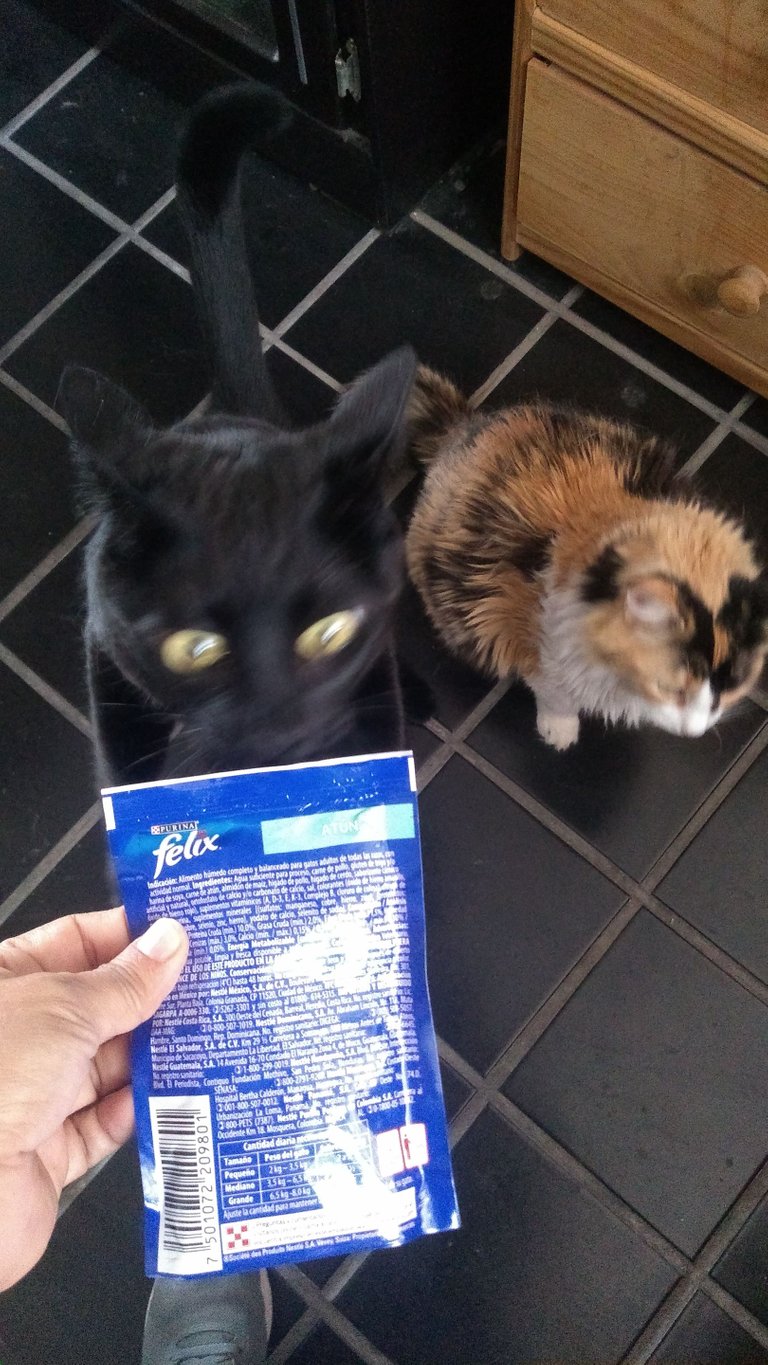 Buffy: Enough chit chat, here, lemme open that.
Me: Wait, just one more pic and I'll open it for you.
Buffy: No more pics! I want this now!
Whisky: ... sigh...
Buffy: Basta de charla, a ver, deja abro eso.
Me: Espera, una foto más y les abro esto.
Buffy: ¡Basta de fotos! ¡Quiero esto ahora!
Whisky: ... vaya...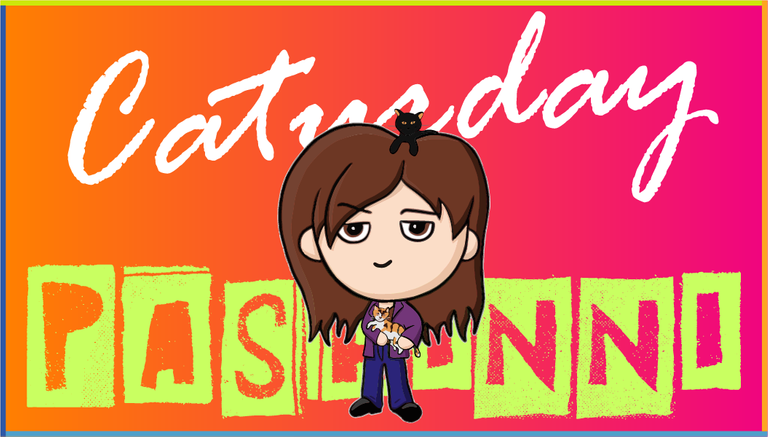 Banners made by me on Ai.
Photos belong to me, taken with Moto G6 Play