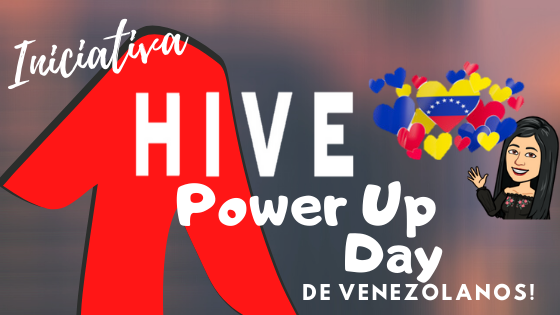 ---
Iniciativa HIVE Power Up Day #HPUD de venezolanos
---
##Mañana es el día!!!
He visto muchas preguntas de como participar en la iniciativa, y es muy muy sencillo. Solo tienen que hacer Power Up de la cantidad de Hive que deseen o puedan y hacer un post del tema que quieran y en la comunidad que quieran con las rewards de dicho post al 100% Power Up y colocar #hpud como una de las etiquetas, listo más nada eso es todo lo que deben hacer.
Como hacemos Power Up?
Facil vamos a nuestra Wallet en PeakD o Hive.blog y buscamos al lado del monto de Hive que tenemos una flechita allí nos aparecerá un menú donde encontraremos la opción de Power Up como vemos en las imágenes aquí abajo.
PeakD/@username/wallet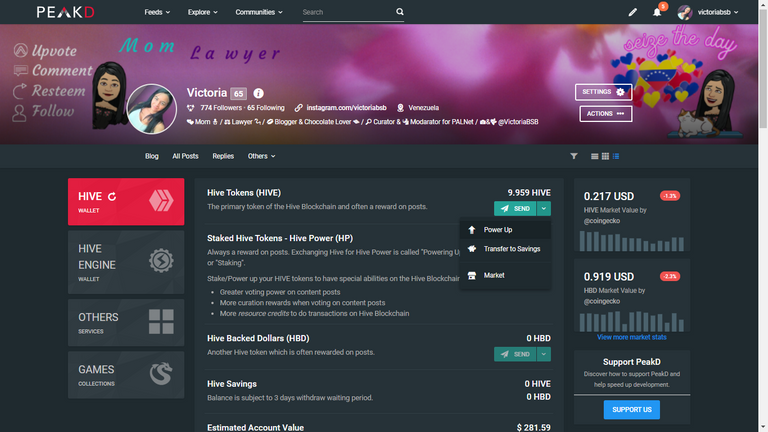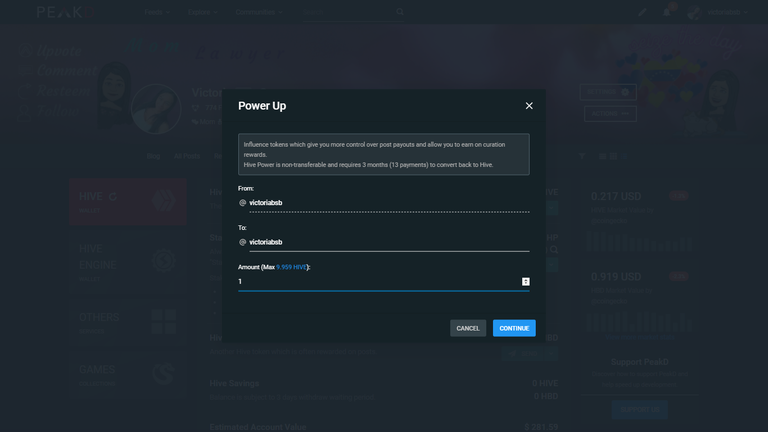 wallet.hive.blog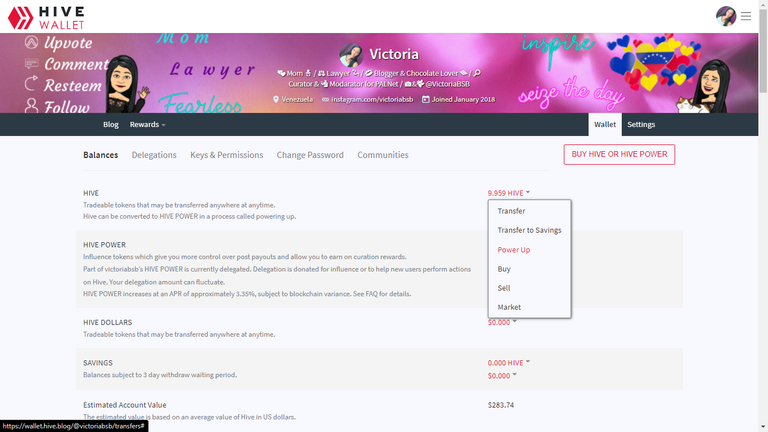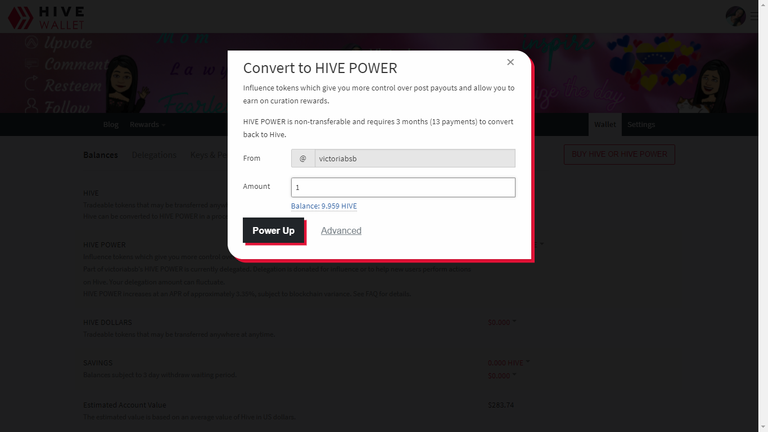 ---
Pero No Tengo HIVE solo HBD!!!
Para poder convertir sus HBD a HIVE tienen dos opciones, pero dado que mañana es el día y una de ellas toma 3.5 días en procesarse solo les dejare una de las opciones la que se hace de manera inmediata.
Cambiar a través del Mercado Interno
Técnicamente es comprar HIVE usando sus HBD aquí hay un tutorial completo que hizo @josecarrerag Intercambia HBD por HIVE en el mercado interno y realiza POWER UP
Por Qué debo hacer Power Up, aunque sea un monto Pequeño?
En esta iniciativa pueden participar todos por eso no puse un monto mínimo para hacer power up porque soy venezolana y sé que muchos comemos gracias todo lo que generamos con nuestros blogs en Hive, pero me preguntaron que beneficio me trae hacer power up de 1 Hive o incluso menos? La respuesta es sencilla de poquito en poquito se va creciendo e igual no tienes nada que perder y más bien mucho que ganar, tus tokens no se irán a ningún lado estarán allí en tu Hive Power generándote interés (actualmente 3% anuales) y ayudándote a ganar más por curación, y además! El hacer power up mañana todos los venezolanos juntos demostramos a la comunidad entera de Hive que nosotros también podemos y que queremos ver surgir a Hive no solo estamos aquí para extraer todas las rewards.
Recuerden que, si Hive surge aún más, el precio aumentara, ¡sus Hive Power darán aun mejores votos y sus recompensas por curación serán aún mayores así que hacer power up solo trae beneficios!
---
Reglas y Premios!
Así que aquí están los pasos actualizados de...
¿Cómo puedo ser parte de esto?
Fecha: 1 de julio de 2020

¿Qué hacer?
En ese día, necesitas hacer power up todos los HIVE líquidos que tengas o que puedas y hacer una publicación al respecto (o de cualquier tema de hecho) con las recompensas en esa publicación configuradas al 100% Power UP y usar la etiqueta #hpud para que pueda encontrarlo, eso es todo lo que tienen que hacer.
---
Preguntas?
¿Habrá una cantidad mínima que necesito hacer power up para ser parte de esto?
Bueno, sí, tiene que ser mayor que 0 jajajajaja, porque bueno aja! ¡No hay una cantidad mínima o máxima para power up cuanto más mejor obviamente, pero eso no significa que las pequeñas cantidades no cuentan!
¡Tienes quizás 5.235 colmenas de recompensas de publicaciones que puedes usar 5 Hive para comprar comida y dejar que 0.235 se encienda y forme parte de esto!
¡Pero no tengo HIVE, todo lo que tengo es HBD!
Fácil, puedes convertirlos a Hive usando la opción en la billetera PeakD (esto toma 3 días) o puedes vender tu HBD por Hive en el mercado interno.
¿Qué ganaré? ¿Hay premios?
Mi amor, tendrás más Hive power para tener mejores recompensas de curación que en sí mismo es un premio de ti para ti, pero también votaré con las cuentas @minnowsupport las publicaciones ese día que están configuradas al 100% Hive power. Ahora también tenemos patrocinadores para un par de premios increíbles:
Tenemos un total de 500 HP de delegación de @sgt-dan por 30 días, 250HP de delegación de @ritch por 30 días y 150 HP de @r1s2g3 por 21 días
Por lo tanto, estableceré algunas reglas fáciles de seguir para poder ser elegible para estos premios
---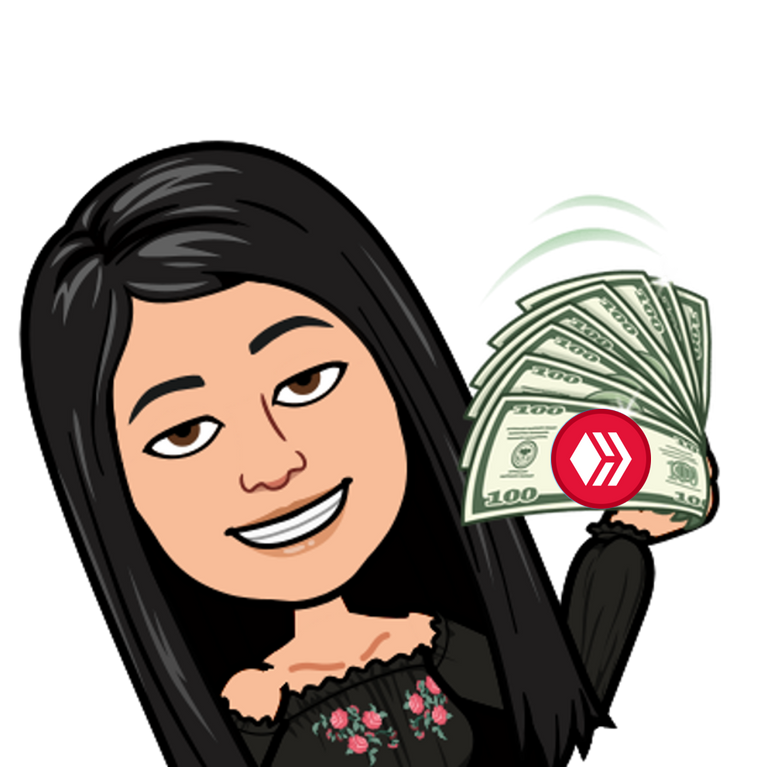 Premios
1er lugar
Segundo lugar
3er lugar
Premio Especial a Un Nuevo Usuario
500 HP Delegados de @monster-one durante 15 días
Reglas
DEBES Hacer Power UP al menos de 1 HIVE COIN el 1 de julio de 2020 para ser elegible para los premios de delegación.

DEBE tener MENOS de 5000 HIVE Power para ser elegible para los premios de delegación.

DEBE tener 1 publicación en su blog sobre #HPUD configurado las recompensas al 100% Power Up.

Para participar en el premio especial para un nuevo usuario, la cuenta debe ser nueva, no mayor a 2 semanas, debe estar activa con una publicación de introducción y al menos 1 publicación más, tiene que haber realizado power up a todas las recompensas recibidas hasta el momento.
---
Todos los participantes que hagan power up cualquier cantidad, incluso menos de 1 HIVE, y hagan una publicación sobre cualquier tema que deseen, pero con las recompensas configuradas al 100% Hive power, recibirán un voto de la cuenta @minnowsupport
(Si podemos lograr que más patrocinadores participen en esto, será increíble y les haré saber a todos sobre la actualización de las reglas si es necesario, para acomodar más premios, ¡así que crucen los dedos para que eso suceda!)
¡Vamos a mostrarle a la comunidad Hive cómo los venezolanos se preocupan por la cadena de bloques!
Creo que esto también ayudará a las personas a acostumbrarse a realizar Power Ups, incluso si son pequeñas cantidades cada vez y no solo a retirar cada moneda que obtienen.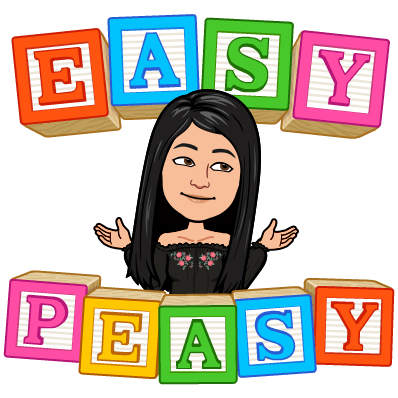 ---
!Como siempre, muchas gracias por leerme y
Espero leer tus comentarios!
---
Picture Credit: All images are of my property unless said otherwise and the emojis are made with Bitmoji.com!
---
Actualmente soy curadora activa para @minnowsupport #palnet, #creativecoin y #foodie, e incluso aunque me centre en publicaciones en español (¡porque obvio!) ¡Si conoces alguna publicación buena que merezca ser curada o cualquier buen autor del que deba estar pendiente 🔎📌 en cualquier idioma, házmelo saber en los comentarios!
---
---
Proud Member and Supporter of The Minnow Support Project, If You Are Not Yet on The Community What Are You Waiting For?? CLICK below!!!

---
---

---

😗 Follow me on my Other Social Media...❗️⬇️⬇️⬇️⬇️

You can find this post shared on Twitter Here please give the tweet a like and retweet!
---