Initiative: Adopt a Plankton! / Adopta un Plancton! [Eng/Esp] || Iniciativa para Hispanos!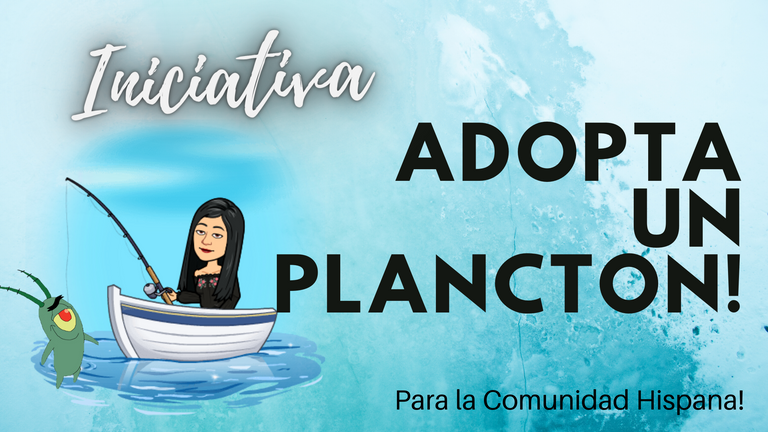 ---
Adoptemos un Nuevo!
Let's Adopt a New User!
---
English
Here is the thing, from being on different support groups I have seen that the main problem we have with retention is new users not only come with a new account that is limited by the amount of RC and Hive Power they have, but even if they manage to get a delegation they are lost in the vast ocean that is Hive, sometimes they don't know where to ask for help, or where to get the info they need to learn the basics or they are bombarded by so much info that they end up thinking the blockchain is too complicated for them.
So, since I was all high from the last initiative I did the #HPUD for Venezuelans, we manage to get so much participation on it, we had 57 accounts doing Power Up of over 1772,332 HIVEs., this inspired me to continue with this Initiatives thing and make a new one, this time to help user retention. And that is how…
Español
Aquí está la cosa, al estar en diferentes grupos de apoyo, he visto que el principal problema que tenemos con la retención es que los nuevos usuarios no solo vienen con una nueva cuenta que está limitada por la cantidad de RC y Hive Power que tienen, sino que incluso si logran conseguir una delegación, se pierden en el vasto océano que es Hive, a veces no saben dónde pedir ayuda, o dónde obtener la información que necesitan para aprender lo básico o son bombardeados por tanta información que terminan pensando que la blockchain es demasiado complicada para ellos.
Entonces, como estaba muy entusiasmado con la última iniciativa que hice del #HPUD para venezolanos, logramos obtener tanta participación en él, teníamos 57 cuentas haciendo Power Up de más de 1772,332 HIVEs., Esto me inspiró a continuar esto de las Iniciativas y hacer una nueva, esta vez para ayudar a la retención de usuarios. Y así es como ...
---
Adopt a Plankton Was Born…
The idea is to adopt a new user one that has 0 up to 5 HP of their own, and take it under your wing, not only get it a delegation so that it doesn't have any issues interacting in the blockchain, but to also teach it the basics of how the Blockchain work, help him/her enough so they are able to be an independent user with their very own HP.
For now, this initiative will be for the Hispanic community to get it started and see how it works.
Adopta un plancton nació ...
La idea es adoptar un nuevo usuario que tenga de 0 a 5 HP propios, y tomarlo bajo su protección, no solo conseguir una delegación para que no tenga ningún problema al interactuar en la blockchain, sino también enseñarle los conceptos básicos de cómo funciona, ayudarlo lo suficiente para que pueda ser un usuario independiente con su propio HP.
Por ahora, esta iniciativa será para que la comunidad hispana, depende de cómo se desarrolle se podrá expandir.
---
How Will This Work?
You need to Find a New User with 0 to 5 Hive Power
Don't expect the new user to come to you, you need to go get it! They must have an account already remember this is about retention more than is about onboarding. This new user can't have more than 5 HP of their own. Maybe in the future we can add people with more HP but for now this is our target.

Get Him/Her a Delegation
Since everyone can be part of this initiative and not all old users have enough Hp of their own to be going around delegating to new users, you can use any of the services that help in that like http://giftgive.site and http://alebrijes.herokuapp.com/delegation a new account doesn't really needs more than 15HP delegated to it to be able to posts or comment enough. It is your duty to teach it not go crazy and deploy all their RC doing stuff like voting everything they see or posting more than 1 time at day.
You can also ask for another user to help with the delegation if you don't want to use the services previously mention.

Teach the New User the Basics
From how to navigate through Hive to how to make a post, teach your adoptee how to make an introduction post, you don't have to give all the information in one go cause it can be too much, the idea is for the user to be independent enough at the end to know where to look for more info or help by itself when needs it.

Help Him/Her Interact with The Community
Once the introduction posts of your adoptee is done you can bring him/her to the Minnow Support Project/ PALNet and introduce to the community there, I will run a weekly bring your Intro post for live curation, and it will give your adoptee to meet other Hivers too!

Help Your Adoptee to reach its own 15 Hive Power
Reaching 15HP can be trick if you are new and don't know your way around Hive but in this case, your adoptee has had help from you so he/her can be successful enough to reach their own HP to not depend anymore on others delegation to be able to use their account without issue.
That is, it all you have to do is help a new user, get started!
¿Cómo Funcionará Esto?
Necesitas encontrar un nuevo usuario con 0 a 5 Hive Power
No esperes que el nuevo usuario venga a ti, ¡debes ir a buscarlo! Deben ya tener una cuenta que recuerde que esto se trata más de retención que de incorporación. Este nuevo usuario no puede tener más de 5 HP propios. Quizás en el futuro podamos agregar personas con más HP, pero por ahora este es nuestro objetivo.

Consíguele una Delegación
Dado que todos pueden ser parte de esta iniciativa y no todos los usuarios antiguos tienen suficiente HP para delegar a nuevos usuarios, puede usar cualquiera de los servicios que ayudan en eso, como http://giftgive.site y http://alebrijes.herokuapp.com/delegation una nueva cuenta realmente no necesita más de 15HP delegada para poder publicar o comentar lo suficiente. Es su deber enseñarle a no volverse loco y gastar todos sus RC haciendo cosas como votar todo lo que ven o publicar más de 1 vez al día.
También puede solicitar a otro usuario que lo ayude con la delegación si no desea utilizar los servicios mencionados anteriormente.

Enséñale al nuevo Usuario Lo Básico
Desde cómo navegar a través de Hive hasta cómo hacer una publicación, enseñarle a su adoptado cómo hacer una publicación de introducción, no tiene que dar toda la información de una vez porque puede ser demasiado, la idea es que el usuario sea lo suficientemente independiente al final para saber dónde buscar más información o ayuda por sí mismo cuando la necesite.

Ayúdalo a Interactuar con La Comunidad
Una vez que se hayan realizado las publicaciones de introducción de su adoptado, puede llevarlo al Minnow Support Project / PALNet y presentarlo a la comunidad allí, estaré realizando semanalmente una Curación en vivo de nuevos usuarios, y esto ayudara también a su adoptado a conocer a otros Hivers!

Ayuda a tu Adoptado a alcanzar su propio Hive Power de 15
Llegar a 15HP puede ser un difícil si eres nuevo y no conoces a Hive, pero en este caso, tu adoptado ha recibido tu ayuda para que pueda tener el éxito suficiente para llegar a su propio HP y no depender más de la delegación de otros. para poder usar su cuenta sin problemas.
Eso es todo lo que tiene que hacer, solo es ayudar a un nuevo usuario!
---
What do you win with this?
Well as always, I will upvote every participant of this initiative with the @minnowsupport curations accounts the adopter and the adoptee.
I will also be making another post with more detail prizes and rules to win then for this initiative.
¿Qué ganas con esto?
Bueno, como siempre, votaré a todos los participantes de esta iniciativa con las cuentas de curación de @minnowsupport, tanto a él adoptante como a él adoptado.
También haré otra publicación con premios y reglas más detallados para los participantes de esta iniciativa.

Dates and Other Important Matters
This initiative will last 15 days from tomorrow the 16 until July 31, this will give you time enough to find the new user and help it grow independent from others.

To Participate please Make a post about the initiative with the following requirements:
You need to introduce your adoptee in it. and say you are participating in this.
Use the tag #HiveNoobs and #adoptaplankton
leave the post in the comments of this post.
The next live curation for new users will be Sunday on the minnowsupport server on discord PALNET bring your adoptee and let him/her introduce themselves.
Fechas y Otros Puntos Importantes
Esta iniciativa durará 15 días desde mañana 16 hasta el 31 de julio, esto le dará tiempo suficiente para encontrar al nuevo usuario y ayudarlo a crecer independientemente de los demás.

Para participar, haga una publicación sobre la iniciativa con los siguientes requisitos:
Debe presentar a su adoptado en él. y di que estás participando en esto.
Use la etiqueta #HiveNoobs y #adoptaplankton
Deje la publicación en los comentarios de esta publicación.
La próxima curación en vivo para nuevos usuarios será el domingo en el servidor de minnowsupport en discord PALNET, traiga a su adoptado y déjelo presentarse.
---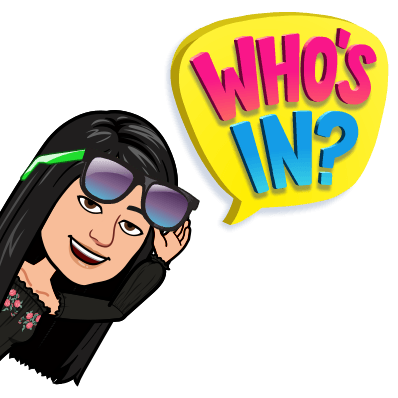 As always, thank you very much for reading me and
I hope to read your comments!
---
Picture Credit: All images are of my property unless said otherwise and the emojis are made with Bitmoji.com!
---
Proud Member and Supporter of The Minnow Support Project, If You Are Not Yet on The Community What Are You Waiting For?? CLICK below!!!

---
---

---

😗 Follow me on my Other Social Media...❗️⬇️⬇️⬇️⬇️


You can find this post shared on Twitter Here please give the tweet a like and retweet!
---
---
---