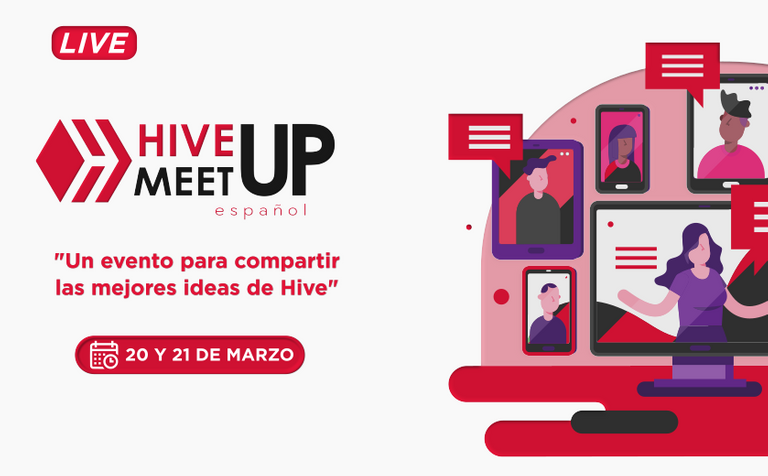 ---
Lets Celebrate our Blockchain 1st Bday || Celebremos el 1er Aniversario de Hive

Hive Meet UP en Español
Hi there! I'm excited to make this post, been wanting to do it for a long time now but even tho I'm not going to point fingers at anyone, someone took too long to make our graphics for this (@enrique89) LMAO. He did do an awesome job so… I'm forgiving him for that.
¡Hola! Estoy emocionada de hacer este post, he querido hacerlo durante mucho tiempo, pero incluso aunque no voy a señalar con el dedo a nadie, alguien tardó demasiado en hacer nuestros gráficos para esto (@ enrique89) jajaja. Hizo un trabajo increíble, así que ... lo perdono por eso.

Ok now let's get serious, HIVE MEET UP en ESPAÑOL 2021 is going to be our way to celebrate the blockchain 1st BDay, this is also our second virtual meeting, since we did the Hive Meeting LATAM last year, that one was a last minute thing so, it was very informal and we ended up wanting more and better, that is why here we are, we wanted to do it again but better and though there is not better date to actually have a meet up than on our Blockchain 1st anniversary for its creation.
March 20, 2021
Our Blockchain was born out a community lead fork from Steem on March 20, 2020. And since then we have enjoy the Fast, Scalable & Powerful force that is Hive, that is why we choose this date to celebrate our meet-up, is going to be virtual because of COVID and we know that sucks but… hey we will make it fun!
Ok ahora, con seriedad, HIVE MEET UP en ESPAÑOL 2021 sera nuestra forma de celebrar el 1er Cumpleaños de nuestra blockchain, este también es nuestro segundo encuentro virtual, ya que hicimos el Hive Meeting LATAM el año pasado, que una fue cosa de último minuto por lo que fue muy informal y terminamos queriendo repetir algo más grande y mejor, por eso estamos aquí, y no hay mejor fecha para tener un encuentro que en el 1er aniversario de nuestra Blockchain por su creación.
20 de marzo de 2021
Hive nació de una bifurcación (hardfork) de Steem liderada por la comunidad el 20 de marzo de 2020. Y desde entonces hemos disfrutado de la rápida, escalable y poderosa fuerza que es Hive, por eso elegimos esta fecha para celebrar nuestra reunión. Sera virtual por el COVID pero… ¡lo haremos divertido!
Where and How…
Well, even tho we would love to be able to do it like @hivefest on a virtual reality space on AltSpace, we know a lot of our Hispanic community members don't have the internet connection or even don't even have a pc to try and connect to a place like that, that is why we are going to be doing it on the place we all use everyday too the same place we did the last Hive Summit LATAM in, Discord.
Dónde y cómo…
Dónde?
Aunque nos encantaría poder hacerlo como @hivefest en un espacio de realidad virtual como AltSpace, sabemos que muchos de los miembros de nuestra comunidad no tienen conexión a Internet o una computadora para un lugar como ese, es por eso que lo haremos en el lugar que todos usamos todos los días, el mismo lugar en el que hicimos el último Hive Summit LATAM en Discord.
---
https://discord.gg/EsM6wafMDx
---
The server is for MeetUps only so right now even if you join in, won't be able to write beyond the introduce yourself channel (that is just for introductions) this to prevent spam or unnecessary chats on it, we don't want to distract attention from other community run servers and we won't be able to mod the conversations happening that is why until the day of the event the server will be read only.
This is something we are still in the works of figuring out the last details since we want a better event than what we did last year and more organize maybe even for a longer period of time, this is why we want your help with!
El servidor es solo para MeetUps, por lo que ahora mismo, incluso si se une, no podrá escribir más allá del canal de presentación (que es solo para presentaciones), esto para evitar spam o chats innecesarios en él, no queremos distraer la atención de otros servidores de la comunidad y no podremos monitoriar las conversaciones que sucedan, por eso hasta el día del evento, el servidor será de solo lectura.
Esto es algo en lo que todavía estamos trabajando para resolver los últimos detalles, ya que queremos un evento mejor que el que hicimos el año pasado y más organizado tal vez incluso por un período de tiempo más largo, ¡por eso queremos tu ayuda!

Community Input Wanted
We want to know what you want to see and experience on our meet up, who should be invited to speak, what activities you would like to take place during the event and whatever idea or suggestions you want to give us to make this the best meetup we can have!
You can give any of this feedback to any of us directly @enrique89, @eddiespino, @ilazramusic or me on discord, on this post or through Telegram in the group http://t.me/hivelatino
Queremos la opinión de Ustedes
Queremos saber qué quieres ver y experimentar en nuestro encuentro, quién debería ser invitado a hablar, qué actividades te gustaría que se llevaran a cabo durante el evento y cualquier idea o sugerencia que quieras darnos para hacer de este el mejor evento que podemos tener!
Habla con cualquiera de nosotros directamente @enrique89, @eddiespino, @ilazramusic o a mi en discord, en los comentarios de este post o a través de Telegram en el grupo http://t.me/hivelatino

Lets sing Feliz Cumpleaños to our beloved Blockchain this March 20, 2021.
Cantemos Feliz Cumpleaños a nuestra amada Blockchain este 20 de marzo de 2021.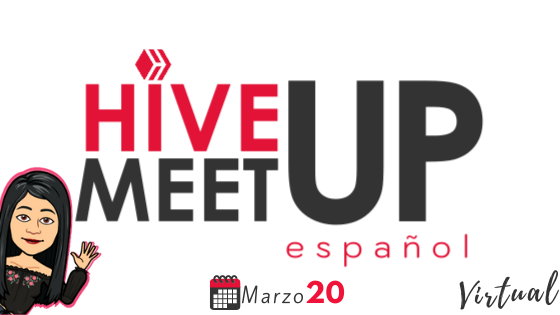 ---
As always, thank you very much for reading me and
I hope to read your comments!
---
Picture Credit: All images are of my property unless said otherwise and the emojis are made with Bitmoji.com!
---
Proud Member and Supporter of The Minnow Support Project, If You Are Not Yet on The Community What Are You Waiting For?? CLICK below!!!

---
| Are you a Mom? Of a human or a Cat or a Dog or of anything? Join us in our Community! | Eres Venezolano? Tenemos una Comunidad Increíble Únete!! |
| --- | --- |
| | |
---
😗 Follow me on my Other Social Media...❗️⬇️⬇️⬇️⬇️