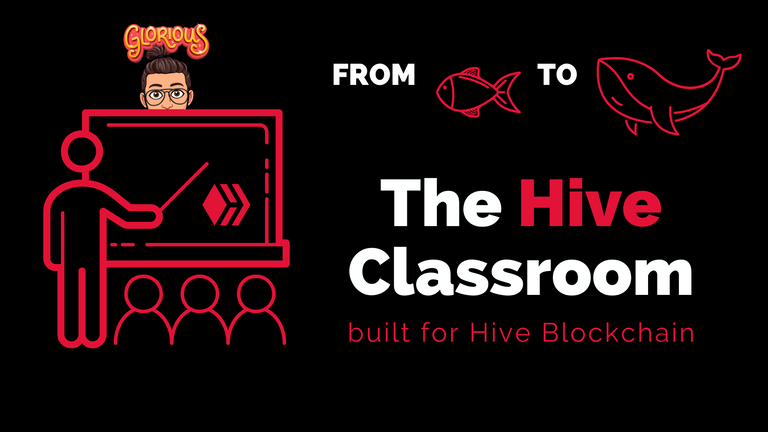 Diseño hecho por mí en Canva | Design made by me on Canva
¡Bienvenidos de nuevo a mi blog, chicos! El día de hoy les traigo un post para resumir lo que fue mi Master Class del día de ayer motivada al regreso de la iniciativa creada por @victoriabsb conocida como «Adopt a Plankton» para ayudar a los usuarios nuevos en nuestra cadena de bloques.
Toda esta semana tendremos clases épicas, pueden ver el calendario completo de las clases restantes al hacer click aquí.
Hace dos días estuvimos con @eddiespino el cuál nos habló sobre las bases teóricas de Hive y nos dio unos consejos de seguridad, pueden ver toda la información de su Master Class al hacer click aquí.
Por otra parte, yo di una clase el día de ayer sobre los diferentes métodos de inicio de sesión que tenemos disponibles cuando vamos a utilizar @peakd, los cuáles son:
Peaklock.

Hivesigner.

Hive Keychain.
En este post, voy a darles un resúmen sobre lo que fue la charla, la dinámica que se llevó a cabo y posteriormente, en mi perfil de @ilaz.aliento dejaré un tutorial en vídeo con bastantes detalles sobre la configuración y uso de la herramienta Hive Keychain, ya que esta es la más segura que tenemos dentro de nuestra cadena y por ende, la más recomendada, entonces, sin más que agregar, comencemos.
Welcome back to my blog, guys! Today I bring you a post to summarize what was my Master Class yesterday motivated by the return of the initiative created by @victoriabsb known as "Adopt a Plankton" to help users new to our blockchain.

All this week we will have epic classes, you can see the full schedule of the remaining classes by clicking here.

Two days ago we were with @eddiespino who talked about the theoretical basics of Hive and gave us some security tips, you can see all the information of his Master Class by clicking here.

On the other hand, I taught a class yesterday on the different login methods we have available when we are going to use @peakd, which are:

Peaklock.

Hivesigner.

Hive Keychain.

In this post, I will give you a summary of what was the talk, the dynamics that took place and later, in my @ilaz.aliento profile I will leave a video tutorial with many details about the configuration and use of the Hive Keychain tool, since this is the most secure we have in our chain and therefore, the most recommended, so, without further ado, let's start.

La charla | The talk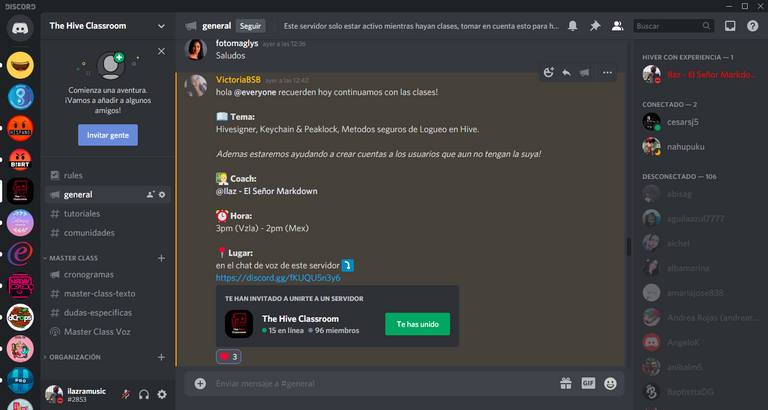 Comenzaba el día con un mensaje de nuestra querida @victoriabsb avisando que se daría la clase a las 3:00pm (hora de Venezuela), eso crearía las expectativas con las personas que tenemos en el servidor de Discord de The Hive Classroom.
The day started with a message from our dear @victoriabsb warning that the class would be held at 3:00pm (Venezuela time), that would create expectations with the people we have in the The Hive Classroom Discord server.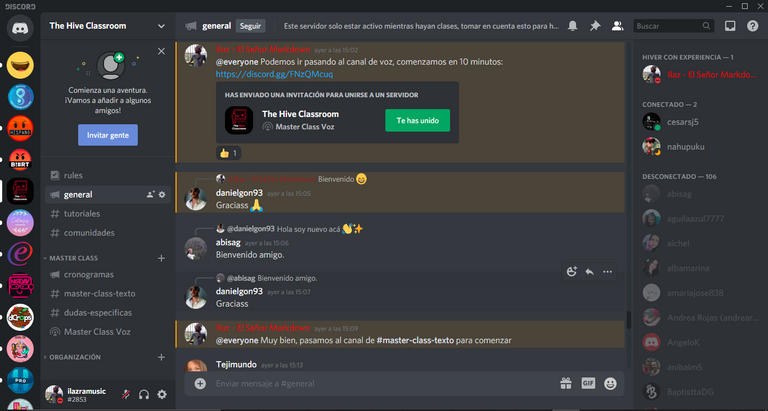 Comencé a avisarle a las personas que comenzaríamos 15 minutos después de la hora para esperar a ver si entraban más personas, al principio de la charla tuvimos 5 personas activas, así que procedí a comenzar con la planificación que tenía para el día de hoy.
I started to let people know that we would start 15 minutes after the hour to wait to see if more people would come in, at the beginning of the talk we had 5 people active, so I proceeded to start with the planning I had for today.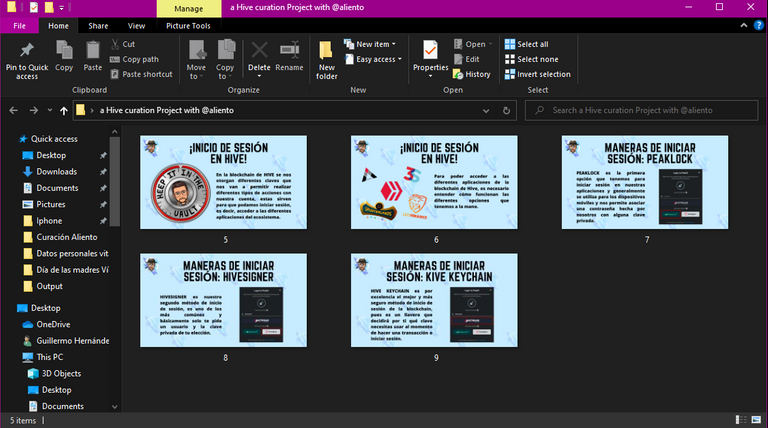 Preparé elementos visuales para la clase porque siento que siempre es más sencillo explicar de esta manera, entonces, realicé un pequeño resúmen de lo que era cada uno de los métodos de inicio de sesión y el porqué era importante el conocer la funcionalidad de cada uno, sobretodo para los usuarios nuevos que generalmente pueden tener problemas de seguridad al manipular de forma errónea las claves asociadas a nuestra cuenta de #Hive.
I prepared visual elements for the class because I feel that it is always easier to explain in this way, so, I made a small summary of what each of the login methods was and why it was important to know the functionality of each one, especially for new users who usually can have security problems when manipulating wrongly the keys associated with our #Hive account.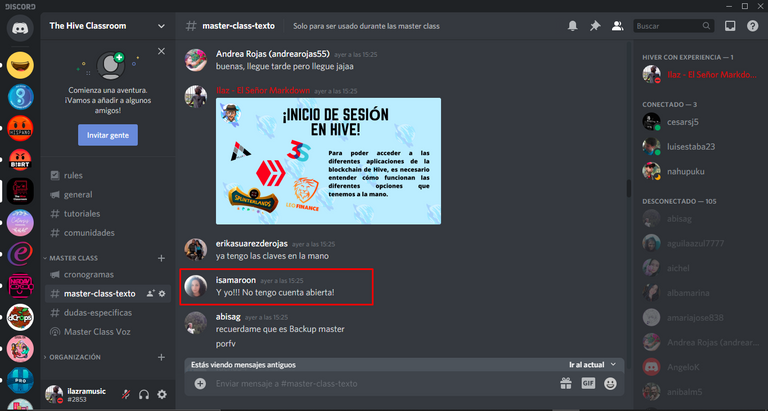 Al principio de la charla, pregunté a los oyentes si todos tenían su cuenta de #Hive, pero resulta que 3 personas no tenían una cuenta creada, por lo que le pedí asistencia a @eddiespino en este sentido para que pudiera crear dichas cuentas utilizando algunos tickets VIP con @aliento, entonces, eso hizo que pudiéramos apoyar a estos usuarios a obtener sus usuarios y además les explicamos de una vez cómo acceder a @peakd utilizando los 3 métodos de inicio de sesión.
At the beginning of the talk, I asked the listeners if everyone had their #Hive account, but it turns out that 3 people did not have an account created, so I asked @eddiespino for assistance in this regard so that he could create such accounts using some VIP tickets with @aliento, then, that made it so that we could support these users to get their users and also explained to them at once how to access @peakd using the 3 login methods.
Inicio de Sesión en @peakd | Login on @peakd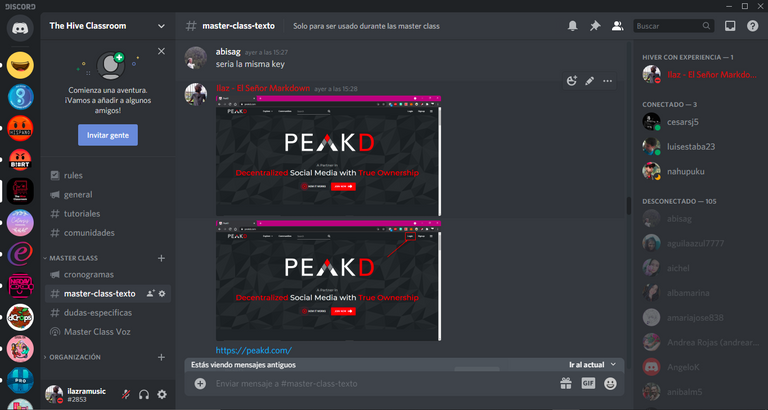 Peaklock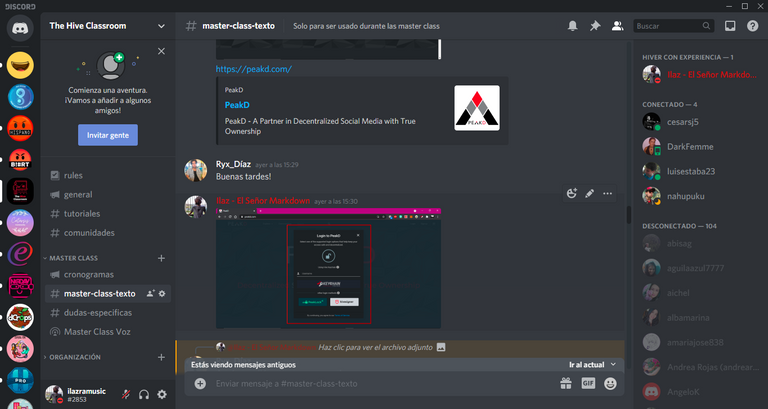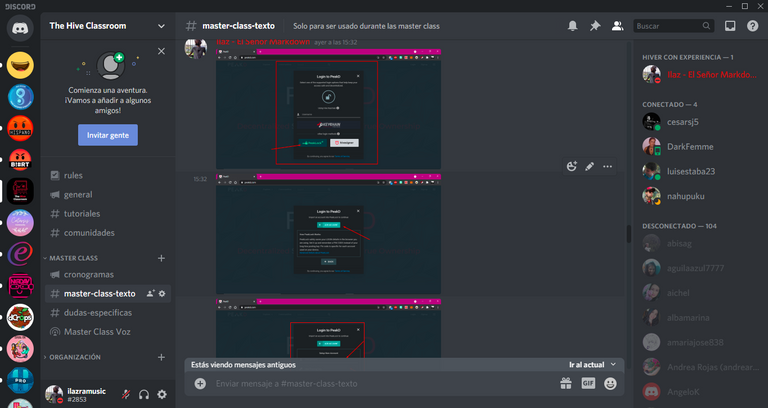 Hivesigner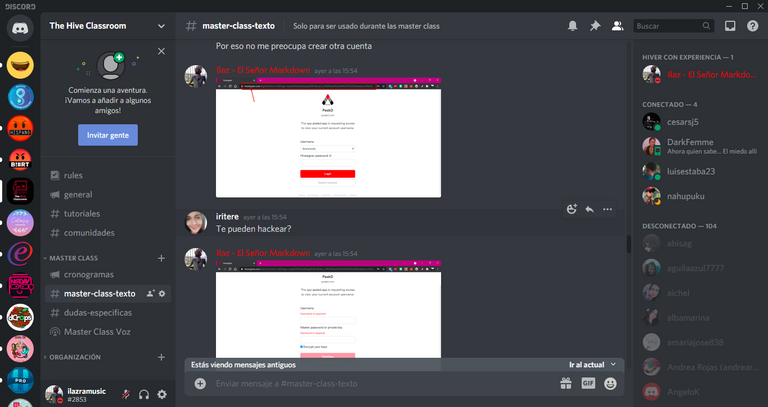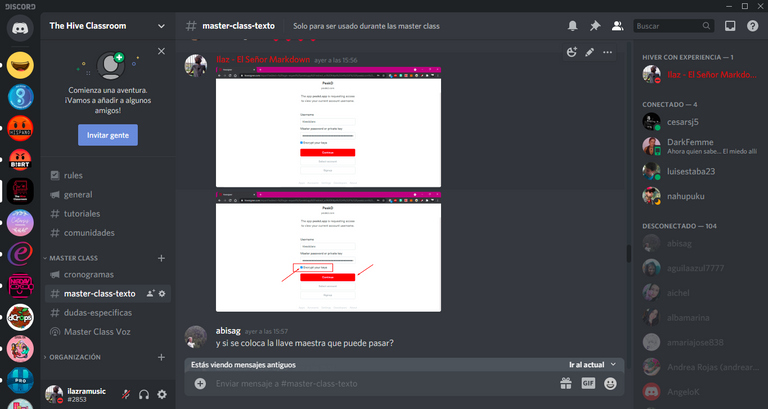 Hive Keychain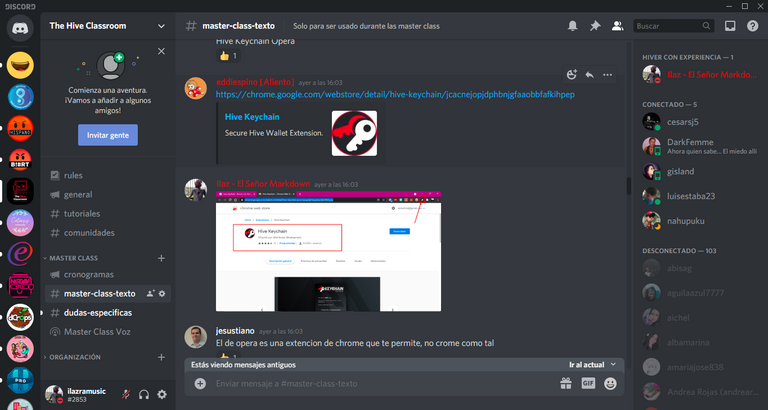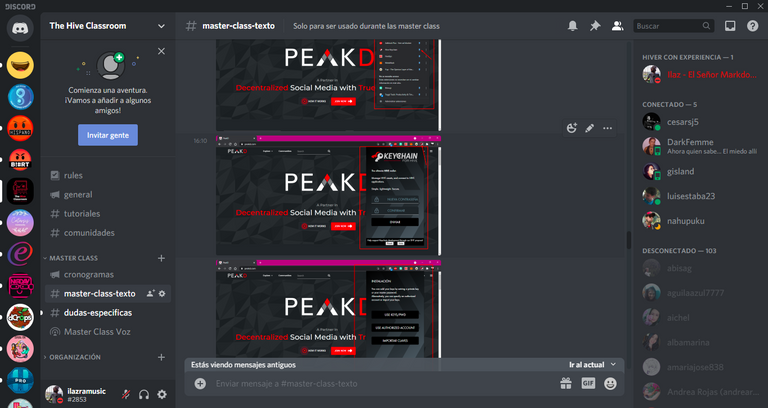 Como pueden ver en las capturas de arriba, durante la charla realicé una especie de «paso a paso» con muchas capturas apoyándome con el audio de la sala de conferencias del servidor de Discord para poder hacer que mi ponencia fuera lo más dinámica posible para mantener y retener la atención de todos los que asistieron a la charla.
Durante la misma, les reiteré que les haría un tutorial en vídeo con lo mismo que dije sobre Hive Keychain en la charla, porque según mi opinión, es la mejor manera de poder mantener a salvo nuestras claves por el hecho de no necesitar copiar y pegar las mismas en el navegador cuando realizamos nuestras operaciones y transacciones en #Hive.
As you can see in the screenshots above, during the talk I made a kind of "step by step" with many screenshots supported by the audio of the Discord server conference room in order to make my presentation as dynamic as possible to maintain and retain the attention of all those who attended the talk.

During the same, I reiterated that I would make a video tutorial with the same thing I said about Hive Keychain in the talk, because in my opinion, it is the best way to keep our keys safe by the fact of not needing to copy and paste them in the browser when we perform our operations and transactions in #Hive.

El resultado | The results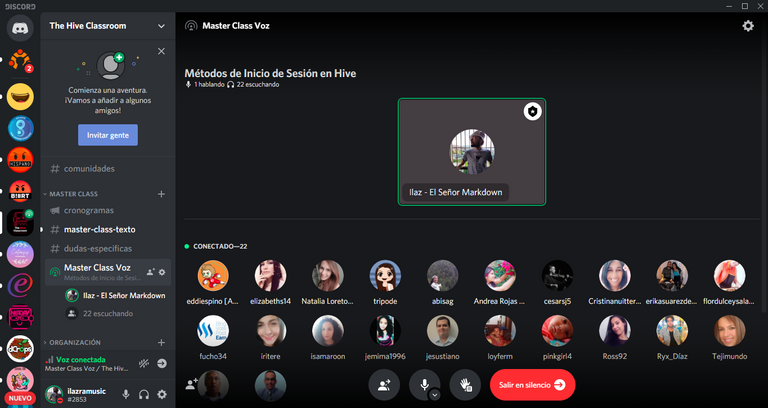 Nunca he dado una clase para novatos que haya estado tan llena en mi historia como creador y líder en #Hive, y en esta charla tuve un pico máximo de 22 personas activas de las cuáles el 90% eran usuarios no-experimentados de la plataforma, así que debo decir que fue un éxito rotundo; como resultado de la charla, siento que hicimos el trabajo de la mejor manera y que todavía queda mucho contenido que dar.
El día de hoy la charla será con nuestra querida @samgiset, quién dará una charla sobre las diferentes DApps y Front-End que tenemos disponibles para las personas al momento de hacer vida en la cadena de bloques de #Hive.
Esperamos seguir viendo a las personas activas y el poder seguir ayudando a todos los nuevos usuarios que podamos ya que así podemos hacer crecer nuestra comunidad de la mejor manera.
I've never given a class for newbies that has been so full in my history as a creator and leader in #Hive, and in this talk I had a maximum peak of 22 active people of which 90% were non-experienced users of the platform, so I must say it was a resounding success; as a result of the talk, I feel that we did the job in the best way and that there is still a lot of content left to give.

Today's talk will be with our dear @samgiset, who will give a talk about the different DApps and Front-End we have available for people when making life on the #Hive blockchain.

We hope to keep seeing active people and to keep helping as many new users as we can so we can grow our community in the best way.

Palabras Finales | Final Words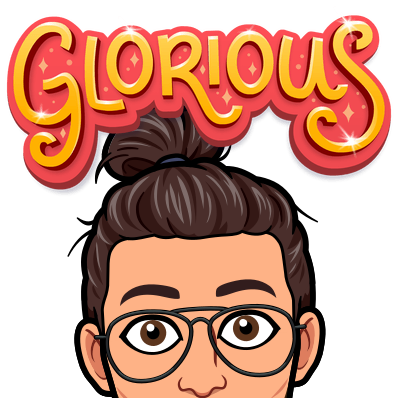 Debemos destacar el hecho de que estas clases se están dando de forma voluntaria por los ponentes en cuestión y se están realizando de forma gratuita en su totalidad, el proyecto «Adopt a Plankton» es una idea desarrollada por @victoriabsb y evolucionada gracias al apoyo de líderes de comunidad como @laloretoyya, @elizabeths14, @samgiset, @eddiespino, @enrique89 y mi persona, todo con el fin de hacer llegar la información de la manera más correcta y eficiente a los nuevos ingreso de la cadena.
Esperamos tener todo el feedback posible de nuestra comunidad para seguir mejorando los procesos y así ir cada vez haciendo un trabajo más significativo por y para nuestra comunidad, ¡sigamos creciendo!
Y como recordatorio, todas las personas que estén buscando tutoriales sobre #Hive e información de utilidad, por favor sigan a la cuenta @ilaz.aliento, pues ahí estoy dedicando el perfil 100% a darle apoyo a usuarios nuevos y experimentados que requieran de información sobre nuestra cadena con tutoriales bastante detallados sobre muchas cosas puntuales de nuestra plataforma, además de curar contenido gracias al apoyo y la confianza del equipo de @aliento.
We must highlight the fact that these classes are being given on a voluntary basis by the speakers in question and are being conducted entirely free of charge, the "Adopt a Plankton" project is an idea developed by @victoriabsb and evolved thanks to the support of community leaders such as @laloretoyya, @elizabeths14, @samgiset, @eddiespino, @enrique89 and myself, all in order to get the information in the most correct and efficient way to the new members of the chain.

We hope to have as much feedback as possible from our community to continue improving the processes and thus do more and more meaningful work for and by our community, let's keep growing!

And as a reminder, all the people who are looking for tutorials about #Hive and useful information, please follow the account @ilaz.aliento, because there I am dedicating the profile 100% to give support to new and experienced users who require information about our chain with quite detailed tutorials about many specific things of our platform, in addition to curating content thanks to the support and trust of the @aliento team.