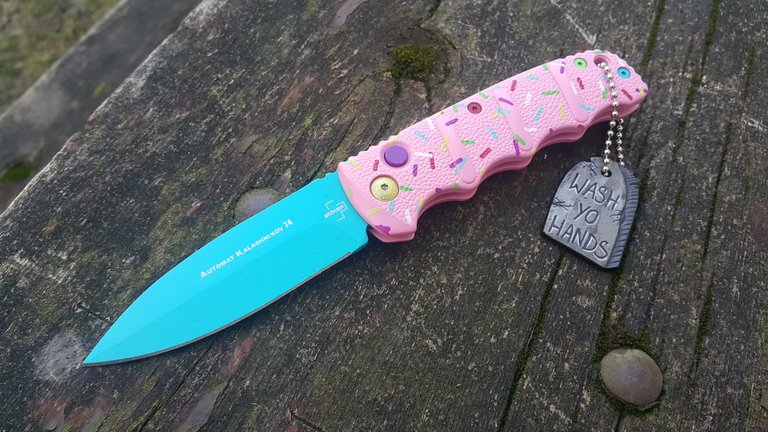 What's up, babybois? I recently received a late Christmas gift from a buddy of mine, which happened to be this Boker Dessert Warrior knife. This knife originally dropped about 6-8 months ago, IIRC, and sold out in about 3 hours. I've been waiting for a new drop of it since, but of course when it came out I didn't have a spare $50 to drop on it. My buddy decided to be an absolute sweetheart and grab one for me as a gift, meaning I'll definitely owe him a big old reach around at a later date, probably. And, I do mean that. Because this fucking knife goes for $85-120 on the secondary market. Which is a bit nutty. But, I digress. The main point is that I have this ridiculous donut knife that looks like it would fit perfect with a bucket of grease for a Homer Simpson cosplay. This honestly might be the most split knife I've ever seen among the knife community. There's been so much hate, and so many wet spots in underwear over this thing. It's pretty great.
If you can't tell from the handle of the knife, this happens to be an auto knife. Meaning it fires the blade out at the hit of a button, technically making it a switchblade. Up until very recently, you weren't allowed to carry any auto knives here in my state. There were some changes a few months ago that made it okay if you were "Open carrying" the switchblade, which I wasn't really sure how you could do without looking like a fucking mall ninja. I figured this knife would probably be as good as I could get with the pocket clip being as blue as the blade and the handle being bright pink. However, something magical just happened a few days ago. Our governor passed a new knife bill making any knife at all legal to carry here now, with them only being classified as a weapon if used as one.
I can tell you right now, I think anyone who collects or carries a knife in Ohio should go give our governor a big old smooch on the lips right away...Before spitting in his face for all his other retarded actions in recent times, save one or two things. I'm definitely super hyped about this news, though things don't go into effect until sometime in April, so I have a decent amount of time to wait. But, the timing couldn't be more perfect since I just sold a knife and a few other things to get back into the balisong game. I can't wait for someone to ask if I have a knife they can use, so I can pull my butterfly knife out and look like a fucking weirdo to the general public.
But, back to my donut. How is this knife? Well, my time with it has been very limited thus far. I'll for sure come back soon with a full write up on this tasty blade after I've carried it more and used it for a bit. My initial impressions are that it's pretty good though! The blade is 3.25 inches long, made from AUS-8 steel, which is a perfectly fine EDC blade steel. It's considered a more low-end blade steel, but what else can you expect for $50? The handle is made from aluminum, and because of how thick the scales are it ends up being a pretty hefty little blade. Which is probably a good thing, since the blade shoots out like a rocket when deployed. I own another switchblade from Kershaw, and have also used a few others that friends let me play with in the past. This is by far the snappiest one I've ever touched though.
The fit and finish seem pretty good so far after having it for about 10 days. Though, I have noticed a little bit of button stick. The edge from the factory is sharp enough to last a little while, but I'm sure I'll probably need to send it off for a new edge after a couple months. The only other thought I've had is that I might get a titanium deep carry pocket clip for this knife at some point. As, I'm never a huge fan of factory pocket clips, after losing several knives over the years from bad retention or just the clips breaking. But, yeah. I'll revisit this knife at some point after I've beaten it like it owed me some motherfucking money. Oh, the tombstone tag did not come with the knife, by the way. That's just a little add on from me, a gift from a friend who does leatherwork to commemorate 2020.
But, yeah. Until next time, doods.
Later!