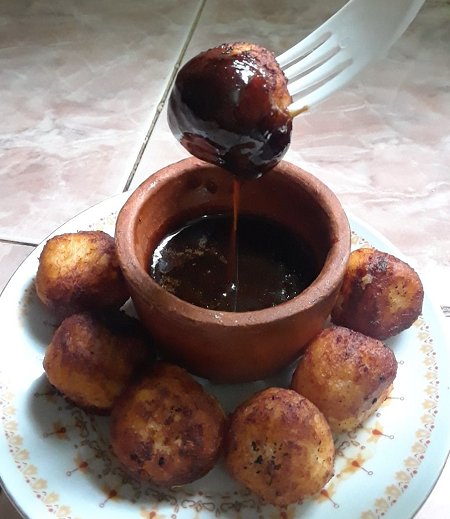 Greetings, Welcome once again to my blog, my name is Giselle Linarez and today I am going to show you how to make cassava Fritters, this is a traditional Venezuelan snack, and it has a divine contrast of flavors. This snack may vary a little bit between regions, but without a doubt we have all tried it, and it evokes our childhood, mine, my mother's, my grandmother's.
This snack consists basically in a mass elaborated of cassava, and grated cheese, it is fried and sweetened with panela or papelón (brown sugar loaf); it is a little crunchy, but very soft, the first thing that you feel when biting one of these fritters, it is the sweet mixture of the papelón and the flavor to cheese of the fritter, and later it appears the presence of the spices, very subtle, but that they give depth him to each mouthful, before disappearing.
Now, without further delay, let's begin to elaborate this delicacy, for the fritters we are going to need:
800 grams of cassava (clean, peeled).
100 grams of Venezuelan semi-hard cheese or feta cheese.
100 grams of wheat flour.
One Tbsp. Of sugar
One egg
250 Ml. of oil for frying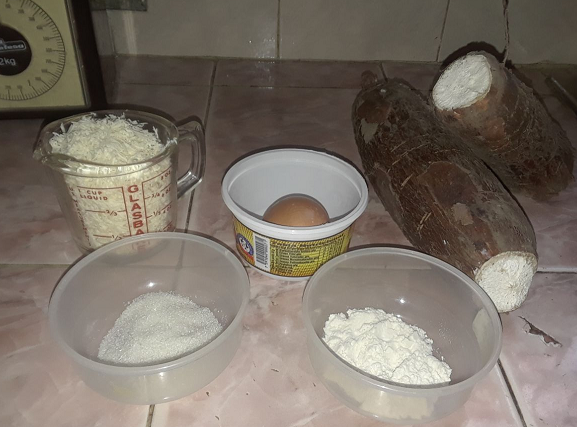 For the brown sugar loaf syrup, you need it:
150 Ml of water
300 grams of panela or brown sugar
6 cloves
2 cinnamon sticks
2 Pimenta dioica or all spice
2 tablespoons of salt
A pinch of grated nutmeg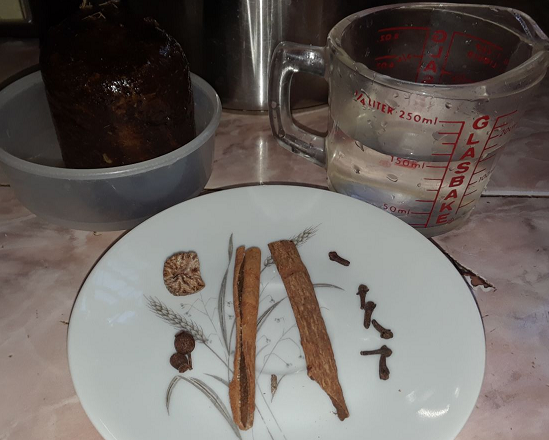 Previous considerations, you must look for a fresh cassava, it must be completely white without yellow or green zones, I bought one kilo exactly and I had 820 grams left, which is what I used for the recipe, that means that from one kilo you lose approximately 200 grams.You must wash it well before using it.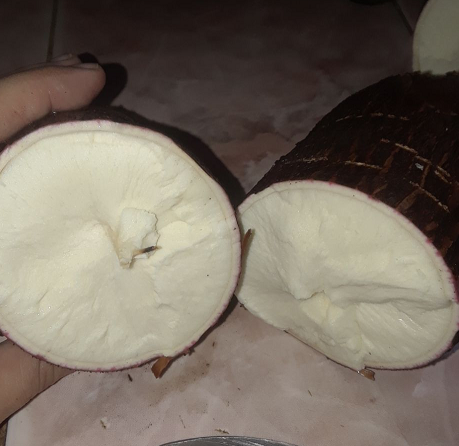 The first step is to clean our cassava, removing the skin is quite easy, you only need to cut subtly to where the cassava flesh begins, then you finish removing the skin with the help of the knife or your hands.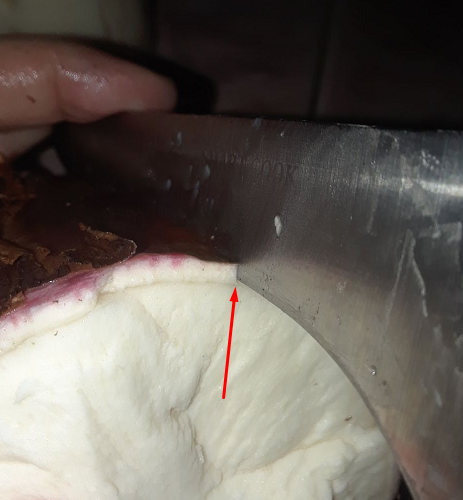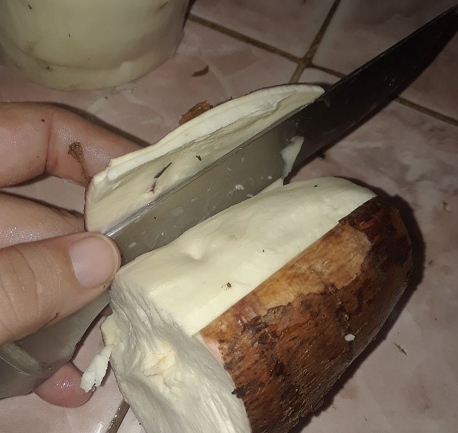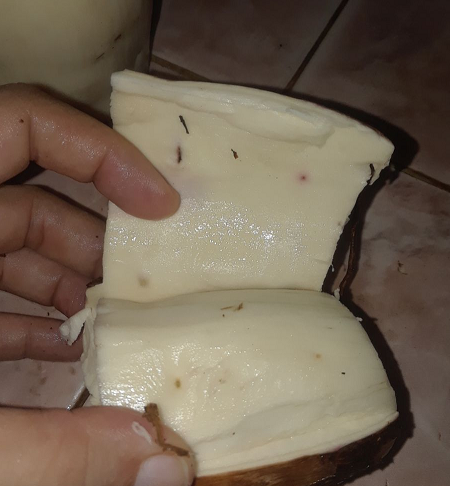 The second step is to put our cassava to boil, the smaller the cut the faster it will be ready, in my case it took 40 minutes, when I had 20 minutes I added the 2 tablespoons of salt to the water, stirred, and let it finish softening.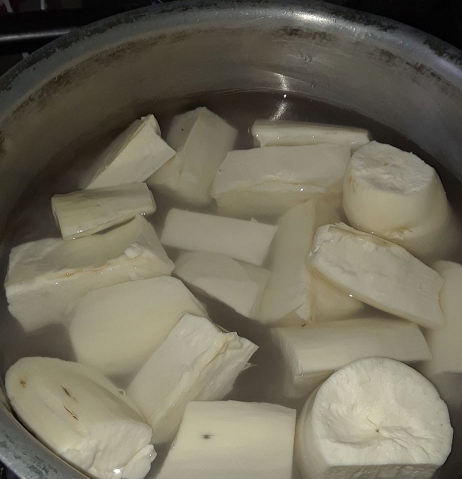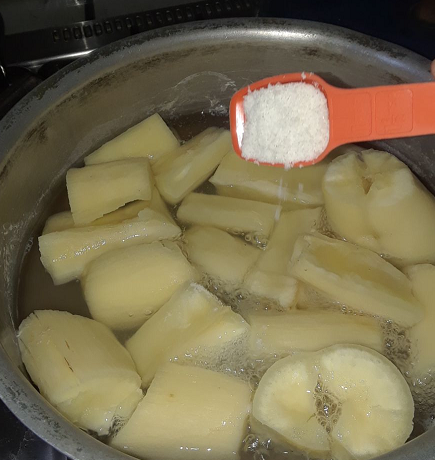 The third step is to check your cassava with a fork, you must prick it and check the softness, it must not present any resistance, you turn it off and remove it from the pot. I place it in a large bowl, where I will finish doing the rest of the steps.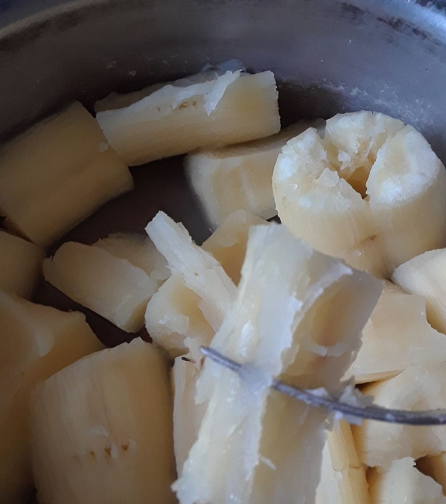 The fourth step is to crush the cassava until it becomes pure, you can do it with the same fork or with a potato masher, it is good to do it while it is hot, it is easier. (take advantage and remove this hard part of the cassava).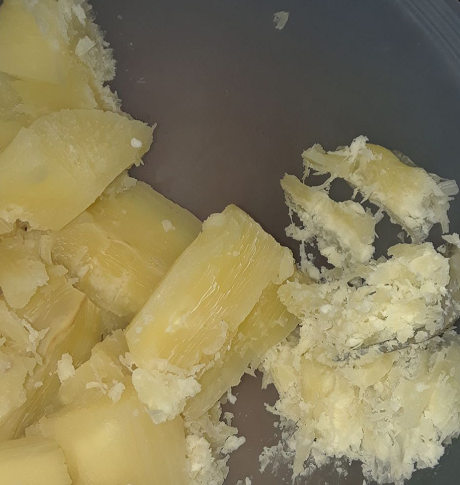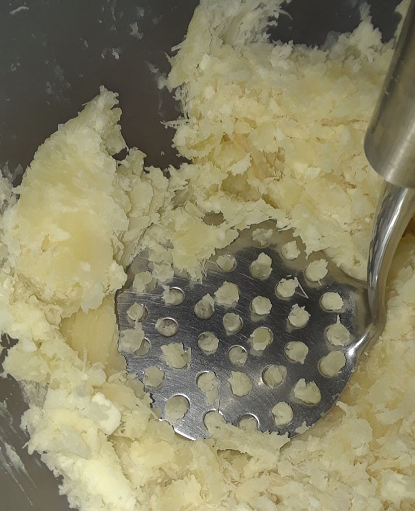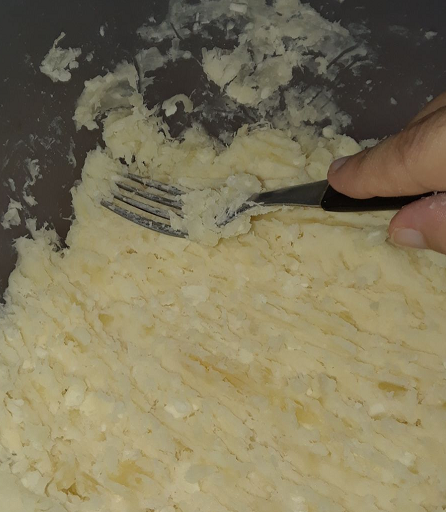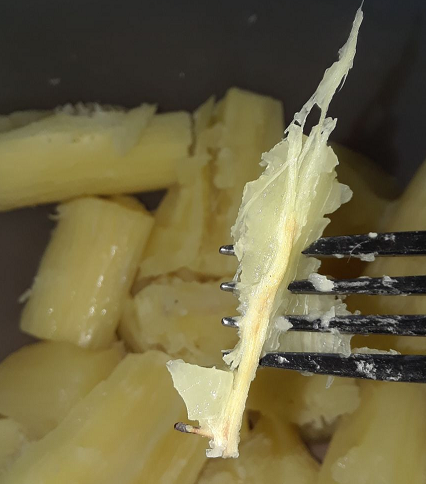 The fifth step is to open a space in the center, add the cheese, sugar, flour, and egg in the center, and knead until you leave a homogeneous dough, I think it is best to do it directly with clean hands, I feel that the ingredients are better integrated that way.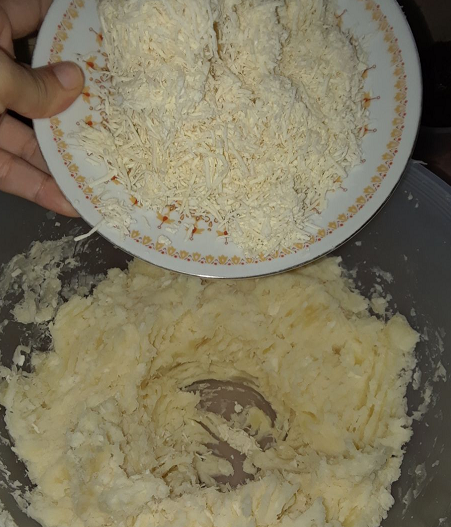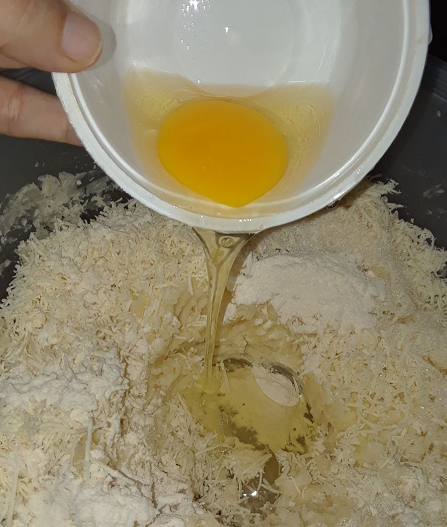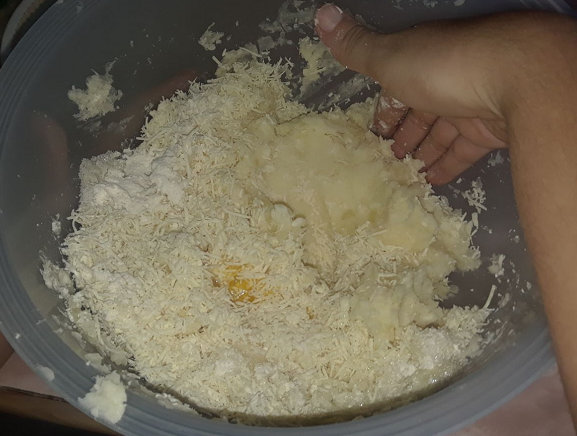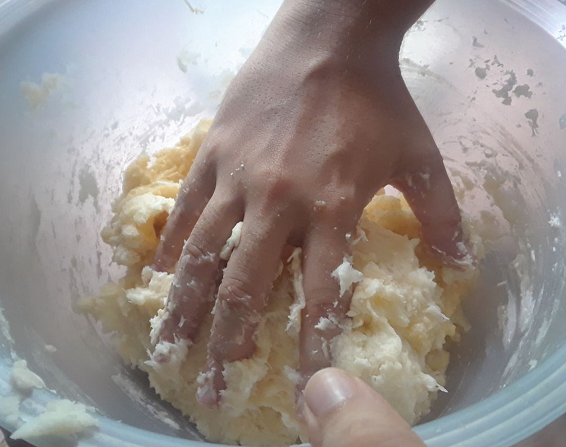 The sixth step is to take our dough, and make little balls of the size we want, in some houses they make them the size of a pin pon ball, particularly I like them a little bit smaller, I feel they are the easy ones to eat, and that it improves the presentation.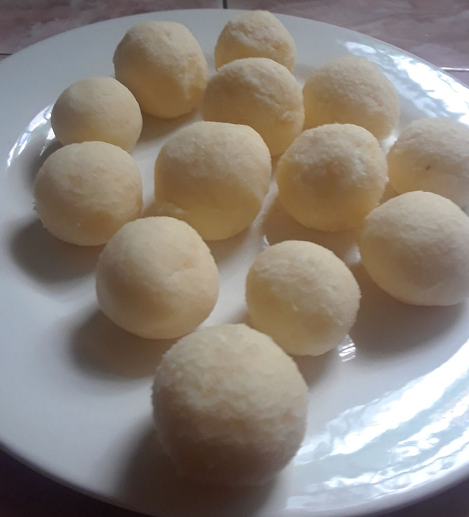 The seventh step is to fry our fritters, until they take a golden color, ideally they will be completely covered by the oil, do not put more than 5 at a time, to be able to keep an eye on them, they are ready in periods of 4 to 5 minutes.
(Remember to always test the temperature of the oil, put a little bit of dough in the pot to check that it is not too cold, it should come out bubbles and float immediately, if this doesn't happen it is too cold, you should wait for it to warm up a little more).
(It can also affect if it is too hot, if your oil gives off a white smoke and changes the smell, it is burning, you must remove it from the fire and wait, if you put your fritters there, they will burn quickly instead of getting the golden color we want).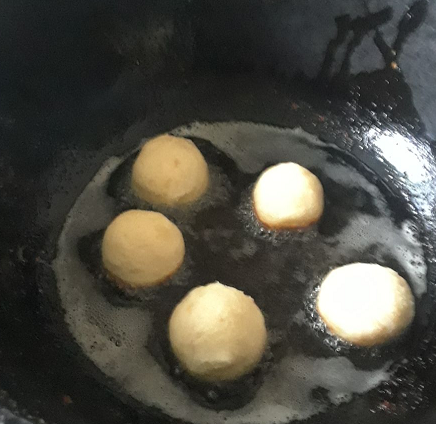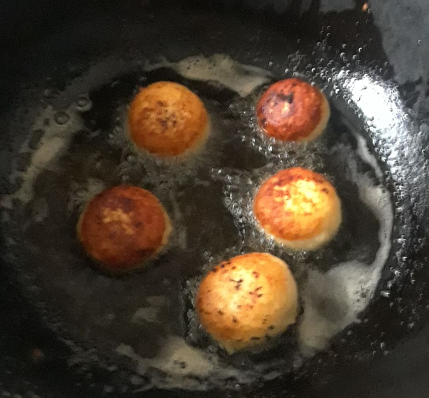 The eighth step is to remove them from the pot, and drain on absorbent paper to remove excess oil.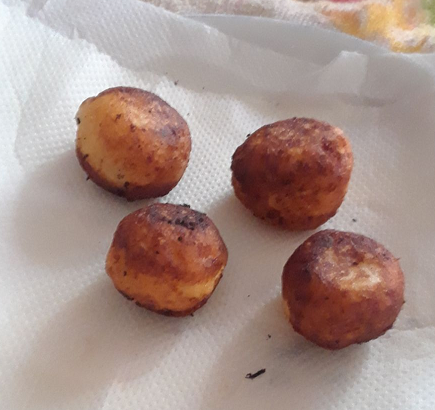 Once we have our fritters ready we can make our panela or brown sugar loaf syrup:
We put all the ingredients in a high pot, this is important because when it boils it goes up, and it could be thrown away, if you use the grated panela or brown sugar, it will dissolve in less than 10 minutes, in my case as I use a hard piece almost 20 minutes.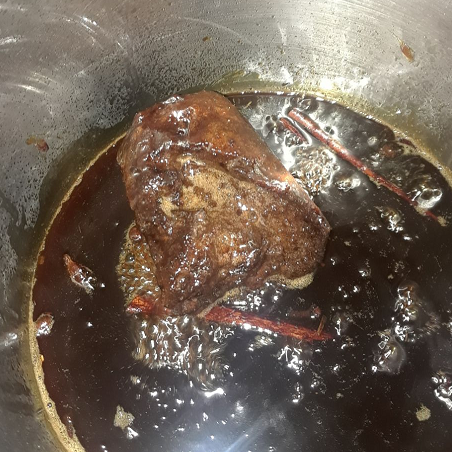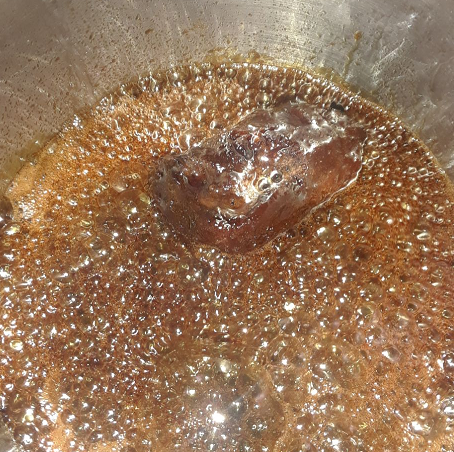 I obtain the grated nutmeg with a knife with small saws, so it is only used a little, with scraping 5 or 6 times, it is enough to have the aroma we want without overloading our syrup.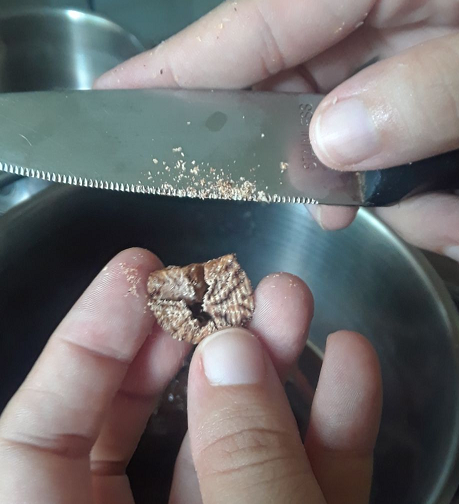 We waited until our syrup of panela thickens. Once we have it ready, we strain it to get our spices out.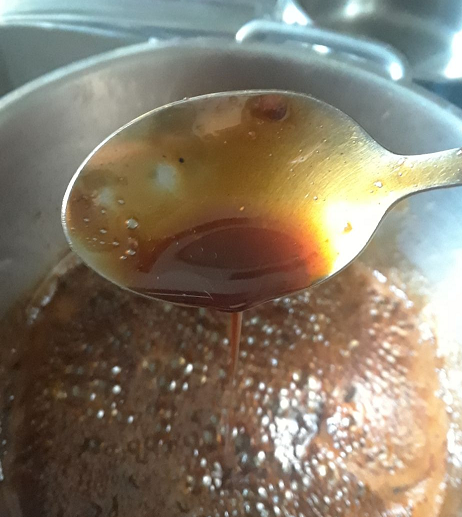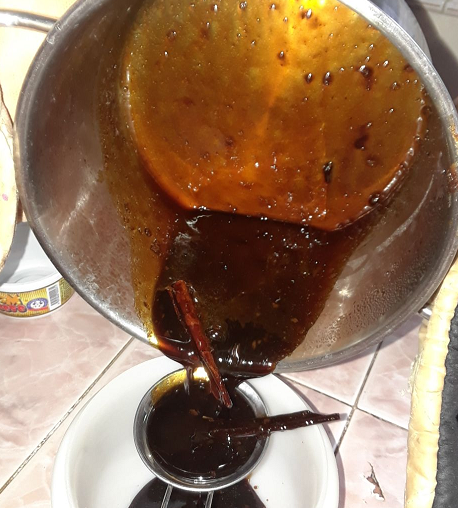 We only have to choose our presentation and enjoy our cassava fritters, the traditional thing is to serve them with a little bit of panela sauce on top, they can also be served on a plate and put the syrup in a small bowl, to dip our fritter. And in some houses in addition to the panela they add a little more cheese.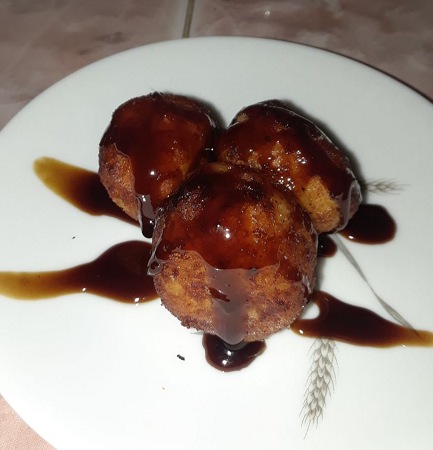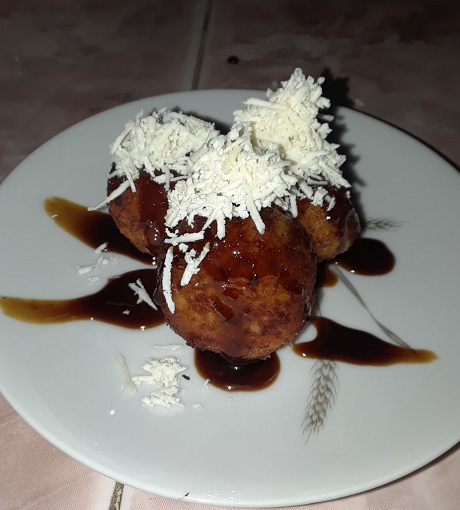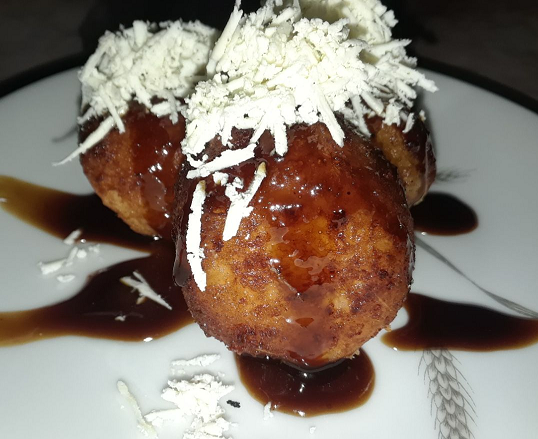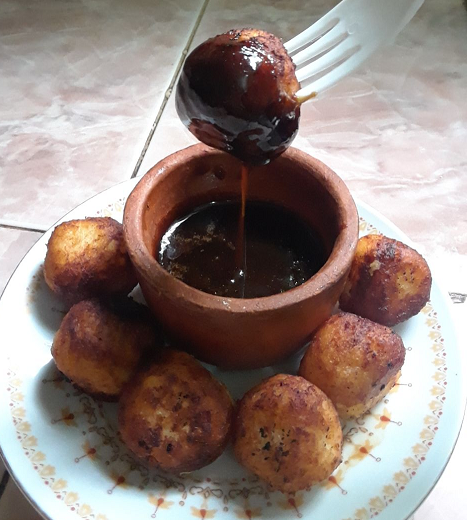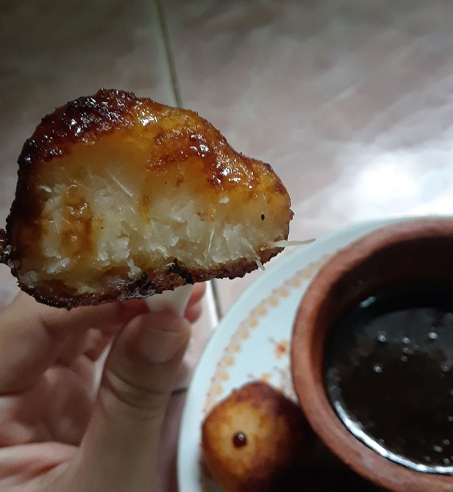 This is all for today, I hope you enjoy it a lot, this post is my participation for a cooking contest of the indiaunited community, if you are interested in participating here, you have more details of the contest. I say goodbye. Wishing you a happy day, and enjoy your meal.

All pictures are my property, taken with my Samsung Galaxy J3 Prime phone.
Banner by @fanyokami