We know that the changes in the world are permanent, but something has happened that is impossible to imagine, yet it has happened. The day passed as usual for all mankind, each in his own way. A simple superficial greeting is enough to make the insinuation that someone is taking you into account in some way, but minutes later you can be asked questions via your mobile phone... things of humans nowadays.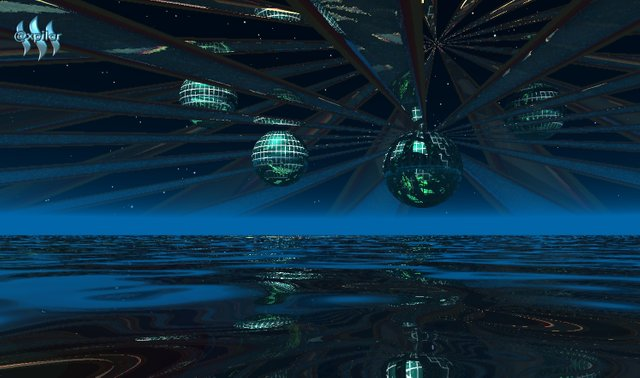 Image courtesy of @xpilar Source
The day passes and few people realize that there is something different in nature, there are no birds, a phenomenon that only a few lovers of their singing have managed to perceive. But it seems to be unimportant, totally, with so much noise and music we can hear that can be replaced.
Before it was time to go dark it became dark, suddenly, at the same time a smell of wet earth flooded the space, the whole space, it was impossible not to notice it. There was no explanation for such an event. The religious tried to go to their respective churches to pray, looking for an explanation of this whole phenomenon. Others totally unbelievers continued their activities giving their explanation that it was an eclipse and that it would pass.
The computer systems literally went into total chaos, and the cities followed, there was no control of anything. The world, national, local authorities gave the indication that everyone should go home, until it was known what it was all about.
Out of fear everyone rushed to their homes and within 60 minutes everyone was in their homes. However, exactly 120 minutes after the natural world blackout, the sky begins to transform into something that no one could decipher, you see crystallized drops fall, emitting a luminescence of colors to the sides, suddenly the whole sky is flooded with large crystal drops, like a kind of unreal rain, that when they touch the ground they turn into water.
For the first time in decades an event can make the world connect as it happens, for a few minutes the whole of humanity became - in one breath - a united body breathing in unison as they contemplated the sudden change and felt the drops fall with their fine sound... and seconds later also at the same time everyone cried out in surprise until silence took over the world...
This is a literary exercise inspired by the Digital Art of @xpilar. For more information Here I will soon bring the continuation of this story.

Versión en Español
Sabemos que los cambios en el mundo son permanentes, pero ha ocurrido algo que es imposible imaginarlo, sin embargo, ha ocurrido. El día transcurrió cómo de costumbre para toda la humanidad, cada quien en lo suyo. Un simple saludo superficial basta para hacer la insinuación de que alguien te está tomando en cuenta de alguna forma, pero minutos después te pueden hacer preguntas a través de tu teléfono móvil… cosas de humanos en la actualidad.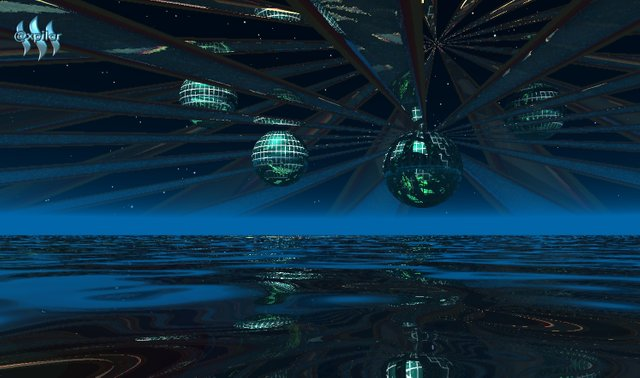 Image cortesía de @xpilarFuente
Pasa el día, y pocas personas se percatan de que hay algo distinto en la naturaleza, no hay aves, fenómeno que solo algunos pocos amantes de su canto han logrado percibir. Pero parece no tener importancia, total, con tanto ruido y música que podemos oír eso puede ser sustituido.
Antes de que llegara la hora de oscurecer se hizo de noche, de manera brusca, a la vez que un olor a tierra húmeda inundó el espacio, todo el espacio, era imposible no darse cuenta. No había explicación para tal evento. Lo religiosos intentaron acudir a sus respectivas iglesias para orar, buscando explicación de todo este fenómeno. Otros totalmente incrédulos siguieron sus actividades dando su explicación de que se trataba de un eclipse y que ya pasaría.
Los sistemas informáticos entraron literalmente en un caos total, y las ciudades le siguieron, no hubo control de nada. Las autoridades mundiales, nacionales, locales dieron la indicación de que todos debían acudir a sus casas, hasta que se supiera de que se trataba.
Por miedo todos acudieron rápidamente a sus casa y en cuestión de 60 minutos estaba cada quien en sus hogares Sin embargo, pasados exactamente 120 minutos desde el apagón natural mundial, el cielo se empieza transformar en algo que nadie podía descifrar, se ven caer gotas cristalizadas, que emiten una luminiscencia de colores hacía los lados, de repente todo el cielo está inundado de grandes gotas de cristal, como una especie de lluvia irreal, que al tocar el suelo se transforman en agua.
Por primera vez en décadas un evento puede hacer que el mundo se conecte mientras acontece, por unos pocos minutos la humanidad toda se convirtió -de un solo suspiro - en un cuerpo unido respirando al unísono mientras contemplaban el brusco cambio y sentían las gotas caer con su fino sonido…y segundos después también al mismo tiempo todos gritaron sorprendidos hasta que el silencio se adueñó del mundo…
Este es un ejercicio literario inspirado en el Arte Digital de @xpilar. Para mayor información Aquí Pronto traeré la continuación de esta historia.


I invite you to visit Project.hope and learn about the benefits of this project for all those interested in growing while helping others to grow.
Note: Emojis used are from the Bitmoji application.