This story is in response to competition 75 by @xpilar, whose wonderful art you see below ...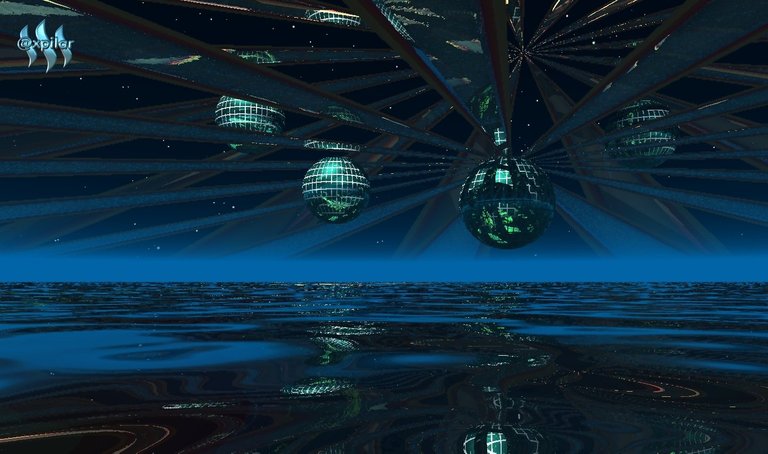 "Are you sure they aren't looking?"
"Yep. The coast, the shallows, and the deeps are clear, for the first time in centuries."
Owing to the pandemic among humans, the creatures of the sea had nothing to fear and no eyes upon them from the shore.
It was definitely time for a party.
The singing creatures of the deep – the whales, the orphans, and the dolphins – tuned up their voices, and the sound summoned the celestial disco balls, made of bright crystal light drawn from the twinkle of every star, hung from beams of the same girded by the steel of dark matter.
The synchronized swimming teams of fish who formed schools began to put fine tuning on their turns and dips.
The plankton began to prepare their mass show of colors.
The fish of lovely colors, and the jellies of all persuasions, began to get ready for their fashion shows, as did the corals and anemones.
The molluscs of the sea with external shells and prepared for a slower fashion show, and those with internal shells – like the octopuses and squid – prepared for gymnastics.
The crustaceans prepared to provide percussion to the music, using their claws as castanets and drumsticks on empty shells and rocks.
The sharks prepared to eat the others who got off beat – every environment has its enforcers!
The singers – the whales, the dolphins, and the orcas – made their arrangements to take turns, for they alone of the creatures of the sea could dance into the air. These musician-athletes completed their arrangements, and then paused, enjoying the quiet peace of the moment while all the other creatures waited on them.
"Our fellow mammals the humans will return … this peace will not last long."
"Thank the Creator we have it, for now, once in a generation, for the creatures of the sea."
"All right; time to get on to celebrating … 1, 2, 1-2-3-4..."