Tittabawassee Trails Disc Golf Course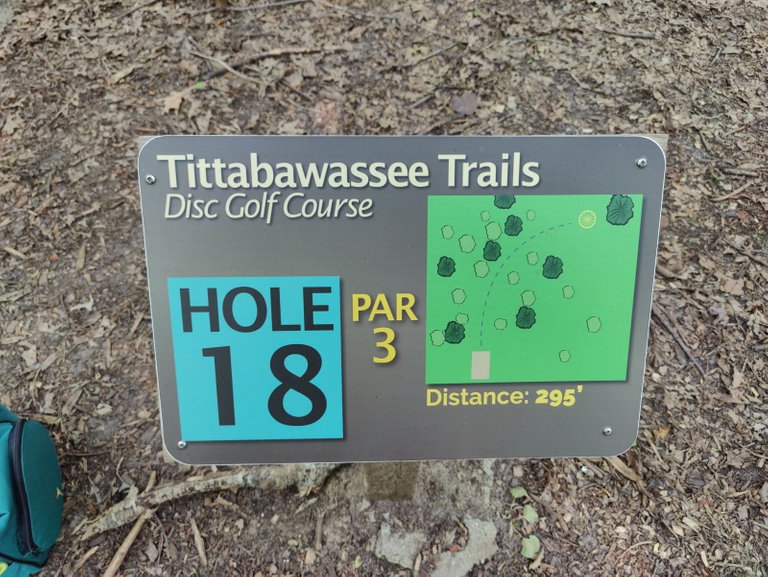 ---
Sadly, I didn't get too many shots from this course yesterday when I was playing. I was too busy swatting mosquitos away and by the time I thought about it I ended up with one blurry image from the 18th hole.
This course is in Freeland, MI which is just around the corner from where I live. You would think I play there all the time given that fact, but this was actually the first time in years I have been to this course. They have made quite a few adjustments since the last time I played!
One of the key features of this course is that it has a pretty decent number of water hazards throughout. That is a stark contrast to the Midland, MI course I covered previously. The only way you have a water hazard on that one is if the river floods (you really shouldn't be playing then anyway) or you have an insanely horrible throw on holes number 3 or 5.
Tittabawassee has an actual pond on hole three that you can try to throw over or if you are like me you can use the alternate tee pad that takes you to the left side of the pond and bypasses it. The pond is fairly huge and there is little hope you would recover your disc without diving in. I have a disc that is supposed to float, but even if that was the case if it lands in the middle of the pond, floating isn't going to help. It may as well be at the bottom of the pond...
In addition to the pond, there is a creek that runs through the course. Sometimes it is dry, but occasionally it is not and it adds an extra element of difficulty to the course.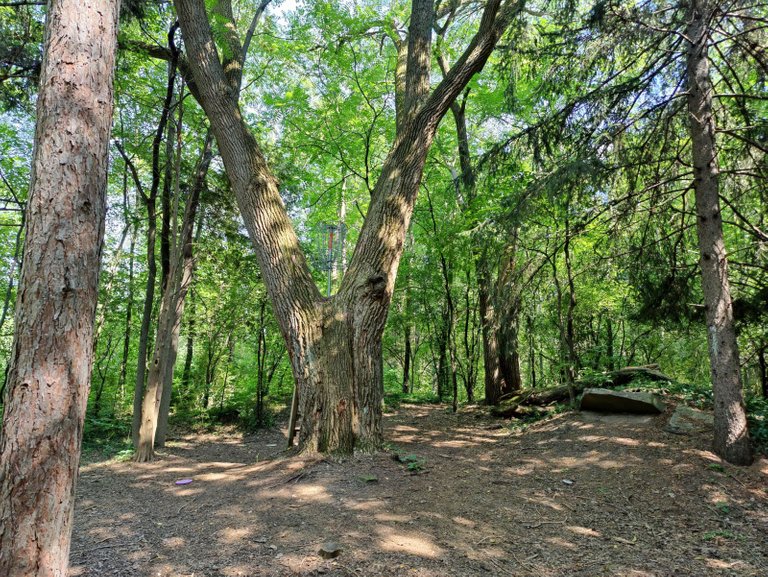 ---
While the course itself is 18 holes, they have added about six bonus holes throughout the course that you can play if you choose. I think they use this course for tournaments and leagues, so that is part of the reason they have the bonus holes.
The picture above is one of the bonus holes we played. I didn't keep score on this one which is a good thing because I think I would have shot an 11 or 12. Getting the disc up to that basket is a real pain. There is a ladder on the other side of the tree that allows you to recover the discs once they are thrown in there.
It is hard to tell from the picture, but I would guess that basket is a good 10 to 15 feet in the air.
The course itself it quite technical. There are very few open holes. Lots of bridges over the creek and lots of tight alleys through copious amounts of trees. They even have two holes with mandatory paths which require you to throw your disc on specific sides of a tree at tee off. Specifically I think it is the 1st and 17th or 18th holes.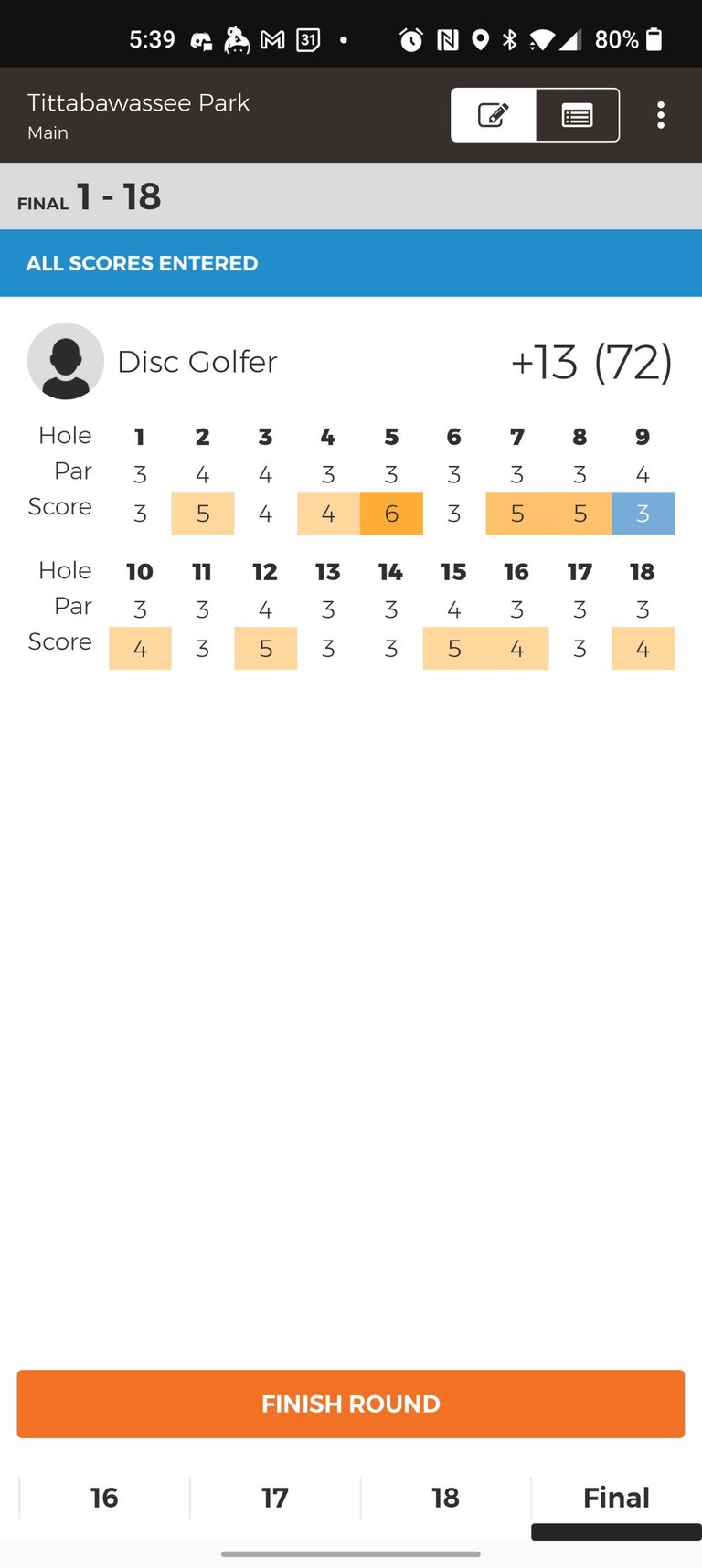 ---
You can see here that I had a pretty decent day even though I haven't played the course in a long time and this is only my third time this year being out to play. I was actually shocked by the number of pars I was able to get and that one birdie was even more surprising!
Between the three of us (my friend and his son) we all came in fairly close together though I was in last place. I think my friend got 9 or 10 over and his son got 11 or 12 over.
I forgot to mention the course has a decent number of elevation changes for the relatively flat area in which it is located. I have played courses on the side of ski hills before and this is nothing like that, but it still has some ups and downs which can really get you.
Tittabawassee (pronounced tit-ah-bah-wah-see if you care) is a pretty cool course and if you are up for a bit of a challenge you should stop in and play some time. Hit me up if you are in the area and we can play a round!
---
---

---
@eos.detroit Staff Writer/BOID Team Leader
Join our Discord here
All pictures taken by myself or @mrsbozz
---
---