A Very Old Love Story [CCC's Street Art Contest #40]
Good morning, Street Art Lovers!
Today I bring you something a little different for the CCC's Street Art Contest #40, hosted by @digi-me.
Instead of a Graffiti piece, I want to show you a mosaic which you can find at the centre of the city of Bragança, at the North of Portugal, very close to the Spanish border.
This mosaic depicts the forbidden and secret wedding between D. Pedro I of Portugal, king from 1357 to 1367 and a Spanish Lady called Inês de Castro, who was his mistress while he was married to the Queen Constança from Castile and León (now part of Spain).
He had plenty of children from both of these women: 3 children from the first wife and 4 from his second wife, Inês de Castro. 🤭
This secret wedding was the reason for which Inês de Castro became known as a Queen of Portugal even though that title was only given to her long after her death.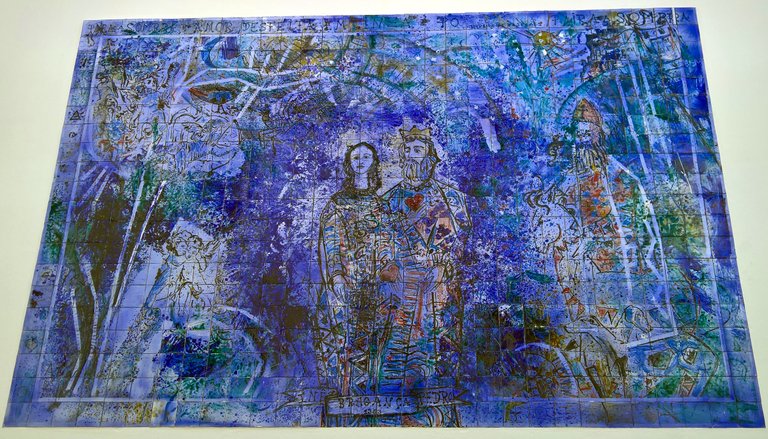 Open Full Sized Photo In New Window
At the centre of the piece you can see the loving couple, with some angels to the left and a priest to their right.
At the bottom, there's a banner with their names and the year of their wedding, 1353. The exact month and day are unknown and lost in time.
At the top part of the mosaic you can read a poem from Teixeira de Pascoaes, saying:
Paira a sombra do amor, desfeita em cinza e pó.
In English: (The shadow of love hovers, undone in ash and powder.)
The mosaic was made in 2013, by the city hall, to celebrate this chapter of Portuguese History and it's placed on the external wall of the church where the marriage was celebrated: the church of S. Vicente.
---
If you want to know more about the love affair of D. Pedro and Inês de Castro, please check the following page:
I hope you liked this article and photo. Leave a comment below, if you wish.
---
| | |
| --- | --- |
| Location | Bragança - Portugal |
| Camera | Microsoft Lumia 950 XL |
| Photo | Edited with GIMP |
---
If you want to to participate, here's the link again: CCC's Street Art Contest #40
---

---
---