While I was stuck in Albuquerque on my recent trip through the Southwest I had a chance to walk around a bit around the railroad station. Not that I was looking specifically for street art, but it's kinda hard to ignore those gigantic images painted on the walls of downtown Albuquerque. So I took a few pictures to share with you guys.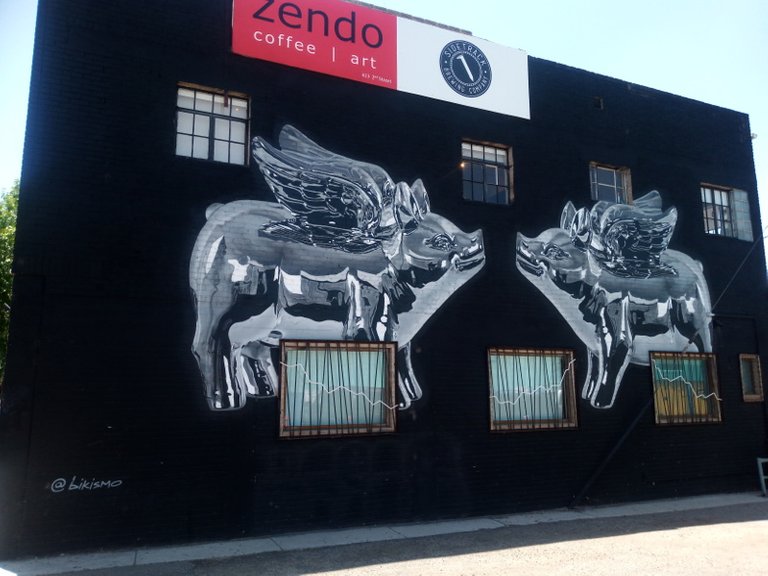 These cool looking pigs on the wing can be found on the corner of a coffee shop on 2nd Street SW, where I went to buy a coffee I hoped would be better than what they served at the station. (It turned out to be all right, though quite pricey actually.) The mural, however, is all the more impressive. The artist's tag in the corner is easily identifiable as bikismo, a Puerto Rican artist, known for his metallic animals.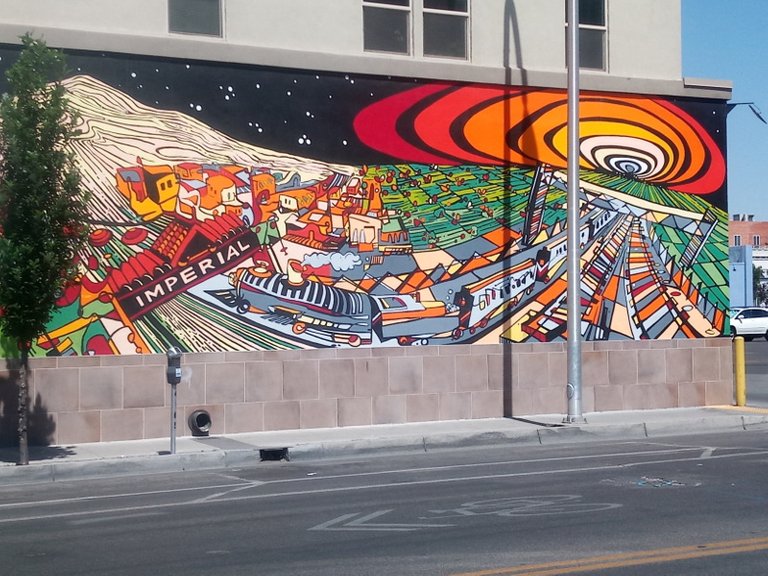 Also on 2nd Street SW, two blocks straight from the train station, on the wall of the Silver Street Market, I saw this impressive mural. A plaque on the wall next to it informs us that it was created by Jessica Angel in 2016, and presented by 516arts. The work is titled The Fall of the Ten Suns.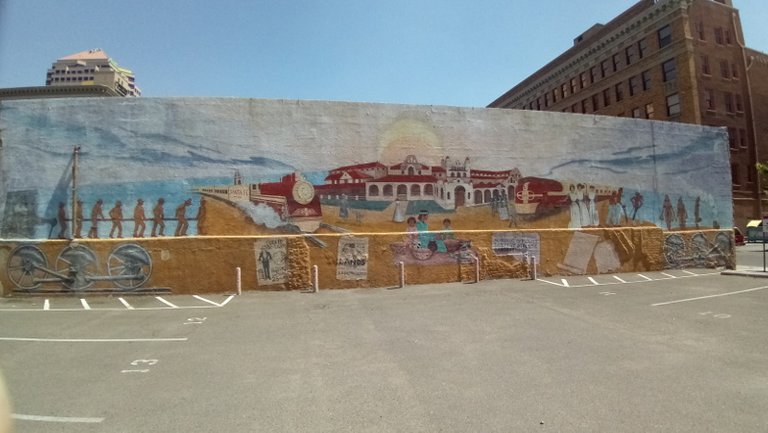 Moving up a block on the same 2nd Street SW, between the corners of Golden Avenue SW and the historic Route 66, you can see this interesting wall painting. While the artist remains unidentified, the image shows old Southwestern architecture between ancient and modern trains. All around are strewn newspaper clippings about how the country has been pillaged by real estate developers.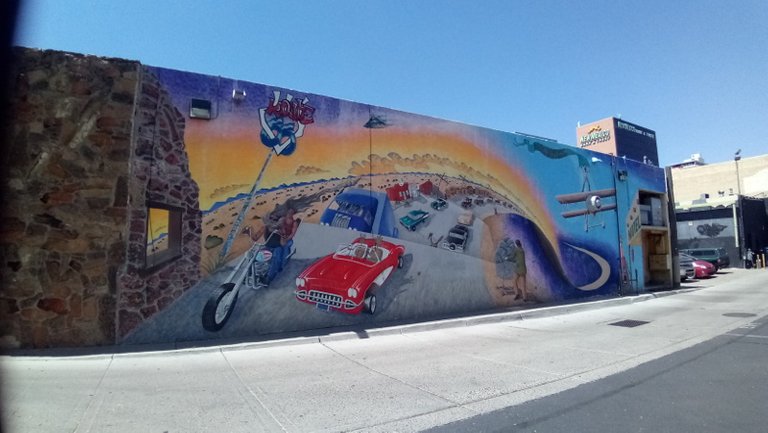 On the other side of the same building is another similar piece, this time with a motorist theme, quite appropriately about Route 66, the first road built across the continent, connecting Chicago with Los Angeles. Created in 1995 by artist Joe Stephenson for working classroom, this image features bikers, truckers, even space aliens traveling on this iconic American highway.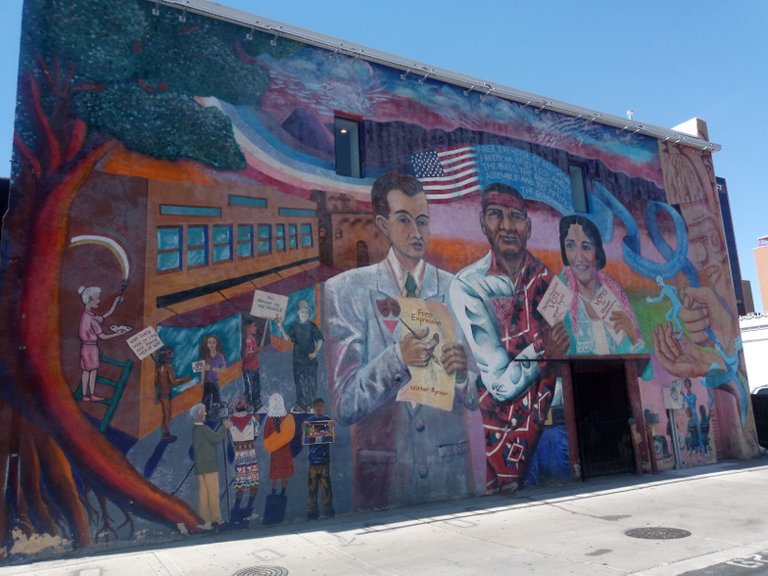 On the adjacent building to the right, there is also an interesting mural. This work about human rights and civil liberties celebrates the 1st, 15th, and 19th amendments to the US constitution. It's title is Fruits of Expression, and was created in 2000 by Claire Bain and assistants, also for working classroom.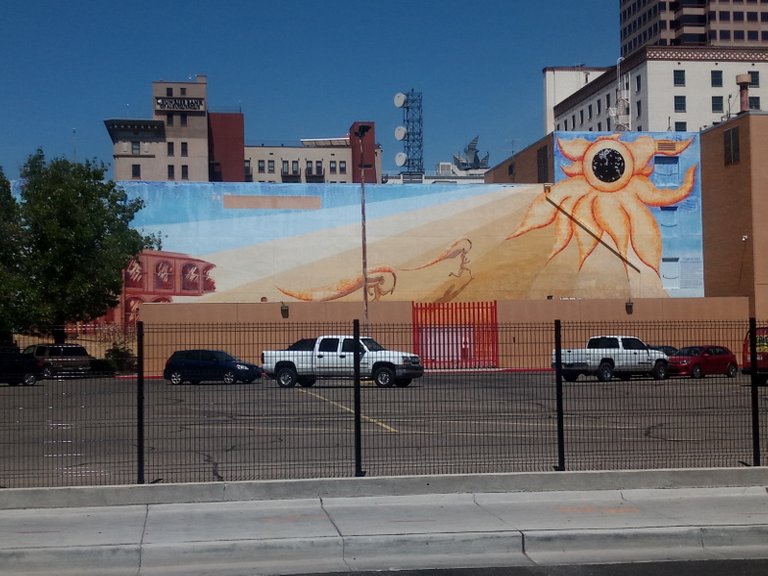 Completing my brief walk back to the railroad station, I passed by another two murals. However, these ones are behind a fenced-in parking lot, making it not only hard to see, but impossible to read the information on them. Fortunately, the internet has plenty of information, at least on the former one. It is another piece from working classroom, and is titles Passing the Torch.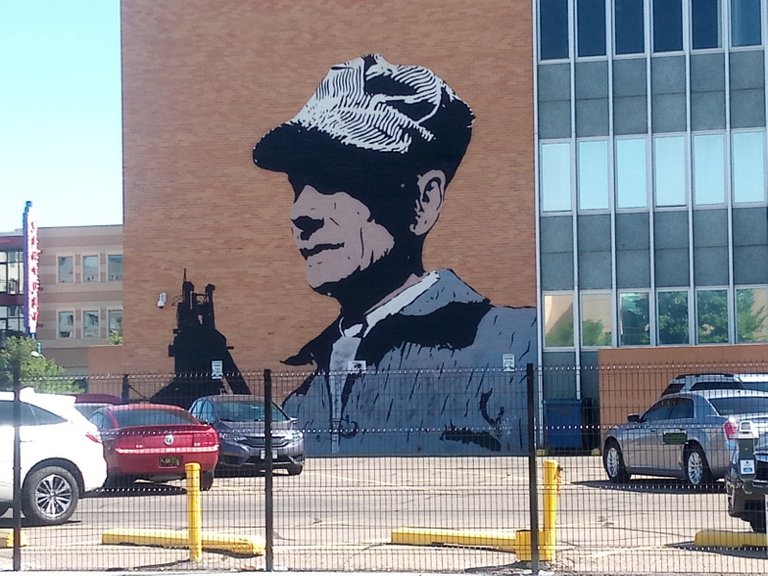 This is just a small sample of the many amazing murals in Los Angeles:
A Divine Harpist
An Electrified Hummingbird
Colorful Walls of Pico Union