Art is not eternal. This is particularly true for murals, which often get tagged up by graffiti, painted over, and covered by other murals. Sometimes, however, a piece may be so special that it is brought back to its former splendor from decades ago. That was the case with this one I found under W 1st Street as it passes over W Toluca Street.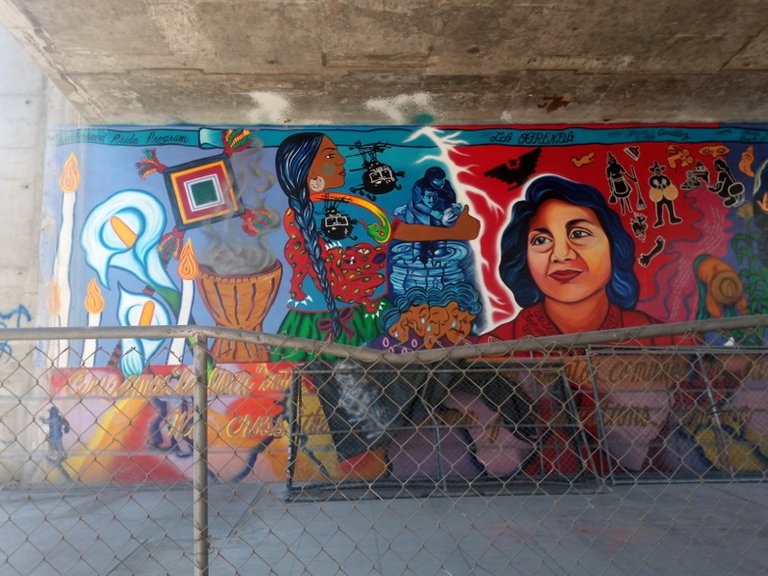 Originally painted in 1989 by Yreina Cervantez, this mural is titled La Ofrenda meaning "offering". It's dedicated to Dolores Huerta, a co-founder of the United Farm Workers of America, and it is loaded with imagery relating to the experience of Latina women, including military conflicts in Central America, working in agriculture, as well as such common fields as hospitality and clothing manufacturing. On the right side of the painting it features a poem by Sara Martinez, also known as Rosanna Perez.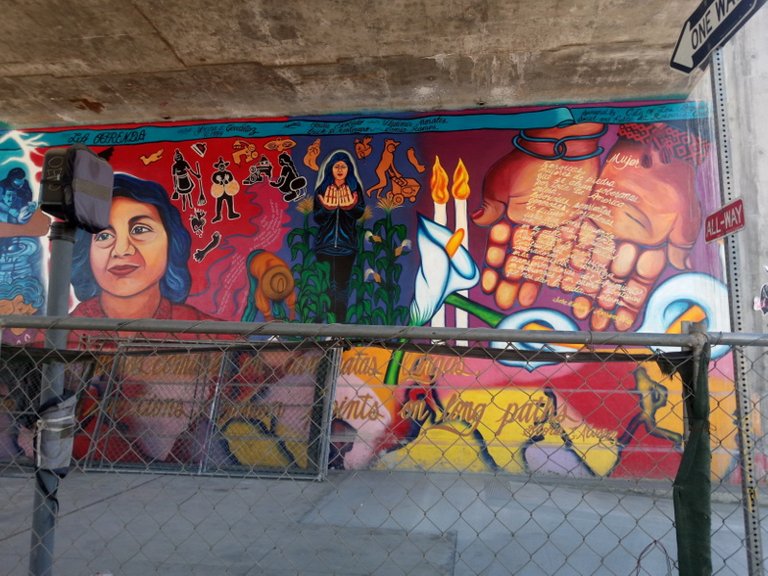 In browsing the net for background info about this interesting piece of street art, I stumbled upon the surprising story of its restoration. Apparently, the mural had been covered by several layers of graffiti, before being completely painted over by another unauthorized painting. Finally, in 2012, the Social and Public Art Resource Center of Los Angeles peeled back the layers of paint covering this iconic piece. The mural covering it was considered worth saving, so it was digitally recorded, to be moved into a new location. Read about it in detail here.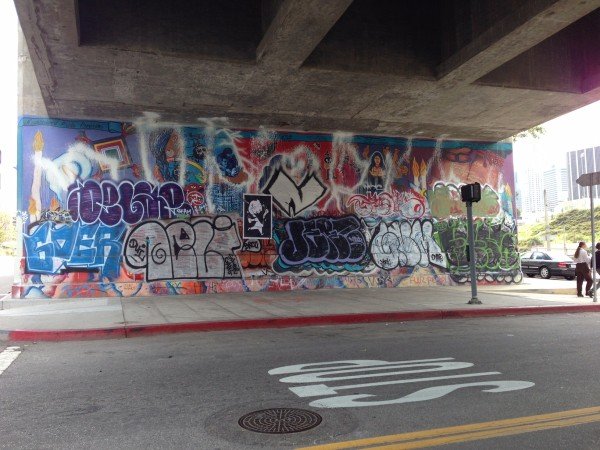 image source
Today, there is a construction going on around the piece, of which my friend has said that it hasn't advanced much in the last five years. For this reason, the walkway in front of the mural has been closed off. It may be thanks to this that the most recent version of La Ofrenda, which itself is eight years old by now, has not been vandalized again. Who knows, this may be the most enduring street art I have come across...
This is just a small sample of the many amazing murals in Los Angeles:
Larger Than Life in Downtown L.A.
Plastic Street Art out of Trash
Great Murals in Albuquerque
A Divine Harpist
An Electrified Hummingbird
Colorful Walls of Pico Union