Whenever I come back home to Mexico City, I like to see what new murals have sprung up during my absence. Sometimes it doesn't need much looking, as the image literally stares in your face, and you can stare right back at its... or hers, as in this case.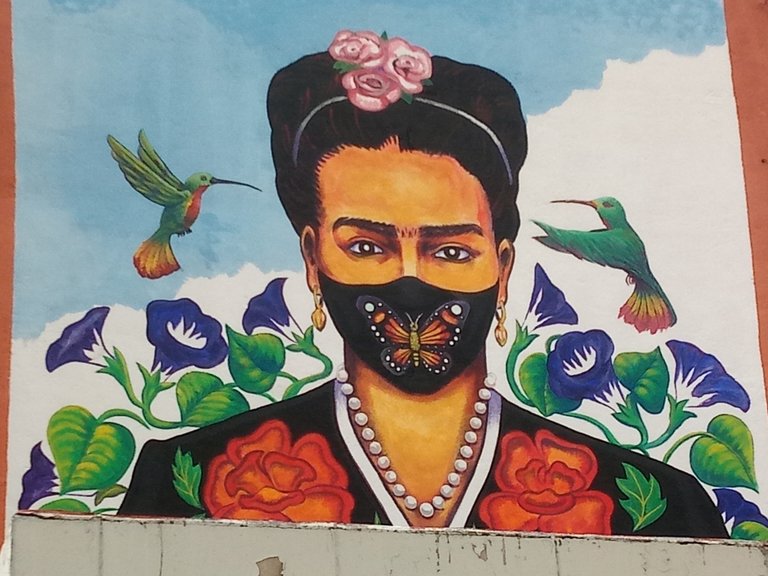 This mural is unmistakably of the iconic Mexican painter Frida Kahlo, who doesn't even need a label to identify her. Apart from her typical features, such as the uni-brow, the floral pattern on her blouse, as well as the blue flowers growing around her, are all painted in her distinct style, inspired by Oaxacan traditional embroidery. Even the pair of hummingbirds flanking her face, and her floral headdress match this unique style.
Frida Says: "Mask Up!"
But wait! There is a somewhat unusual feature in this image, something that may even have shocked the painter, seeing herself being depicted with it: It's the face mask which over the last half year has become ubiquitous not only in Mexico. Of course, in order to match the rest of the image, Frida's mask is also embroidered with a beautiful Monarch butterfly (another famous Mexican icon). But here the message of the image is quite clear: Even Frida Kahlo agrees, you have to wear your mask! Welcome to the New Normal!
This, by the way, is not even that uncommon. Many street vendors sell Covid masks bearing traditional patterns from rural Oaxaca, Veracruz, Michoacan, and other regions. Other masks bear Frida's face, as the undisputable icon of Mexican-ness she is.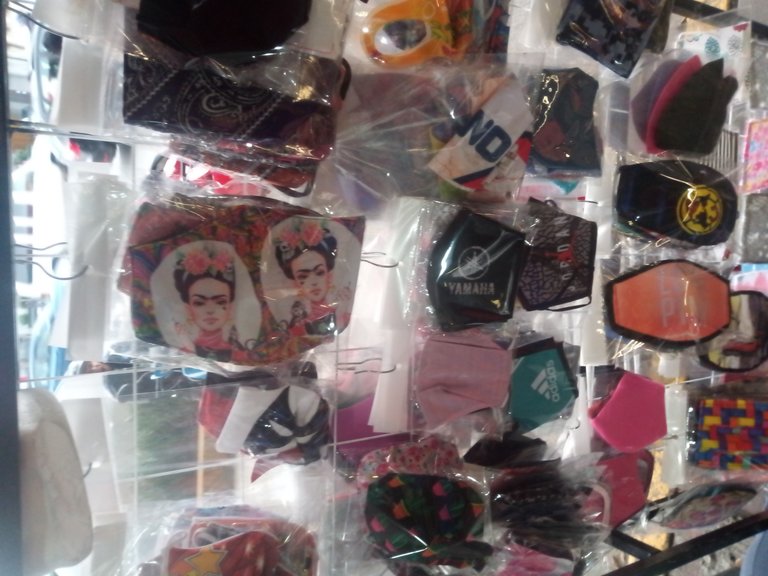 Location and Artist
This mural is painted on a formerly empty wall, towering above the metro station Constituyentes, just about where Av. Parque Lira intersects with Av. Constituyentes, in the San Miguel Chapultepec neighborhood.
The wall painting itself doesn't show any artist's tag, only the MH logo of the "Miguel Hidalgo" administrative district, who commissioned the piece. However, with a bit of online digging I managed to find the artist: It's Julio Ferrá Calzada.
This post is my entry to CCC's Street Art Contest #6. I'm really happy that my love for murals is shared by others, and that there is an ongoing weekly contest around it. Please check out their contest post, and if you have any cool murals in your area, feel free to participate. I would be excited to see them!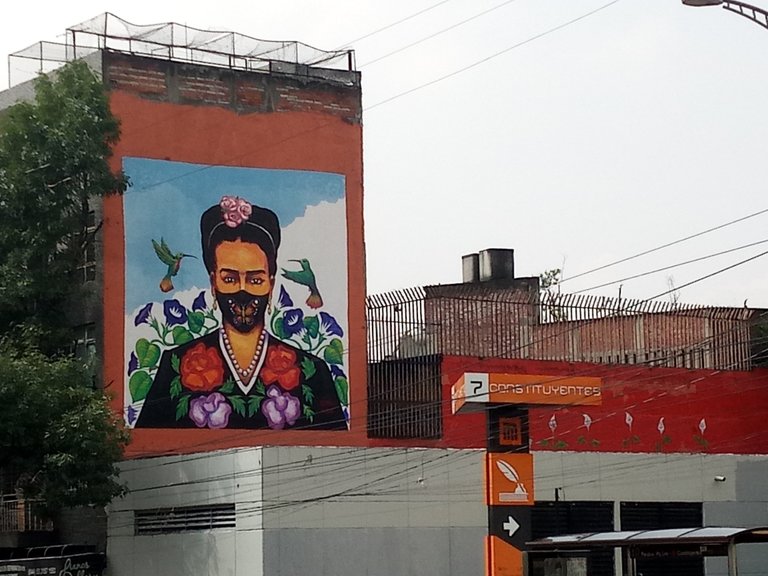 If you liked this, check out my developing series on Mexican murals:
Winston Churchil and the Bike Movement
The Beauty of Death and the Struggle of Life
Different Types of Wall Painting
Political Expression, The Painting is on the Wall
A Familiar Face
Chilakillers: Murals, Chilaquiles, and More
Under Metro Line 4
Respected and Less Respected Paintings
Murals of the Barrio in Aguascalientes
Murals Under Periferico
A Cartoon With A Public Health Message
A Warrior Princess in Mazunte
New Images Covering Old Ones
Get to Know Your Local Cacti
A Mural for a Movie
Commercial Murals for Small Businesses
Not Much New in Almost a Year
Feminist Art on a Blue-Collar Business
High Above the City
Laboratory Work on the Cocoa
Elite Warriors in the Parque México
A Journey Through Rock-and-Roll, Contest Winners
Playing With Bugs on the Rooftop
La Familia Burrón in the Center
Dream of a Sunday Afternoon in the Alameda Central
New Stairs Art in my Neighborhood
Painted Garage Doors
The Children of the Feathered Serpent
Four Sides to a Water Box
Skate On Forever
A Healing Mermaid Under Mexican Skies
Axolotl in the Parque Lira
Axolotls Wherever You Look
The Rapidly Changing Wall of the Casa Picnic
Illuminated Illumination
Tlaloc in His Element
Aztec Legends in Metro Tacubaya
All Your Favorite Mexican Motives
Worsening Situation for Women
The Kiss of Death
Honoring the Departed
The Flower of Life in a Face
A Less Appreciated Wall Painting
Funky Graphics in the Condesa
When Big Red Lips Start Growing on You
New Pictures on Old Walls
A Beast With a Mesmerizing Look
Beautiful Animals in the Roma
Horrific Animals in the Roma
A Poetic Message About Tremors
Sesame Street the Mexican Way (güey)
The Turtle Center in Mazunte
B-Side Murals in Mazunte
Beautiful Art in La Boquilla
Return of the (Pinche) Chinche
A Crow, A Fly, And A Shaded Barbarossa
More Exploding Hearts in Mazunte
A Frida Kahlo Mermaid
A Small Glimpse of Zipolite
One More Mural from Mazunte
Localvore Message at La Esperanza Store
Welcome to the New Normal