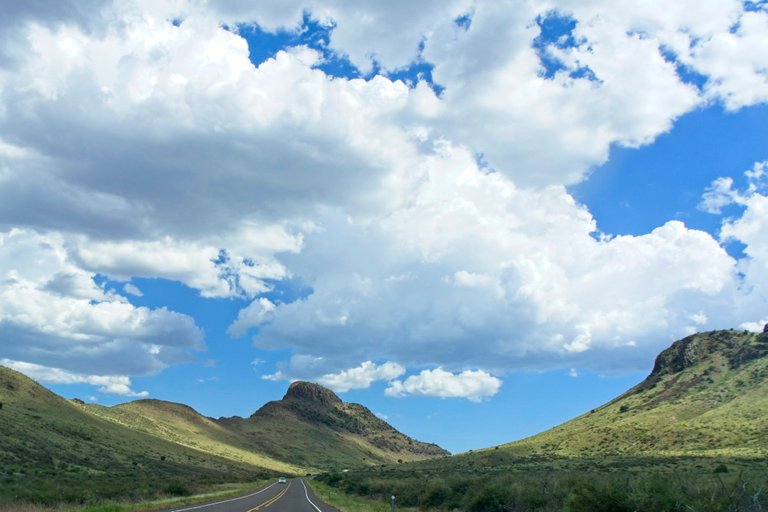 In the state of Colorado, you will find 166 mountain passes over 7,783 feet (2,372 m). Of those passes, 107 are actually drivable; however, there are only 61 of those are paved while the rest are either gravel or unimproved. Of the 61 roads that are drivable with an ordinary car (meaning low clearance and not a 4×4), 30 of them are over 10,000 ft (3048 m). Stat wise, this is a very collectible project.
What Exactly Is A Pass?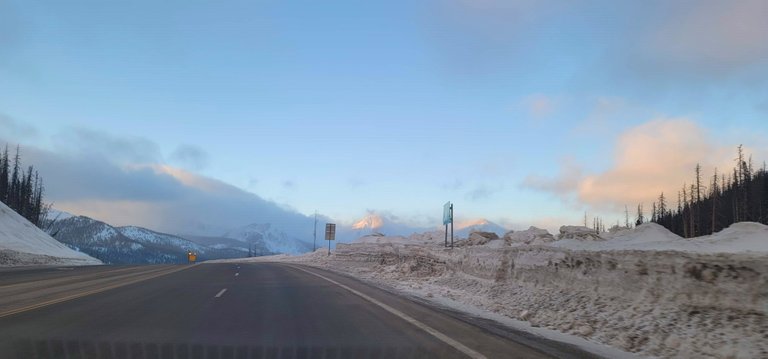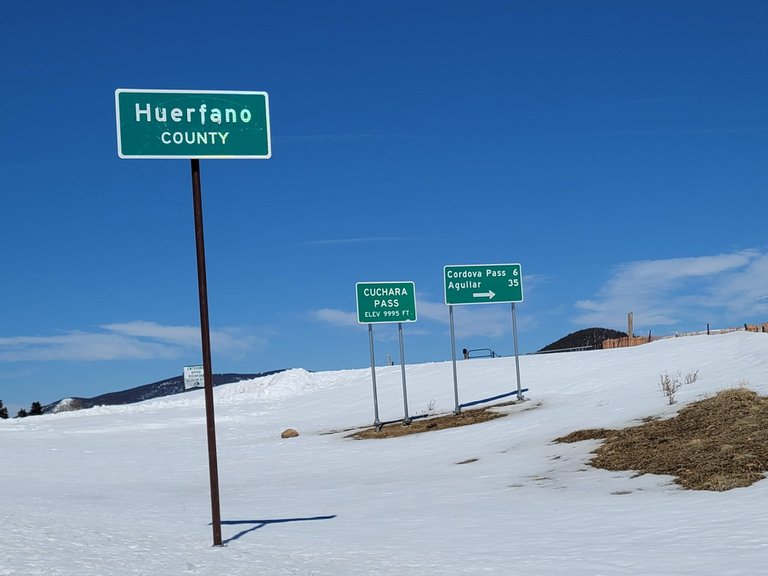 Are Passes Really THAT Scary?
There are many reasons people are worried about passes. Passes can have steep grades, sharp turns, and dangerous drop-offs. Many people who drive on the Colorado roads have never driven on anything but straight flat roads; their inexperience can be dangerous and frustrating. There is something shocking about the yellow signs with a semi-truck pointing downwards or tipping over when you reach the top of a pass. It can be intimidating and worrisome; however, keeping one's mind on the road and driving over the passes a few times, they are no more scary than any other highway.

Road sign images and explanations found HERE at the US Department of Transportation website.
Why Are Mountain Roads So Steep and Twisty?
While looking up information on mountain passes, a specific question kept showing up, "Why are mountain roads so steep and twisty? Why can't they just be made to go straight up and over?" I found answers to this question in a couple of places. Let's look at the first part of the question. "Why are the roads so steep?"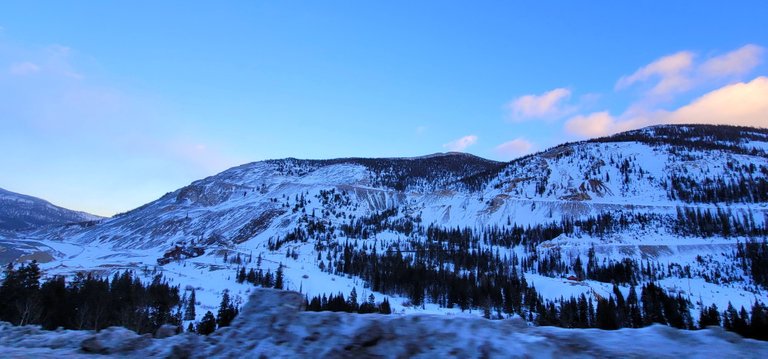 Roads follow the lay of the land. If you are driving in parts of East Colorado, you will basically be driving on flat, straight roads because that is how the land lays. Highway 70 from the Kansas border to Denver is a great example of this. You may have a few rolling hills because it is a prairie, but the land is fairly flat and the road follows this. However, Highway 70 from Denver to Grand Junction goes over mountains and into valleys. The road placement is determined by the slope of the mountains and, therefore, determines the "grade" or rate of climb/descent of the road causing this section of the highway to have steep climbs and many curves.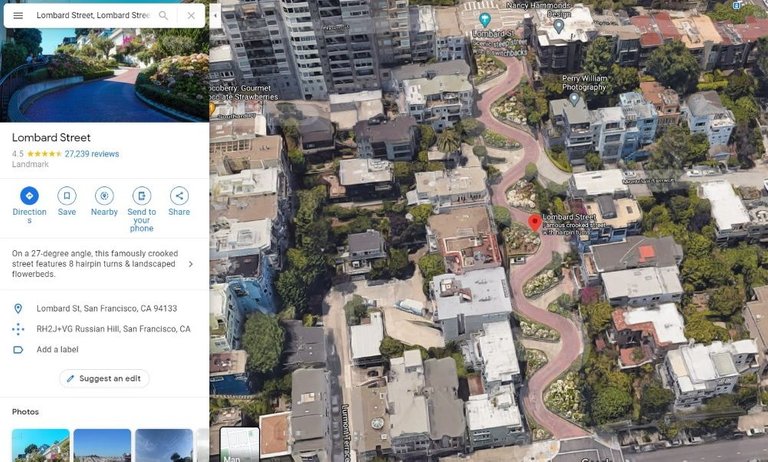 Screenshot taken from Google Maps to show an example of hairpin turns.
Most roads in Colorado are not close to this extreme. On the passes here, you will mostly find grades of 6-9%, rarely anything more. However, you will occasionally find a few roads with more of an incline, but rarely on the main highways. These switchbacks help vehicles climb to the top of the mountains using less energy and providing safety as well. Between snow, ice, rain, and wind, the weather conditions can cause roads to be dangerous so everything that can be done to help drivers be safe is well worth it.
Safety On The Passes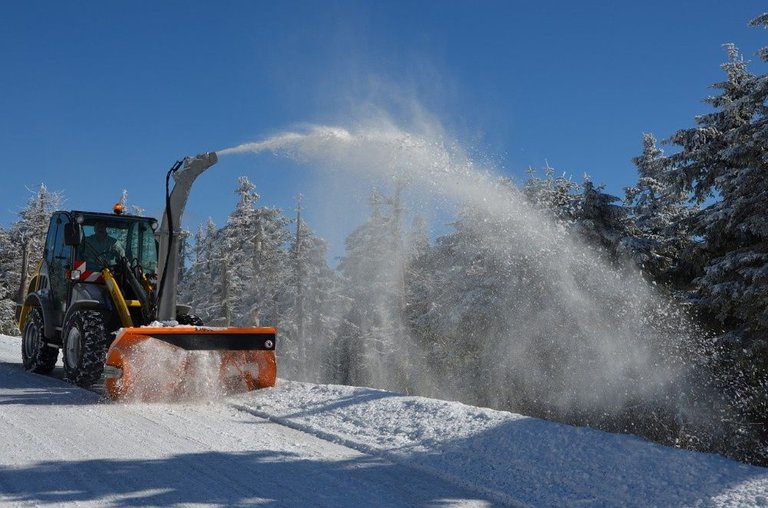 Could not find our snow plow images so… Image by Pixaline from Pixabay.
One of the things we love about Colorado is that CoDoT is very good about getting roads cleared as soon as possible. This goes for the normal everyday roads and the passes alike. If winter weather storms have been predicted, they are out as soon as possible to start the de-icing and then they begin to plow as soon as possible. We have found the passes easy and safe to traverse, but we are still careful.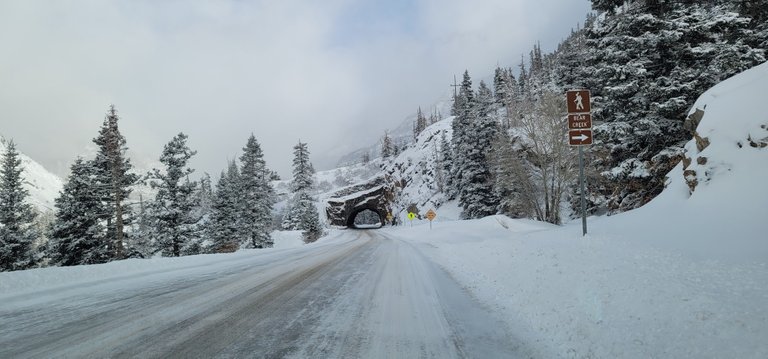 There are a few things that have to happen when driving the passes that are important to do to keep yourself and others safe. One is to know how to drive up and down these roads.
Driving Up The Mountain
Always have your vehicle in good working order. Be sure the brakes, windshield wipers, and tires are in good condition. Watch the fluids in your car to make sure the engine does not overheat. Make sure you have the proper equipment you need with you, such as snow chains, extra wipers, air gauge, and extra fluids like oil, washer, and water/coolant.



What may seem like a strange thing to do, but during the summer months, you will want to turn off your air conditioner. This will help keep the engine from overheating, plus the temperature on many mountain passes will be much cooler than you expect.



If there are two lanes or passing lanes as you are driving up the mountain, make sure to stay in the right lane unless passing; this is law in most states now. It will keep traffic from backing up and prevent road rage in other drivers who will insist on passing you on the right. However, if there are only two lanes of traffic, keep an eye on the number of cars behind you. If you are impeding traffic, find a turn-out and allow the other drivers to pass. This will help keep people from taking unnecessary chances passing you at the wrong times because they are frustrated.



Watch out for warning signs like specific wildlife, Avalanche Area, and Fallen Rock. There has been a history of these things happening in these specific areas. If you keep a watchful eye out in these places, you will probably be able to avoid many of these dangers. However, this is not always the case. If you end up hitting an animal or rocks, remember to not panic, pull over as safely as you can, and make yourself as visible as possible. This will enable people to avoid hitting you. Also, remember to call 9-1-1 so an officer can help you by blocking traffic and assist you with any towing needs you may have.



If an avalanche is blocking the road, stop, turn around, and proceed to a safe area because there may be more avalanches occurring; DO NOT attempt to drive through one. There is a movement happening you may not see and it could take you down the mountain with it. If you are caught up in an avalanche, DO NOT PANIC. Make sure you have your seatbelt on, turn off the engine so the inside does not fill with carbon monoxide, call 9-1-1, and stay in your car.



SLOW DOWN! Do not try to race to the top of the mountain, it will still be there no matter how slow you take it. Too often people are in a hurry to get where they are going and they make mistakes. This in itself could cause an accident or worse if you take a turn too quickly.


Arriving on the Pass
Once you have reached the top of the pass, there are often places to park, trailheads, or scenic overlooks. Take advantage of those areas to get out of your vehicle. You probably need to walk around or stretch. If there are not any of these, prepare to drive down the pass.


Driving Down The Mountain
If you are in a vehicle with a diesel engine, then you will use the engine brakes to slow you down. You will only need to "tap" your breaks if you accelerate faster than you need to be traveling.



If you have an automatic engine, there is a "manual" setting or an L1, L2, L3. You will need to use these if the grade is large. Then you will only need to "tap" your breaks occasionally to slow you down.



Do NOT "ride" your breaks. The goal is to proceed down the pass without burning your breaks. Once the breaks get hot, they will not stop. As you accelerate, gently apply your breaks for short periods, being in the lower gears will help the engine slow your vehicle down giving you better control and less need for the breaks.



It is suggested a driver not go any faster down the pass than what they were doing up the pass. If you are going slower than other people, stay to the right. Not only is it courteous, but it is also law in many states.


Why Are There Ski Jumps Next To The Highway?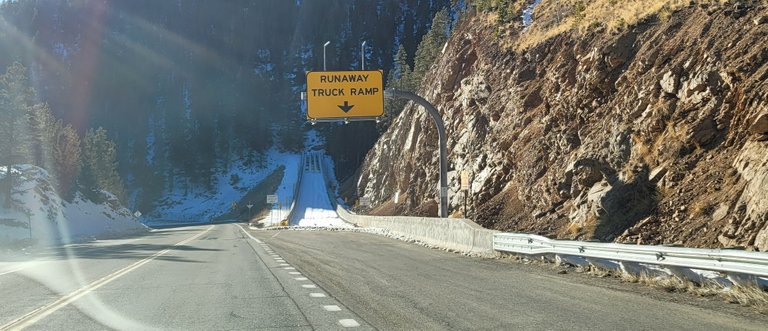 As we drove down Monarch Pass, we saw what looked like a ski jump at the side of the road. These are special safety ramps to help trucks, and other vehicles, who have lost their brakes due to them getting too hot. These runaway truck ramps have saved lives, but what exactly are they?
This specific truck ramp we saw on highway 50 on the west side of the Monarch Pass is designed to slow the truck by going up the ramp. If it does not slow it down by gravity, there are many lines of barrels filled with gravel and sand to bring it to a halt. This is just one of many types of runaway ramps. Some are a lot longer and some have the "road" filled with gravel to help the wheels of the truck come to a stop. They all do the same thing, stop a runaway truck that has lost its brakes.
Used with permission from News 9 in Denver, Colorado.
In this video, we see a report from Channel 9 News out of Denver about a truck that used the ramp. The driver's brakes failed and the ramp was there just in time to help save lives. You are able to see the smoke coming from the truck and then he masterfully entered the ramp and was able to stop. These are great safety opportunities for truckers. You can read more on Runaway Truck Ramps by clicking
HERE
.
Please remember, if you are not experiencing failed breaks, do not use these places as an opportunity to stop. These are extremely important for truckers to use; if a truck becomes runaway and the ramp is not available, lives can and probably will be lost.
And Like All Passes, We Must Move On To The Next One
Passes are amazing structures of engineering. They take planning, math, and a lot of work hours. There are many people who work hard to provide safe passage over these elevated places and we thank them for their hard work. I know I enjoy experiencing each of these passes and I can't wait to cross over as many as possible while we explore the state of Colorado.
Thank you so much for taking the time to read our blog posts.

We appreciate it so very, very much!






---




* My posts may occasionally contain affiliated work-related links because our Cross County Travels website
and our YouTube channel are also our accounts.

* The photographs on our posts are taken with my own camera
and with Scott's help!

* Blog graphics such as various "flyers" will be cited at each occurrence.

* Clipart used are from https://www.cleanpng.com/
and/or https://pixabay.com/.

* While the Bitmoji Characters of Scott & Ren are from Bitmoji,
the compilations are my own.

* All words and images are mine (unless otherwise indicated),
and can also be found on my various social media accounts:

OUR FACEBOOK


OUR INSTAGRAM
OUR TWITTER
OUR WEBSITE
cross mentions are spreading the word.

---