Hola queridos Hivers!!
Hoy quiero compartir con ustedes una de las cosas que más disfruto hacer VIAJAR!!
Si me encanta, y si no fuera por la crisis que estamos pasando tanto aquí en Venezuela como a nivel Mundial, créanme que no estaría aquí escribiendo para ustedes. En los últimos días he estado pensado mucho en mis amigos Brasileños. Por el año 2009 fui enviada por parte de la Universidad a la que trabajo a realizar una especialización en Políticas Publicas y Evaluación de la Educación Superior en Foz de Iguaçu-Brasil.
Allí estuvimos unos 30 participantes de diferentes países latinoamericanos, recibíamos clases en español y en portugués, a mi esta aventura educativa me tomo por asalto, de un día para otro me dieron esta misión, y créame no sabía nada de portugués, al punto que los vuelos en Río de Janeiro me dejaron. -risas-
Un fin de semana después de estudiar todos los días hasta los sábados al medio día, emprendimos la aventura de conocer Las Cataratas de Foz de Iguaçu - Parte Argentina, 3 peruanos,una costarisence, una argentina, yo la única venezolana, y un brasileño
---
English
---
Hello, dear Hivers!
Today I want to share with you one of the things I most enjoy doing TRAVELING!
If I love it, and if it weren't for the crisis we are going through both here in Venezuela and worldwide, believe me I wouldn't be here writing for you. In the last few days I have been thinking a lot about my Brazilian friends. In 2009 I was sent by the University where I work to do a specialization in Public Policies and Evaluation of Higher Education in Foz do Iguaçu-Brazil.
There were about 30 participants from different Latin American countries, we received classes in Spanish and Portuguese, and this educational adventure took me by storm, from one day to the next I was given this mission, and believe me I knew nothing about Portuguese, to the point that the flights in Rio de Janeiro left me. -laughter-
One weekend after studying every day until Saturday noon, we started the adventure of knowing the Foz de Iguaçu Falls - Argentine side, 3 Peruvians, one Costarisence, one Argentinean, I the only Venezuelan, and a Brazilian.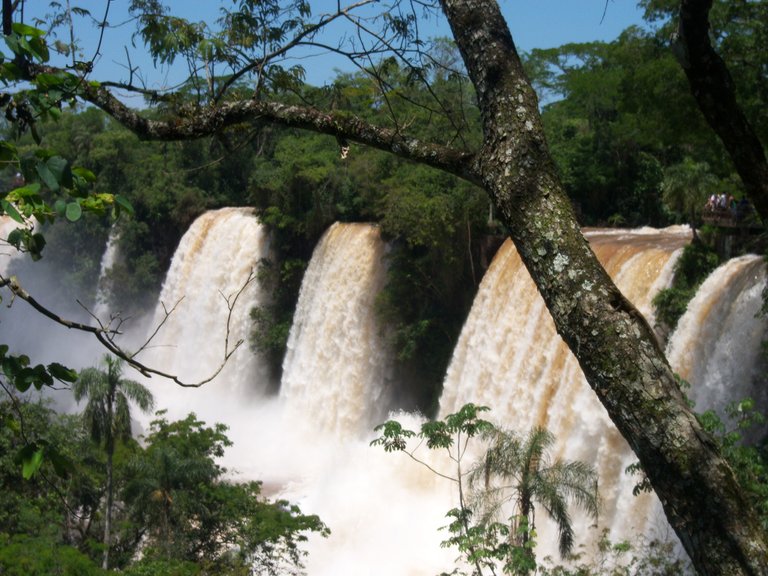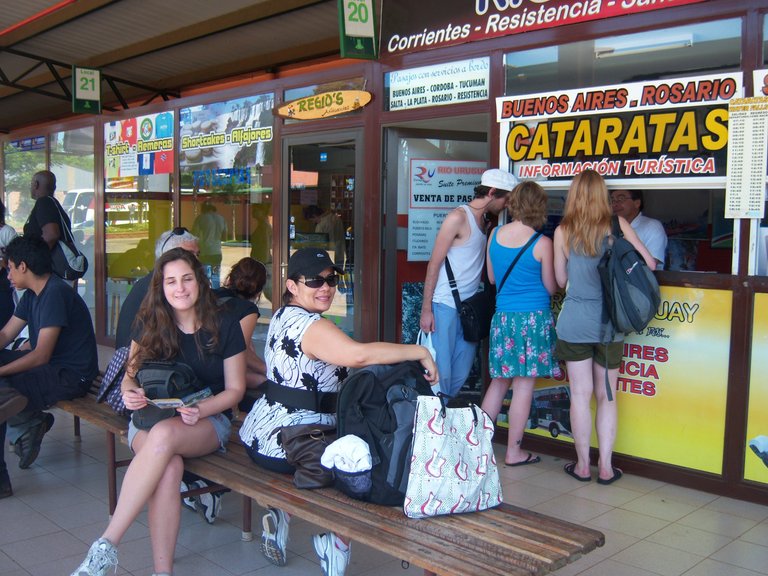 Nos fuimos al terminal y allí agarramos un bus para pasar la frontera a Argentina, pues nos encontrábamos del lado Brasileño, pasamos la frontera en un bus amarillo que nos trasporto hasta el parque, nos sellaron pasaporte y despues seguimos a nuestro encuentro con la parte argentina de las Carataras de Iguaçu.
---
---
English
---
We went to the terminal and there we took a bus to cross the border to Argentina, because we were on the Brazilian side, we crossed the border in a yellow bus that took us to the park, we were stamped with a passport and then we continued our meeting with the Argentinean part of the Carataras de Iguaçu.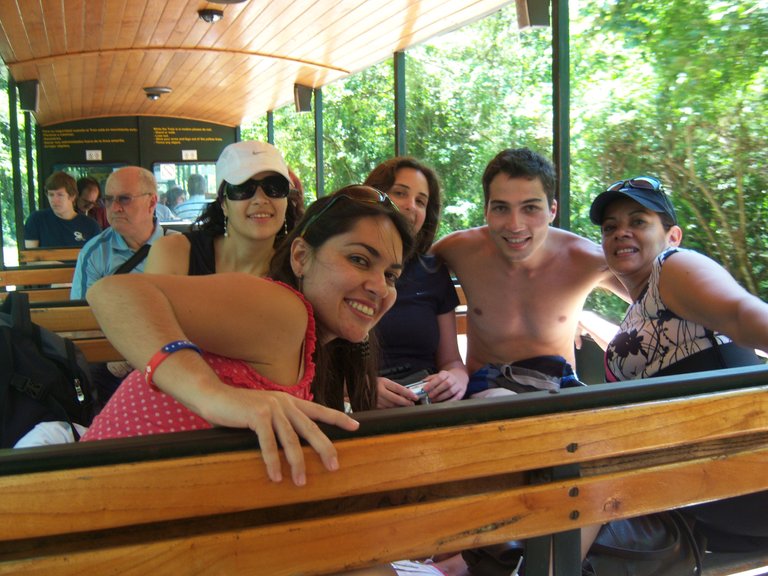 Compramos nuestro pase al parque, y nos montamos en un tren completamente ecológico, para no perturbar el ambiente natural que se vive en aquel majestuoso lugar, toda mi percepción del ambiente empezó a cambiar allí, todo era verde, y olía naturaleza, esto me encanta, me conecta, y como buena poeta me inspira. Así que yo andaba en mi onda extasiada.
El olor del parque y las cascadas se oían desde lejos, se sentía que corría agua por todos lados. Cuando por fin el tren nos dejo en nuestro destino, lo primero que encontramos fue esto:
---
---
English
---
We bought our pass to the park, and we got on a completely ecological train, so as not to disturb the natural environment that is lived in that majestic place, all my perception of the environment began to change there, everything was green, and I smelled nature, I love this, it connects me, and as a good poet it inspires me. So I was walking around in my ecstasy.
The smell of the park and the waterfalls could be heard from far away, you could feel water running everywhere. When the train finally left us at our destination, the first thing we found was this:
---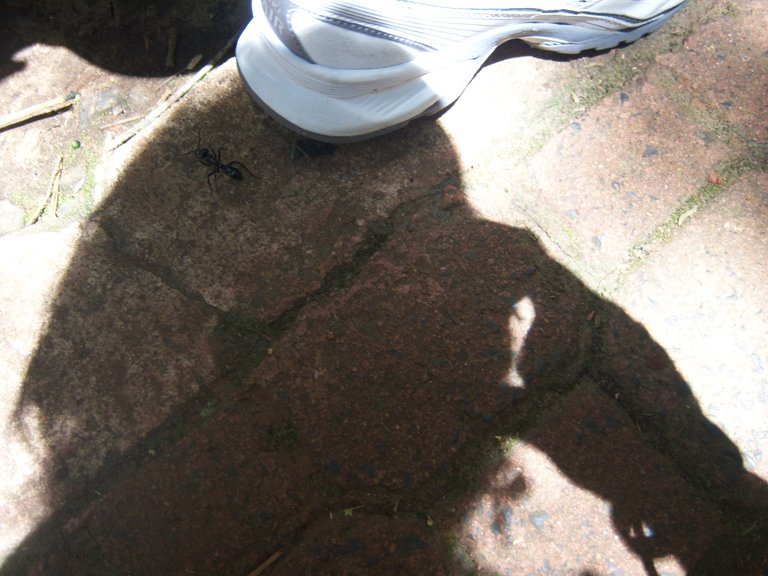 Tremenda hormiga como de 3 cm la verdad sentí mucho miedo al verla, pues me sentí algo desprotegida en aquel madrigal de animales y naturaleza viva que desconocía, pero ya caminando un poco más y adentrándonos en el parque, empezamos a ver las hermosas cascadas. Mis ojos hacían como el emoji de los dos corazones, la verdad no había visto en ningún otro lado tanta majestad junta. El sonido de las caídas que ya venia escuchando se hacia vivo y presente, aquello fue hermoso, podría pasar allí toda una tarde escuchando aquel sonido, con un cuaderno y lápiz, tal vez dibujando o tal vez escribiendo no lo sé, pero si absorta de lo que estaba a mi alrededor.
---
---
English
---
A huge ant, about 3 cm long, I was really afraid to see it, because I felt a little bit unprotected in that madrigal of animals and living nature that I didn't know, but walking a little more and going into the park, we started to see the beautiful waterfalls. My eyes were like the emoji of two hearts, the truth was that I had never seen so much majesty together anywhere else. The sound of the falls that I had been hearing was alive and present, that was beautiful, I could spend an afternoon listening to that sound, with a notebook and pencil, maybe drawing or maybe writing I do not know, but if absorbed by what was around me.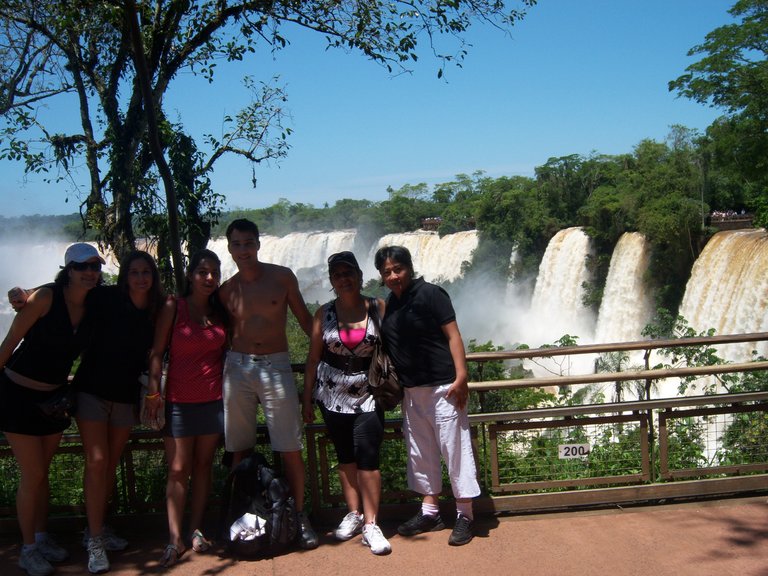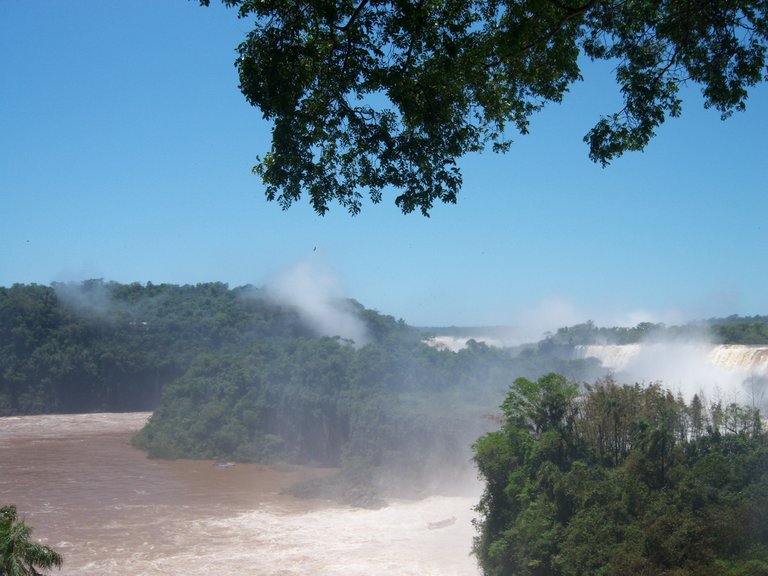 Esta foto se queda pequeña, en esa corriente que se ve, hacen rafting la verdad que cuando vi eso, si sentí miedo, yo soy amante de las emociones extremas, pero siempre he tenido miedo a ahogarme, respeto el agua, y podría hacer otras cosas pero creo que rafting no.
---
---
English
---
This photo remains small, in that current that you see, they do rafting the truth that when I saw that, if I felt fear, I am a lover of extreme emotions, but I have always been afraid of drowning, I respect the water, and could do other things but I think rafting not.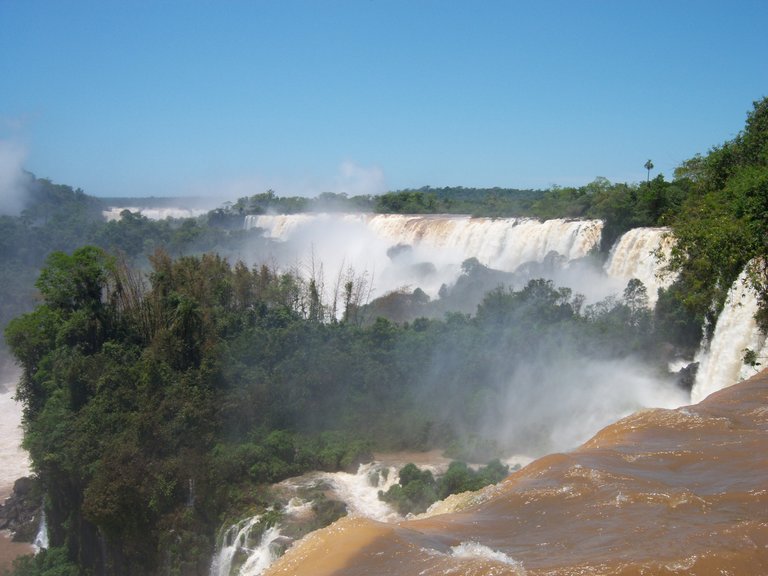 Caminamos todo el parque y mientras mas caminabamos más saltos encontrabamos, hay 275 saltos y el más alto de ellos mide unos 82 mts, así que no era cualquier cosa lo que teníamos al frente, aquí la llovizna te moja la ropa, no hay necesidad de meterte al agua, vas a estar mojado si o si.
---
---
English
---
We walked all over the park and the more we walked the more jumps we found, there are 275 jumps and the highest of them is about 82 meters, so it was not just anything we had in front of us, here the drizzle wets your clothes, there is no need to get into the water, you will be wet if or if.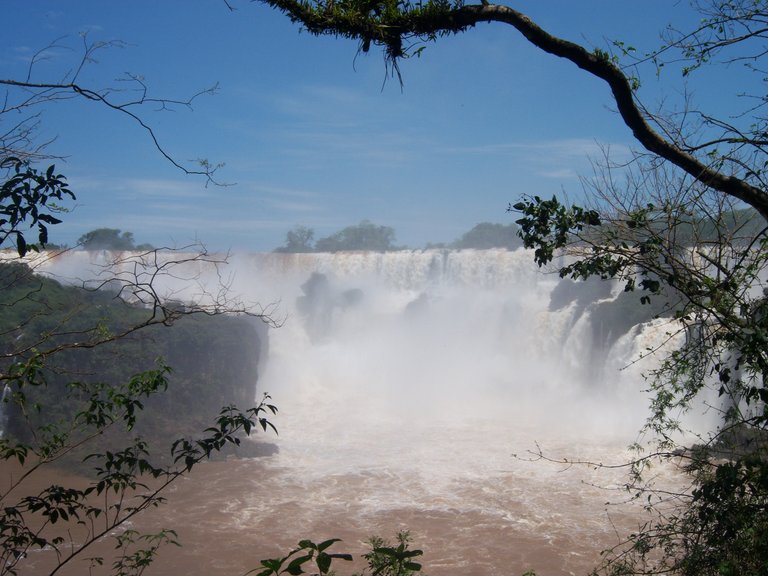 Cada uno de los saltos es más bello que el otro, pasas el día en completa admiración de la obra de Dios, este parque te hace reflexionar sobre lo pequeño que es el mundo y lo magnánimo que puede llegar a ser. Somos una pizca de sal ante tantas cosas.
---
---
English
---
Each of the jumps is more beautiful than the other, you spend the day in complete admiration of God's work, this park makes you reflect on how small the world is and how magnanimous it can be. We are a pinch of salt in the face of so many things.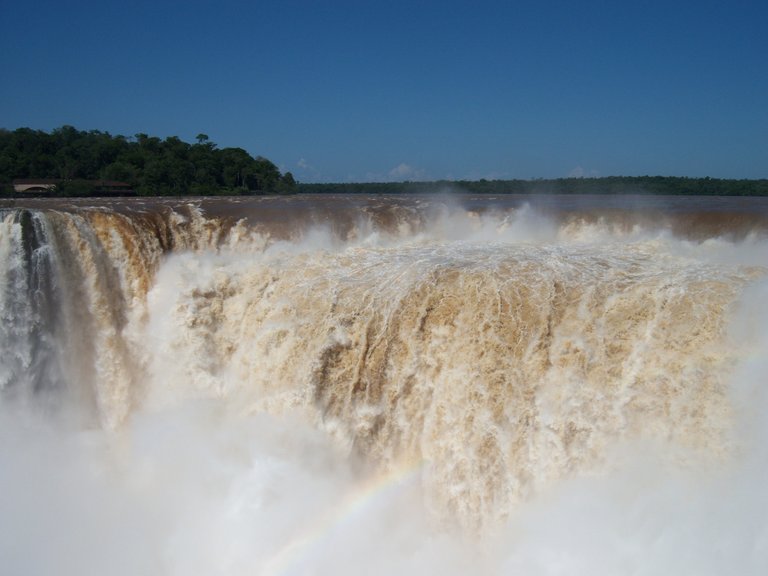 Para ir terminando el post, no puedo dejar de nombre este salto el Llamado La Garganta del Diablo Aquí no se ve nada solo la llovizna que sube de aquel revoltoso mar de aguas turbulentas que caen de todos lados, es algo impetuoso, llego de misterio y a la vez mucho miedo, donde esta uno parado , es un lata prácticamente y las barandas no es que son muy fuertes, por debajo del puente donde estas parado, puedes ver el agua que corre y cae al salto de la Garganta del Diablo, no me imagino un temblor en ese sitio. Sin embargo se luchar contra mis miedo, y no dejo que eso me impida disfrutar de cosas como esta.
---
---
English
---
To finish the post, I can't stop calling this jump the Devil's Throat. Here you can't see anything but the drizzle coming up from that raging sea of turbulent waters that fall from all sides, it's something impetuous, it comes from mystery and at the same time a lot of fear, Where you are standing, it is a can practically and the railings are not very strong, under the bridge where you are standing, you can see the water that runs and falls to the jump of the Garganta del Diablo, I can not imagine a tremor in that place. However, I know how to fight my fears, and I don't let that stop me from enjoying things like this.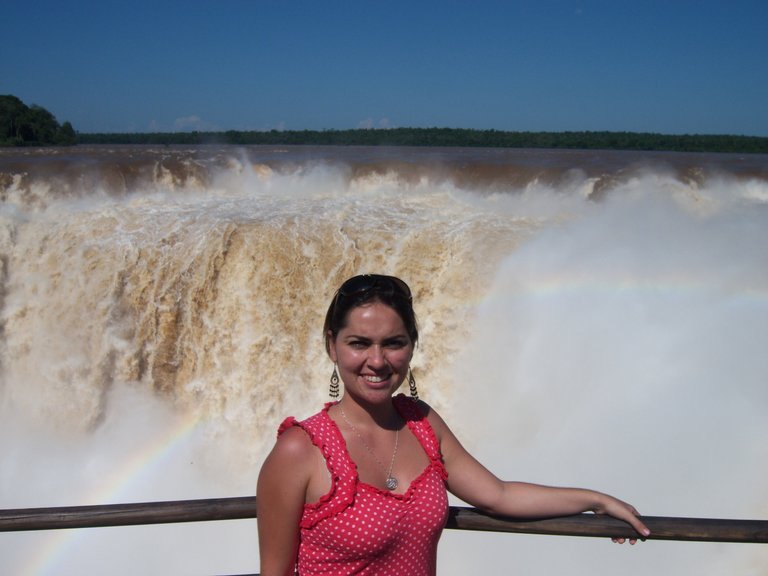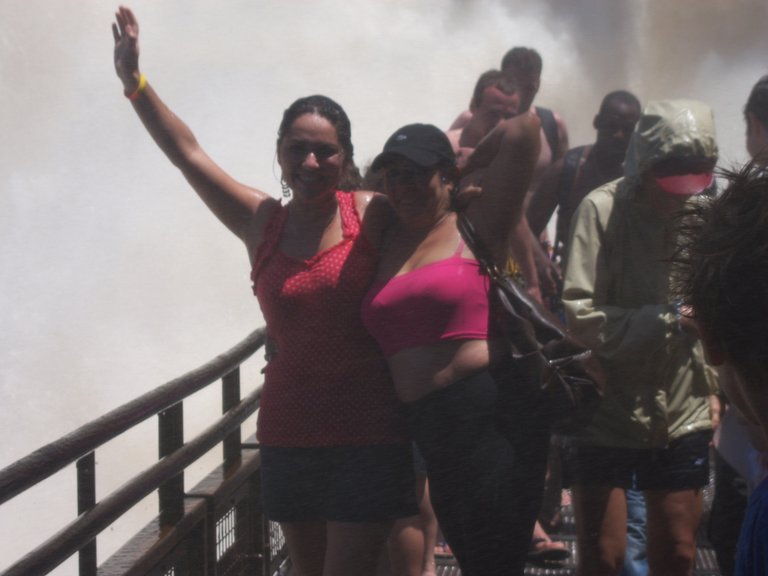 Me despido de ustedes, con una gran satisfacción por haber podido hacer este hermoso recorrido de nuevo , al momento de realizar este post, pues revivir los momentos que uno más ha disfrutado en la vida no tiene precio.
---
---
English
---
I say goodbye to you, with great satisfaction for having been able to make this beautiful journey again, at the time of making this post, because reliving the moments that one has enjoyed most in life is priceless.
Gracias por estar aquí y leer,se que vendrán tiempos mejores para todos y podremos salir de nuevo a contemplar las maravillas que hay en este paradisíaco planeta.
---
---
English
---

Thank you for being here and reading, I know that better times will come for all of us and we will be able to go out again to contemplate the wonders of this paradise planet.