Allow me to present reggae songs from Tony Q Rastafara, one of Indonesia's reggae music legends. I like all the songs sung by him. Tony's distinctive voice made me even more like him.
In my opinion, this song is very special. Too Different by the other songs that mostly tell about a person's feelings towards his lover, but this song actually tells about the beauty of nature. About Tony's adventure of climbing mountains, then waking hearts to the beautiful nature panorama.
Tony described that he did not feel sorry that he had to wipe his sweat. The steps he took in carrying out the climb seemed to have paid off after enjoying the beautiful natural atmosphere. Something that cannot be paid for.
In this song also inserted a message that we all always love nature. Take care of him and never do anything that can damage nature.
[Lyrics]
Wiping the sweat that wet the body
Stepping on and on climbing
Pass the time on the trail
Reaching the blue skyline
Aiya I'm in love
Beautiful, your mountain is covered in white
Aiya I'm in love
Until the sun changes the day ...
Green expanse of mist
Accompany animals hugged in the morning
We love to climb Arrange dreams
Realize the majesty ... (realize not to damage it)
Aiya I'm in love
Beautiful your body is wild lush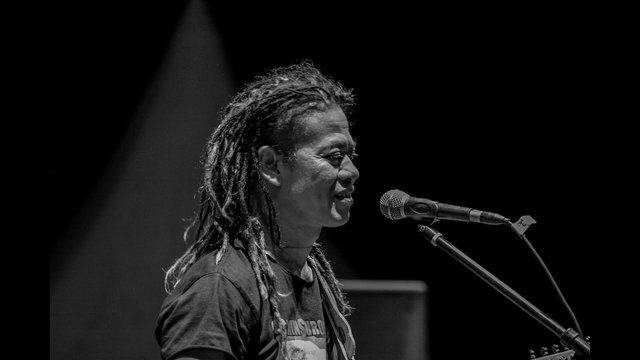 Src
Izinkan saya untuk menghadirkan lagu reggae dari Tony Q Rastafara, salah satu legenda musik reggae Indonesia. Saya menyukai semua lagu yang dinyanyikan olehnya. Suara Tony yang khas, semakin membuat rasa suka saya padanya bertambah.
Menurut saya, lagu ini sangat spesial. Berbeda dengan lagu-lagu lain yang kebanyak bercerita tentang perasaan seseorang terhadap kekasihnya, tapi lagu ini justru bercerita tentang keindahan alam. Tentang petualangan Tony yang melakukan pendakian gunung, kemudian jatih hati pada indahnya panorama alam.
Tony menggambarkan bahwa ia tak merasa menyesal harus menyeka keringat. Langkah yang ia jalani dalam melakukan pendakian ini seperti terbayar setelah menikmati suasana alam yang begitu indah. Sesuatu yang tak bisa dibayarkan.
Dalam lagu ini juga disipkan pesan agar kita semua selalu mencintai alam. Merawatnya dan tak pernah berbuat sesuatu yang bisa merusak alam.
[Lirik]
Menyeka keringat yang basahi tubuh
Melangkah terus mendaki
Lewati waktu dijalan setapak
Menggapai kaki langit biru
Aiya aku jatuh cinta
Cantik gunungmu berselimut putih
Aiya aku jatuh cinta
Hingga mentari mengganti hari...
Hamparan hijau tercium kabut
Menemani satwa dipeluk pagi
Kita senang mendaki Menyusun mimpi
Sadari ke agungan nya... (sadari tak merusaknya)
Aiya aku jatuh cinta
Indah tubuhmu liar rimbam

---
Posted via ReggaeSteem | Reggae Culture Rewarded