Imagine my surprise when I had found a gem of information again, when reading a news article about a published work, that's filled with essays about literature and culture from the former Dutch Colonies. The piece that especially had caught my attention, was about the work of the writer of Suriname's national anthem, Trefossa.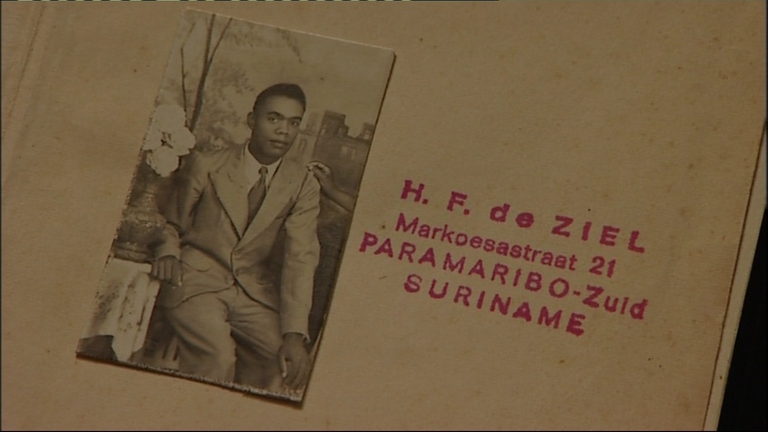 ---
Trefossa, born as Henri Frans de Ziel (15 January 1916 – 3 February 1975), is best known as the writer of Suriname's national anthem, but was also an educator, part of the editorial staff of the magazines Tongoni and Soela, archivist and not to forget a writer. And it was because of his experience as an archivist, that many of his memo's, scribbles, letters and diary were well kept.
This gave Cynthia Abrahams enough raw material to write an essay about the work from the great mind of Trefossa. The jewel that she had found amongst it all, was a "parody" of our own national anthem.
Mind you, Suriname's national anthem has two stanzas and I'll be focusing on the second stanza that's written in the pidgin language Sranang Tongo. It's by no means a translation of the first stanza, that's written in Dutch. Below you'll see the second stanza of the national anthem (1️⃣) and after that the parody (2️⃣) of that part of the song.
---
---
🎶1️⃣🎶
Opo kondreman un' opo!
Sranangron e kari un,
Wans' ope tata komopo,
Wi mu' seti kondre bun,
Strey de f' strey,
Wi no sa frede,
Gado de wi fesiman,
Eri libi te na dede,
Wi sa feti gi Sranan.
🎶1️⃣🎶
Stand up fellow statesmen, stand up!
Suriname's soil is calling for you,
Where ever our ancestors have come from,
We must built up the country,
Combatting challenges,
We are fearless,
With God as our foreman,
Prevailing until death,
We shall fight for Suriname.
---
🎶2️⃣🎶
Opo lesiman, oen opo!
Sranan gron e kari oen,
Foeroe wroko de foe wroko,
Bifos' kondre seti boen.
Mon' no de foe teki f'soso,
Wroko wi moes wroko toe,
Dan fos' kondre sa kon seti,
Dan Sranan sa seti troe.
🎶2️⃣🎶
Stand up slacker, stand up!
Suriname's soil is calling for you,
Lots of work needs to be done,
Before the country is advanced.
There's no money for the taking,
What we must do is work,
Only then the land will be developed,
Only then shall Suriname truly prosper.
---
---
Suriname's national anthem. The second stanza starts at 1:07 minutes.
I have to point out that I don't see the find from Trefossa's hand as a parody, but rather a lesson of the reality and the truth. We should indeed work hard to secure the advancement and development of this beautiful nation. If you are capable and able to work, you should not have to wait on the government to help you. The soil here is so fertile, that it's possible to eat from it. I am aware that you cannot only live from crops grown in your own garden, but people shouldn't have to go hungry.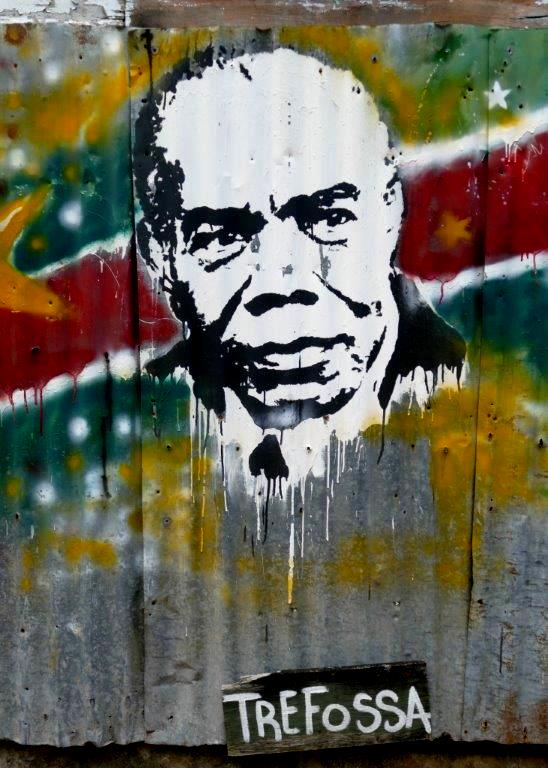 And that was my two cents. Let me know in the comments below if and what you've learned from this wise poet.
---
Chasse into the backstage! 💃