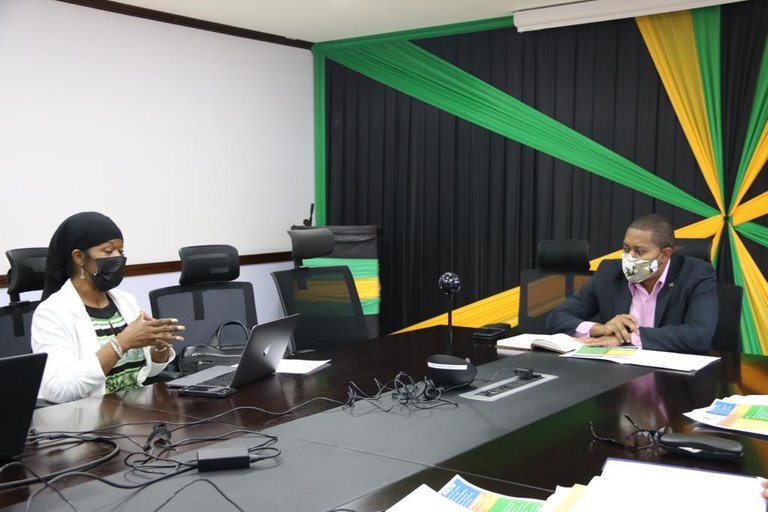 Dr Lakeisha Jenkins a Naturopath and, Master Herbalist have been working to streamline the Sacramental Cannabis framework for sometime now. I think that is a good thing because from 2015 when the law was passed to decriminalized Cannabis for medical usage and uphold Rastafarians right to use Cannabis and specifically as a sacrament among their churchical order nothing else have been done. She is a Director of the Ethiopia Africa Black International Congress Church of Salvation (EABICCS) a Rastafarian international church with branches around the world and in Jamaica. She has responsibility for development among other things she said. She has been using her vast experience gained in California from working with various non-government bodies, boards, government bodies and her own consulting cooperative society to lobby the ministry of Justice regarding sacramental rights pertaining to the Rastafari Community.
Recently she met with the Minister of Agriculture the Honorable Floyd Green. Below is her proposal to the minister.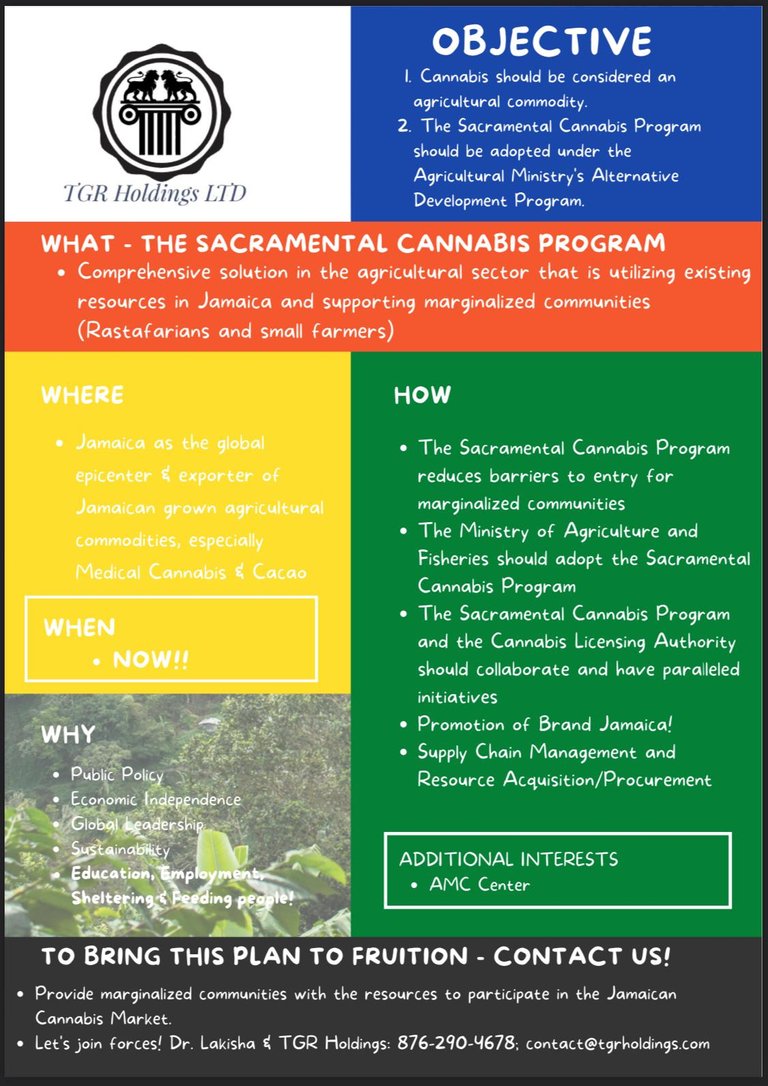 UNDER OBJECTIVE
The proposal state that; "Sacramental Cannabis should be adopted under the Agricultural Ministry's Alternative Development Program" I am not sure that is a good one for SACRAMENTAL CANNABIS. It now falls under the ministry of justice. There it is given a very high profile as it comes under Human Rights, Indigenous People Rights and Religious Rights all high profile United Nations topics. One get to augur on its behalf at one of the most important Global body in the World. Recently UN reclassify Cannabis https://www.nytimes.com/2020/12/02/world/europe/cannabis-united-nations-drug-policy.html but it still have a far way to go before it can be totally free. Also the United States Congress has done its part on the free up journey, the next leg is the United States Senate and if they do the right thing the UN and other Global Bodies will fall inline but now is not the time to drop the ball. Maybe I am seeing the full hundred so I am waiting to be sold the virtues of moving.
For those who don't know the Alternate Development Program is a UN backed program that was first used in Colombia to get the farmers there to change from cultivating coca that make cocaine. That program have been customized for the grass root indigenous farmers here in Jamaica. These farmers have created the Cannabis Industry as we now know it and this against all odds like going to jail and prison, ridicule, abuse and disrespect. The government of Jamaica by an act of parliament issued two pilot programs one for the Maroons in Accompong and the other to Westmoreland Hemp and Ganja Farmers Association (WHAGFA) for the farmers of Orange Hill Westmoreland. The plan is to use the best model from these pilots to roll out medical cannabis cultivation across the country. However the pilots are struggling to get off the ground for various reasons such as land and funding to name a few. It should be noted that although Jamaica was the first Caribbean Country to decriminalize Cannabis, a number of her sister islands have gone further as it relates to legislation and material support for Rastafari and indigenous farmers.
Enjoy Kyng Sharlo GANJA A MEDICINE at a Stepping High Ganja Festival in Negril. Kyng Sharlo is a Negril Artist. He now live here at MiYard. He is Kingston now doing some recording and video for some of his songs..
---
Posted via ReggaeJahm | Reggae Culture Rewarded