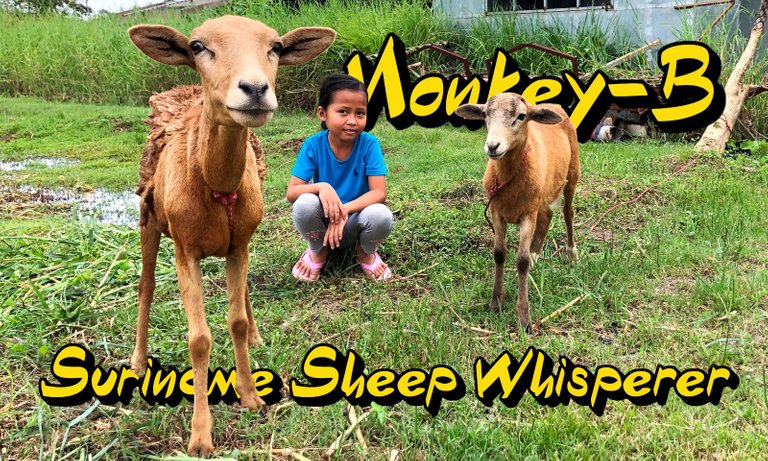 Monkey-B and the landlords' sheep have become pretty close friends, especially Hero, the baby goat which is now nearly full-grown. Constant lockdowns, curfews, and a barely functioning public school system here in Suriname have kept us bored and at home.

It's A Meditation 🧘‍♀️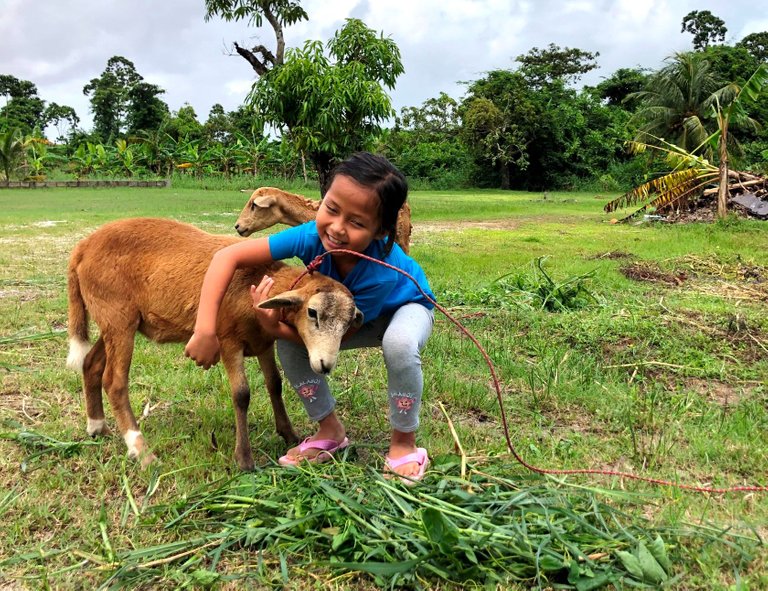 The lamb is no longer little, but has grown up alongside Monkey-B, and they have become good buddies, even playing soccer and chasing after one another several times a week.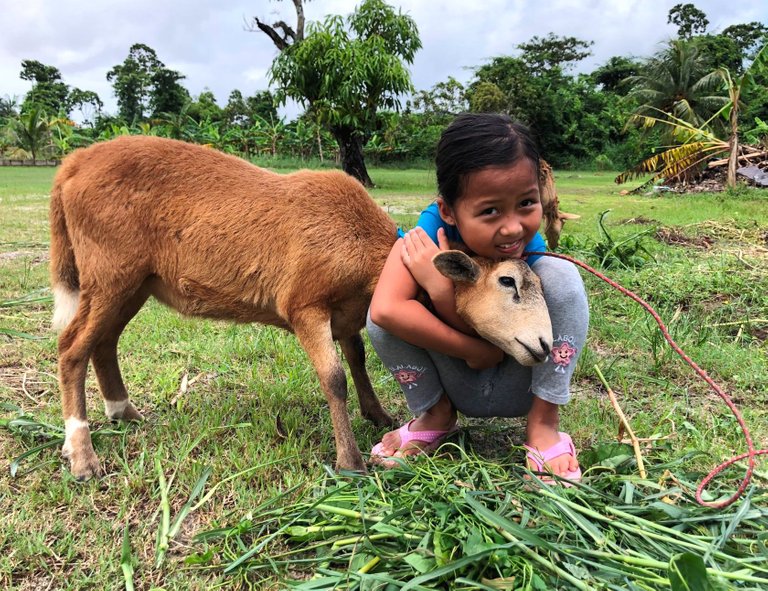 The bond between these two is undeniable, and although we would never keep animals in captivity by our own choosing, they are stuck here and so are we, and I think in a way they both comfort each other.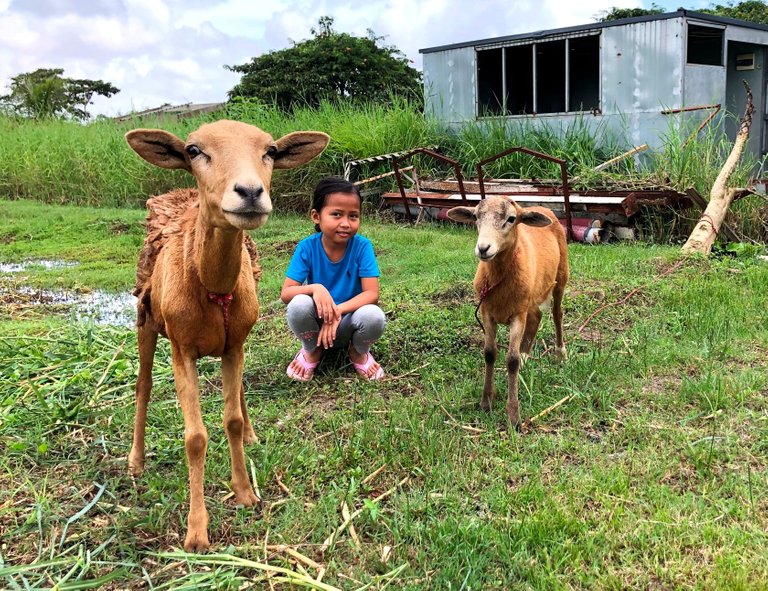 When Srey-Yuu, @Sreypov, and I are busy working on our blog posts, Monkey-B gets bored and goes to hang out with the sheep, and in some sense of the word, it's a meditation for her. When Monkey-B can't be found, chances are she's got a lamb in a loving headlock.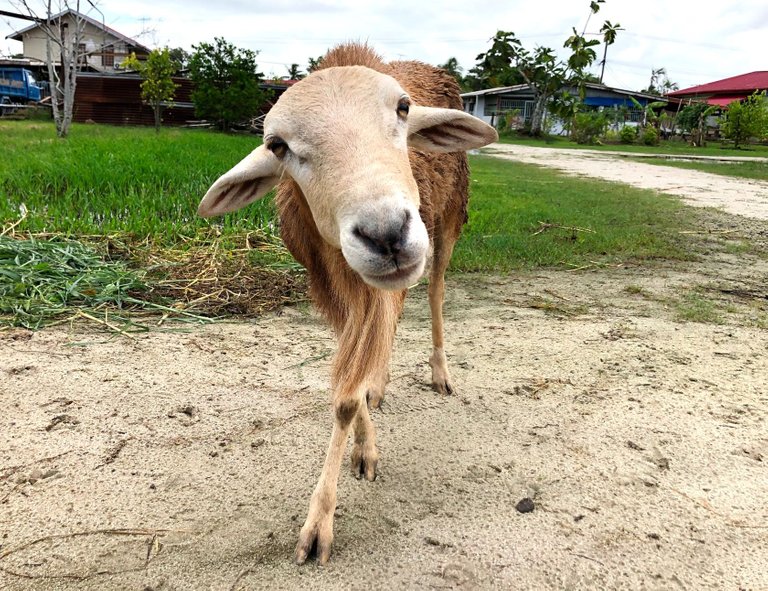 The ram is not to be trusted by anyone, and although he feigns interest, he is ready for a headbutt at any time if you get within the circumference of his rope and stake. However, he tolerates Monkey-B, and doesn't even stomp when she gets near.
     I do keep her away from the ram though for safety reasons. With baseball-sized testicles, this testosterone junkie is always looking for some conflict and a good stomping, so it's easier just to consider the ram's circle a no-fly zone.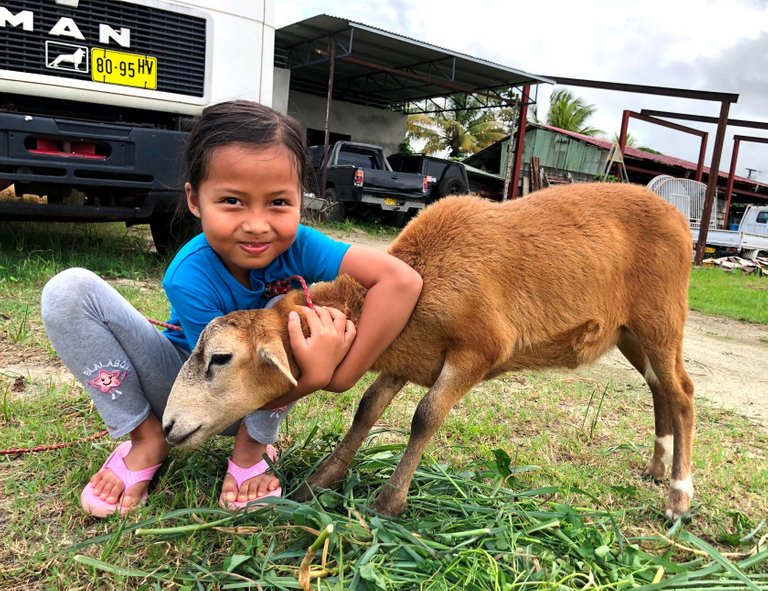 Monkey-B is full of love, there's no doubt about that, and she seems able to evoke it not only from fellow humans quite easily, but also from other species, a quality which will serve her well in life.

🙏 THANKS FOR READING 🙏
If you enjoyed this post, please upvote and reblog.
CLICK HERE TO JOIN HIVE AND START EARNING CRYPTO LIKE US

---
Posted via ReggaeJahm | Reggae Culture Rewarded