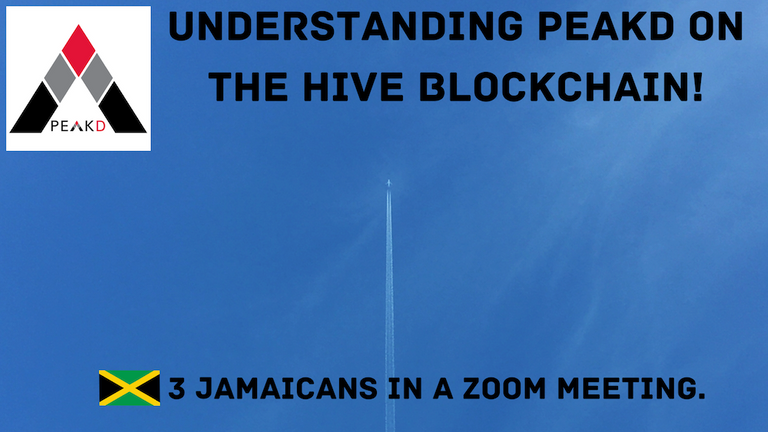 Greetings massive
Today I got @datametrics, my long time friend, on zoom and showed her how to use @peakd. We were joined by @missaj as well who gave some good input to the teachings. In this video you will get a good understanding of how to use peakd and the Hive blockchain and some good ole Jamaican vibes 😄. I like this format of showing a new user who isn't really familiar with the blockchain, as they ask the right questions many will be asking again and again. Though not everything was discussed, I think we hit most of the main points and @datametrics left the meeting with a good understanding of how peakd and the HIVE blockchain works.
By no means is this highly organized, but goes with the flow of the conversation.
Time Stamp
Logging and the keys needed in. 3:40
Creating a post on your blog and in communities. 11:00
Advanced features such as beneficiaries and saving pieces of info to to the clip board. 13:40
delegation, HBD, Hive and Hive power, upvotes. 16:56
Advanced snippet / clip board 22:27
Statistical tools and more Hive backed dollar talks 24:25
Curation rewards ( earn by viewing and upvoting other peoples content) 31:30
My thoughts on Governments issuing digital currency and how it may impact crypto currencies. 34:27
Sending HIVE tokens to another account or a cryptocurrency exchange. 36:36
Delegating HIVE Power 47:46
Resource Credits 49:20
Swapping HIVE for other cryptocurrencies such as Bitcoin 54:39
And more.


One thing I really missed out on was explaining the Powering UP feature and how it = to hive power which gives you influence on the platform. I think that deserves a whole video for itself and was actually meant to be left out as there is a lot to take in with this sophisticated technology, HIVE.
We talk in patois at times but anyone can understand what is being done.
As promised I made @missaj and @datametrics beneficiaries on this post.

Sites mentioned in this video
Into Reggae and Caribbean content? Join the ReggaeJAHM Community and get JAHMIN Today:)