Holy crap, I have discovered that I am good at succulents and cacti haha, I mean, you all know I have short time with my goal of filling my walls with an impressive collection of these little creatures, mainly because they are really very photogenic and I want to take many, many pictures of their flowers, I know, it will take a long time for that to happen, but hope dies last and I hope I have enough time to do it.
Sometimes I think I must have already pissed off
@ewkaw
with so many newbie questions but you are the one to blame for uploading such beautiful pictures that made me follow your steps, surely you remember I told you I bought a packet of seeds, well they already started to hatch and they look great, the packet was supposed to have 50 seeds of different species, currently I have seen that 8 of them have hatched, in the description it said that they can take up to 30 days to hatch, so I must have patience to see if they come out of different species.
The truth is that I put the seeds in a container with a lid, I made some small holes and grabbed all the seeds and put them on the substrate, I just grabbed them and threw them inside, put the water, and since then I haven't put water again, there is still enough humidity, daily I put the container under the direct rays of the sun, from 7 to 11 in the morning, 4 hrs daily that help to give warmth to the interior, and apparently it is working as it should.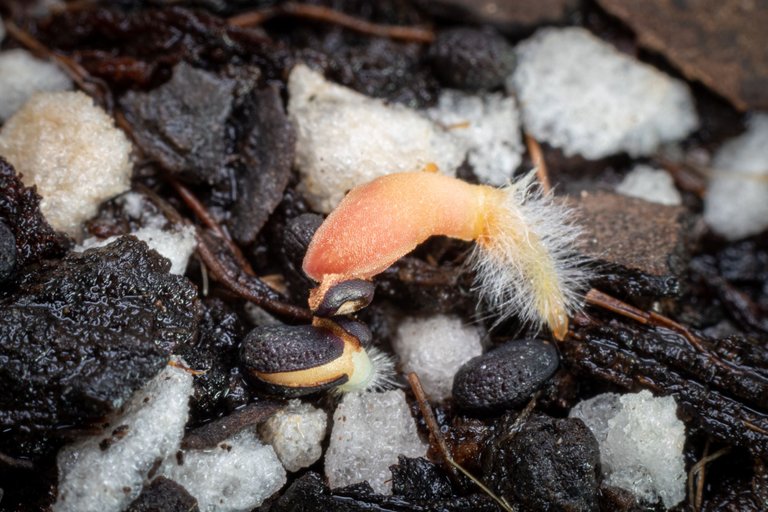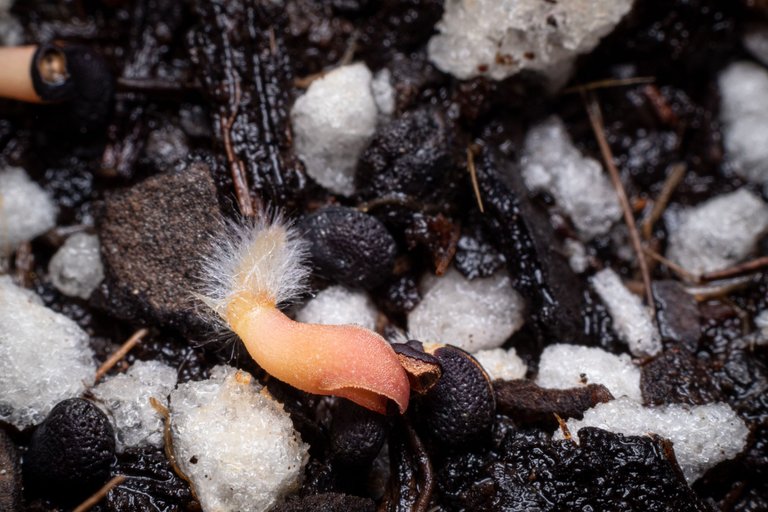 As you can see apparently all the seeds that have hatched are of the same type of cactus, which I have no idea which one it is because on the packaging it didn't say either, it just said they were of different species, I will have to wait until they grow bigger to try to identify them.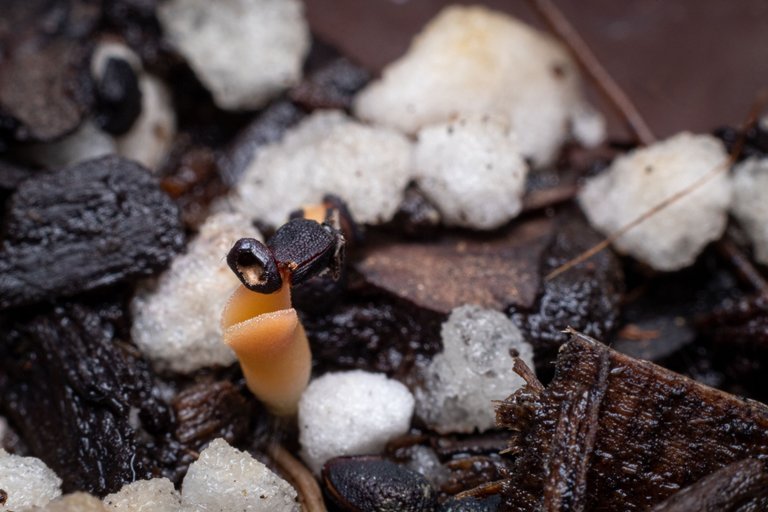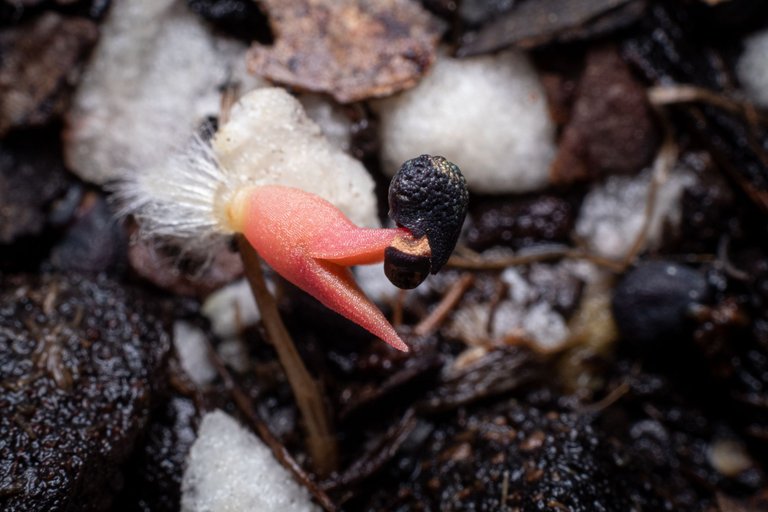 To take these pictures I paid a lot of attention to details, I almost don't like to use the tripod but this time it was necessary to get the images I wanted, I used the three macro extension tubes and the flash light, and this was the result, I hope to keep taking many pictures to be able to identify and document the growth of my little ones.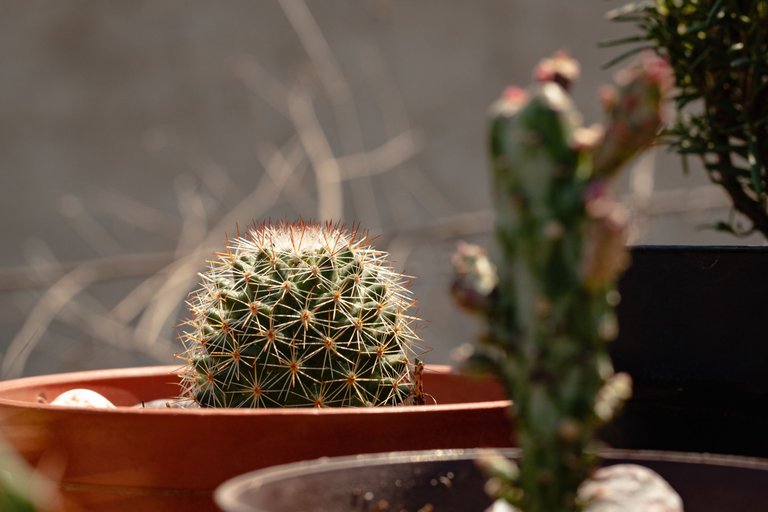 It is time to talk about what is probably my favorite for the moment, we agreed that it is called Mammillaria Spinosissima Lem, and although in the nursery and everywhere they tell me that these cacti are no longer used to the sun, the truth is that all cacti in nature need and are exposed to the sun, so the first days I let him get the sun only in the afternoon, about two hours a day, since two days ago it is getting 5 hours a day, from 7 am to 12 pm. and it looks very good, it is taking an impressive color, its spines are starting to turn an intense red color and I like it.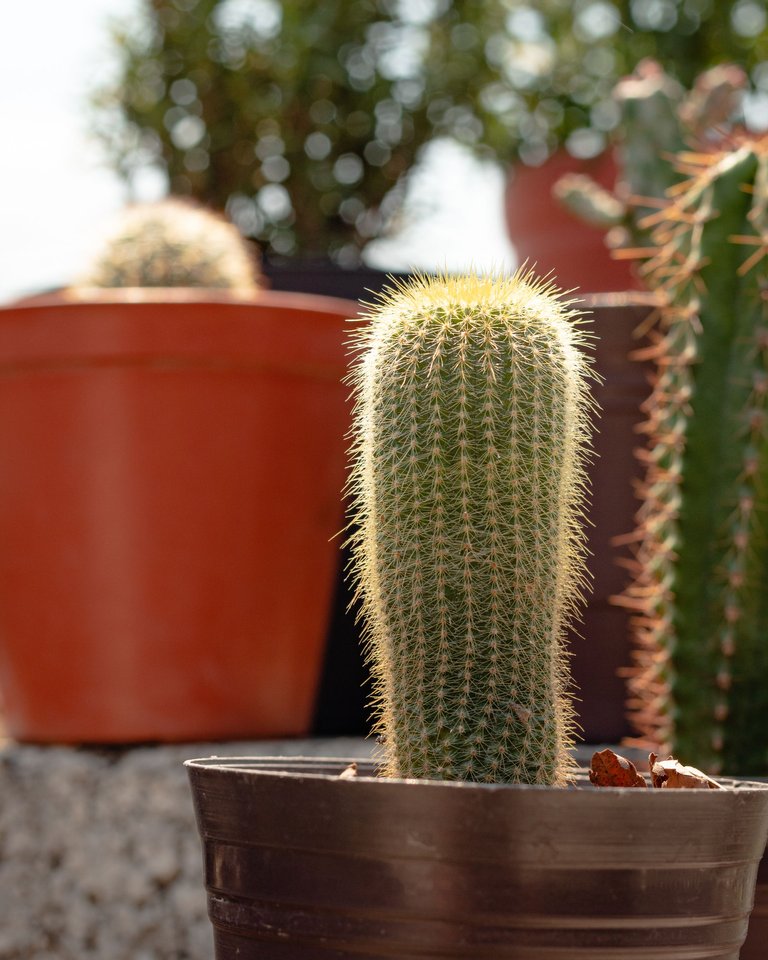 With this cactus I already have since last year, but it hadn't grown as it is doing now, honestly I don't know its name and the apps don't give me results that really identify it, the ones that come out have spines of different sizes, as soon as I find out its name I'll tell you.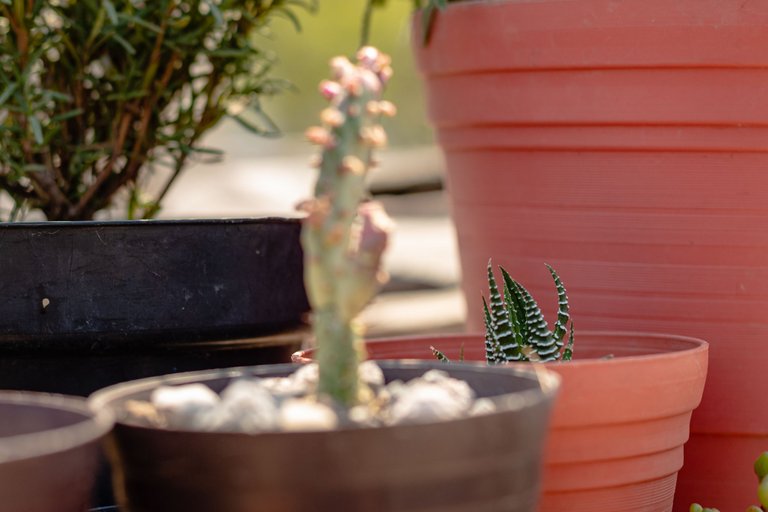 Here we can see my Haworthia fasciata that although it is small it is already receiving the rays of the sun, the first days I was about to kill it, I had not changed the substrate and with the light of the sunset it began to look strange, so I went and bought substrate, I try to put it behind the lavender plant so that it covers the wind and that the rosemary plant filters a little the light so that it does not give direct light, but it already looks much better and it is beginning to grow strong.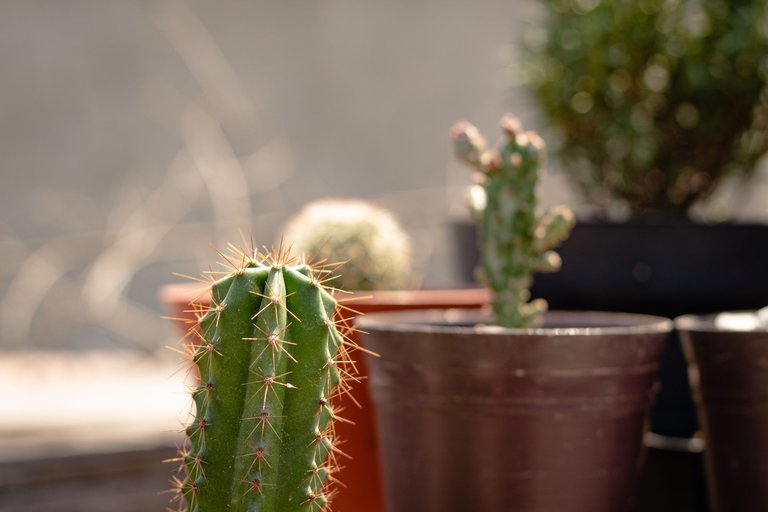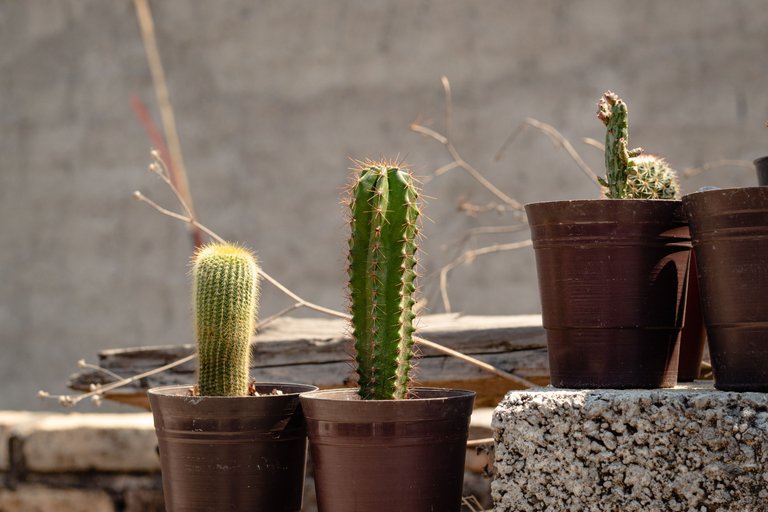 This is another cactus that I have a year with but so far it is growing, the only problem I have is that I don't know its name either, the apps tell me it could be called San Pedro Cactus or Cereus Jamacaru dc.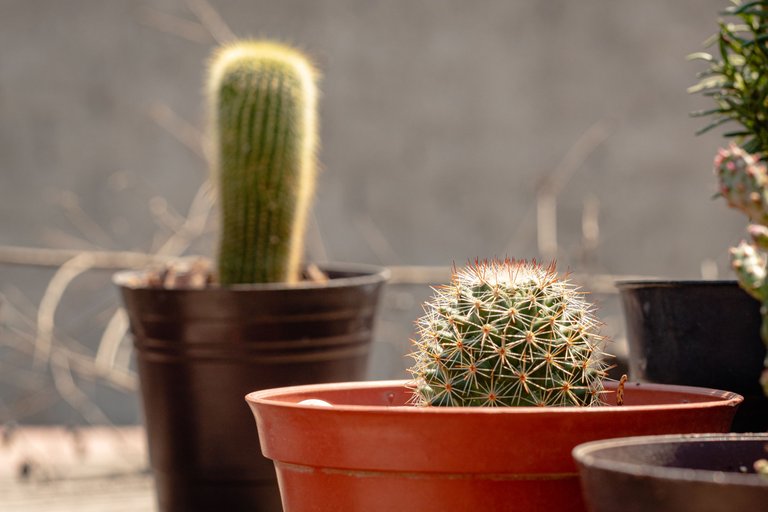 And finally I want to tell you that since today, I left the cactus outdoors all day, I was checking them a while ago and they look perfect, there are no signs that the sun has done any damage, I hope the good results will continue, I will be careful with watering and temperature, if I see that it rises above 35 degrees Celsius I will put them in the shade, but if it does not rise above that temperature I will leave them outdoors, at night they will receive a little breeze that will cool them from the heat of the day.
---
All photographs are my property, taken by me, @monster-one
---
Thanks for watching my post, see you in the next one.
---
---