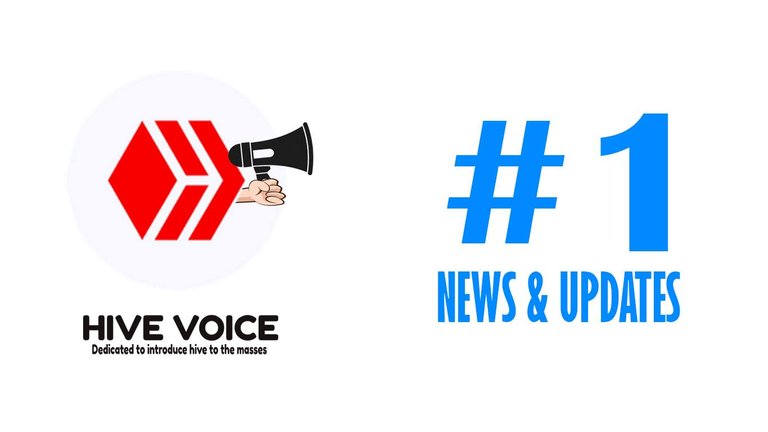 @Hive-voice is a new project on Hive and our goal is to introduce our blockchain to the masses through online and physical initiatives.
You can find out more about @Hive-voice and the team behind it bellow :
Today we want to talk to you about our Future Plans and Growth Strategies
We can't accept the term "small community" for Hive.
Our blockchain is very innovating and we must promote it a lot more on traditional social media platforms if we want to onboard a % of today's Internet Users.
Whether we like it or not, traditional social media like Facebook, Instragram, TV, Radio are used daily by 99% of the masses. A big percentage of those users don't even know that Hive exists.
@Hive-Voice team's base is in Greece and most Greeks have a strong "relationship" with their smartphones, computers and how to transact using the web.
Problem is that Blockchain tech is still unknown to 95% of the population.
We started talking about Hive to average internet users and they were not feeling "safe" to join HIVE because << It's too good to be true >>. That's what they said...
How do I log in? How can I make money? Where does money actually come from?
All these questions came from people who were introduced to Hive.
Our point is that HIVE blockchain is way ahead of it's time and kinda "scary" for the average folk out there to give it a shot.
Most of people in our country (and most countries in the world) are "afraid" of crypto and that means they are afraid of everything crypto-like.
If we want Mass Adoption then people "need" to see an advertisement or interview about Hive on TV , hear about Hive on the radio, read about Hive after clicking at promoted posts on Facebook and realize :
How blockchain tech works
It is not illegal
It is not a Scam
They will not lose their money
They can actually earn money for their social activities
They can monetize their content
They can "built" upon Hive
and many more...
This is why we created HIVE VOICE
We want to communicate with the masses, educate them, and invite them to our "Revolution".
Happy and satisfied users will bring new users and investors(Network Effect), our blockchain's userbase and transactions will grow and that will ultimately lead to a higher Hive price.
It's a triple win situation.

Let's Divide Internet Users
New users
Still a big percentage of internet users
Most of them still struggle when using the internet
They get their information from TV, live lectures and feel psyched on Facebook😢


Casual users
They use Facebook, Instagram, read the news online and play some soft games
Most of them have a small experience in transactions and internet money
They get their information from TV, Radio, and Internet
Gamers
They have a bigger knowledge of wallets – transactions
They get their information from Instagram,Twich,Discord,Other Gamers


Crypto Users
Well most of us Hivers are crypto users.
Crypto Users use Brave browser, have some money in crypto, some mine , some trade , some post on HIVE.
They get their information from Telegram,Brave,Hive,Coinbase etc.
---
New and Casual users are the biggest percentage.
Gamers also are a huge community.
Crypto Users are slowly but steadily growing.
In order to enlarge our community we need to market Hive outside of the "Cryptosphere".
@Hive-Voice will launch projects that will try to reach New users , Casual users and Gamers.
There are already some awesome projects on Hive who aim to onboard Crypto Users so we will not get involved with this category.
---
A large amount of our incoming Hive will be spent in promoting projects like the ones mentioned bellow :
We want to collaborate with projects that promote Hive to the average internet users.
We want people to share their Hive marketing ideas in our community.
We want to work with active Hivers and promote Hive to the masses.
More about our revenue plans in our future posts. We are still working on the numbers
Our first Project is Launching Soon...
Our first project is ready to launch and will target the #Gaming industry.
It's a big opener and we would love to have your support.
More details will be announced at the beginning of September.
---
Follow us on Social Media
We just created accounts on Twitter, Facebook and Telegram so we can share our progress and promote Hive.
Show us some love
Twitter : https://twitter.com/hive_voice
Telegram : https://t.me/hivevoice
Facebook : https://www.facebook.com/Hive-Voice-102541778245950
@Hive-voice Team 2020, all rights reserved