'I''ve decided it's time for a bit more meditative discipline moving into August.
I've been feeling a bit restless of late, I think it must be a combination of moving into my late 40s, a time of life best characterised as 'just shit' -and thinking about having to (sort of) emigrate, which feels both unreal and daunting at the same time.
The perfect time to ramp up the meditation, and put my stoopid little mind in its place.
I've opted for breaking my days up into three sessions, each topped with a formal meditation session, and the day tailed with a session too: thus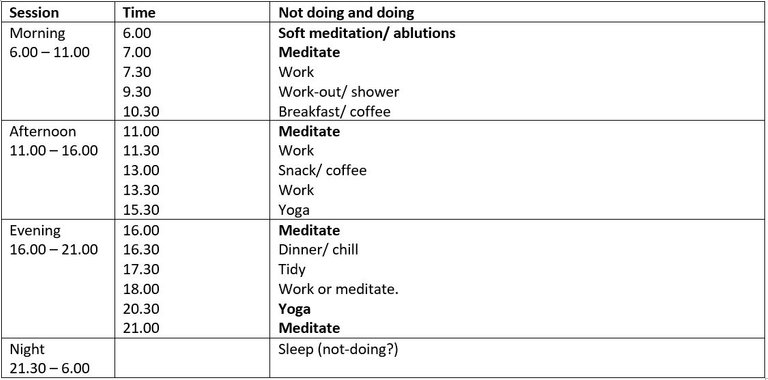 I've never done this specific type of timetable before, which is saying something as I do like to draw up timetables to structure my days (and then occasionally stick to them too).
I really, I mean really like the look of this structure – it's so simple and gives me two hours of meditation every day, plus an additional 1.5 hours of 'soft meditation' – which isn't too bad, in the morning that means a walk –which includes a trip to the supermarket 2 days a week, which can be soft-meditative (hell, anything can be soft-meditative, but basic physical tasks lend themselves especially well to this).
I'm also giving myself the option or working or meditating in the evening. I'll need some flexibility to maintain this!
Overall, I'm very happy with this 16-item timetable, NICE and SIMPLE!
I've seen Zen retreat timetables that are more complex than this, so that's giving me a nice little ego-boost, which would defeat the object if I were anywhere near 'Base of Infinite Space' zone of self-transcendence, which I'm not, so down here in the 'material realms' a little bit of (ironic) self-motivation is useful.
Wish me luck, and feel free to join in or share how you reign in your shitty-mind.
p.s. I think I might be addicted to writing timetables (NB I do tend to stick to them most of the time!) - I'm going to try and get through August without writing another one, at least after I've written my August 'mega to-do Timetable).