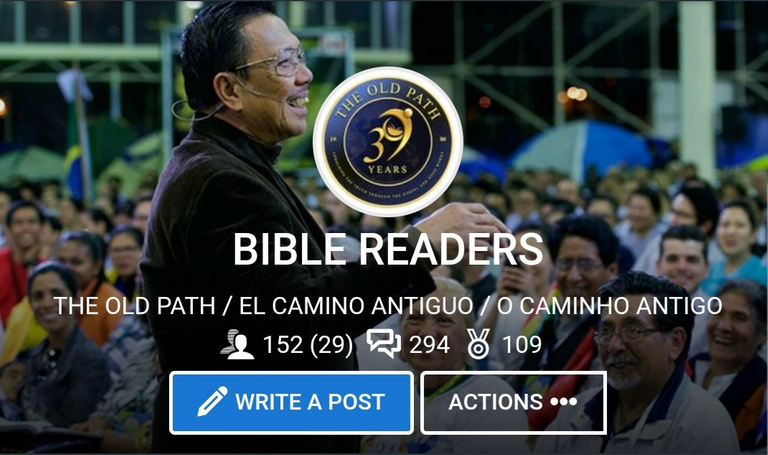 The Bible Readers community is dedicated to helping your people.
La comunidad de lectores de la Biblia se dedica a ayudar a su gente.

Click the Link below to join our community
👇👇👇
https://peakd.com/c/hive-182074/trending
English / Español
Question: What is Bible Readers Community? Answer: The Bible Readers community is created to study the words of God written in the bible using the video explained by Brother Eli Soriano. We are using our small investments on #Hive (around 170,000 HP) to reward people who will share their time and effort on listening to in our videos. It's our little ways of giving thanks to you.
Pregunta: ¿Qué es la comunidad de lectores de la Biblia? Respuesta: La comunidad de lectores de la Biblia se creó para estudiar las palabras de Dios escritas en la Biblia usando el video explicado por el hermano Eli Soriano. Estamos utilizando nuestras pequeñas inversiones en #Hive (alrededor de 170,000 HP) para recompensar a las personas que compartirán su tiempo y esfuerzo para escuchar nuestros videos. Son nuestras pequeñas formas de darte las gracias.

Question: What do I need to do to participate? Answer: We can share our little time by watching in our topic video explained by Brother Eli. We can comment down below in our post the valid points we understand in watching the short video. If we can include some of the verses explained by Brother Eli, it will be better. Your comments and feedback are very important for us, so we want to take your comments seriously.
Pregunta: ¿Qué necesito hacer para participar? Respuesta: Podemos compartir nuestro poco tiempo mirando nuestro video de tema explicado por el hermano Eli. Podemos comentar a continuación en nuestra publicación los puntos válidos que entendemos al ver el video corto. Si podemos incluir algunos de los versos explicados por el hermano Eli, será mejor. Sus comentarios y comentarios son muy importantes para nosotros, por lo que queremos tomarnos sus comentarios en serio.

Question: Is this a scam? Answer: No, it is not. We do not promise any financial returns for participating in our topic. The small rewards we can give by using our Upvotes is just limited comparing to the rewards from God we can receive.
Pregunta: ¿Es esto una estafa? Respuesta: No, no lo es. No prometemos ningún rendimiento financiero por participar en nuestro tema. Las pequeñas recompensas que podemos dar usando nuestros Votos son simplemente limitadas en comparación con las recompensas de Dios que podemos recibir.

Question: How do I get your full support? Answer: We are giving our full support to people who will make a video comments using the #threespeak or #Youtube. Just drop the link of your post in the comment section so we can review it.
Pregunta: ¿Cómo obtengo su apoyo total? Respuesta: Estamos brindando todo nuestro apoyo a las personas que harán comentarios en video usando #threespeak o #Youtube. Simplemente suelte el enlace de su publicación en la sección de comentarios para que podamos revisarlo.

Question: Why making a video comment will get Full Support? Answer: Because we are making ourselves and our videos a small instrument of God for promoting the bible. The words of God can reach more people by making a post like this, we are promoting the glory of God like the bible said; Hebrews 2:12. Saying, I will declare thy name unto my brethren, in the midst of the church will I sing praise unto thee.
Pregunta: ¿Por qué hacer un comentario de video obtendrá soporte completo? Respuesta: Porque nos estamos haciendo a nosotros mismos y a nuestros videos un pequeño instrumento de Dios para promover la Biblia. Las palabras de Dios pueden llegar a más personas haciendo una publicación como esta, estamos promoviendo la gloria de Dios como dice la Biblia; Hebreos 2:12. Diciendo: Declararé tu nombre a mis hermanos, en medio de la iglesia te cantaré alabanzas.

Question: How do I get updated? Answer: You can join our Discord group chat here. (https://discord.com/invite/CRmwAue). Also, please subscribe in Bible Readers community. We have also group in Whatsapp, Telegram, Facebook, Youtube and Twitter.
Pregunta: ¿Cómo me actualizo? Respuesta: Puedes unirte a nuestro chat grupal de Discord aquí. (https://discord.com/invite/CRmwAue). Además, suscríbase en la comunidad de lectores de la Biblia. También tenemos grupos en Whatsapp, Telegram, Facebook, Youtube y Twitter.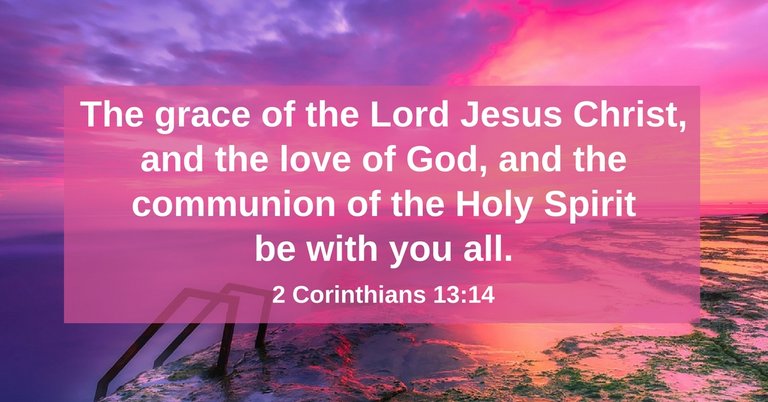 Source
Click the Link below to join our community
👇👇👇
https://peakd.com/c/hive-182074/trending