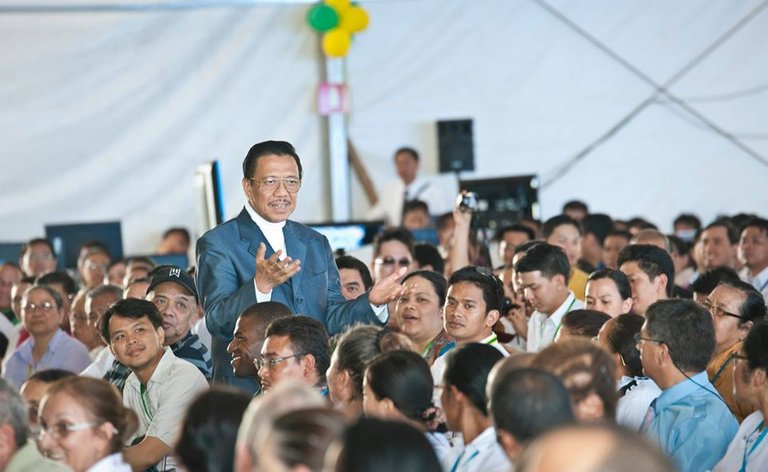 ---
Brother Ali Soriano shared, as always, edifying and wise biblical teachings.
El hermano Ali Soriano compartió, como siempre, edificantes y sabias enseñanzas bíblicas.
---
English/Spanish
Idolatry is not only evident in the worship of images, wax statues or any other kind of creatures, but also, in the worship of other kinds of idols, intangible and invisible, such as greed or delight in carnal impurities.
Colossians 3:5
Therefore put to death the things that are on earth in your members: fornication, impurity, lewd passions, evil desires, and covetousness, which is idolatry.
These are the lies with which Satan holds men down.
Revelation 24:15
But the dogs shall be without, and the sorcerers, and the fornicators, and the murderers, and the idolaters, and whosoever loveth and maketh a lie.
Through baptism we were made new creatures in Christ Jesus, therefore, those sins are no longer part of our Christian lives.
Baptism is one, as the Holy Scriptures teach, and Jesus Christ also bequeathed it to us by his example.
Matthew 28:19
Therefore go and make disciples of all nations, baptizing them in the name of the Father and of the Son and of the Holy Spirit.
We men, as the head of the family, should cultivate and act with much patience toward our wives.
We must maintain, at all times, a meek and quiet spirit, by which we will demonstrate mastery of our inner man.
2 Corinthians 4:16
Therefore, we do not lose heart; rather, although our outer man is wearing out, our inner man is nevertheless being renewed day by day.
Joy is a wonderful gift that should accompany us every time we have the opportunity to hear God's words, to delight in knowing God's words, and above all to put them into practice.
Always preach by our example.
We should be men of God with renewed hearts, showing that the seed of the word of God fell into good soil and that our behavior is honest and full of perseverance in Christ.
Luke 8:15
But she who has fallen on good ground are those who with a good and upright heart retain the word they have heard, and bear fruit with patience.
Justice must prevail over injustice. All forms of injustice deserve our anger towards them, but we have to keep in mind that, self-control should guide all our actions.
Ephesians 4:26
Be ye angry, but sin not; let not the sun go down upon your wrath.
Romans 1: 18
For the wrath of God is revealed from heaven against all ungodliness and unrighteousness of men who hold the truth in unrighteousness.
We must see to it that our body is covered with the marks of Jesus Christ. Good works, directed to our neighbor, will always guarantee us those marks and it will be a privilege to wear them.
Galatians 6:17
Henceforth let no man trouble me, for I bear in my body the marks of the Lord Jesus.
Continuous and sustained work will guarantee our sustenance, there will be food on our table and we will have the means to cover our other personal and family needs.
Genesis 3:19
In the sweat of thy face shalt thou eat bread till thou return unto the ground; for out of it wast thou taken; for dust thou art, and unto dust shalt thou return.
However, we must never forget to share with those in need, especially with widows and the elderly in general.
Ephesians 4:28
Let him that stole steal no more: but rather let him labour, working with his hands the thing which is good, that he may have to give to him that hath need.
El hermano Ali Soriano compartió, como siempre, enseñanzas bíblicas edificantes y llenas de mucha sabiduria.
La idolatria no solo se evidencia en la adoración de imagenes, estatuas de cera o cualquier otro tipo de criaturas, sino también, en la adoración a otros tipos de ídolos, intangibles e invisibles, como la avaricia o el deleite en las impurezas carnales.
Colosenses 3: 5
Haced morir, pues, lo terrenal en vuestros miembros: fornicación, impureza, pasiones lascivas, malos deseos y avaricia, que es idolatría.
Esas vienen a ser las mentiras con las que sujeta Satanás a los hombres.
Apocalipsis 24:15
Pero los perros estarán fuera, y los hechiceros, los fornicarios, los homicidas, los idólatras y todo el que ama y practica la mentira.
Por medio del bautismo fuimos hechos nuevas criaturas en Cristo Jesús, por lo tanto, esos pecados ya no forman parte de nuestras vidas cristianas.
El bautismo es uno solo, como lo enseñan las Santas escrituras, y también Jesúcristo nos los legó con su ejemplo.
Mateo 28: 19
Por tanto, ir y hacer discípulos a todas las naciones, bautizándolos en el nombre del Padre, y del Hijo, y del Espíritu Santo.
Los hombres, como cabeza de familia, debemos cultivar y actuar con mucha paciencia hacia nuestras esposas.
Debemos mantener, en todo momento, un espíritu manso y sosegado, con lo cual, demostraremos dominio de nuestro hombre interior.
2 Corintios 4: 16
Por tanto, no desfallecemos; antes bien, aunque nuestro hombre exterior se va desgastando, el interior, sin embargo, se renueva de día en día.
La alegría es un maravilloso don que debe acompañarnos cada vez que tengamos la oportunidad de oír las palabras de Dios, deleitarnos en conocer las palabras de Dios, y sobre todo en ponerlas en práctica.
Predicar siempre con nuestro ejemplo.
Debemos ser hombres de Dios con corazones renovados, demostrar que la semilla de la palabra de Dios cayó en buena tierra y que nuestro proceder es honesto y lleno de perseverancia en Cristo.
Lucas 8: 15
Pero la que cayó en buena tierra son los que con corazón bueno y recto retienen la palabra oída, y dan fruto con paciencia.
La justicia debe prevalecer sobre la injusticia. Toda forma de injusticia merece que mostremos nuestra ira hacia ellas, pero tenemos que tener en cuenta que, el auto control debe guiar todos nuestros actos.
Efesios 4: 26
Airaos, pero no pequéis; no se ponga el sol sobre vuestro enojo.
Romanos 1: 18
Porque la ira de Dios se revela desde el cielo contra toda impiedad e injusticia de los hombres que detienen la verdad con injusticia.
Debemos procurar que nuestro cuerpo esté cubierto con las marcas de Jesucristo. Las buenas obras, dirigidas a nuestro prójimo, nos garantizaran siempre esas marcas y será un privilegio llevarlas.
Gálatas 6: 17
De aquí en adelante nadie me cause molestias, porque yo llevo en mi cuerpo las marcas del Señor Jesús.
El trabajo continuo y sostenido nos va a garantizar nuestro sustento, habrá comida en nuestra mesa y podremos tener los medios para cubrir nuestras otras necesidades personales y familiares.
Génesis 3: 19
Con el sudor de tu rostro comerás el pan hasta que vuelvas a la tierra, porque de ella fuiste tomado; pues polvo eres y al polvo volverás.
Sin embargo, no debemos nunca olvidar compartir con los que tienen necesidad, sobre todo con las viudas y las personas de la tercera edad en general.
Efesios 4: 28
El que hurtaba, no hurte más, sino trabaje, haciendo con sus manos lo que es bueno, para que tenga qué dar al que padece necesidad.
---
It is in these moments of pandemic (Covid-19) that we most need to nourish our spirits with the words of God.
We wait patiently for the next section of the Old Path to share the manna from heaven with Brother Ali Soriano.
---
En estos momentos de pandemia (Covid-19) es cuando más necesitamos nutrir nuestros espíritus con las palabras de Dios.
Esperamos con paciencia la próxima sección del Camino Antiguo para compartir el maná del cielo con el hermano Ali Soriano.
---
Resources: