In this, and the subsequent posts I would like to revisit and complete the discussion of the Permaculture principles I started three years ago.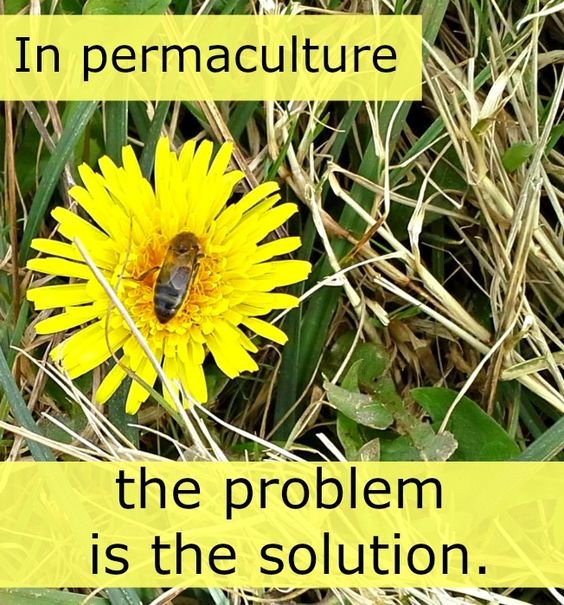 image source
A Contradiction in Terms, or Abstract Word Art?
It is this interestingly worded principle of Permaculture, which has created so much discussion (as well as a good amount of confusion), that both Bill Mollison and Scott Pittman have adopted into their short lists of what Permaculure is about. For me, it has always been a bit of a struggle to wrap my mind around this one. On one hand, it almost sounds poetic, has the sound of a zen koan, that makes you get lost in deep pondering. On the other hand, it could even be seen as a counterproductive contradiction, confusing the eager permaculture student instead of offering an explanation. But who knows, maybe that was the intention to begin with!
Moving Away From Passing Judgements
I think one of the most valuable lessons in relativity and perspective, is giving up judging things from our own perspective. Nothing in the world is inherently good or bad, it all depends on your point of view. Let's take as an example a fox eating a rabbit. Is this good or bad? Well, clearly what's good for the fox is bad for the rabbit. But where do you stand in this? Was the rabbit one of yours, which you had been feeding and caring for? Or was it one of those wild rabbits who like to sample your vegetable garden? Clearly, this is already starting to make a great difference.
How Can A Problem Be Its Own Solution?
Still, the problem still remains that if one thing is also it's own opposite, then everything is evened out, leaving us with neither. As if a problem never even existed. Okay... and then... Once we've overcome our innitial confusion, the world may also become a completely different place. Adopting the viewpoint without problems, we are left with facts, very neutral and impartial. In my opinion, a much clearer base to come up with creative approaches to change conditions favoring any of the contributing factors.
But before we become completely entangled in words and theory, let's take some more concrete examples:
Instead of repeating the eternal slug-duck case (you don't have a slug surplus, you have a duck deficiency), let me use the inspiration of permaculturist John Kitsteiner:
hunt the deer browsing your plants,
collect the soil carried over by the flood,
turn your poorly drained areas into ponds,
propagate the kale not eaten by the snails as a snail resistant kind
The Problem Carries Its Own Solution
Okay, at this point you might do what most Permaculture philosophers have done, and rephrase the principle. Possible versions include "In the problem lies the solution", or also "The problem may be the solution to some other problem." Russ Grayson has written extensively about it, relating the principle to the quote by stoicist Marcus Aurelius: "The impediment to action advances action. What stands in the way becomes the way."
However, having reached this point, I must say I tend to like the seemingly contradictory phrase by Mollison more and more. It encourages us to take a step back, let go of our judgements, and apply a holistic view of the bigger picture. In the end, we have to admit that there may be a myriad of creative approaches to a situation, but there never is just one right answer. So in a sense, a zen like way of looking at this principle could be most appropriate. Indeed, the problem IS the solution.
To see my discussions of other Permaculture Principles, take a look at these posts:
Permaculture: A Starting Point
David Holmgren
Bill Mollison
Scott Pittman