Lately there has been a lot of debate about ideas about what's going on, what's true and false.
However much we agree or disagree about the answers to such questions, It is undeniable that there is a major global transformation afoot. The energy right now is extremely intense.
In this question I'm exploring how we're experiencing these times ourselves, and how we're each responding to that energetic experience in a way that helps us at least cope, and hopefully even thrive. This thriving is for self, but also for what we are contributing to and amplifying within the collective.
Surrounded by So Much I Don't Want to Fall Into
Around me there has been a lot of death. Each death represents entire families grieving. The grief all these people are feeling at once is palpable to my energy system.
Because the grief is so thick in the air, anytime anything even slightly tips me in a direction of sadness, I fall completely into that sea of grief and have to pull myself out again.
If for example I'm having a perfectly fine day, then see or hear someone mention something that reminds me of something unhappy that has happened at any time in my life, I suddenly am overcome by a flood of such memories, until emotionally I'm pulled into overwhelming sadness, despite the fact that my life right now has not one thing sad about it.
Another emotion running high around me is fear. So many people are fearing one thing or another, whether that is illness/death, poverty, oppression, isolation, or whatever the fear. There is a lot of worry, anxiety and direct fear flowing in the air.
This is particularly hard for me because I was born with an anxiety disorder. So I naturally fall into anxiety more easily than the average person.
It's been showing up in me as that even the least reminder of something that generates fear starts me moving into a panic attack. My heart starts experiencing pain and it's hard for me to breathe.
I do a lot to try to keep myself away from both grief and anxiety triggers, but really it is impossible to both be tuned in enough to help others (which I'm doing a lot of) and to never be exposed to triggering information.
How I'm Managing My Energy
So for me, self-management is not about avoiding these overwhelming waves that pull me under. It's about learning how to find my way back to the surface. It's about strengthening my ability to swim, and know how to float when I don't have the energy to swim any longer. To trust that another wave will eventually come if I can just stay afloat, and that one will lift me up instead of pulling me down.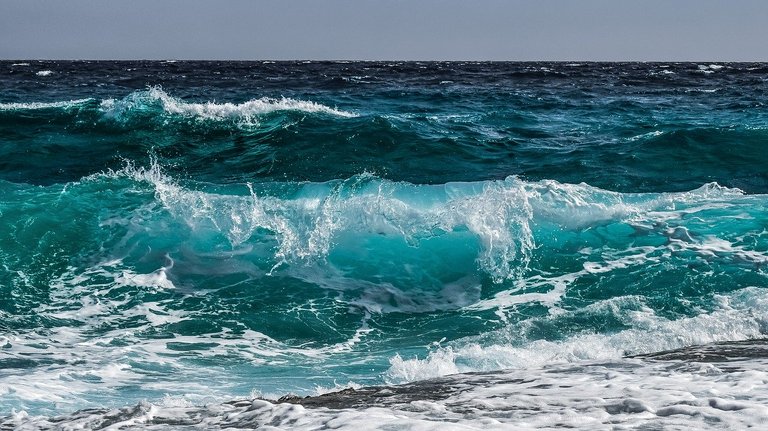 Image Source
Practically speaking, my primary tool has been dance.
I've been dancing pretty much every day for at least an hour. About 3-4 times a week I'm dancing with others who are on zoom with me. Sometimes there is a teacher leading the practice as Ecstatic Dance, which is a very spiritually intentional dance. Other times there is just music selection that is uplifting and expressive, followed by community discussion of what came up for each of us during the dance, or how we're each doing in general.
This ability to embody my response to energy, while being fed good energy from uplifting music, has been incredibly valuable for me. Also the community connection. Just those few minutes after the dance of being able to tell someone how I'm doing and have them listen from a deeply embodied place matters so much.
Hurt people hurt people and create systems that hurt people. Healing people heal people and create systems that heal people. Are you healing?
We each have varying degrees to which we are affected by energy flowing around us that is not being generated from our own life experience. We are more or less empathetic. But we are all hurt people. We have all been hurt at some point, and the wounding continues until we start proactively healing ourselves.
As we heal, we develop our capacity to bring healing to both self and other. We also contribute that energy of increase and well-being into the collective. That means that when people do things to intentionally align themselves with well-being, that current is a bit stronger because of our contribution to it.
The Witness
Movement is the most essential tool for me, but I'm too old to dance THAT much. Sometimes I feel the grief or anxiety around me but just can't dance anymore that day. Sometimes I'm even lying in bed when it hits.
During those times I find that dropping into witness consciousness is what helps me most.
I still feel all the emotions, including how my body responds to those emotions, which doesn't feel good. But I don't get tied up in the mental feedback loop, where emotion leads to more thoughts, leading to even stronger emotion, and so on. I can't escape that first hit of the wave by fighting it. I have to surrender to it and float in pure awareness.
Yes, this is where the sea is taking me right now. I will ride this wave with faith that another current will come soon enough and lift me up.
With this understanding, I find that while I do have to experience a few minutes of unpleasantness, it does in fact pass and leave behind a sense of impenetrable well-being.
Fundamentally, I would say that most of the time I'm moving from a place of well-being. When I can't find my way to that, I just stop. I don't move. I don't take action. I just sit, or lie, or dance. I don't communicate with anyone or try to decide anything.
I'm fortunate to not have anyone I'm responsible for right now except me and my dog. In those moments when I'm not up to transforming the flows of energy I can just be gentle with myself, and let that be.
If you have people who rely on you even in those moments, I hope you can make agreements with them where they understand that you are a living system that sometimes needs to rest, and that those moments may coincide with moments in which they think they need something from you. Hopefully you can negotiate what you will agree to each do when that happens.
How will you indicate that it is such a time? How will you know that's what's up, so that you can express your needs right then? What will be the ask?
Prepare in advance to take care of your energetic needs in a loving way.
The Invitation
I don't believe this is a hostile world. I believe that all that is given to us to face is given to help us grow stronger.
Stress is not in and of itself bad.
A tree that grows in an environment of strong winds will grow stronger than a tree that never faces a strong wind.
It is only stress without meaning that wears us down. Stress in a context that is meaningful to us, makes us stronger and more vibrant. It also allows us to contribute more to the collective.
I believe this period of global pandemic is creating an opportunity for planetary transformations that needed to happen right now. That is bringing up a lot of emotion and conflicted energy, plus the energy of confusion, which people hate more than any other energy, I think.
But we needed new economic systems, didn't we?
We need new ideas of health and wellness, don't we?
We need more localism and less globalism in how we access resources, don't we?
We need to learn to connect with each other as spiritual beings, not just physical to physical, don't we?
How about life on Earth other than just for humans?
Did you know that the carbon footprint of humans has decreased by 17% in the last month?
There is a transformation the world was already going through. The world's reaction to the idea of pandemic is giving us the opportunity to blame that on something in particular. Whether it is correct or not, maybe given the way people are, some fall-guy was needed before our current systems would even possibly give room for what is needed to emerge.
We have all been building our networks and systems for the new world for so long. But it was as if we were undergrowth in a thick forest with many dominant trees blocking all the light.
Now several great trees have fallen, and in their space there is sunlight hitting us for the first time.
With the energy of this new light, what will we do? Will we use it to now grow and thrive more than ever, the way a plant would?
Or will we fall into our human tendency of spending too much time looking back with resentment or fighting against what we don't want?
I am directing my time, attention, and intention as much as I can toward the things I want to see flourish in the world. I want new systems of economics, health, relation to nature, and relation to each other.
I definitely want to help decouple the idea of work from the idea of survival.
Work should be about increasing our capacity to help others from a place of love and good intention toward them. Survival is not something that should depend on whether those loving actions can be monetized somewhere along the way.
This is the energy of possibility, enthusiasm, hope and commitment... dare I say, inevitability of the good.
That's the energy I want to cultivate and that I invite you to collaborate with me in co-creating more of in this world.
Together, let us amplify these waves. Let us create a great big sea that will pull people in, and up, and out, and free to flow in the sun. I am with you. Can you feel me?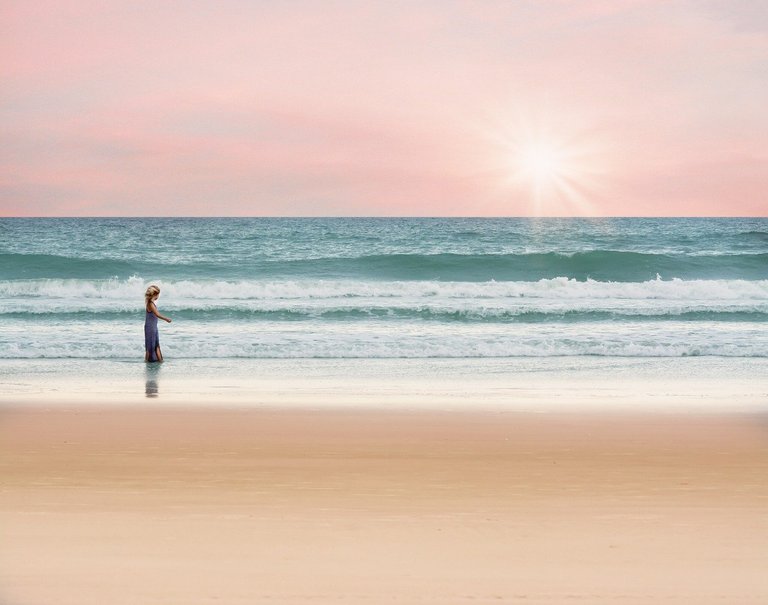 Image source
Answer this week's Abundance Tribe Question of the Week yourself and share yourself with us all.
---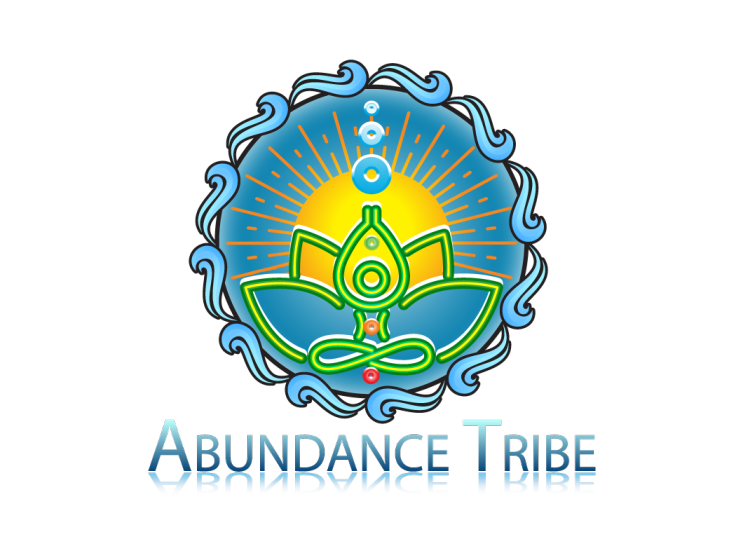 ---
(All text and images (except the AT logo) are by the author, unless otherwise credited. This is original content, created expressly for HIVE.)