---
If you have watched some of my previous videos, you have probably noticed that I like to talk (and write) in metaphors... I don't know the real origin of that love, but I like to tease my brain by comparing things and thinking about different meanings...
In this video, I have tried to explain to the viewers (and to myself), why do I like metaphors... :) I had to travel back into my school days until the day when we learn about differences between the metaphor and the comparison... It was a love at the first sight :)
To be honest, I like all the brain teasers out there... But, I have also noticed, that I don't pay attention to those math riddles that you have on FB, where you have to calculate how much is valued some image, etc... It's probably the "aging thing"... lol...
I remember the time when I was doing a bunch of crosswords daily, but that doesn't amuse me anymore... Laziness? Maybe... On the other side, I have no problem moving my gray cells when I have some challenges in front of me where I can implement that in my real-life... to make it better for me, or someone else...
Brainstorming around some applicable idea is the easiest way to lure me into some discussion... So, if you want me to comment on your post or vlog, just create curiosity and you will receive some comments... :) As a matter of fact, I think that it's like that in most of the people... Curiosity will trigger action...
Check out the video... This one is without metaphors (just speaking about them), and tell me which one do you like more? Metaphors or riddles?
Thank you for your valuable time,
~ph~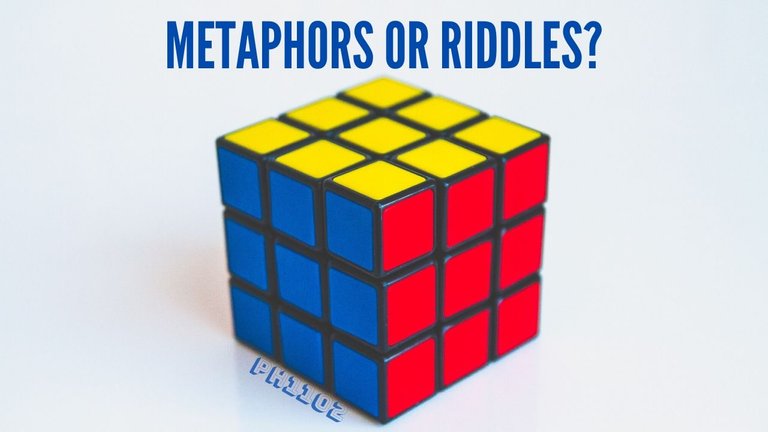 ---
Music in video:
Growing Up by Scott Buckley https://soundcloud.com/scottbuckley
Creative Commons — Attribution 3.0 Unported — CC BY 3.0
.:. .:. .:. .:. .:. .:. .:. .:. .:. .:. .:. .:. .:. .:. .:. .:. .:. .:. .:. .:. .:. .:. .:. .:. .:.
Don't forget to follow, reblog, and browse my Hivepage to stay connected with all the great stuff!
You can find me on ClickTrackProfit .:. Twitter .:. LBRY
.:. .:. .:. .:. .:. .:. .:. .:. .:. .:. .:. .:. .:. .:. .:. .:. .:. .:. .:. .:. .:. .:. .:. .:. .:.
---
▶️ 3Speak