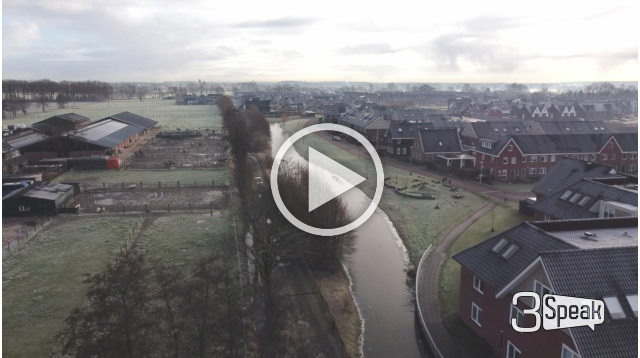 ---
Last night the temperature dropped below zero giving the world this morning a frosty look. Ditches and ponds were frozen over and the world had that crispy frozen look that belongs to winter. No snow, sadly, that would have been really nice.
Ideal circumstances to take my drone, the DJI Mini 2, on an early morning walk and shoot some nice footage. As I am really a beginner in flying a drone, most of my shots are more like practising than really nice footage. I'm stil learning what makes a shot from a drone great footage.
In my experience until now, there are two things I like. The fist is creating dynamic shoot, by which I mean shots that have three or more movements combined into one. For example: fly forward, upward, and rotate slightly to the left or right. A fourth movement is then to turn the camera slowly downwards or upwards.
The other one is: fly low. Of course, a drone can go really high, but that does not mean that you always should fly high. Filming the world from above can surely create some nice shoots, but always shooting from aboce quickly becomes a bit boring. While low shots can create some nice dynamic footage, without having to create more than one motion.
I started this morning with flying low above the ice and disturbing some ducks. Luckily they did not attack the drone. The rest of the shots are practise shots in dynamic footage, flying low, flying between trees. And one long seeping shot, starting low above the grass and then flying up, turn, point camera down and reveal a nice house in our neighbourhood (not our house...). And the last shot is a slow static shot from high up. More meant to end this short clip than anything else.
I am really impressed with how stable this drone flies and how accurate one can steer it. If there is the crash it is almost certainly a pilot error and not the drone's fault. And yes, I did already fly this drone several times into a tree or some other obstacle. Like I said: I'm a beginner in drone flying.
---
▶️ 3Speak