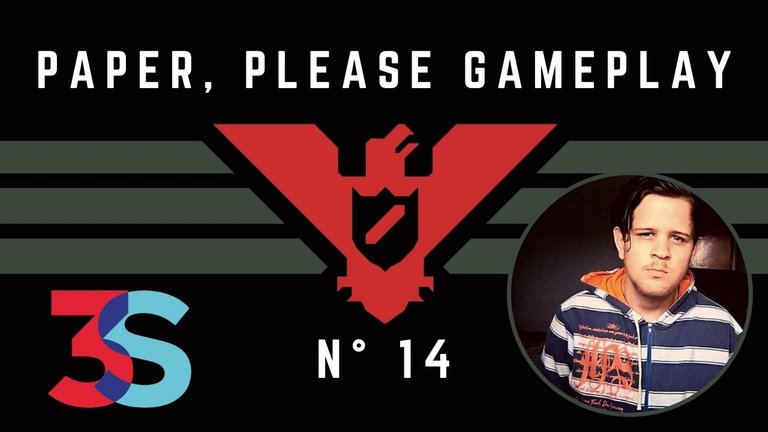 ---
English version.
---
Greetings my dear hivers friends,
welcome to a new chapter of my Paper, Please gameplay
---
We are one more day away, I enter the sentry box and start my work as a customs inspector, I open the border, the first person I see has all his valid documents, I approve his entry, the second person when he enters, shouts DEATH TO ARSTOTZCA, then immediately places a bomb on my desk.
One of the guards of the border helped me to deactivate it, because according to him it was a basic bomb, but in my first attempt to deactivate it I was wrong and everything exploded, the game restarted and I made my second attempt, which was successful, I deactivated it and gave the bomb to the guard.
After that intense moment deactivating the bomb, the whole day passed very calmly, there were no more problems, most of the foreigners who showed up, had valid documents, which I approved the entrance to Arstotzka.
When the day was over, I was told that the inspector was acquitted of all the investigation that the government had opened against him, because of the amount of money he possessed for having taken the bribe that the order of the Ezic star offered him.
And well my friends, I invite you to see the full video, so you know what decision I made about helping or not helping that group, I hope the video is to your liking.
And well my friends, I hope the video is to your liking, you can support me by leaving me a comment on the video, I would appreciate it very much and I will be happy to respond.
---
▶️ Watch on 3Speak
---
Versión en español.
---
Saludos estimados amigos de Hive, sean bienvenidos a un nuevo capitulo de mi gameplay del juego Paper, Please
---
Estamos a un nueva jornada, entro en la garita y empiezo mi labor de inspector de aduana, abro la frontera, la primera persona que atiendo tenia todos sus documentos validos, le aprobé la entrada, la segunda persona al entrar, grita ¡MUERTE A ARTOTZCA!, luego de inmediato coloca una bomba en mi escritorio.
Uno de los guardias de la frontera me ayudo a desactivarla, ya que según el era una bomba básica, pero en mi primer intento de desactivarla me equivoque y todo exploto, el juego se reinicio y hice mi segundo intento, el cual fue exitoso, la desactive y le entre la bomba al guardia.
Luego de ese momento intenso desactivando la bomba, todo la jornada transcurrió muy tranquilo, no hubo mas problemas, la mayoría de los extranjeros que se presentaron, tenían documentos validos, los cuales le aprobé la entrada a Arstotzka.
Cuando la jornada finalizo, se me aviso que el inspector fue absuelto de toda la investigación que el gobierno le tenia abierta, por la cantidad de dinero que poseía por haber tomado el soborno que la orden de la estrella de Ezic le ofreció.
Y bueno mis amigos espero que el vídeo sea de su agrado. Me pueden apoyar dejándome un comentario sobre el vídeo, lo agradecería mucho y estaré atento de responder.
---
▶️ 3Speak