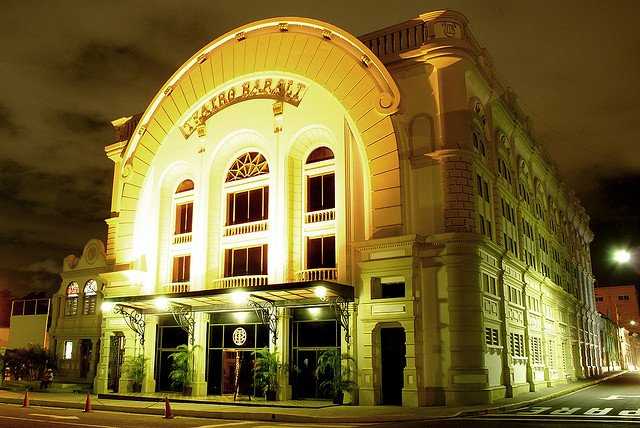 Source
This is the most emblematic cultural site of the city of Maracaibo, its centennial history is full of nuances and facts..
The first unsuccessful attempt to build a place for these arts dates back to 1811 and it was José Domingo Russ who made the proposal and it was not until 1840 when Miguel Antonio Baralt created a space in the lot of his house for these arts..
However, it was General Rafael Parra who ordered the construction of the aforementioned theater in 1877, being Manuel Obando a Cuban engineer who built and inaugurated it on July 24, 1833, centenary of the Liberator, presenting zarzuelas..
Its façade consisted of a portico formed by four Tuscan columns and a terrace protected by iron railings, in the Arabic style..
It was a space 44 meters long, 21 meters wide and 10 meters high, with a maximum capacity of 400 people, who witnessed the first film projected in the country on July 11, 1896..
It was demolished in 1928 by order of General Vicente Pérez Soto and the current building was built in its place, an architectural work designed by the Belgian Leon Jerome Höet, which was inaugurated on December 11, 1932, with a capacity for 1,000 people..
It has a neoclassical style with three levels of balconies, a sloping stalls, a basement, an adjacent building for dressing rooms and restrooms, and a high stage.
Its interior decoration was in charge of the Zulian painter Antonio Angulo, highlighting the ceiling or plafond of 540 square meters that made up the roof of the theater and the portrait of the writer Rafael María Baralt, placed over the mouth of the stage..
Located on the corner of 5th Avenue before called Venezuela Street and 95th Street, it was the place where great national and international artists performed, among them Teresa Carreño, "Cantinflas", the Bolshoi Ballet and Carlos Gardel in the year of his death..
In 1955 its administration passed to the University of Zulia and in 1981 it was declared a National Monument of Venezuela, being intervened in 1986 due to its deplorable state and closed to the public for its recovery since it had been transformed into a shelter for many animals and homeless people, a work carried out by a team headed by the architect Paolo D'Onghia.
In 1995 Mindur signed an agreement with the Rafael Urdaneta Center, transferring resources and coordinating the work to the Center..
In 1998, under the tutelage of the Baralt Theater Foundation, it reopened its doors to the public, highlighting among the new works the floor of the Sergio Antillano Lower Hall, made by the plastic artist Francisco "Paco" Hung, preserving the original bases of the first theater and the stained glass windows "Day and Night" placed in the administrative building designed by the artist Francisco Bellorín and painted by his wife Mary..
It is a must-see place for tourists..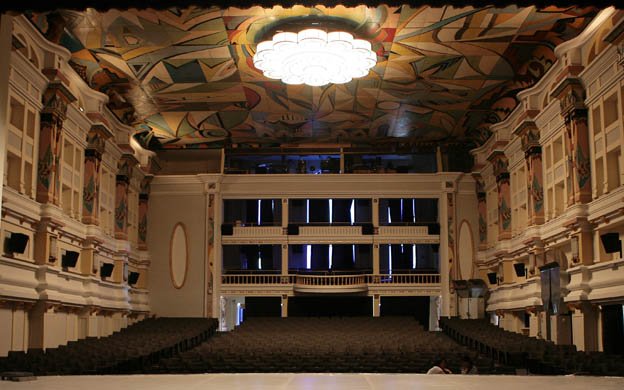 Source