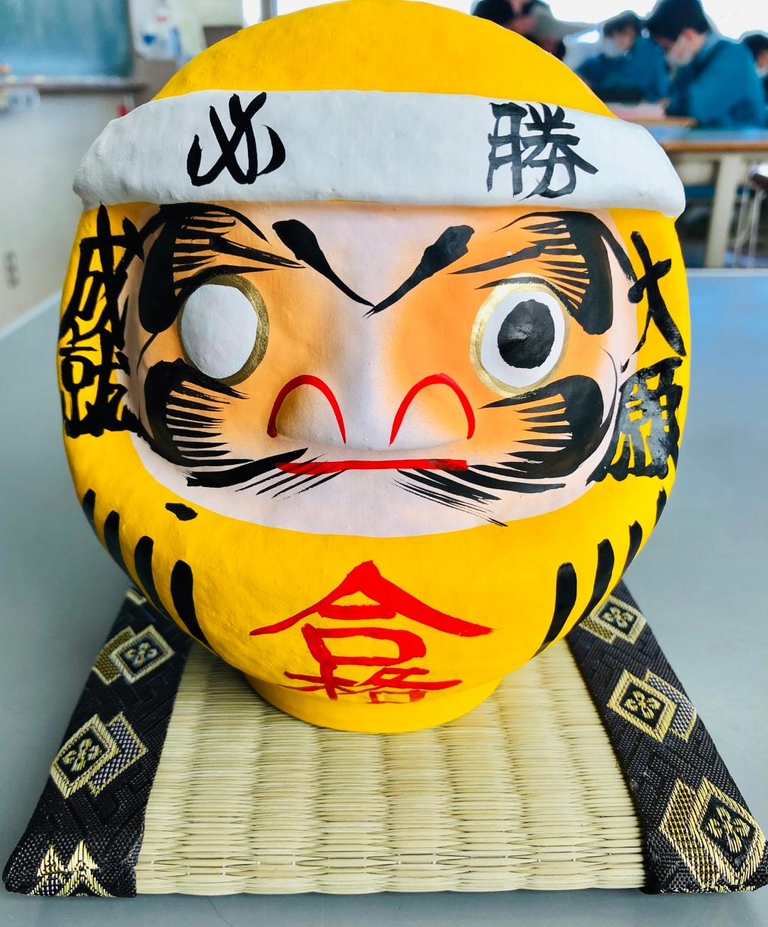 The picture above is of a Daruma Doll. In Japan it used to make wishes come true. First you think of a wish, then pain one eye and decorate the doll. Once the wish is granted, you paint in the other eye, carry it to a temple and burn it. This particular Daruma Doll was in a teachers class room. His wish was that all his students pass the high school entrance test.
---
Interesting community here, I thought I'd share a speech I wrote for graduating junior high school students. Wanna learn some Japanese? Well, this may be a difficult start 🙃 but hey...
When you think about it, what a year to graduate right? A lot of restrictions in place and there is a possibility that not all family members will get to attend the graduation ceremony. I imagine the grandmothers and fathers having to sit this one out and watch it online.
But I always try to pivot to the positive of the situation. These students can say they graduated at a time the world changed forever. They will have a story to tell that will echo throughout history as a reminder to not take simple things for granted. But anyways, enough fluff, here is the speech I wrote for the students that will be in their year book. I wrote it in English then translated to Japanese. I also include the romaji reading of the Japanese for your reading pleasure.

The Speech in English
What a story you have to tell. You graduated when the world changed forever. The world will never be the same, but I am confident that you will thrive and have a wonderful future. Many opportunities will come your way, but you must be prepared to see them and not afraid to try. Use your samurai spirit to guide you in this world, believe in yourself and do your best always. Thank you for a wonderful year, I enjoyed teaching you English.

In Japanese
あなた達は将来こんなことを話すことになるでしょう。自分たちは世界が永遠に変わったときに卒業しました。世界は決して同じではありませんが、私はあなた達が繁栄し、素晴らしい未来を持っていると確信しています。あなた達は生きていく中で多くの機会に出会うでしょう、しかしあなた達はそれらを見極める準備ができていなければなりません。そして挑戦することを恐れないでください。侍の精神をもってこの世界で自分自身を導き、自分を信じ、常に最善を尽くしてください。素晴らしい一年をありがとう、私はあなたに英語を教えられて楽しかったです。


The Japanese wirtten in Romaji
Anata-tachi wa shōrai kon'na koto o hanasu koto ni narudeshou. Jibun-tachi wa sekai ga eien ni kawatta toki ni sotsugyō shimashita. Sekai wa kesshite onajide wa arimasenga, watashi wa anata-tachi ga han'ei shi, subarashī mirai o motte iru to kakushin shite imasu. Anata-tachi wa ikiteiku-chū de ōku no kikai ni deaudeshou, shikashi anata-tachi wa sorera o mikiwameru junbi ga dekite inakereba narimasen. Soshite chōsen suru koto o osorenaide kudasai. Samurai no seishin o motte kono sekai de jibun jishin o michibiki, jibun o shinji, tsuneni saizen o tsukushite kudasai. Subarashī ichinen o arigatō, watashi wa anata ni eigo o oshie rarete tanoshikattadesu.

Have any relatives graduating this year? How do you feel about their big day taking place in these Covid times?
Do you wanna see more content like this? If so let me know in the comments below.

Discord | Hive Community | Reggaejahm Interface | Twitter| Buy Beats With HIVE & JAHM