Зовсім не вірить, що я вже закінчив прослуховувати ПРЕКРАСНИЙ Роман – трилогію «Чарівник земномор'я» прекрасної американської письменниці Урсули ле Гуїн! Думаю, через часто повторюване мною слово «прекрасне», вже зрозуміло, що книга космічного рівня і без ніякого коливання заслуговує на визнання і оцінку 10 із десятибальної шкали.
It is hard to believe that I have already finished listening to the BEAUTIFUL Novel - the trilogy "The Wizard of Oz" by the beautiful American writer Ursula le Guin! I think, because of the word "beautiful" I often repeat, it is already clear that the book of the cosmic level and without any hesitation deserves recognition and evaluation of 10 on a ten-point scale.
Я терпіти не можу, коли в відгуках про книги чи фільми передають сюжет, створюючи своєрідні спойли. Саме тому, всіх кому цікаво про що ж книга, я з радістю відправляю в вікіпедію. В цій статті я спробую передати ті емоції і переживання, що подарувала мені книга.
I can't stand when reviews of books or movies convey a plot, creating a kind of spoiler. That is why anyone who is interested in what the book is about, I am happy to send to Wikipedia. In this article, I will try to convey the emotions and experiences that the book gave me.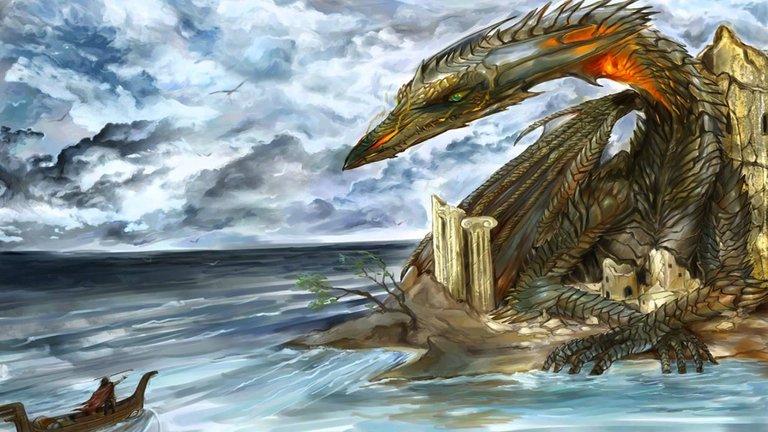 ---
A Wizard of Earthsea

Волшебник Земноморья
Чарівник Земномор'я

---

| EN | UA |
| --- | --- |
| Unfortunately, I didn't read Harry Potter's book, I only saw the film adaptation of all the parts, but given Potter's publication in 1997 and A Wizard of Earthsea in 1968, it seems to me that Joan Rowling read Ursula le Guin exactly before she started writing Harry. Although, that's just my subjective opinion. | Нажаль я не читав книгу Гарі Потер, а тільки бачив екранізацію усіх частин, але враховуючи публікацію Потера в 1997 році а «Чарівника Земномор'я» 1968, мені здається, що Джоан Роулінг точно читала Урсулу ле Гуїн до того, як почати писати Гарі. Хоча, це просто моя суб'єктивна думка. |
| The novel A Wizard of Earthsea is really addictive, and only in the second part, and for a very short time, it becomes a bit boring to re-read very detailed descriptions of a scene. | Роман «Чарівник Земномор'я» реально затягує, і лише в другій частині, і то зовсім ненадовго, стає трішки нудно перечитувати дуже деталізовані описи тієї чи іншої сцени. |
| The words of the novel strengthened my understanding of the dichotomy of everything in this world. Especially how important it is to keep that thin line, and in case of leaning to one side or the other, to be ready to lose the opposite. | Слова роману зміцнили моє розуміння дихотомії всього в цьому світі. Особливо, наскільки важливо зберігати ту тонку грань, а в разі схиляння на ту чи іншу сторону, бути готовим втрачати протилежну. |
| The novel beautifully describes the deplorable consequences of overflowing with emotions of selfishness, pride, and vanity. | В романі гарно описується, якими плачевними наслідками може закінчитись переповнення емоціями егоїзму, гордині та марнославства. |
| Quite unexpectedly, I discovered the author's thoughts on the importance of death as a necessary component of life and balance in this world. | Досить неочікувано я відкрив для себе думки автора про важливість смерті, як обов'язкового компоненту буття і рівноваги в цьому світі. |
| The accidental inevitability of destiny and the importance of each of our choices in shaping this inevitability are perfectly illustrated. | Прекрасно проілюстровано випадкову неминучість долі, і важливість кожного нашого вибору в формуванні цієї неминучості. |
| An illustration of what your future is, everyone can change it. | Ілюстрацію того, що яким би не було твоє майбутнє, в силах кожної людини - змінити його. |
| A great example of how, having accepted death and inevitability, there is a tremendous confidence, will and strength that can withstand the greatest fears. | Прекрасний приклад того, як прийнявши смерть і неминучість з'являється величезна впевненість, воля та сила, що здатна протистояти найбільшим страхам. |
| As a result, I am very glad that I listened to the book and would like my son to read this book, it would be especially appropriate in adolescence. | В підсумку, я дуже радий, що прослухав книгу і хотів би щоб цю книгу прочитав і мій син, особливо доречно це було б в підлітковому віці. |

My referals link